At Hunar Haat Food Court Panaji…. dudh ki jalebi frying gloriously and selling out at Rs 20 each
By Tara Narayan
WHY does Rajasthan top the list when it comes to ethnic food courtyards? My mind is still on the ethnic food courtyard set up at just over Hunar Haat in Panaji. The Rajasthani participants usually top the list with their various savory and sweet kachori, dahivada, alu tikki, and for some reason fafda-jalebi is catching on. But fafda-jalebi are also very Gujarati, in this respect Gujarat and Rajasthan have things in common especially in foodie matters, given that both have similar climatic conditions and foodie habits with small differences of presentation. For example, Gujarat has churma ladoo and so has Rajasthan except that they team it in a combo of dal-bhati-churma, a heavyweight combination. Somewhat different from Bihar Litti Chokha.
The summer heat is here in Panaji and I'm thinking after feasting on the Bihari litti-chokha at the haat I better watch it or else. It's a constant battle not to overeat on the fatty carbs of life! But I cannot resist telling you about thesefats soft jalebi frying away gloriously in ghee in a large kadai at the haat – taste, taste, someone here said and I did reluctantly. A small piece of the fatso jalebi (usually jalebi is a slim twisted affair of a desi sweet). This was not the usual jalebi we see but dudh ki jalebi or milk jalebi. Come on, there's no such thing as a dudh ki jalebi.
But hey, I was amazed at how these jalebi were really superior tasting to the usual hard crusty golden jalebi we usually patronize when in celebration mode. True, there's several types of jalebi around the country and in Gujarat I still have happy memories of relishing ivory white jalebi with a faint hint of tart and rose water enshrined in it. This "safed jalebi" is usually made for marriage feasts like "safed magas" (semolina sweet encrusted with charori, almond slivers and fragrant cardamom seeds).
But to stay with this Hunar Haat jalebi last week I was surprised to learn that the makers were from Mapusa in Goa – Anand Sagar Sweets & Dry Fruits providers in wholesale and retail, the genius behind it being R M Shetty. Name rang a bell and I feel like I've met him before! Anway they had at the stall A2 desi cow ghee selling at unaffordable rates, big packs and little Rs180 or so packs (say just a tablespoon of the A2 desi cow's ghee)! Reportedly this is the most premium of ghee and hence the pricing, Rs2,000 plus, plus per kilo plastic bottles. And for the umpteenth time I wondered about this extra-special ghee which comes so highly recommended. I usually make do with Nandini cow's ghee to lace my Guju phulka at home.
It was some kind of brainwave for these Anand Sagar folk to start doing their unusual fatso milk jalebi act in the evenings last few days of the haat food courtyard – must be because nobody was drinking their milk, buttermilk, lassi or buying the ghee. But the hot jalebi idea was a live station and selling out like crazy! After a bit of my I don't want to eat sweets routine I tasted and learned that this here dudh ki jalebi are really special, I'd serve them to the Queen of England or whoever is up there living in miserable royal utopia! Expert Chef Yadav was squeezing the batter into the hot oil in whirling jalebi shapes and I watched fascinated as the jalebi turned from creamy milky white to pale gold, when done dunked in sugar syrup and set out for sale at Rs20 per jalebi!
Honey, that's enough to be blown away. You don't want to eat any other kind of jalebi after these dudh ki jalebi or presumably milk batter jalebi. I didn't eat but only tasted and returned another evening to buy back a box full of half kg jalebi for those at home and a few friends to taste and say wah, wah.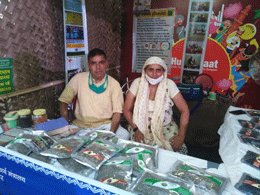 AFTER the binging at the ruinous Hunar Haat I've been telling myself with the long hours I spend on a computer I better start watching my weight once again. It's no no to such heavy food as jalebi for you know where it will all stack up in these covid19 cursed times! But this is to say if you're interested in these jalebi and desi A2 cow's ghee you may look up Anand Sagar in Mapusa.
THE OTHER person I took an interest in was "mushroom man" Ramesh Kumar and wife Ramen, retailing these packets of dry stevia leaves and what do you know – dry guchi mushrooms from Himachal Pradesh (usually one associated guchi mushroom with the Kashmir valley), these dry blackish truffle-styled guchi mushrooms are rated as super food with ambrosial nourishment (I'm told mushrooms are a favorite of Prime Minister Narendra Modi). The packets of blackish dry guchi mushrooms were selling at Rs30,000 and Rameshbhai waxed lyrical over the codycep or "keedajadi" mushrooms ("these cost Rs2 lakh or more but only some bodybuilders I know eat them!").
Ramesh Kumar is from Karnal, Haryana, where reportedly rich men have discovered codyceps. Go do your homework on them if you're interested and your wallet is rotting for want of use. Just to fill you in a bit here, cordyceps are said to increase the body's nitric oxide (the happiness alchemy) and improve energetic performance, heal faster. The mushroom extract reduces inflammation and oxidation which you must know by now are pretty much the two causes of a diseased body beautiful.
There's something called ATP too or adenoisine triphosphate levels which make up the primary fuel of energy expenditure…so let's say drink cordyceps extract tea and run forever or something like that! I think the defense forces up in the high mountains get to drink this energizing mushroom tea or eat its extract.
BY the way Kashmir's famous guchi mushrooms (Morchella vulgaris) go into the making of its famous guchi pulao, I think I must have eaten it once upon a time at restaurant Ahdoos in Srinagar so very long ago, afterwards trekking out to the Chashmashahi springs to drink the water, loiter around admiring the grand chinar trees. Want to go Kashmir again! If you're interested chasing mushrooms also think matsutake, reishi, WTB chaga, lion's mane…of course the world of mushrooms is pretty much a fascinating huge joint family. Have fun wooing mushrooms and living forever!
INTERESTINGLY, oyster mushroom growing is big time in Goa now because the wild olmi mushrooms are disappearing from the village wilderness. Goa has quite an appetite for mushrooms and come the monsoon rains folk hunt for olmi in all the wilderness places they can find, these wild edible olmi mushroom are piece de resistance food and get more expensive by the year. Hindu Goan families love their olmi shagoti (xacuti), one of the classic traditional spiced up gravies of Goa. Currently this hot month of April it's still the season of biyo or green caju seeds, or rather fresh unroasted cashew kernals selling out in the morning pavement Panaji gauti market.
Several of trade, educational bodies and agricultural groups are conducting oyster mushroom growing courses in Goa now. Check with Rahila Khan of Community Development at the Government Polytechnic up at Altinho in Panaji or with my friend Miguel Braganza, my favorite human encyclopedia of farming knowledge along with Dr Nandkumar Kamat at Goa University (he's mushroom connoisseur studying mushrooms for half his life time I'm sure)! He will wax lyrical about the Roen olmi or termite hill mushrooms tambdi olmi, shith olmi…all the Termitomyces species of forested Goa in the Western Ghats foothill wilderness areas of Valpoi, Sattari, Canacona…I have friends who go out to the Sattari markets come monsoon time to buy these much loved mushrooms sold tucked in banana or teakwood leaf bundles.
But there's money in mushroom growing! At the moment the market is heavily dependent on Dr Sangam A Kurade's large-scale modern button mushroom plant at Bhatapal in Canacona. These cultivated button mushrooms now sell for Rs40 a packet or so most everywhere. He is of course the state's topmost mushroom grower having made his fortune in mushrooms and seen some ups and downs as Mother Earth created havoc with floods in his riverside factory! A lot of folk like Dr Sangam Kurade think mushrooms are the food of the future and we'll be eating more and more mushrooms to stay in the pink of health longer and longer.
OKAY, no more mushroom talk! The power transformer of the colony where we have now has burnt out and I'm drenched in the afternoon heat at office and home. What I really want to do is retire from crass urban living, go live on an assisted living agricultural background farm for the rest of whatever life is left to me, join me if you wish, I'm still looking for such a place!