Discovering neero and cashew apple vinegar!
Caju estate tour… the boys are from Jharkhand and that's cashew distiller Anicet d'Souza offering me a glass of fresh caju neero, cheers and "Aap ka din achcha jaaye!"
By Tara Narayan
RARELY now I get to go on these long drives but this was one special one. My search for Goa's most refreshing summer thirst quencher neero or niro – the cashew or caju apple's juice – took me all the way to Panjim Inn/Pousada boss Ajit Sukhija's farmhouse, set amidst 20 acres of caju orchard deep in the heart of Valpoi. Here at Cajueiro Homestead is a haven of trees at the foot of the hills and I couldn't take my eyes of the very, very low cascading caju trees, some of them still sporting glowing yellow and amber cashew apples. The ones the pickers forgot to pick! They look like lit lanterns amidst leafy foliage come the months of March, April and May.
I understand that the fruit of the cashew nut tree is strictly speaking, not a fruit as we perceive it; it's called a pseudo fruit, with the fat crescent-styled tough ashy grey coated nut growing atop it – the cashew nut. But the cashew apple "fruit" has all kinds of virtuous properties although it's mostly neglected while the cashews are roasted to yield the nuts. I find the ornamental cashew apple most intriguing for it yields the nectar or juice of neero, also liquors of urak and feni which are much loved in Goa.
In my first excitement I wanted to get down, go pluck some of the left over glowing caju apples on trees here and there, but on second thoughts didn't want to disturb driver Jack Sukhija, who was intent on getting to his destination, get the jobs he had to do for the day done, and return to Panaji by evening.
But he is a cool veteran driver and across on the ferry to Chorao island and then through Goa's quiet green Bicholim, Sattari, Valpoi roads and villages we drove, finally getting off the main road and on to a fairly rough katcha track road to arrive at the Cajueiro Homestead, it's also called Advoi Hacienda.
Jack tells me it's a homestay with the ten rooms given out sometimes to their Panjim Inn tourist residents who wanted to enjoy a caju country stay, plus Goan food. The hacienda is very intelligently designed with a gallery running all around and to which all the rooms open out to ground floor and upstairs. One may walk around or relax on the gallery taking in the various trees growing out in the extended estate.
The very many caju trees, sweepingly low, they reminded me of a long-lost friend of mine who on such farm house orchard picnics would say please put out the khatia (rustic jute-string bed) beneath this or that tree for his post-lunch siesta and don't disturb him till tea-time! (Of course out in the Maharashtra/Dahanu countryside there were chikoo tree orchards with the trees growing in cooling low canopies, these places used to be great haunts for weekend escapes.)
At the Cajuiero Homestead I spend some time lost in the heady collection of trees …lush banyan, teak, mahagony, gulabi jam (wax apple), bilimbim, lemon trees with large lemons tucked away here and there. Coconut trees of course. In the courtyard lots of tulsi, frangipani, and more… could have a kitchen herb garden if someone is interested in staying here. (Sigh) There was no time to wander around.
Jack tells me come April they watch the cashew apples turn color and fatten and when ripe fall to the ground. They are very perishable. They have to be collected, washed, the caju nuts twisted off, and then the cashew apples cramped in strong sieve bags for crushing on a stone platform…once crushing was done manually with estate workers feet, but now they are using juicing machines. The juice is collected in batches and stored in big drums for distilling in copper bhand into urak, feni, vinegar, whatever. Squeezed cashew apple residue used as manure.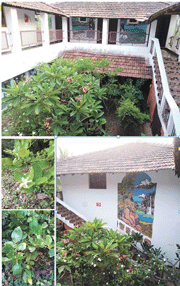 It was something fascinating to watch the cashew apple juice roll out…the first ochre yellow juice finally turning to a clear stream (after the boys put a huge stone on the sack of caju fruit – this final "dregs" of the juice or so to speak is what is called neero)! Paper cups are handed around and we were tasting, tasting, tasting the batches of fresh caju juice. Deliciously fruity in the beginning and what do you know getting clearer but did I imagine it sweeter and sweeter, the clearer it got!
Master feni consultant Anicet D'Souza here is a fund of lively information and he tells me the first batch of juice is stored in drums. I presume this is the mother juice which is distilled in wood fire kilns to condense into urak and feni — which Anicet firmly says is medicine of longevity! He reiterates that the caju fruit juice can be stored for "for as long as five years but keep the drums shut."
Urak and feni may be distilled any time you wish. Feni as we know is now Goa's geographically indexed liquor and much is done to promote it in the making of many a fancy cocktail in Goa's hospitality business.
BUT it's the fresh cashew apple juice which I love and can drink it on the rocks on a hot afternoon in Goa; neero is non-alcoholic, but urak is and urak Jack says is for the evenings. Feni too, but I don't care for the strong odor of feni. Urak, yes, feni no, thank you. I don't like feni! However, the final extracted neero juice of the cashew apple has a life expectancy of only 48 hours; so one has to store it in a cool place or refrigerate it and do deliveries to whomsoever has a yen to drink it, or market it in restaurants or bars of Goa. What happens after 48 hours to neero? It rots, Anicet d'Souza assured me.
Adding that some folk may be adulterating neero with sugar for more density and because sugar is a preservative, but then that fresh flavor of the cashew apple fruit is compromised! Thankfully they don't believe in doing that at the Cajueiro Homestead. They have lots of takers for their fresh neero which is extracted in the early evening and delivered the very same evening later on, or by dawn the next day, "People who know all about it and want it just come and pick it up."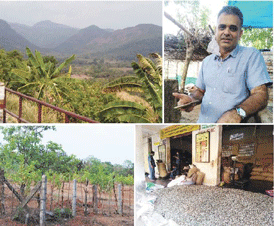 With urak and feni one may be a little more relaxed. Then Anicet bab introduced me to cashew apple vinegar. He asked if I wanted to taste? I said, no, no, who wants to taste vinegar! Funny, he said it tastes like lime juice and I changed my mind. What, I said, and tasted cashew apple vinegar for the first time and the next moment I was lost in its heavenly fresh tart flavor… hey, it's so good! Yes, like lime juice.
So if there is cashew apple vinegar why on earth are we so obsessed with apple cider vinegar? Out here in Goa we have Goan cashew apple vinegar and it is so much more agreeable. I want a bottle to marinate my veggie pickles, coleslaw and salad dressings!
Yes, confirmed Jack Sukhija, they have started marketing their cashew apple vinegar although people are not aware of it yet. They need to do some marketing of it. I will say here that their cashew apple vinegar or in short caju vinegar is superlative and one may happily put it to good use in the kitchen pickling baby onions, cucumbers, gerkins (tendli)…whatever, and see what you get. I'm so excited about my discovery of cashew apple vinegar that it more than made my day out trip memorable forever after!
Well, he has work to do, said Jack and when the sacks of grey coated caju nuts are put in his jeep, we drop them off at the nearby Bagayatdar Sahakari Kharedi Vikri Saunstha Maryadit (Goa's best agricultural/ horticultural cooperative)… return to the homestead to collect the containers of fresh neero and urak and head back to Panaji, by which time dusk is falling and the twittering birds en route are singing their au revoir lullebies.
OF COURSE, I must re-visit the Sukhijas' Cajueiro Homestead to discover more about Valpoi-Bicholim-Dodamarg. There's quite a bit of caju country out here but if the Bicholim iron ore mines re-open it'll be a familiar story of rack and ruin anew! His father has also invested in an old orchard up in the hills where someone tried to grow a rubber tree estate but failed, wanted to sell off. It's high up in the hills and veritably an eagle's eerie, property to be developed into a tourist resort like Wildernest in the future if ache din return for the tourism business in Goa!
SUKHIJA STORY
RETURNING to Panaji I catch up with some of life's stories with Jack Sukhija and ask him if his father Ajit Sukhija would consent to going down memory lane with me… he shrugged, not sure; Jack quipped his father is an adventurer at heart, has this passion for old craftsmanship and is constantly picking up something to interior decorate his heritage hotels! He is more worried about his mother Lilia Sukhija nee Sequeira (one of the daughters of the late Jack de Sequeira, popularly considered one of the key players in the historic and turbulent Opinion Poll of 1967). In a love story like no other the Catholic Goan Lilia married the Hindu Punjabi Ajit Sukhija of heritage hospitality fame in Goa… and he, Jack Sukhija, is a Punjabi Goan son or something like that. Jack is married to Malayali girl Miriam and has two children.
This is to say if you're a connoisseur of genuine old craftsmanship, it may be worth your while spending a few days at the WelcomHeritage Panjim Inn or their Pousada located at Panaji's Latin Quarters (now officially declared heritage quarters) – it's quite simply the best place to stay if you want to be comfy and to discover Fontainhas and its old charms of history gone bye bye, but still lingering here and there in the homes of old timers with their colorful pocket gardens. When I want to catch up with some peace of mind I go out to Fontainhas and instantly feel like I'm on holiday while I am out there!