SERIOUS: The delay in testing the fast incubating mutant virus is resulting in cases being diagnosed only when they reach the critical stage requiring oxygen.
By Rajan Narayan
The new mutant incubation time is only 48 hours as against one week to ten days of the previous one. Due to the panic and the huge rush for getting tested, the GMC and health centres take a week to ten days to deliver result. By that time the infection has already spread to the secondary stage when oxygen is required. But there will never be enough isolation beds or oxygen ventilators considering the rapid pace at which the positive case are emerging, with high mortality figures. Even if you have mild symptoms get yourself tested in a private hospital. It will cost you more but you will get the result in 24 hours and your life is worth it!
THE primary reason why the number of cases and deaths due to covid-19 is increasing in Goa is because of the delays in the results of testing done. The testing facilities in the GMC are adequate only for a maximum of a 60-80 tests per day. But now the State government claims that it is set up a new facility which can test 450 patients a day but when the results will arrive is anyone's guess!
This is like the story of the hare and the tortoise. By the time the government expands its testing facility the number of infected cases will have shot up four times the number. As against the testing facilities of roughly 500 cases in the GMC the number of positive cases as on Sunday, April 25 was 2,293. By this weekend it could even cross 10,000.
The situation is compounded by the fact that the recovery rate which was as high as 98% has now dropped to 81%. Which affectively means that out of every 100 Goans tested 81 are turning out to be positive. The other factor is that the new double mutant variant incubation time is just 48 hours. Unlike with the old variants where it was seven to 14 days.
The bureaucratic attitude at the Urban and Primary health centres has made the situation worse. The Primary and Urban health centres just do not have the staff to test even 50 cases a day, let alone the 500 fresh cases they would be confronted with. With rare exceptions the staff of the health centres are more worried about being infected themselves, instead of reassuring the patients coming in for testing.
We must concede that the load on the test centres has increase more than tenfold. The number of hotspots increased to 82 across Goa. A hotspot is described as a primary health centre which reports an average of more than 50 positive cases. In a major hotspot the numbers are shooting up to the sky. On Sunday, April 25 the number of active cases in Margao was 1,236; in Candolim 1,208; in Porvorim 1,157. In Panaji the huge spike in cases has forced the government to convert prominent buildings like Madhuban' at St Inez and even the CaranzalenModels I' into mini- containment zones. In containment zones no one can come out and no one can go in. We experienced the problems of a containment zone at our former residential and office villa at Dempo Bhat, which slowly degenerated into a Nepali slum.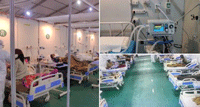 HOME QUARANTINE
AS you may see from the articles on home quarantine and isolation treatments and hospital scenario, even in home isolation mild infection symptoms of cough, a temperature above 103 degree Fahrenheit, a running nose, a sore throat…al may be managed at home. This is because it takes a week to 10 days for serious symptoms to manifest such when the infection reaches the lungs and difficulty in breathing manifests along with body pain and dead loss of sense of smell and taste buds.
UNFORTUNATELY, in the case of the new variant, the secondary serious symptoms develop within 24 hours of primary symptoms! So by the time test results arrive after a week a patient testing positive has reached a critical stage of the infection and is in urgent need of oxygen.
There was adequate oxygen when new admissions to hospitals numbered only 20 to 30 patients. But what happens when a—or more patients pour in with critical symptoms of covid-19 infection and need to be hospitalized? Goa does not have mega hospitals able to deal with 2,000 or more patients. Even in the case of private hospitals there are very few which have piped oxygen supply which switches on and off by the patient's bedside.
A patient requires as much as 60 litres of oxygen per minute. In the normal course hospitals maintain an oxygen bank primarily for their ICU patients who are usually critical cases which do not normally exceed 50 to 100 in Goa. How do you tackle a situation when suddenly the hospital needs oxygen for 1,000 patients? Oxygen is supplied to patients via thin tubes placed in the nostrils. In some very serious cases oxygen has to be pumped up the lungs of the patient under high pressure. This is the stage when the patient is almost terminal and has to be shifted to the ICU where the ventilator takes over the job of the lungs in keeping your heart beating and supplying oxygen to all organs of the body. Without oxygen the patient will go into coma and organ failure.
BRAIN DEAD, NOT HEART DEAD
PEOPLE are declared dead not when the heart stops but when brain dead. The heart may continue to beat as long as the patient is on ventilator support system and the patient considered still alive. The ventilator can continue to pump blood around the body to see if there any brain recovery is possible (a much slower process). But even the ventilator cannot supply oxygen indefinitely to keep anyone's heart ticking.
But in Delhi and elsewhere in the case of covid patients we're getting many reports of patients dying for want of oxygen in time and patients are dying gasping for oxygen to give them recovery time. The Gangaram hospital in Delhi is a favourite of VIPs including Sonia Gandhi but it is here that several covid patients died for want of oxygen in time or their oxygen supply dried up. Mind you, Gangaram is a big corporate hospital with over 700 beds.
As Mohan Das Desai, retired general manager one of the largest independent oxygen producers in the country, has pointed out, that there is no shortage of oxygen. As much as 7,500 MT of oxygen is produced in the country every day. Historically, most of the oxygen is used by steel plants like Tata Steel and Jindal Aluminium.
Amongst the largest independent oxygen producers ironically, is INOX, which runs the multiplex in Panaji. The average requirement of medical oxygen before covid-19 was just 5% of the total oxygen. As the former GM has pointed out that there is no difference between industrial oxygen and medical oxygen. Industrial oxygen is normally 99% pure while medical oxygen only needs to be at the level of 96%. The problem is not non-availability of oxygen. The problem is transportation.
Every oxygen cylinder which is like our domestic gas cylinder although a lot more narrower and longer costs Rs4,500 and has an oxygen capacity of only 300 litres. This is similarly to the gas cylinder which cost about Rs10,000 though the quantity of gas is only 19 kg. Never mind that the cost of domestic gas has now shot up to Rs800 and that of the commercial cylinder to Rs2,000.
THE oxygen is there. The problem is transportation of oxygen cylinders. Oxygen is transported in bulk in double lined steel tanks which can carry thousands of litres at a time. The process of transporting oxygen from the plants in Gujarat to New Delhi and back for refilling is on an average 14 days. The tanker drivers may not speed up given the condition of the roads, if there is a leakage or emergency situation not only he but the people of the area will be in trouble.
Some covid patient deaths in a hospital in New Delhi have been due to outbreak of leakage in oxygen cylinders in the ICU, it resulted in the death of 28 patients. Which is why Air Force mega transport aircraft are now being used to lift entire tankers from production site to the city of destination where there is a desperate shortage of oxygen.
Goa has three producers of oxygen though one of them, Govind Poy Raikar, has its units in Karnataka. Karnataka refused to let the Goan company sent its oxygen to Goa! The other two companies have a limited capacity.
Amongst the big scandals emerging due to the acute oxygen shortage crisis is the failure of Delhi Chief Minister Arvind Kejriwal to use funds granted by the Central government to set up oxygen plants. Though the Centre gave funds to set up five oxygen plants he set up only one. In theory every big hospital should have its own oxygen plant which produces its own required quote of oxygen. However, even the biggest hospitals in India do not have their own independent oxygen producting plants.
IMPROVE TESTING FACILITY
NSTEAD of investing in oxygen plants for which there will be little use once the pandemic is over, the state should invest in testing equipment. If every urban health centre and taluka has at least one testing lab then the results will surely be available within 24 hours? If tests come quickly then treatment can start sooner instead of later. As it is happening currently tests come after a week by which time a positive patient may well be critical!
The majority of deaths in the last two weeks have occurred within 24 hours of admission. So the problem is not availability or non-availability of oxygen. The problem lies in the testing. The bitter ground reality is that home isolation does not work. Over 70-80% of those who test positive opt for home isolation. Even MLAs and councillors don't seem to know the meaning of home isolation. Some of them were actively campaigning during the civic election held on Saturday. Even though they were covid positive! Tourism Minister Babu Azjgoankar, who had reportedly tested covid positive, was captured on a video going viral – dancing at a mehendi ceremony in the family!
Fortunately from the May 1 everyone above the age of 18 years may get vaccinated. The vaccination may cost between Rs400 in a government hospital and Rs1,000 in a private hospital. This depends on your choice of vaccine, privately you have a choice between Covishield, Covaxin, Sputnik, Moderna and there is also Jemsen (made by Johnson & Johnson, this vaccine is a single shot). Half-a-dozen vaccines are available. Whatever your reservations may be above vaccines at least for the sake of your parents and children go and take it.
You will be otherwise risking the live of others. The second wave unlike the first is not a tea party. In the second wave the increase in fatalities in Goa has been 86%. The ratio of fatalities is 1.3% compared to the national average of less than 1%. The positivity rate which was as high as 97% a few weeks ago is now 81%.
Which means that out of every 100 Goans tested 18 report positive. The recovery rate which was 98% is down to 81%. Which means that out of every 100 who are admitted 19 die. Do you want to be amongst the 19 — which might increase to a 100 or even a 1,000 if we continue to ignore covid-19 protocol like strict wearing of masks and maintaining distance. While our Goa's Chief Minister Pramod Sawant continues to allow casinos, night clubs and bars to continue partying khullam khulla!