At the Majestic Pride Covid Care Centre: Anyone can come here where RT-PCR is done and if confirmed covid-19 positive, may be admitted for treatment at no cost. It's a 60-bedded facility funded by the Majestic Pride casino group
Don't send me to the GMC, send me to the Dr Shyama Prasad Mukherjee Indoors Stadium currently doubling as a state-of-the-art covid centre.
TARA NARAYAN catches up with two exemplary covid centres in Panaji… which are currently under-utilized, which of course is good news hinting that we may be seeing the last of the pandemic!
IT was something worth doing. Visiting two of the better Covid-19 facilities set up by Chief Minister Pramod Sawant's government in Panaji – just to make up my mind about where I would like to go to live anew or die, if I get covid-19. But touch wood, quickly!
• ON June 10, 2021 there were 19 patients – 11 women, 8 men, and one child – at the state-of-the-art 60-bedded Covid-19 facility set up at the Sports Authority of Goa's Multipurpose Indoor Stadium (close to the Panjim Gymkhana by the banks of the river Mandovi). Here a polite Majestic Pride casino admin employee and now covid-in-charge at the facility Mary Rodrigues (along with Minguel Araujo), shared that they have a 60-bed facility, but as of today only half the beds have been used since the covid centre opened on May 21, 2021.
They confirmed that as all the big billboards in the vicinity testify — this Majestic Pride Covid Care Centre at the new Campal Indoor Stadium is being bankrolled by their Majestic Pride casino boss Srinivas Nayak. The patients are being taken care of by Dr Sonia and Dr Mihir Chaudhary, they have 16 nurses who work around the clock on shift basis… "only mild and moderate covid patients are taken care of here and anybody can walk in if they think they are suffering from covid symptoms. All patients are treated free of cost during the recommended stay at the centre." They also do the RT-PCR test here to confirm covid positivity.
Someone suggested that I go and check out the scene at the most prized covid care centre of them all in Panaji, at the splendid Dr Shyama Prasad Mukherjee Indoor Stadium at Bambolim plateau near (University of Goa) which is now Covid Care Centre and Step-Up Hospital.
• At the Dr SPM Indoor Stadium which is currently also doubling as local north Goa headquarters for covid patients, the tally of patients for the day was 32 patients (nine women) in a 160-bedded facility, with 30 beds set apart for the step-up section equipped with oxygen concentrators.
Oxygen is very important for treating covid patients but unlike oxygen conveyed through the larger cylinders, the smaller, compact concentrators they have are limited by their oxygen capacity, said admin in charge Sandeep Martin Warlikar (of the Sports Authority of Goa). The number of patients has come down now but when it opened in April they were taking care of as many as 185 plus, plus covid patients referred by the Panjim and other primary health centres, "This was mostly when the second phase started from April 9…we had mild and moderately infected patients whose oxygen saturation had dropped below 95."
He reiterates something often heard, that patients with comorbidities and especially the diabetic and heart patients, also asthma patients, suffer the most when they also contact covid. Although they have enough oxygen concentrators if any patient turns serious or whose oxygen saturation drops to 95 to 90 we send to the GMC to be put on the ventilator. Most of their patients like it here and do not want to go to the GMC!
The various patients' sections are not air-conditioned but well ventilated compartmentalized spaces organized along interesting Red, Blue and Green zoning with a staff station at one end of the huge hall. There are also several adjoining rooms from which patients may be observed and also a pharmacy store room and a medical staff room. The Red Zone is only for patients, while the Blue Zone is for doctors for what is called "doffing and donning" (that is changing into their elaborate PPL attire by way of protection against contacting covid before going into the Red Zone to check on patients); Blue Zone is safe while Green Zone is the safest!
From the sound and looks of it this is an efficiently designed system put into place by Dr Reuben De Sousa. Dr Reuben is a plastic surgeon from Bahrain and apart from being a burns specialist, he is trained in treating covid patients, having seen life and times in the Bahrain military services. A forthcoming, genial doctor he is open and shares a lot of thought provoking and useful information, "When covid broke out in Bahrain all of us in the medical fields were trained to handle the pandemic and its patients."
Basically with the covid infection, he stresses, we need de-centralisation and disciplined management of patients; home isolation generally doesn't work. Once recovery is achieved it's okay to send patients home with supplements of B complex, vitamin C, zinc, calcium, "patients are usually on a five-day doxycycline (antibiotic) to take care of infection. What about the ivermectin controversy? It has become needlessly controversial!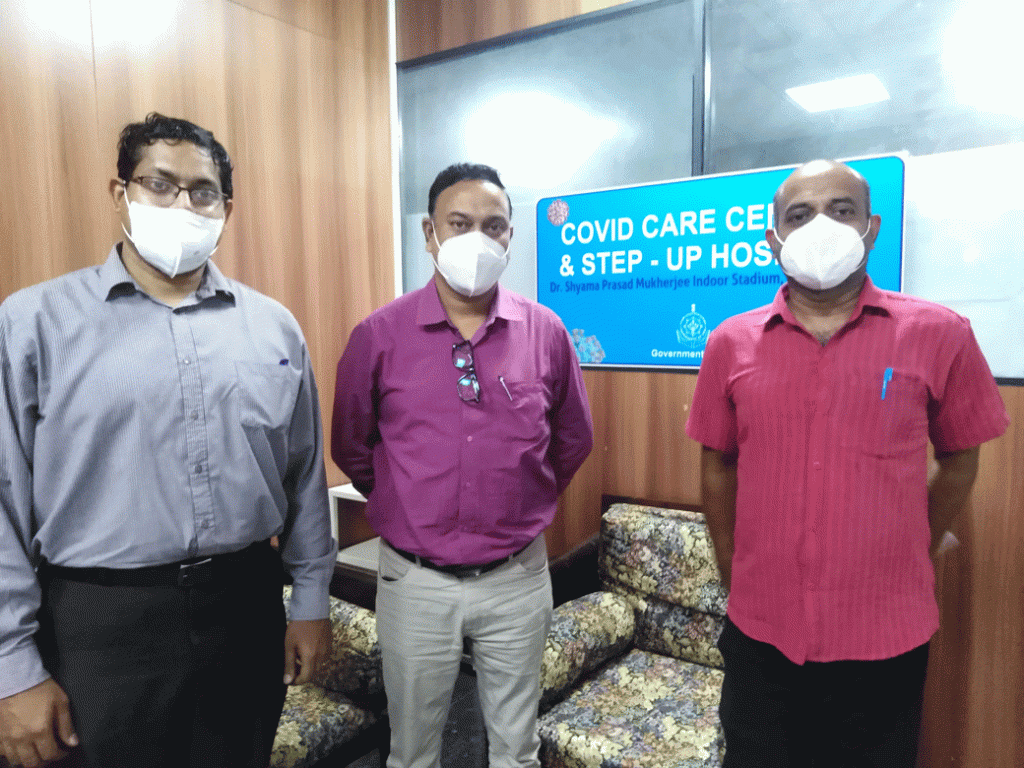 Dr Reuben has done his homework and says there is a lot of researched evidence testifying that ivermectin destroys the coating of the corona virus in nasal passages…a study in Japan in 1997 revealed this. Amongst many studies there is also a Dhaka (Bangladesh) study which shows that the drug helps in faster recovery from covid infection, "I think ivermectin is one of the safest medicines even if it's de-worming medicine given once a year! In the case of covid it helps prevent fibrosis in the lungs…but no, we don't prescribe steroids; aspirin 75g is a must for covid patients to prevent thrombolysis…."
Other drugs being prescribed for covid infection are deflazacort (for muscular dystrophy, it's a corticosteroid) and pirfenidone (for pulmonary fibrosis and even venous thromboembolic disease), some patients may even get an incentive spirometer to help them keep their lungs active and free of fluid while continuing the recovery process when discharged.
DIABETES SERIOUS
The most serious cases do have blood sugar concerns, he acknowledges, "The other day a covid patient came in with a result of 500 soaring blood sugar…" Patients don't care about their diabetes and do nothing until they get into trouble! These are the hardest patients to treat and sometimes treatment drugs too aggravate and raise blood sugar issues which affect the organs of the patient. Patients have to be educated on the subject of their diet and lifestyle changes and often given the age of patients it may be too late.
The three inflammation markers in recovery are the CRP, D-Dimer and Ferritin tests. Post-covid recovery patients have to watch out for fungal infections like aspergillosis which hits the lungs (of weakened immune systems), candidemia which is a blood infection and by now the infamously called black fungus or mucormycosis which may occur after discharge of patients when they may go home and breathe in fungi present in the air or soil! To a query Dr Reuben responded, No, he doesn't think we in Goa will be free from covid very soon, "We are not out of the red yet and we'll see it for another year or two of more cases…"
The step-up covid facility set up at Dr SPM Indoor Stadium with systems put in place is very reassuring, patients' details are on file and pertinent information up on a big board put up in the Blue Zone for relatives who come to find out how their patient is doing on a day-to-day basis. The containment zone is barred for free entry for anyone not wearing a protective PPL suit. At the moment they have 30 beds here but the boast is that they can take care of up to 50 patients if need be in emergency situations (although that day only six beds were occupied in the Step-Up area which functions like a mini-hospital). It is true of course that with the covid statistics falling in the last couple of weeks and we're no longer hearing the horror stories at the GMC of patients lying on newspapers and bedsheets on the ward floors or on stretchers….the covid centres set up albeit belatedly have done a great rescue job.
Even the two covid centres I visited looked pretty bare and empty the day I'd called. If a case turns serious at a covid centre the patient is shifted to the GMC which is not too far away, but quipped Sandeep Warlikar, "We have not yet seen any deaths here at the covid centre so far!" Judging by what he says many of the mild and moderate covid patients are referred here by various government health centres and, "In fact, some mild to moderately affected covid patients who go to the GMC may also be referred to us and they like it here, they are willing to stay on for a few more days, they don't want to be discharged too quickly to go home!" This is quite a cheerful contrast in study if you think how overstretched and overburdened the scene at the GMC always is.
This is because at the covid centres patients may be well taken care of in smaller numbers and there's less pressure on the essential facilities available. Mercifully, there is no more oxygen problems for several NGOs and people have donated oxygen concentrators, some even come in with gifts of fruit to augment the patients' diet. Someone has also donated an oxygen cylinder to their Step-Up covid care hospital section! The milk of human kindness is flowing.
NO COMPLAINTS
The patients are provided for everything including breakfast, lunch and dinner (courtesy catering services contracted by the North Goa Collector's Office); as also whatever medicines prescribed by the team of doctors doing their rounds morning and evening. Apart from Dr Reuben De Sousa, there's Dr Kedar Raikar from PHC Corlim and Dr Oswald Fernandes from Urban Health Centre in Panjim. There is also Sandeep Warlikar who is admin in charge and medical liaison officer Domingos d'Costa.
Altogether the team at Panaji's premier covid centre adds up to 130 staff, there are also on duty electrician, housekeeper, technology expert for breakdowns. Normal SAG staff report here for assigned duties for duration of the covid centre and the now so called Covid Care Centre & Step-Up Hospital at the Dr SMP Stadium (which has seen so many International Film Festival of India gala entertainment evenings here in the past!) also serves as a sort of base headquarters from where other covid centres up north Goa source their needs from.
It's teamwork and nurses working in rotation come in from primary health centres at Corlim, Panjim, Porvorim, Chimbel, Betki, plus there are doctors of Homeopathy and Ayurveda to help out. Patients have these LD television screens on which yoga sessions are run, basically to teach patients how to improve their lung function, as also useful information to do with how not to succumb to infection once they're discharged and back home.
The mandatory free covid package treats and monitors covid patients back to a better state of health before they're discharged to return to their small living spaces where even family can be a source of stress. It's reassuring to know that when it comes to deadly covid-19 (deadly depending on which strain catches you) you have a choice covid centres!
If you're living in Panaji and come down with covid-19 symptoms of dry cough, diarrhea, loss of smell and taste, feel tired walking from living room to bathroom and find it difficult to pee….and above all if your pulse oxymeter reading indicates your oxygen saturation level is less than 90 you're in trouble (generally 95 to 100 is considered fine). Don't hesitate to call at one of the covid centres.
This is finally to say to say in capital city Panaji we're not so badly off; take care of yourself but don't worry. If some demon covid pounces on you, you have to some pretty good covid care centres to take care of you courtesy some very honorable covid warriors. In the meantime, perhaps the Collector's Office would like to tell us how much all this fine covid care is costing the public exchequer and how necessary it is once the need is over or lulled into better times!