Fortune veg tray lunch, several meal deals for takeaway or delivery now!
By Tara Narayan
SUNDAY I didn't feel like cooking at all! That is after a filling breakfast of apple-omlet-toast-tea; or what I do more often is half and half plain rolled and curry-pepper masala oatmeal…and then when it comes to a roll add in some beaten egg with a handful of chopped greens (whatever is stocked in the fridge by way of green coriander, mint, kale, or even radish greens, dill. The season of greens is here and I'm beginning to see piles of early monsoon leafy moony taikilo greens (the first to burst up with the rains) at the Panaji pavement gauti market which is back…lots of local greens to take an interest in like maskachi bhaji (the confetti-styled drumstick tree leaves).
But to stay with my nautanki breakfast oatmeal after it was cooked I poured it into a large transparent glass bowl, dropped atop it cubed bread toast (toast bread and cut into cubes) and a slice of Amul butter, sprinkle of black pepper, stir and enjoy. Yummy-licious oatmeal all my own recipe!
After this naturally I can easily do without lunch but fact is we end up eating not only when we're hungry, but also when we're not hungry. I was in no mood to make roti-sabzi (though both cauliflower and bottle pumpkin was waiting for me in my kitchen). Then I remembered that the Fortune Miramar too is now coming alive and in the act of offering some interesting meal deals if you can afford to buy meals these corona virus-infested times.
A friend posted me the interesting Fortune on Demand Food offer menu and it offered several options. You may choose your breakfast, lunch and dinner menu daily (Rs6,000 per week) and right, it would be delivered to your doorstep with or without delivery charges depending where you're located. Then one could also order only breakfast/lunch/dinner at Rs2,000 per week. In a bit of a rigmarole confusion it was simpler to call up and ask a Manjit Singh if I could do just lunch takeaway for the Sunday, "I will come and pick it up because I live close by?"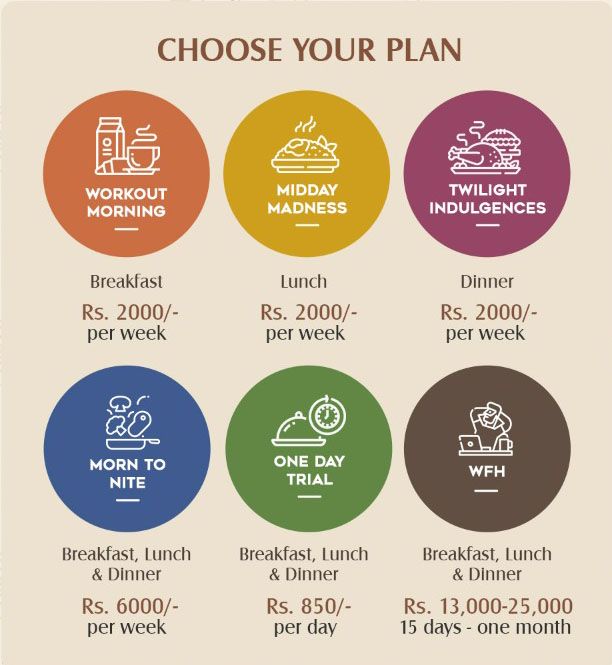 He said, generally it is not allowed, sole meal takeaways but they do have a one-day trial meal for you make up your mind about the weekly service! I went and picked up the lunch tray and in this obsequitous pocketed trays for Rs240 (I couldn't read the faded receipt which had got all damp) — I got two nice phulka, enough steamed rice, portions of paneer makhani, peeli dal, tossed salad, pistachio-dotted gulab jamun, packet of lightweight cutlery wrapped in tissues. Good enough for two to eat frugally. I wasn't interested in the gulab jamun. The man was khush. Never mind if I wasn't so much although I was the one for who wanted to buy home a meal that rainy, filled with nameless blues Sunday!
I mean I'm the one who was grumbling about cooking every day like some bonded slave and all that and then ready to nitpick – women nitpick more than men I assure you; plus, after ordering a five-star meal I always think I can do better than all the male chefs, just suffering from superiority complex, okay.
BUT this is to say life can be quite contrary when it comes to each narrative. If you you're in the market for five-star kitchen meals (I don't know if the Fortune Miramar is a five-star property though) then check out its recently arrived comprehensive choice. They have Indian veg and non-veg, Oriental veg and non-veg, Continental veg and non-veg choices and the meal deals are quite interesting, I've half a mind to do the lunch meal deal for Rs2,000 per week…but I can't bear the plastic tray littering which comes along with the meal!
It's absurd to pack meals in these pocket trays of slippery plastic, fixed with cello tape to prevent spillages. Every meal provider is patronizing these pocket plastic trays and I find them quite vile; but come to think of it the Marriott Resort and Taj Vivanta Panaji are also doing meal takaways – when I asked for an advertisement for the Goan Observer this great Taj Vivanta friend sent me a large bag full of food in pristine white container boxes another Sunday luncheon. I asked a friend to come and join us but then tried to wash out the boxes for re-cycling and refused to chuck them out. In this respect I'd give the Taj Vivanta meal deal full marks for being the most eco-friendly hotel in town Panaji!
The Marriott Resort kitchens too use eco-friendly packing in their takeaway meal deals which are of course more expensive, more in the line of Rs1,500 plus, plus, but you'll have to check it out individually. All have their set meal menus of choice. These days there are three-star and two-star takeaway food kitchens too and it's like if one has money to burn one may do a slow kill on food for oneself without any assistance from Madame Corona Virus…because of the plastics I don't really do too many buy home meals except maybe for that odd Sunday to welcome the monsoon with all its joys and woes, more woes this year. I feel as if where have all the lovely days of old monsoon days one when with the first footfall of rain my mind would be deluged with some favorite Hindi songs of old – this year, nothing.
SOME of dear friends have gone with the wind, the kind who used to entertain me with good-morning and even good-night messages, a few songs of old, some advice, etc. I can't even bear to delete their names from my WhatsApp roll call although they're no longer around. Of course not all die of corona virus, some die of cancer and heart attack prematurely for whatever sins of omission and commission and even without that the Grim Reaper arrives to take them away. This monsoon I am quite desolate. May be that's why I've lost interest in cooking with my long-lost joi de vivre anymore! And so put up with takeaway meals from here and there as long as there is money in my purse.
MONSOON IS FOR PANCHAKARMA!
YOU must know that the monsoon months in Hindu tradition are actually for fasting and detoxing (panchakarma in Ayurveda) and giving body beautiful a chance to live longer healthier? Not the current story of entertaining sickness big time which keeps the pharma and pharma-sourced industries in clover!
If you want to avoid sickness it is necessary to respect life, restrict yourself to may be two meals a day; nothing in your mouth post-sunset. Drink more, eat less is the Ayurveda dictum. Read more (few read books nowadays and there should be book clubs to revive the gentle art of reading), do yoga more, talk to your parents, siblings, friends more — for they may not be around tomorrow and a little bit of you will die with them if they're gone with the wind before you.
I once asked a friend who was ill, if I could go see him, and he said No, he didn't want me to see him in his terminal illness…as if it mattered. I'd wanted to see him just one last time but it was not to be and now every monsoon I remember him vividly, a good if distant friend. Life is like that only. Here today, gone tomorrow, a cliché I suppose, more so in our insecurity-filled covid times.
Some friends are so devastated by the loss of a loved one that I see them frailer than before and don't know how to cheer them up. It's like they have everything but no one. Make the most of loved ones today. A friend from Canada called, she said, "First the wife went, then the husband, in a week's time…and we were such good family friends. I feel as if I'm losing my mind with the tragedies of life unfolding with this wretched pandemic." She poured out a saga of woes and all I could do was listen as she confided in me.
FOOD FOR THOUGHT
SO consider all this food for thought and remember to make the most of today covid19 or no covid19. Cheer yourself by taking an interest in the monsoon greens coming into the market, that's what I'm doing. One of these days I'll make moong dal or moong dal chilla with dill; one of these days I'll get those baby heart-shaped arbi leaves and do savoury patra; one of these days I'll do a ghee tempering in ajwain and set buttermilk to the boil, dropping in crushed garlic…gently spooning in grainy rice flour, salt from the mountains of the Himalaya; season my Guju "papdi-no-lot" or "bajri-no-lot" and lace it with cold-pressed golden sesame seed oil, tuck in while it is raining all around me outside the windows. Or maybe I won't, those days are gone along with the company I loved.
MODERN'S BROWN BREAD
I THOUGHT I'm done with bread but then sliced bread is so convenient and of all the sliced white factory breads of the marketplace I've become somewhat fond of the Verna-based Modern Food Enterprises' Brown Bread which claims to have the "Goodness of Whole Wheat and Oats In Every Bite!" It was the rolled oats in which made me pick up this bread one day although the mandatory ingredients lists just "Atta (60%, Rolled Oats, Malt Product…." Etcetera. It's a light bread yet flavorful in comparison to the slew of factory sliced white maida breads which most buy. I can no longer eat them but this Modern's wheat and oatmeal sliced bread is halfway agreeable at Rs33 per loaf. Not all the stores stock it so one has to hunt for it!
What do I use so much bread for despite having a gluten problem? Buttered toast in the morning with omlet atop it, sometimes cheese toast at tea-time and these days I'm learning how to make "bread upma" in various savory ways! I prefer to tear up my leftover chappati to make a stir-fry, we call it "vagareli rotli" in Guju and it's yummy if you stir-fry the rotli bits in onion-tomato-ginger-green chili-garlic fry, adding in turmeric and jeera powders, stir, stir and when the mixture is a little toasty pour in some buttermilk and bring to a boil. Garnish with coriander greens and enjoy. More yummylicious than bread upma!
But the truth is on my own I would rarely eat bread. Occasionally, maybe as wholesome garlic toast or with a soup, but generally speaking commercial bread is a no no. Never mind, lots of things are no, no but one may be selective. Problem with modern bread is all the commercial gook they put in it to destroy your brains. Worst case scenario is to limit your intake of bread but who doesn't like a sandwich occasionally – well, you can do it the Bombaywallah way and stuff in lots of thinly sliced onion, cucumber, tomato, beetroot, boiled potato, capsicum, mint chutney, butter…toasted or not toasted it's a great early evening meal, very nice, more salad than bread, don't feel guilty!
I think this monsoon I'll explore the better stuff in the marketplace and share them tidbits here. Like if you're choosing between two evils, choose the better evil no matter how marginal. More next week.
MONSOON GREENS ARE HERE!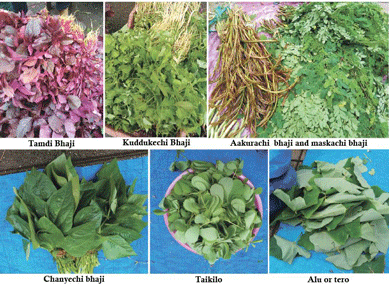 Goa has a fascinating collection of monsoon greens and come the monsoon months you will see them greening up at you at the gauti pavement markets here and there in Panaji or Taleigao. Considering how much of a role greens play in contributing to the pink of health we should eat more of them, the country tradition is generally to eat bhakri with some greens in an early evening meal. This monsoon learn to recognize Goa's greens wild or cultivated! Here you see the round-leaved taikilo (growing wildly by the roadside currently), the leafy bunches of kuddukechi, shiny maroonish akur, chanyecho bhaji, maskachi bhaji (confetti leaves of the drumstick tree), the much loved heart-shaped alu or tero (make steamed aluwadi). Also look out for kille (tender bamboo shoots), tikichi bhaji, faagla (bitter gourd lookalike), haldi leaves (for steaming things in for a mildly turmeric aroma, not edible otherwise), there's a creeper called shirmundlim and much else. Eat steamed greens in raita or soups, chutneys, in combination with a slew of beans and peas, white peas, and white and red kidney beans being very popular in Goa in combo with greens.