GOA MEDICAL COLLEGE & HOSPITAL TRANSFORMATION… cleaner wards for one thing! Alongside is a picture of the wholesome Sodexo meal even ward patients get. Private room charges when one enquired were considerably upgraded to make it difficult for aam aadmi to afford. Only our politicians may seek refuge here when the need arises! Take a look at the charges here.
By Tara Narayan
Eating is Fun / Eating is Yuck! – A variety food column
IT WAS back anew in one of the ward rooms of the GMC for me to eat the patient's food and buy the patient food from outside or cook it at home! It is idiotic that patients may not like the Sodexo-food trays served for breakfast, lunch and dinner at the GMC wards. Ward life is more stressed out and interesting and we were in Ward 111 which is for male orthopaedic patients, mostly accident and trauma patients with their limbs in plaster or bandage or whatever.
Sometimes I think life in a public hospital offers more food for thought, as much as life in a private hospital, say the Manipal hospital. I've spent time in both at different times and occasions. But this time at the GMC it was life as usual in the wards and I must say conditions in the wards, at least the ones I saw, have improved somewhat. But as usual in the GMC wards there're a slew of relatives time passing with their patients, and I was amused to note that during doctor's rounds most of them were shooed out of the ward doors to wait it out in the foyer areas outside!
Judging by Ward No111 it looked pretty chaka chak with daily mega cleaning up courtesy high technology, quite a treat to watch. One uniformed guy uses a heavy duty machine to soap the floor, another machine sucks up the water, and finally there is the swabbing with a giant mopper. The floors gleam and I suppose one could eat off of them or dance off them or sleep on them if one wished for a while! Anyway, one could always time pass on the more or less stable stainless steel bench outside the side room of a difficult patient, and watch the goings on of the ward.
CLEARLY there is a shortage of staff as fresh staff appear and disappear after their shift duties are over. I ask for a pail and tumbler for the patient and some broken down contraptions appear, donations from companies for useful re-cyling or so I imagine. The tap in the bathroom is temperament but yields water generously. In a ward nursing staff overview 30 or more patients at a time so they are pretty hard-pressed, and have little time to indulge in small talk, except for a quick smile and whatever guidance one wanted – sorry, there is a shortage of pillows.
The Sodexo meals come and go, idli and a nice sambar for breakfast one morning, two pau and a savoury, salty masoor dal another time; lunch and dinner trays are replete with a pocket of salad, two chappati, a dal and sabzi…turai one afternoon, nice, very nice. While the patient eats my home-made chappati and sabzi I enjoy the patient's meal which is actually more filling and complete nourishment. It's no longer amusing that while the patient wants to live on biscuits, white bread sandwiches, some tetrapack drink or another from outside, patient's wife feasts on the patient's breakfast or lunch when she is there! At least eat the boiled egg, I argue. When I get reprimanded, I just walk out.
There is too much food for the patient's dinner meal and I'm thinking that eating three meals a day is too much anyway…very often patients just let food go waste and then there is the vomiting in the lifts. Ward scenes can be crazy, one old woman with a pile-up of unwashed tresses rolled up on her head like a wormy bun, smiled back at my dazed smile and offered, "Devache!" Meaning she is not washing her hair because of mannat she's made for the good of a patient in her family. I become very fond of her and greet her everytime!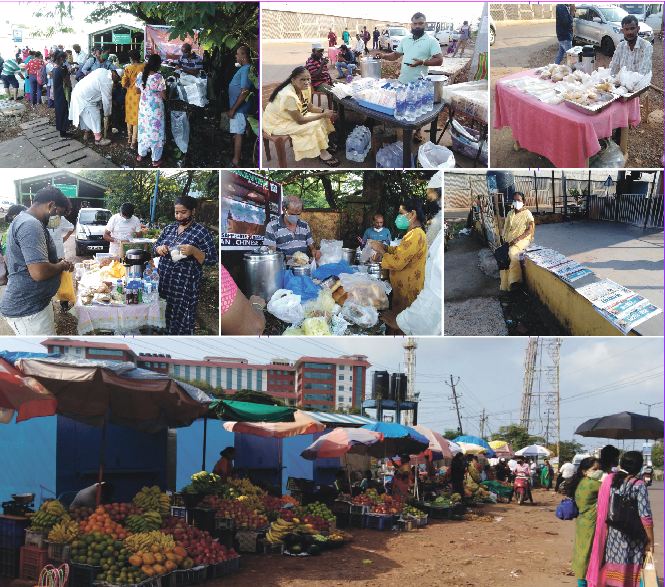 MY patient thinks he is here for good or at least the next 15 days to sort out his distressing problem, and I would rather shift him to the GMC's private block room but the rates here are sky high now and even doctors charges are more….the patient says, nothing doing, "I'll manage here for now, after all the GMC is my sasu-mai and it is here that all my health woes started…let them end here if they must!" Alarming for me but I salute him for some patients can be very gallant in their outlook on life, unlike me.
The only thing about being at the GMC with a patient in distress is all the walking around one is require do even if there is a lift and oh yes, one may lose one's sense of direction while negotiating wards. Everyone is masked more or less as part of covid protocol and I find I start coughing when I wear a mask, so remove it promptly and the coughing stops. Or sling the mask around my chin like a new fashion statement! Most masks are like rags by the end of the day with patients and their relatives using them to mop their sweaty faces.
THERE'S some major restructuring going on outside the GMC gates and it's a smoother ride in and out on my two-wheeler. But the lighting at the gates in the evening leaves a lot to be desired (not that I love blinding bright lights glaring back at me) and meal times I notice how a number of so called fresh snack vans turn up to sell their day's offerings of idli and dosa-chutney, upma, poha, batatvada, puranpoli, dhokla, sannam usual and sweetish…samosa at one outlet was scrumptiously Rs10. Most patients' relatives doing some caring of a patient at the GMC wards prefer to invest here with the daily turn-up of vendors for their needs, more economical than the inside organized cafeteria.
The fruitwallahs have been shifted further afield and most sundry business people prefer to come park their vans for a few hours to do business…I bought a nice cotton lungi for my patient for Rs150, shudh cotton, washing will soften it up. Next time remind me to bring my own flask for the narialpani and malai…no more tetrapack cranberry juices from now onwards, only narialpani, priced Rs40 nowadays but the odd vendor will charge Rs10 extra for taking out and packing the refreshing malai for you in a plastic pouch.
Our mass patronage of plastics in food vendoring must stop for we know not what we do and how we crucify Mother Earth day in and day out with our vile plastics going into landfills endlessly, a hopeless scenario which makes my skin crawl with shame. Human beings must be the most shameless animals of the animal kingdom on the good earth. We need a real hands-on movement to boycott plastics and give the people a real eco-friendly alternative, cheaper than plastic.
BAMBOLIM HIGHWAY
THAT said I noticed that the political scene-scenary up and down the Bambolim highway has changed with all kinds of political wooing of aam aadmi going on via banners, flags, posters and what not….West Bengal's Mamata-didi is happily plastered across bus-stop shelters too and it's a bit distracting despite her warm smile. It's not like she wants to be the chief minister of Goa, she desperately wants to be the prime minister of India. Political marketing has reached dizzying brainwashing, don't fall for it please.
I'm going to play safe and vote Congress this time around for I am just so tired of the merry-go-round of defections all around! Defections make nonsense of elections and electioneering and I definitely do not approve of dynastic political raj in state after state at all. The looting of the public treasury continues ad infinitum and we're becoming slaves or mere cogs in the wheels of time…this country is in need of a real miracle to make a clean sweep of mercenaries, carpetbaggers, actors and actresses, criminals big and small – liars telling lies galore, lies in lies like we, the people are fools and will buy all the freebie fekam fek!
OKAY, no more, this is historically a food column but I dare say I've offered my readers some food for thought. We all need to contribute in cash and in kind if we seek a decent future ringing in happiness and not this rancid pickle of promises, lies and betrayals. On that note may my patient come home soon and I may be done with hospitals public and private. My dream hospital is not monster hospitals but smaller hospital, maybe smaller GMC branches across Goa… which come with sanatoriums-cum-hospices attached so that patients young or old may recover or die in peace if need be. Is segregation of serious, not so serious and time pass patients possible? Depends on who decides, of course.