AT THE OPENING OF MAGSONS TOWERS…. with the inauguration of Goa's first Starbucks (Tata Alliance) coffee cafe and store, on January 11, 2022. Welcoming invitees, well-wishers and ardent coffee lovers were Kirit and Andrea Maganlal, with them are Amin Ladak (chairman of Goa Management Association) offering flowers to Andrea, also Milind Kelekar (Magsons developer and partner) and Mohit Lakhani of Starbuck launch team
By Tara Narayan
Eating is Fun / Eating is Yuck! – A variety food column
THE brand new Magsons Towers (where the old Magson's Supercentre used to be down Campal promenade) finally saw the light of day and arrival with the opening of Tata Starbucks on the ground floor on January 11, 2022. Definitely a red letter day for owners Kirit and Andrea Maganlal, who've been waiting patiently for this dream come true. Starbucks is the big attraction here while the old supercentre in its more jazzed up avatar is gearing up to open shortly.
Hey, I never knew coffee drinking has acquired such ultra-fine definitions nowadays until I stepped into this latest spacious lounging rest and refreshment place in town Panaji! Starbucks. Opening day from 3.30 pm onwards was chok-a-blok with friends, well-wishers, invitees and many familiar and not so familiar faces, it looked like several of the beautiful people of Panaji city were here. I can never make up my mind about whether Panaji is more city or town or more town or city, appearances are always deceptive!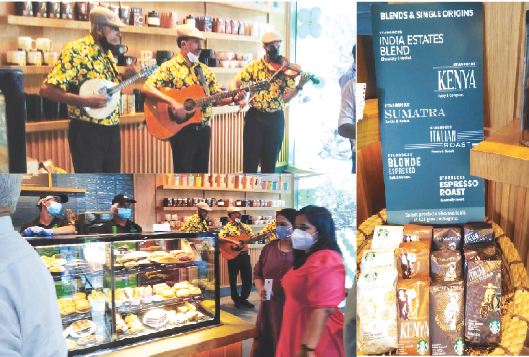 Needless to say smartly dressed up and lit coffee lounges are becoming popular with Gen Young and Gen Next and after Barista, Ponjekars now have Starbucks with its mind-boggling coffee selections from far and near. There's more of course by way of choice Continental snacking with some tempting sweet and savoury confections, variety of breads sandwiched with razzmatazz vegetarian and non-vegetarian fillings…the Starbucks cookies are the largest I've seen, check out the almond butterscotch and double chocolate chip cookies (Rs220) if nothing else! These here are upmarket prices but there's some piece de resistance stuff for Americanized palates.
I didn't spend more time to chat and dekho more of Starbucks on opening day, but will return if only for the pleasure of looking out of the large glass windows at life out on the plebeian streets! I imagine I'll return when next I want to impress a friend…such places are the smart places where you may order a coffee and work away on your laptop in restful peace – honestly, judging but what I've noticed young folk like to work out of such places, the overheads are much less than having an office of your own. It's like everything is laid on which is conducive to working and wellbeing… debatable of course.
Funny, all this while after the old Magsons Supercentre was demolished, I lived in the impression that another mall would be coming up and so did most folk. But it is not so! This spanking new Magsons Towers apart from the ground floors where Starbucks and Magsons Superstore are located is primarily a high rise of luxury apartments. Most are pretty much booked up, confided a Milan Kelekar to me.
I only wish the pavement spacing outside would clear up a bit to make it safe for those who like to walk this corner junction. There was lots more space for walking in the old days! Passing by one may stop a while to look at the lovely little peace lilies growing outside as part of the beautified frontage…at first I thought they were baby white anthuriums but Andrea Maganlal said no, they are peace lilies. Anyway the peace lilies are lovely to look and smile upon to feel at peace with the world!