ComePostVille's huddle and farmer's market… here is popular anchorman Allwyn Siqueira complementing Christabel Shrivastava's lessons in home composting of wet waste from the kitchen…get fertile soil in a month! Lots of useful tips here to get a novice going in the art of composting at home.
An idea to promote…for clean air, clean water, clean food – truth, freedom and health first in capital city Panaji
TARA NARAYAN wakes up to achhe din in capital city Panaji…
I RUBBED my eyes in disbelief! It was happening. It was a scene for sore urban eyes. A happy moment at the St Mary's Colony Football Grounds or multi-purpose playground (near Pizza Mia) in the wintry sunshine of a Sunday morning 10am onwards, February 20,2022. The traditional St Mary's Colony Football Grounds were in a shoddy state of wilderness-cum-wasteland – but go see them today, the old unattractive and mess is gone. Here's a tempting to go to playground again, it's got a new lease of life courtesy some 50 odd members of the ComePost Ville Huddle group.
Who are they? They're possibly the fastest growing group of urban and not so urban groups with a passion for growing their own food and are returning to traditional ways of living and loving. Meet the every positive spokesperson Abhinav Apte, who admins one of the most dynamic WhatsApp site called ComePost Ville. He is the key mover and shaker of this lively urban farming movement in Panaji and Goa, one of a kind and in a class of its own.
They decided to bring the run to seed St Mary's Colony Football Grounds back to live anew. Sunday last I learned that it's a team of go-getters and good Samaritans who have come together for a common cause of staying alive and kicking and above all promoting urban farming, wet waste composting in every home, a farming lifestyle on whatever small or not so small scale possible…and much more by way of allied activities!
In Goa the younger generation is catching up with farming as an outlet for using up surplus energy and benefitting rewards unimaginable or so to peak. They are fitness conscious, old or young, women or men and their children are encouraged to see life beyond themselves. It's a great brief for the best kind of rest and recreation there is in urban lives post the Covid-19 pandemic and lockdowns and their protocols good, bad or ugly.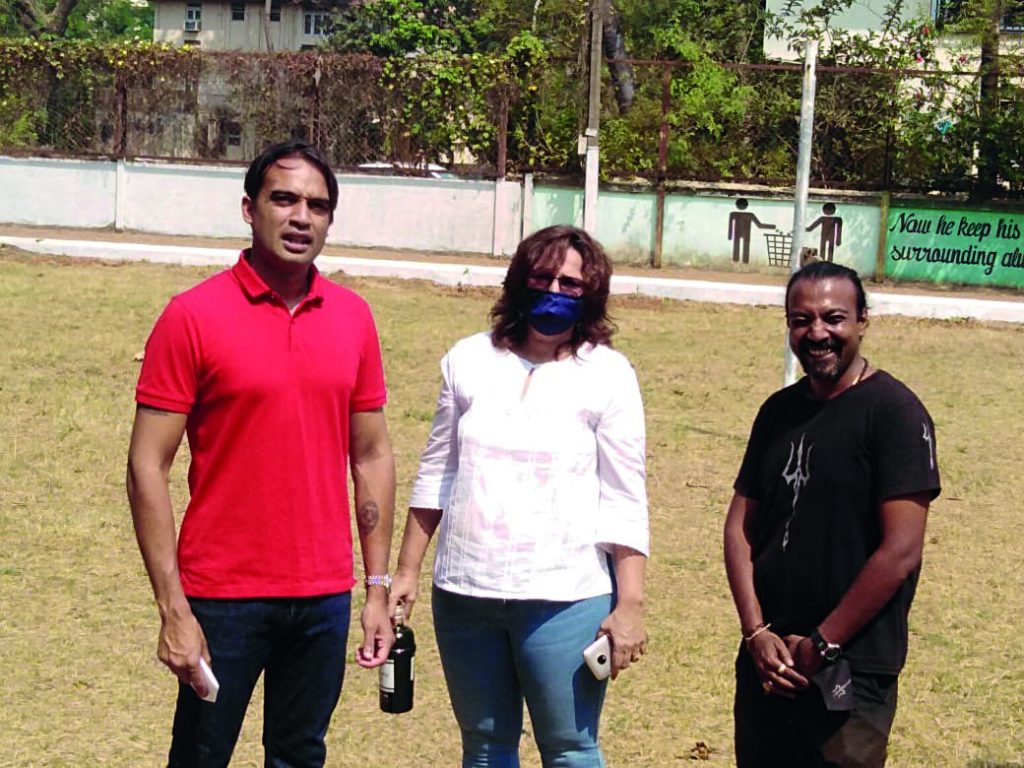 Their home city Panaji was the best place to start so here they were at the St Mary's Colony Football Grounds (also recognised as multi-sports playground Miramar)…the kachrapati gone to make way for a rejuvenated clean playground. The half day agenda saw children painting up the periphery wall into a colourful treat, plus there was a farmer's market in progress with many tempting things for sale – from organic fertilizers of cowdung or green liquids to spray on plants to get rid of the bugs which make gardening a headache sometimes…here was cowdung compost, coco peat, traditional terracotta ware for the kitchen, a variety of pickles and sherbet from local fruit like karvanda, bilimbim, kokum, mango green, jackfruit, garlic and more…aonla, Indian gooseberry rated to be the best vitamin C of them all, not to forget veteran farmer Nestor's wonderful organic silky red rice of Goa (going in five kilo bags for Rs350)!
The Compostville group is led by Abhinav Apte, Allwyn Sequeira, Dr S Nayak, Selma Viegas, Christobel and Sunil Srivastava, Cleto Fernandes, Clyne Morgan, Jorge, Vaishali, Richard Dias, Vishal the teacher and Dipti the guiding artist supervising the painting of the park's wall (Selma doing the tricky job of connecting everyone). Then there is Tallulah who knows her trees, and Hanumant, Siddhi-GSBB, Thomas, Loisa, Clynne, Leticia, Joseph (the potter), Gauzia, Rosemarie, Merlyn, Yash, Ramesh Naik, Arina Frank, Stepheny, Gauri, Shirley, Heena, Monalisa (social worker), architect Manohar Korgaonkar, Sushant Gurav, Paula, Rajesh Pednekar, Stephen Mathias, Lily Pathak, Cheryl, Shirley, Kalpana and of course all bibi-bacche, aunts and grandma and grandpa were welcome to come for a dekho. Everyone is anxious to keep the ball of urban farming rolling from strength and strength!

Abhinav tells me the St Mary's Colony Football Grounds or multi-purpose sport grounds is their first group project, they hope to take up other similar grounds for cleaning up and rejuvenating so that the public goes back to gardens to take a break without fear of any harm befalling juniors or seniors…mercifully the Corporation of the City of Panaji has given them the go ahead and they're sourcing their planting programs with saplings gifted generously by the Goa State Biodiversity Board of Panaji. You mays say the gardens of the city are being taken in hand so that they bloom and thrive anew to the happy sound of children at play and residents seeking a garden break for cheering up of the very best kind. What's there not to like about all this happening in Panaji courtesy a band conscientious, friendly citizens with a yen to give back to community or society! I would say more power to them, more goodwill, more support, more praise…all the good we do comes back to us double-fold and more vis-à-vis rewards of a myriad kind — isn't that how it goes?.
This is to say it's after a long time I've just enjoyed the sweetest, most fruitful Sunday in recent times! Thank-you, lovely people of ComePost Ville Huddle, may there be many more huddles like this one soon, at least once a month. The re-greening of Panaji has begun, bring the gardens of Panaji back to life!