34th ANNUAL INSPECTION DAY PARADE & PRIZE DISTRIBUTION FUNCTION…at the Fire Force Training Grounds at St Inez, Panaji, at 9 am on February 26, 2022. PS Reddy IAS, Commissioner-cum-Secretary (Ports) inspected the platoons and took the salute.
By Tara Narayan
HAVE you ever thought that the fire brigade is a more exciting and adventurous career than even the police force? There is more to the fire brigade than you may think. I was thinking about all this while attending and reviewing the fire brigade of Goa on a lovely sunny morning at the large grounds of the Goa State Fire Force Training Grounds at St Inez, Panaji in capital city Panaji on Sunday, February 26, 2022.
The 34th Annual Inspection Day Parade and Prize Distribution ceremony was on, and doing the honours was Commissioner-cum-Secretary (Ports) PS Reddy (IAS) in the presence of Director of Fire & Emergency Services Nitin V Raikar, ex-directors PK John, Ashok Menon, other dignitaries, special invitees, family and friends of fire brigade officers. It was a mesmerising half-day spent watching various platoons march by and taking a salute, also later demonstrating some few fire-fighting techniques; for example, one on how to scale a long, long ladder quickly to conduct a rescue, it was a demo which won much applause from the lookers-on including children.
As usual, this year's annual inspection parade too was compered by the genial fire officer Ajit Kamat (a senior most fire brigadier with 37 years in service). Commissioner PS Reddy in his formal address said "Such an annual event is important because this is when fitness and performance of fire personnel are checked …it also has a salutary effect on everyone concerned to see where there is need for improvement."
After the parade was over trophies were given to the winners and runners-up of the 9th Annual Sports Meet held from Jan 5 to Jan 8, 2022. Future growth plans for the Directorate of Fire & Emergency Services include the development of the grounds for training at Vasco da Gama; a sports city is coming up in Dargalim where there is a need for a fire station. Other programs are being up-scaled including one to rehabilitate firemen who suffer burns during emergency operations. There is also the training of new trainee recruits which is a top priority annually.
The fire brigade services in Goa started out with just three fire stations but now there are 17 fire stations across the state. Recently, the Cuncolim Fire Station was commissioned after the incident of a chemical tanker leakage on National Highway 17-A. The Porvorim Fire Station is being constructed under the National Cyclone Risk Mitigation Plan (NCRMP) through World Bank, this was commissioned in January 2022. Currently, redesigning and reconstruction of the existing building and additional construction of a new administrative and training block in Panaji is underway, as also regarding the Fire Station building at Valpoi and Bicholim. The Vasco Fire Station is coming up.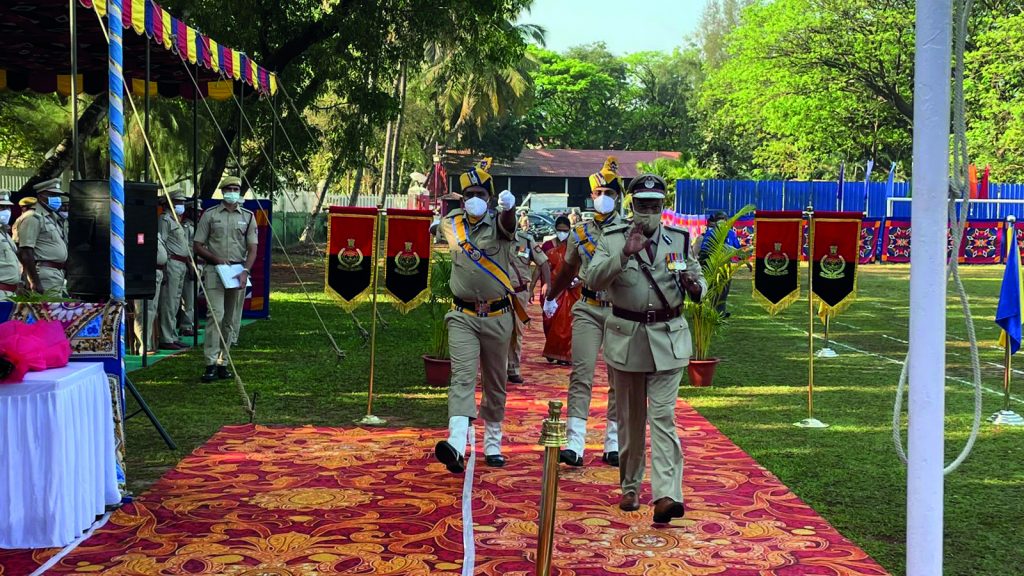 A Memorandum of Understanding has been signed between the government of Goa and the National Disaster Management Authority for Upscaling of the Aapada Mitra Scheme in Goa. In this respect, the department has enrolled 350 community volunteers (aapade mitra and aapada sakhi) whose services will be called upon in disaster and emergency times. Funds have been received from the Central government for the training of the first batch of "aapada mitra" and "apada sakhi" and their training commences from April 1 first week this year.
MORE EDUCATIVE
COME to think of, it is more educative to attend an annual inspection parade of the fire brigade than any other mundane parade! There is actually more to the fire brigade than you may think. It is true that the fire brigade personnel are often the first on the spot of emergency be it a fire, or for that matter any other unforeseen calamity of a river in a flood or a building crash or any other incident, accident, even requiring fire brigade quick reflexes, skills, equipment.
Not for nothing is the motto of the fire brigade "We serve to save." In Goa, there are now 17 fire stations with an all-inclusive staff of 715 personnel including officers and firefighters. According to a Fire Brigade press release, during the year 2021, the department collectively attended 1,696 fire and 4,488 emergency incidents and saved 287 human lives and property worth Rs51.86 crore.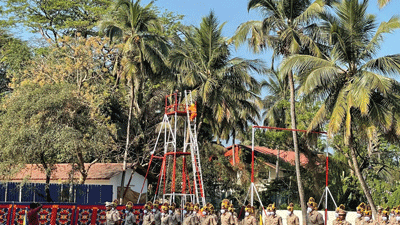 Again, during Cyclone Tauktae from May 15, 2021 to May 31, 2021, the department attended 1,443 emergency incidents and property worth Rs65 lakh were saved. During flooding due to incessant rains in various areas on July 23, 202,1 and July 24, 2021, the fire department received 21 incident calls, wherein 158 people in distress were rescued and shifted to safer areas. Plus, 236 people were provided assistance with an extension ladder to climb the Usgao circle flyover to enable them to reach home.
All this and much more. The 7th Pay Commission in its report has recommended fire risks allowance for fire personnel and the Fire & Emergency Services Director Nitin Raikar urges the government of Goa to study and pass the allowance for it is a long pending matter. Further, the director informed that the Directorate of Fire and Emergency Services has used technology to give the Disaster Management Cell, the Press and any interested stakeholders a ringside view of the day to day incident reporting at the various Fire Stations across the State of Goa. A direct beneficiary of this initiative has been the Indian Metrological Department (IMD) which uses this data to assess the damage due to changing weather patterns. This initiative of the Department has been appreciated by the Indian Metrological Department


Society owes its firemen and must make it worth their while to "serve to save" and also so that more young people think of joining the fire services as a worthy cause and decent livelihood.