INVITING SARTH AYURVEDA WELLNESS RESORT…well-designed and has good treatment rooms, tranquil garden grounds where you may see a flying squirrel swinging away amongst the betal palms and bamboos, an orchestra of birdsong wakes one up in the morning and that itself heals the soul!
SOMETIMES it is worth going away just to think it over about things other than work and how to earn enough money to live in dignity. Since a few health problems have been bothering me and I've been reading up Ayurveda anew with new interest I found myself going away for what is nowadays called an Ayurveda holiday euphemistically —it is only for a weekend! It sounded like a good idea but not when it comes to seeking solutions for what ails body beautiful.
If it is an understanding of how Ayurveda works one is seeking one must at least invest in a seven-day stay in a bona fide Ayurveda facility —enough to get to the heart of one's individual prakrti or constitution vis-à-vis health and why it gets unbalanced and how long it can take to set it right again, if ever…
By Tara Narayan
LIFE is full of errors of judgement and this is one of them! Don't ask me how one evening I found myself going off to spend a spend a weekend at the fairly freshly opened up Sarth Ayurveda Wellness Resort on the outskirts of Sawantwadi, just across the border up north Goa and into Maharashtra's southern coastal belt where the hills are not far away. It's a 72 km drive taking about an hour-and-a-half…although we had an excellent driver the GPS actually misguided us, just as we were nearing Sawantwadi we took a short cut which turned out to be very long rough bumpity bump cut — into semi-jungle land and past poultry farms, several desolate temples in a state of disarray.
Fortunately, we were guided over the phone by Sarth manager Laurence Dsouza and soon we were before the gates of this beautiful complex of Sarth Ayurveda Wellness Rereat, dedicated to Ayurveda although it also functions as a resort for practical purposes for those seeking a peaceful spot for a few days to gather grace and whatever else.
It was a delight to greet the statue of Ayurveda's founder Lord Dhanvantri installed before the entrance to the lovely Konkan-styled temple complex which opens out to gardens and lovely red sandstone blocks with rooms, each a two-storeyed structure with a central courtyard. A sumptuous black Ganapati too invites attention at the reception area which is uniquely designed.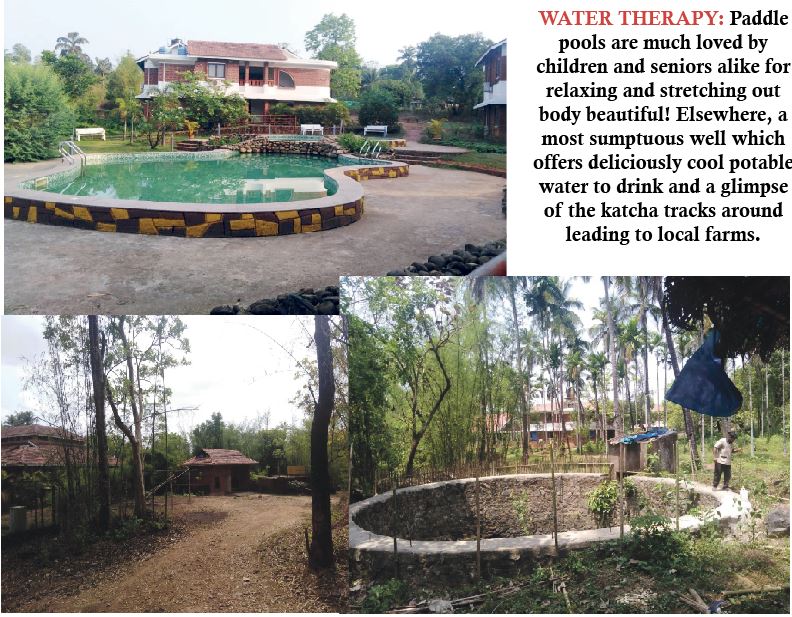 After initial introductions we go to our room on the ground floor of Charak Sadan which is called Jatamansi (Room No. 107). Each block has seven rooms on the ground floor and seven on the first floor, polished wood and Jaisalmer golden stone floors greet us in our compactly designed mod-con rooms. Twin beds, everything laid on – plush white linen ensconcing soft-mattress, a green durrie which beguiles my heart and I feel like sitting down and lying on it on the cool floor. It's so beautiful.
I always say that a good tempting floor is always better than soft bouncy mattresses on useless beds…soft beds spoil body beautiful rotten! There're attached state-of-the-art bathroom attached to the rooms which are elsewhere named Aura, Ushir, Arjun, Bala, Shhatavari, Ashwagandha and so on (the names of medicinal herbs in Ayurveda's pharmacopeia).
SIMPLE LIVING, HIGH THINKING!
AYURVEDA may talk of simple living and high thinking but the problem with life is that most of us have lost touch with living a natural life in our urban centres of comfort — where everything is easily available and accessible. In fact, many of us don't even know what it is to walk barefoot on stone floor or spongy green grass out in the garden! Or how to cook food in health-conscious ways, eat it with one's hand – we need cutlery! We don't even chew our food and of course we like to talk, talk, talk while shoving food in one's mouth at the dining table.
We have even forgotten how to breathe with ease and deeply if you're asking me…how far urban human being has strayed from the primary lifestyles close to the bosom and womb of Mother Earth! But to stay with Ayurveda I must say nowadays there is so much Ayurveda round that it is coming out of my ears. Everyone wants to prefix the word Ayurveda here, there and everywhere and there are scores of this Ayurveda retreat and that Ayurveda resort and here's a homestay Ayurveda facility and there's a super duper five-star hotel promising the best of Ayurveda treatments — the five-star facilities also of course offer swimming pools and/or a beach thrown in cheek by jowl.
The idea of going away on a deluxe Ayurveda holiday is not new anymore even if one is least interested in Ayurveda! Although one may catch up with a head or foot or body massage or facial and eat some of the sattvic vegetarian food prescribed for patients of Ayurveda. That is if one has registered for one of the Ayurveda packages which will introduce you to the resident or consultant vaid (qualified doctor of Ayurveda) attached to the Ayurveda facility, wellness retreat or resort or centre and he/she will do a nadi pariksha (pulse study), also take your blood pressure and listen patiently to your list of woes physical and psychological before giving you a diagnosis and if Ayurveda treatments may or may not help you.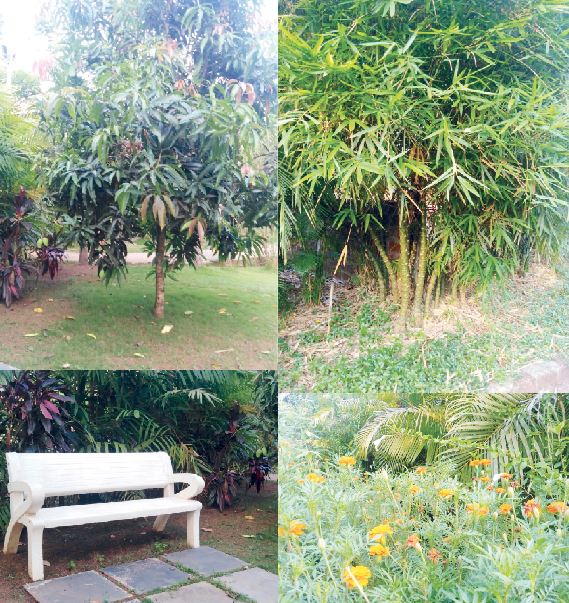 CHASING BODY BEAUTIFUL
ANYWAY, the long and short of this is that increasingly folk think an Ayurveda holiday is a good idea to go and find out what ails body beautiful! But there is a catch in all this. I've long since learned that if one is seeking solutions to health problems in an Ayurveda resort one has to make up one's mind quickly if one wants to attend to one's health problems or just eat, feast and make merry, have a cool dream sleep and go home refreshed — or as exhausted as ever with one's health problems not resolved on any enduring basis!
Ayurveda regimes can be hard to do and panchakarma detox regime demands you make some sacrifices like fasting more than feasting. Some herbal laxatives are prescribed, an enema, various massages with medicated oils and powders and frugal diets of oil-free, salt-free, sugar-free meals. I know folk who've survived on the South Indian repertoire of idli-coconut chutney and set dosa or the Maharashtrian dosa called gavana or gavane (in Goa we call this soft rice pancakes amboli)…otherwise, if one has been merely indulging in walking around and taking some of the massages on an ad hoc basis, and working out in one of the shallow pools or therapy pools as they are called, one may just whip up an appetite to relish the usual thali meals served, which may be in turns on good days health-friendly/ patient-friendly or on bad days jazzed up with more oil, salt, spices and sugar than desired.
Again, normal regular tea is a no no but some patients say, "Sorry, I cannot do without tea in the morning and I need a whole flask of three mugs of it. Please send to my room." Room service, of course comes with extra billing even if you may have taken the two-day package of Rs15,000 and plus, plus extra for the treatments. With the Sarth package a head massage or a foot massage comes complimentary and that is all you may be tempted to treat yourself too. Sonali here gave me a wonderful head massage and I thought I'd return to the treatment block for one of the Ayurveda facial but our two days just fly by too quickly.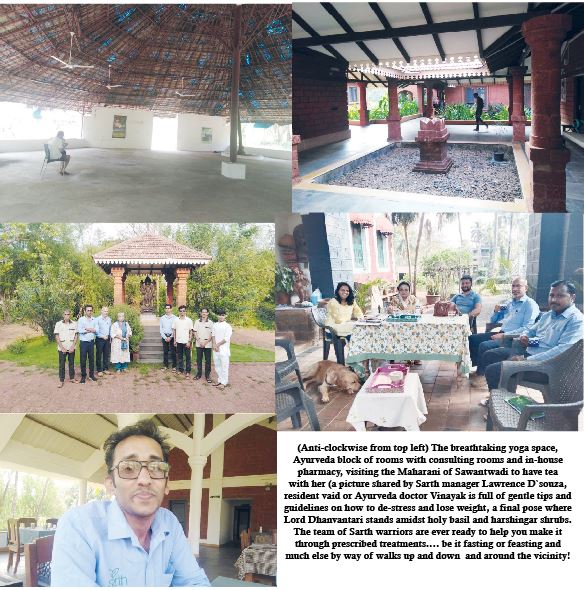 BAD NEWS!
THE main Ayurveda consultant Dr Ajit is a visiting consultant and comes only with prior appointment, he was too busy elsewhere the weekend we were there at Sarth. But I found the young resident vaid Vinayak, a good listener and he summed up my health problems very succinctly, "Your blood pressure is high and you have cardiac insufficiency if you look at your feet…there is edema building up. You need to go off eating junk food, no oil at all, no butter, no any fat, only little salt, from today onwards. I cannot prescribe an oil massage for you because it is not good. You must first lose weight! You must drink hot water!" I guess he was just confirming what I already knew about the status of my health!
The grim diagnosis didn't put me off enjoying the Sarth thali meal though — even if one meal the tomato soup came floating in butter and the green papaya sabzi over-seasoned but extraordinarily tasty! The general story is most of us have to re-learn how to cook and eat to deserve better parameters of health and longevity. Alas, so many of us are caught up in the fast day-to-day rat race of today's rotten lifestyles and sooner or later we pay the price for reaping ill health, oftentimes prematurely so. Most of us sacrifice health for sickness and with a consequent loss of muscle tone and energy come the maladies of age — a desire to end it all.
AYURVEDA, BEST PREVENTIVE HEALTHCARE
WHICH is not to say Ayurveda is not an excellent system of preventive and curative healthcare. It is India's very own traditional system evolved from ancient times and today validated by modern research. In the last seven years since Prime Minister Narendra Modi's government came to power it has been promoted big time with several crore sums of money sanctioned in promoting Ayurveda and Yoga protocols. At ground level one sees the proliferation of only deluxe Ayurveda resorts and a gamut of new Ayurveda labels in a range of products, all of them in vile plastic packaging – there is no such thing as being eco-friendly along with being health-friendly!
We have Ayurveda and Ayurveda on a roll today with online marketing seeking a foreign clientele from Germany, America, France, Russia, the Middle East where the name and fame and efficacy of Ayurveda has spread – they tend to be monied clientele buying Ayurveda products on display everywhere online and offline! Indian clientele tend to be necessarily khadoos when it comes to buying say Rs75 soaps of sandal or charcoal or this Kumkumadi face oil which is supposed to make the complexion glow (Rs349, I'll let you know if it makes my aging complexion glow)…like anybody gives a damn!
Quite simply I would like to say here that Ayurveda, the country's age-old traditional healthcare system, has been moving more and more upmarket with vengeance and is now accessible only to khaas aadmi. However, a consciousness of returning to slower modes of healing is dawning on urban Indians and from the sound of it, and what the genial Sarth manager Lawrence D'Souza told me, they do run yoga classes for locals in Sawantwadi and they hope to make them popular.
Which reminds me Sarth Ayurveda Wellness Retreat comes with this wonderfully large rustic thatched space by the stream side which is a lovely find, it offers some grand space for detailing many useful activities from learning yoga asana to meditation to various other aspects of how to use Ayurveda to heal oneself with just a little bit of help. After that one is more or less free to practice or abandon practice for whatever reasons of expediency. It is useful that you read up about Ayurveda and there're many useful books today written by both Indian and foreign authors. I would advise you to begin with "Dhanwantari" by Harish Johari, one of my favourite reads.
Once you study Ayurveda and its principles of what goes into the making of fighting fit health, it makes better sense. Ayurveda does offer better parameters of life if you can discipline yourself – and (sigh) also have a fat wallet in our post-covid broken, bankrupt times when it looks like the economic distance between the haves and the have not is growing wider – it doesn't look like it is going to narrow any day soon given the kind of priorities which the government of the day patronises in its wisdom!
By all means g visit Sarth Wellness Retreat at Sawantwadi and while doing that say hello to the little makhmali marigolds and harshingar growing near Lord Dhanwantri's shrine. There's a lotus pool, various kinds of native trees (I prefer to see neem instead of Australian acacia), an aonla tree will yield fruit one of these days I'm sure …and so will the kesar mango tree which I came across during one of my walks around the seven-acre complex (five acres are built-up area).
Sarth has much to offer if you stay and get involved with the folk who try to run the place on oiled wheels – say hello to Lawrence, Sagar, Satya, Rohit, Shravan, Arun, Gyaneshwar, Panduranga, Shripad, Ajit, Amol, Sanjay, Sitaram, Pooja, Sonali, Navya, Sujit, Karandikar, Anita, Vinayak, Tushar, Pravin, Bikaji, Sainath…a gallant team of some 20 to 25 who do their best to please and spread the word of Ayurveda. I would say Ayurveda is best for all times peaceful or stressful!