Abundance of farsan at Society Stores at Vile Parle – East, or is it Rajesh Stores at Santa Cruz – West… Oondhiyu, khakra dhokla, handvo, mini bhakri of wheat and miller's, etcetera ad infinitum.
By Tara Narayan
WITH visiting sister number 4 from New Zealand in Mumbai that was Bombay life is nothing but one round of lunches and dinners at various places in the distant western suburbs of Juhu, Andheri, Lokhandwala's, Bandra, Andheri Link road and so on. The newly-wed couple have to be treated by various family and friends and it's been like eating like there's no tomorrow…in the middle of I all I realize I'm eating too much salty food fryums and pickles and papad of all denomination, it's very bad for my heart of course, and I can feel my arteries protesting as if to say my days are numbered.
Like I said the wet markets of suburban Mumbai are too riveting and I can be your guide if you wish to such Guju delights as half-a-dozen varieties of dhokla, khakra, bhakri, wafers…now farsan is available in regular unhealthy and healthy avatar because they're baked or roasted. I was looking at the varieties of field beans and veggies which go into making the winter-time savory medley of oondhiyu which is so loved both by Gujarati and Mahrashtrian families settled in the suburbs – in fact packs of oondhiyu are on sale at various noted places like Society Stores in Vile Parle (East) and Rajesh Stores in Santa Cruz (West) market — the two wet markets I take to haunting for they fascinate me endlessly array of goodies good, bad and positively ugly!
I was out looking for such winter time things as aonla (Indian gooseberry), amba haldi (tartish mango ginger) and tender turmeric (the first one may not find in Goan markets), also the Guju mango spiced up marmalade or chundo as it is called and has won name and fame; there are various kinds of chundo, and I was looking for a non-spicy and only garam masala or taj-lavang chundo (that is cheered up with cinnamon, cloves and cardamom only) chundo. I was also looking for some of the Himalayan or Jammu or Kashmiri single clove garlic (Allium sativum) — these hard golden nuggets of garlic are not easily found. They are kind of rounded with a slanting pointed-edge, "potli garlic" with a hard covering which has to be broken skillfully to arrive at the pearly clove within which offers a strong garlic flavor, said to be less acidic garlic.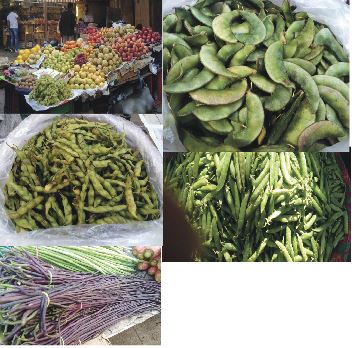 This Kashmiri or Himalayan garlic is also called mountain snow garlic and locally "ek potli lahsun" in Hindi. Really, they are like little potli and cute and said to be seven times more potent than regular garlic being anti-inflammatory, antioxidant, anti-bacterial and what not…first class health food with a brief of manganese, vitamins B6 and C, also copper, selenium, phosporus, vitamin B1…all of which combine to form the magic of alliin and alliinase enzymes which are at the heart of garlic's heart health properties.
Needless to say Ayurveda prescribes this single-clove garlic pearls for those suffering from diabetes, heart disease, high blood pressure and the common cold which I am suffering from currently with all the local autoriksha gallivanting I've been doing. I wish I could bring these Mumbai suburban autoriksha to Goa, they're such better models and function on meter readings with a current minimum rate beginning at Rs23 per km.
MY sister number 2 in Mumbai has introduced the gentle art of scooping an equal mix of chia seeds, isabgul husk and basil seeds into a glass of water every night and drinking the mash every morning . Says this ensures perfect evacuation! Check it out. Being a smart eater she has mastered the art of ordering the best of good food online and I'm taken up by the range of health-conscious bread turned out by The Baker's Dozen folk out at Lokhandwala…their four-grain sourdough is so light and delicious it is worth living for, literally falls apart with the wealth of seeds packed in it, need not toast it at all. Swiggy order home over Christmas and along came a freebie eggless plum cake too (not as good as the one I always love from Jila Bakery out at Loutalim in Goa but good enough). Foodie deliveries are far better organized out hear and the delivery receipts impeccable! All payments are done online , very little cash on delivery.
Mumbai is less expensive and lazy! I find I may buy a neatly cut pineapple, whole or sliced, from the Juhu market. In Goa nobody offers to sell you cut pineapple, a difficult to cut fruit! It's Rs80-Rs100 per cut pineapple and I've been living on it, best fruit of them all and I crunch up the central stalk too! In case you don't know eating pineapple is linked with improved digestion, lower risk of cancer and it offers osteoarthritis relief…but don't chuck the central stalk of the fruit. Pineapple is said to be a kidney-friendly fruit for it has less potassium than other tropical fruit.
(Sigh) I could come back to live in Mumbai that was Bombay all over again, wish my parents were still alive though so that I could ask them a few pertinent questions. Of course, one needs a lot of money to live in Mumbai be it up town or down town Mumbai in the Western suburbs…rentals out here are quite high out in Juhu ranging from Rs35,000 per month for a single room flat to Rs50,000 for a double BHK. Best thing my parents from Malaysia did in the 1980s was invest in a joint single and double bedroom here so that they daughters at least may come and go as they wish from wherever they are settled in memory of some good times!
POSTSCRIPT: Did some homework on garlic and discovered that garlic is one of 700 species in the Allium or onion family. The two different types of garlic are softneck and hardneck and they come with names like porcelain, rocambole, purple stripe, glazed purple stripe, marble purple stripe, Asiatic, Turban and Creole…the porcelains have the best sharp flavors. Then there is black garlic reduces LDL or the bad cholesterol and ups good cholesterol or HDL…improves lipid profile. Black garlic is a mystery garlic and described as a superhero dating back to ancient Egypt, the Japanese and Koreans eat it. Black garlic is said to be like chewy dried fruit with rich plummy undertones, go find it if you can. Now I'm living to taste black garlic for the first time in my life!