KERALA CUISINE FROM MALLU REPUBLIC …here is my all-time favourite evening comfort food of appam (palappam) and veggie stew! Humble eatery doing Kerala cuisine vegetarian and non-vegetarian, checkout set and plain dosa too, along with Malabar paratha and chicken/mutton/egg curry; special Onasadya feast on order only!
By Tara Narayan
SOUTHERN India vegetarian treats are always lightweight and make for wonderful brunch or evening meals. I have a very soft corner for the combo of appam-vegetable stew and consider it as genuinely health food (seeing how the word healthy is bandied about by everyone selling something to eat and drink these days). It's hard to find an agreeable appam-veggie stew combo outside say a Kerala home, a Syrian Christian home (veggie stew is a Christian Syrian home creation if I am right).
I know of only two places where you may find them in Panaji! First at the more upmarket " Southern Basil," one of the Fidalgo Hotel enclave of restaurants, but closer home to where I stay now at Caranzalem , there is Mallu Republic (at mid-town Madhuban St Inez Circle) in Panaji. I prefer to buy such tricky combo meals instead of make them at home. Don't know what the connection is but I don't like to cook dinner nowadays when one is constantly advised to eat light at dinner and that too before the sun sets on the world!
Mallu Republic is a small homely eatery with quick-fix kitchen attached and it doesn't have any airs. It does a whole lot of Kerala cuisine non-veg and veg including the celebrated Kerala feast Onasadya (at Onam or Thiruvonam festival time), some order an Onasadya feast out of turn when there is a special event at home and this feast may come with something like 26 dishes with tantalizing names like "olan" and "erissery" and "toran," "kalan," "mor kari," "varuharacha sambar," "upperi" and more, the best ginger chutney is that of "puli inji"…my favourite! You have to pre-order such a festivew meal of course and it has to be served on fresh green banana leaves, no question.
But to continue with my appam-veggie stew here sometimes I go get it from SOUTHERN BASIL (when I also want "paniyaran"), but most times passing by I stop at Mallu Republic to pick up an appam-veggie stew parcel. Both places do good appam-veggie stew but only portions and prices vary (non-vegetarians will order chicken appam-chicken stew or kurma).
ON a good day the Mallu Republic cooks do good appam, as also veggie stew and kurma (both are veggie or chicken medleys). I asked David and Denis here and was amazed to hear that they get their coconut milk from Kerala in packets, "The Goan coconut milk is too thin!" Do you do pongal savoury and sweet? I asked, and he said, no, they are strictly Kerala, pongal is strictly Tamil Nadu although they also have pongal-avial sometimes (avial is purely a Kerala invention). Don't confuse veggie stew and avial though, the first is sweetish aromatic while the second is tartish with curd)!
The veg stew at Mallu Republic improved vastly after I complained that the cut veggie in it were too hulky and coconut milk watery, "Also, if you must put green chilli in it put whole chilli slits instead of tiny chopped pieces which one may see and remove!" Many and especially seniors don't like chilli hot.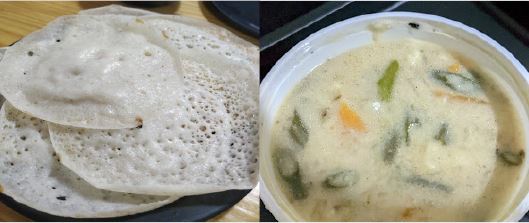 In any case historically Kerala cuisine shouldn't really feature green chilli or red chilli pepper powder because they have the traditional black pepper; long before chilli peppers came along from the New World of the Americas courtesy the Portuguese colonial adventurers…black pepper or "black gold" was what the Arabian and European traders and explorers came looking for, along with cardamom, cinnamon, nutmeg and the rest of the spices of South Asia, South East Asia and Far East. A good Kerala stew – a Syrian Christian recipe I understand – would have a hint of black pepper, cinnamon, cardamom and a fresh sweetish coconut milk base.
Nowadays I find it easier to get appam-veggie stew for early dinner from Mallu Republic – if I go pick up on my two-wheeler vahan it's Rs20 per appam and Rs90 per portion veg stew, two may eat comfortably at home. They also do very good egg appam. But then appam may be heavy density sometimes and rarely the angelic thin lacy affairs one may get some morning in a small eatery down town Cochin in Kerala…three to a plate. There would also be precious boiled tapioca nuggets sometimes as a side dish to savor if I remember my Kerala junkets of long ago.
If I make the veggie stew at home I would put whole peppers in it of course. The veggie medley is usually of French beans/yard long beans, carrots, baby onions, yam and whatever else is…in a sweetish coconut milk base, tempered with curry leaves. It is not supposed to be a spicy affair at all. Appam combos are breakfast fare out in Kerala and the five-star hotels serve it with a whole more side dishes of course like onion-tomato chutney, and little fryums like rice pappadum. If no appam you order puthu – steamed fresh rice flour steam-cooked with coconut gratings in bamboo hollows…nice, very nice.
THE lacy appam pancakes are tricky to make and you need a deft hand. The best appam I ever ate was out in my old home town of Penang while cycling to school early mornings…I will never forget this Sri Lankan Tamilian sitting at the corner of a Chinese restaurant compound down Penang Street, doing "etli, tose, appam" forever turned up 7am onwards. Served up with piping hot sambar and chutney to live for. The idli and flannel soft dosa came from home in a dibba; with appam batter in another dibba he would turn out plain or egg appam in these three terracotta chatty (or mud pots) which he moved up and down over a mud stove lit up with coal nuggets…he would be pouring appam batter in each chatti and shifting the chatti up and down and serve as they got done.
Since he was using toddy or the tadgola palm liquor to ferment the appam batter, the appam turned out perfectly faintly translucently white, spongy in the centre, lacy at the edges. These were appam! No he didn't do veggie stew or avial but the coconut and onion-tomato chutneys were too good.
ACTUALLY, I haven't been able to make up my mind whether I love the Syrian Christian stew more or the Mallu avial, the first is a sweetish affair, the second a tartish one. Last time I went to pick up appam-veg stew from Mallu Republic I discovered that they do a pretty good veg kurma too and try their large soft dosa if you wish which go with fresh coconut chutney, they're really good (Rs70), a filling evening meal. I love my dosa to be soft, non-greasy …and if the rice is good, the flavour is good. Country red rice from Kerala go into the making of breakfast staples – idli, dosa, appam, puttu, iddiappam — in some homes to this day. Commercially, one sees more white rice usage.
I have always liked and grown up with small southern Indian eateries offering three pieces of idli or dosa or set dosa or appam (pallappam, meaning as white as milk) to a plate serving! All come with fresh coconut chutney spiked with tamarind juice and tempered or not tempered with curry leaves – varies from place to place and the chutney may be delicate with a hint of tamarind sours in it…or a badly made coconut oil-tempered mess with too many things in it!
ANOTHER thing I love about the Mallu Republic folk is that they pack their appam, green leaf banana squares separating each appam, in thick foil paper, sealed with tape. Without using dozens of staple pins like some takeaway places do! I may remind you here that you should refuse to take home food parcels clipped over with staple pins…it is illegal to use staplers to clip food parcels. It's tragic, seniors opening the parcels at home with trembling fingers sometimes don't see the thin pins fall in the food on their plate or their fingers bleed trying to undo the stapling! Go file a case against anyone using staple pins to parcel food, the FDA should do a spot check if it cares enough.