By Tara Narayan
ACTUALLY, I should give up eating altogether if I want to live for a few more years to wind up my life neatly…Dr Digambar Kamat's orders! These days he is busy imparting his painstakingly hard-earned knowledge at the New Vrundavan Hospital (located where the old Magsons Superstore used to be). I consider him one of our finest doctors and he tells me he has been trying to promote the message that it is not necessary for patients to present with a hungry stomach in the early morning for blood tests to be done…but in vain! The message just doesn't percolate down even to younger doctors' level
Which just means it takes a very long time for the sensibility of messages to permeate down to create a good understanding of what keeps us in the pink of health. He tells his patients, "Please have your breakfast and come for the tests…" His patients are happier for it, he thinks it's more important for a doctor to understand a patient's metabolism and how it is working at any given point of time in the light of their biological age and health status (as sabotaged by years of use and abuse like smoking, alcohol and overeating addictions, etc). One gets a better idea of metabolism with the help of today's medical equipment which can reveal all of body beautiful's nitty gritty secrets to a discerning doctor. Dr Digambar tells his patients, "Please have your breakfast and then come for blood test!" Apparently, an experienced doctor learns more about the patient when his stomach and bladder is full and not empty, don't ask me, go ask Dr Digambar for a more pertinent explanation! He knows how the mind and body, heart and soul work in tandem, I'm just a humble patient at life's end years.
Needless to say I consider Dr Digambar Kamat an old friend for once upon a time I'd gone down memory lane with him. This is when my health magazine "Mind & Body, Heart & Soul" was alive and kicking. Alas, it had to be put on the back burner indefinitely for want of what else but advertising revenue, my subscriptions were good but I couldn't find a good marketing person to sell the idea that we, the people, need to play a proactive role in learning about what kind of feelings, thinking, drinking and habits go into making us hale and hearty instead of angry, morose, depressed at the best of times and worst of times, battling with whatever bad things which happened to us to the detriment of the scaffolding of the body – the spine – the mind, the body, the heart and finally the soul which pays the heaviest toll of them all in the absence of that hardest of commitments of our times, love!
Hate proliferates more robustly nowadays if you understand what I mean and that's what is killing us slowly or in some cases very quickly. I have seen at least three persons go out like a light once the quality of love went out of their life – be it in youth or middle age or in one's autumnal and wintery years. When parents blamed a daughter, daughter blamed parents; when an elder brother blamed a younger brother but for whom he himself would not have survived so comfortably; when a man chose to be homeless rather than live with his wife till he lost his mind and had to be picked up and put in a care home. So many die prematurely and sometimes because the light of love which they believed in went for a toss.
As Rahul Gandhi (or Ghandhy) would like to tell us anew, the world and life itself rocks on love, not hate. Never mind what kind of thoughts control us and what kind of a conscience we swear by in our times!
WHICH reminds me this is a food column, also a food for thought column now and again. Every year I wait for the government-sponsored art and crafts Lokotsav to arrive with joy! And come to think of it all such government exhibitions are as public-account sponsored affairs as the government of the day is which we, the people in our wisdom vote into power through regular democratic elections (though these days democratic values are going for a toss day in and day out if you notice)!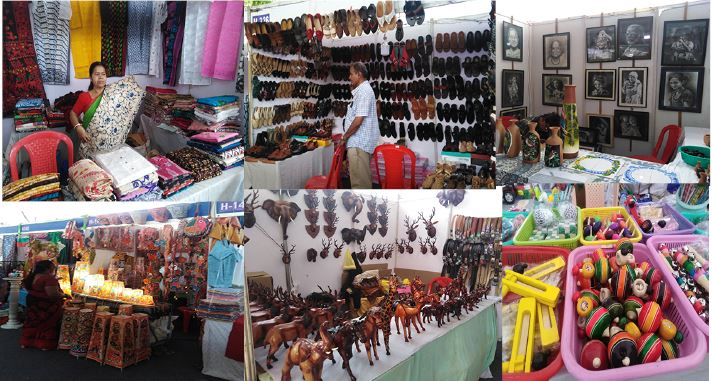 But the Lokotsav and its folk are pure and many of them offer engaging stories to listen to if you ask at the right time, when they're free, after the day's business is over; don't ask the children's generation, ask the old parents generation – many of whom have handed over the reins of their small art and craft businesses to their children who may give a damn or not in walking in their parents' footwear with hard work and honour, most have surly attitude and it seems to me they're just waiting for the old folk to kick the bucket in their village home…before they turn elsewhere to earn a living. That is if they know how to learn a living (depending on education and quality of their acquired skills).
FOR example, I remember these exquisite "magic" terracotta oil lamps I used to buy by the dozens, where you fill in the oil through a hole beneath at the base and then when you upright the lamp anew ,no oil leaks out…but the diya wick inserted burns beautifully through the night (if you have put in rice bran oil), enough light to bask in and drift off into dreamland!
Well, this is to say the old Rajasthani parents I recognized no longer turn up at the Lokotsav and their son's magic lamps I don't like. They have neither the finish nor exquisite craftsmanship which his parents' put into the making of these terracotta lamps. Many other crafts persons have started making these lamps but they don't tempt and cost twice and thrice the price of what I bought once upon a time. Even if I don't have a single lamp left with me now, having given them away to family and friends.
Over the years of Lokotsav visits I now no longer get mesmerised by the jhoomka earrings, or the so called "natural" soaps, incense sticks, fake pearls, and then again where is the money to buy, buy and buy to help the crafts people? This reminds of a story my favourite storyteller tells, Mrs Sudha Murthy of the Infosys Foundation: It seems she had this argument with her husband that she has enough things in her house and she is tired of shopping! But he tells her, "Go shopping! Go shopping, please! Otherwise how will people less fortunate make a living if you stop shopping and nobody buys their goods!" Ha, ha, ha…say I feel like Sudha Murthy these days, I don't want to go shopping anymore – not because I have less money to spend, but because I am suffering from déjà vu and don't want to buy anything anymore except food to put on the table.
THIS is not to discourage you, okay! The Lokotsav is a huge attraction and yes there is also some quality stuff you will feel like you want in your home – the handloom bed-sheets and textiles of the south, the array of sarees, the footwear, the cosmetic jewellery and the semi-precious stones jewellery, all kinds of leather and ornamental bags, the pottery ware…curious odds and ends like a wired hair massager which was Rs50 first, then became Rs80 the next time I asked on a return visit!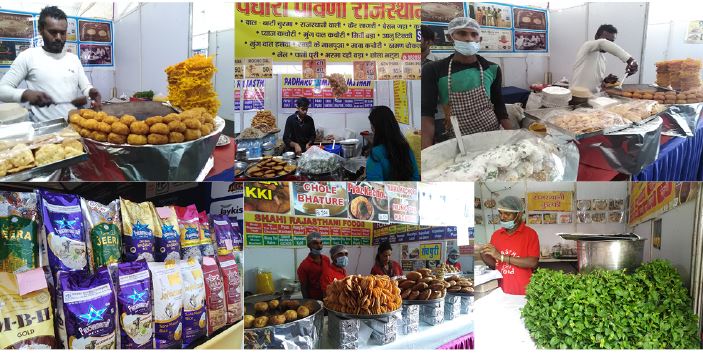 During a hurried dekho on the opening evening itself I skipped the entertainment and looked around and left with a bit of my heart trapped in these exquisite "organic silk plant-based sarees" as Raaina Shaikh from Mumbai described them. One of the sarees of "gomasa mal" took my breath away and Raaina clarified, "Yes, we use the stems of plants for these sarees…castor oil plant, lotus plant…" Here are sarees so intriguing you want to buy one and I told her I will come back to buy …Rs4-5,000 but worth it!
Will I, won't I? The saree are worth buying, that is if you haven't forgotten how to wear a saree! Nowadays, increasingly, as film star Asha Pareksh grumbled while here for the International Film Festival of India last year, Indian women are not wearing sarees so often and even when they get married they wear some tasteless weird gowns! What's happened to saree-wearing, please go back to wearing them more often or they will become extinct and so will the folk who so painstakingly earn a living weaving them!
FINALLY, food talk. The usual collection of food stalls are here at the Lokotsav serving an array of self-help group or home-made savouries and sweets, masala of all kind – I couldn't resist buying some tea masala, the guy here wanted me just inhale all his spices…turmeric powder, asafoetida, goda masala, etc, to help me make up my mind. Before I could make up my mind I said, no, thank-you, and walked on firmly. Since I don't cook so much nowadays most masala fill up with fungus in my kitchen. I buy masala in very small quantities. Also, I find that that these masala folk let you inhale fresh stock masala, but what's in the packet you buy may not be so fresh!
Last call was at the food court to just feast my eyes on the Rajasthani kachori, dahivada, churma ladoo, hot monster jalebi, gulab jamun topped with or without rabri, kulfi! What else, from Goa the usual chana-singdana, batatwada-pau, kandabhoji, Maharashtrian snacks…pao-bhaji and what do you know – very nice thalipeeth and bajra roti with "thetcha." A very nice hot "kasaya" drink of moong dal with little dumplings, several full fish thali meal at some of the stalls, and much else! If you have no problem walking and walking around…go have fun. The Lokotsav is here till January 8, 2023. There're cultural entertainment programs every evening if you want to catch them.