THAIPUSAM FESTIVAL IS SOMETHING TO SEE AND PARTICIPATE IN, IN PENANG! Now there are two chariots, the original Chettiar silver chariot with Lord Muruga's image installed on it has a 100 years old tradition The second golden chariot is of more recent vintage courtesy the Penang Hindu Endowment Board, but both chariot processions start from Georgetown temples and wind through selected streets right up to the Nattukottai Chettiars Temple at Waterfall Gardens…
By Pankajbala R Patel, who grew up on the island of Penang in Malaysia in the 1950s and 1960s…
PENANG, a small island off the coast of the eastern coast of Malaysia, is also called Pulau Pinang (island of betalnut trees in Malay or Bahasa Malaysia). It happens to be my old hometown for I grew up there in the1950s-1960s. My brother Vijay R Patel born and residing in Penang currently, in his latest What'sApp messages reminded me it is Thaipusam festival time in Penang and why don't I make a trip out there to go to the Waterfall Gardens temple of Lord Murugan to pay my respects? I wish I could go but then if wishes were horses I suppose cows would fly and all that.
But I remember the Tamil festival of Thaipusam which happens for two or three days come first week of February. The Tamil population of Penang and Malaysia celebrate this festival with infectious pomp and colourful ceremony both in Penang and in capital city Kuala Lumpur at the Batu Caves. If you're asking me the Penang Thaipusam one is far more friendly affair with all other communities joining in to pay homage to the gods that be for blessings and protection…the Tamil people long since settled in Penang and mainland Malaya have this religious tradition of making vows and when the vows are fulfilled they carry these fearful lightweight "kavadi" frames with long and short thin spears piercing their body and face…some kind of a penance for nameless boons fulfilled or to be fulfilled with Lord Murugan's name on their lips in a constant chant.
The kavadi warriors walk barefoot all the way from the Sri Mahamariamman temple (Penang's oldest Hindu temple from Queen street in Georgetown, today a UNESCO protected town) to the Waterfall or Botanical Gardens of Penang Lord Murugan temple on a hilltop. The streets are watered with breaking coconuts en route with devotes singing and shouting "Vel, Vel, Vadi Vel!" All this is by way of cheering and moral support for the kavadi-pilgrims. These kavadi cages are very auspiciously and quaintly decorated with all manner of objects including peacock feathers and all things considered happy things!
Thaipusam processions make for some curious as exhilarating stories as the kavadi penitents walk their way down various streets with crowds of relatives and friends crying themselves hoarse, "Vel, Vel,l Vadi Vel!" Another aspect of Thaipusam in Penang is the grand old silver chariot on which the deity Lord Subramaniam (also Lord Murugan, primarily the eldest son of Lord Shiva in a Hindu legand, also called Skanda and various other names) travels a designated route around town with devotees and believers from all communities paying obeisance by breaking hundreds and thousands of coconuts (symbolically saying, "Here, my Lord, I am offering my ego to you in broken pieces!").
Housewives from Hindu homes come out with aarti thali offerings to seek blessings courtesy the priests atop the chariot in the service of Lord Murugan or Lord Subramanyam. Prasad of boiled chickpeas tempered with mustard seeds and curry leaves, is distributed along with halva in banana leaves, or maybe elaichi-spiked banana and sago seeds payasam if I remember right. Absolutely unforgettably delicious and to live for or die for prasadam! Some devotees may distribute around a prasad of coconut pieces with boiled groundnuts and crystal sugar bits. In any case there is lots of coconut pieces to take home, all one can collect from the streets!
You will also some Chinese or Malay devotees participating in Thaipusam and carrying a kavadi, very amusing listening to their stories of why they are doing this penance walk. Of course, everyone is attired in their best silken attire, the Chettier men in pristine white cotton dhoti, their forehead smeared with scented ash "vibhuti" along with vermilion and turmeric sacred powders, the fragrance of camphor in the air mingling with the floral tributes of mogra, chameli, heady golden chaffa or champa, fresh green and purple tulsi leaves and blooms…bunches of kevda flowers!
It's the small community of Chettiers which annually runs this silver chariot through Georgetown on Thaipusam day up to the city temple and back through the streets. As a schoolgirl in Penang I have memories of living opposite the Chettier temple building down Penang street and being thoroughly mesmerised by the annual chariot procession, every Thaipusam my mother asking me to carry the aarti thali up to the chariot priests. My father and friends in turn would break A to Z number of coconuts before the chariot deity with children and adults too scrambling to collect the broken coconut pieces flying helter skelter all around. I remember the scent of incense sticks, marigold flowers, filling up the hot afternoon air and it was quite a heady moment to take several deep breaths to overcome with piety!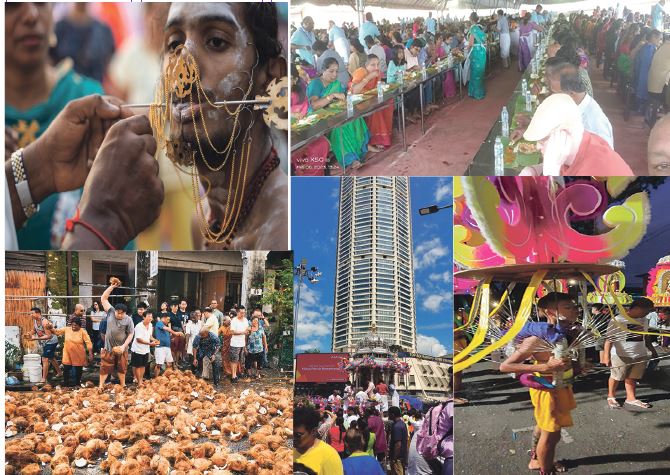 You may walk with the kavadi pilgrims, warriors, devotees, whatever you want to call them. Or my father would say get in in Opel car and all of us would drive out to take in the crowded long kavadi procession dancing and singing its way to the Waterfall Gardens' Lord Murugan temple, to partake of some of the humble rites and rituals. It is here that when the kavadi devotees come in they are attended to and their frame of spears removed with gentle care, their feet attended too for wounds or injuries. They dance before the deity in the temple chanting prayers and invariably one gets drawn into the vortex of divine emotions and all the goings-on!
Of course, we return home late loaded with coconut halves, betal leaves, betalnut chura, floral garlands of fragrant mogra and abholi woven into tulsi leaves, tulsi bead mala, maybe a cone shell to blow, packets of half-used agarbatti and vibhuti to place before the little home shrine and light a diya for the Thaipusam festival gods that be for daily and annual invocation. You may imagine the Waterfall gardens Lord Murugan temple vicinity turning from a quiet place to a teeming with life place – akin to our Goan zatra — with vendors offering an array of fruit, sweets, savouries and cold spiced buttermilk/rose or kevda sherbat as also puja paraphernalia to be purchased and taken to the temple for the good lord's blessings.
This is to say if you're going to Penang, go in the months of January-February when the Thaipusam festival coincides with the Chinese New Year festivities which the Chinese community celebrates with gala events. Both Chinese New Year and Thaipusam festival is listed on the tourism calendar of Malaysia, a multi-racial country which lives in harmony and peace, sharing one another's life and lifestyles. One of these days before life is over I will surely go to my old hometown of Penang again to take in the timeless scene-scenary and enthusiasm which goes into the celebration of the Thaipusam festival by people coming from all walks of society. Must go and say hello to Lord Murugan one more time!