Valentine's Day versus Vasant Panchami stories…both offer food for thought and romance real or unreal!
THIS is something I've been saying every time the spring season the festivals of Vasant Panchami (January), Maha-Shivratri (Feb18) and Holi (March 12P come along annually by the Hindu calendar and with the buzzing and tweeting feathered friends of Mother Earth it's official that the marriage green signal has also been given. However, because Valentine's Day comes from the countries of the West which some of our educated lot are far more educated about it, and the day has become synonymous in a myriad ways with the emotion of love with a capital L…real or unreal, I'm tempted to say all this anew.
Most of us know about the priest during Roman times when the first Christians of the world were persecuted, who secretly helped couples get married into the new faith…what happened to St Valentine, was he killed or some such dire thing? I don't remember, must refresh my memory one of these days. It's amazing how much religious tyranny there is all around us to this day overtly and/or covertly!
This is to say I find the Hindu mythological stories to do with Vasant Panchami far more romantic. When as the story goes one Kamdev (a minor god?) roams around with wife Rati and aging of happy-go-lucky friends with bows made of sugarcane and arrows tipped with different kinds of flowers of the season (including the first mango blossoms with bees buzzing around them)…aiming randomly at young folk unable to summon up courage for whatever love or lust there's enshrined in their mind or heart. You know what is said about young hearts when even the birds and bees are kootchie kooking in orchards of fruit and flower? It's the season of love in the air or on wing, never mind where it lands.
In this case the charming story goes that Kamdev came upon the sub-continent's oldest god, Lord Shiva, in deep meditation in the forest, with this beauty called Parvati dancing away adoringly nearby in the hope that he would open his eyes and see her! Well, poof went Kama Dev's flower-bedecked arrow and an angry Shiva's third eye blazed open upon them…but that's when he also saw Parvati, and after that we know it was shaadi karo on Maha-Shivratri night. Many say that along with other things it is in memory of Lord Shiva's marriage to the goddess Parvati that Hindus to this day try to stay awake the whole night (the darkest night of the Hindu month) in praise of divine marriages made in heaven presumably but lived on earth even in ancient times immemorial. I imagine Parvati too had to deal with the temper tantrums of her lord and master.
To this day the Maha-Shivratri celebration of a divine love marriage comes alive in temples and wherever else. For example, a memorable place to go to would be Sadhguru Jaggi Vasudev's Isha Yoga Center in Coimbatore down south India, where there is magnificent installation of the Adiyogi. Sadhguru and family celebrate Maha-Shivratri with pomp, ceremony, honour and much else in the presence of khaas and aam invitees and regular visitors. I understand it's a night with a special program of singing, dancing and togetherness in human and divine kinship. (Sigh) Wish I could go!
BUT this is to say you may also go to your nearest temple where chances are Maha-Shivratri is celebrated with usual routine for the day with Lord Shiva-Goddess Parvati devotees queuing up from early hours of the morning to offer the couple a few gifts of bilva leaves, harshingar flowers, coconut, water, milk, honey for the sacred lingam of creativity and much else…all to seek the blessings of one of Hinduism's most iconic gods of yesterday, today and tomorrow!
I remember observing Maha-Shivratri in various places including Gujarat when my aunts (maasi) were still around to clue me up on a lot of intricate and delicate things to do with the worship of Lord Shiva! Much of it is in the mind naturally, what one has imbibed while growing up in with extended family – when it comes to religion I do think we must exercise a certain measure of restraint, austerity, simple humility and above all sensibility. Make what you will of that.
I want to be neither a raving lunatic or fanatic Hindu although I love my favourite stories of the life and times of our intriguing pantheon of gods and goddesses and their vishwaguru and slaves in Hinduism religious lore; remember Hinduism's divine beings are cast in the mould of mortal human beings – at once human and divine, something like that (with religious mythology you may stretch your imagination as required)!
This is to say have a momentous Shivratri and Holi!
NEW KONKANI FILM TO SEE…be sure to catch this film!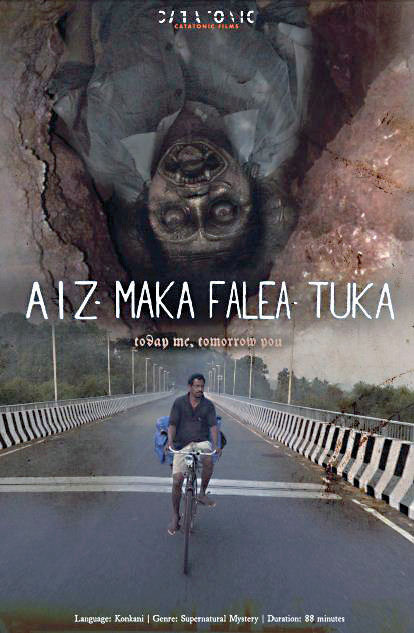 AND on to a new subject. Goa now has several Konkani films old and now many new ones to catch up with you love Goa and Konkani. For some reason I prefer Konkani to Marathi for Konkani has a certain appealing je ne sais quoi…never mind that I speak it badly being a bhaile of 23 years in Goa. But I enjoyed the exquisite musical of "Nachom-ia-Kumpasar" (directed by Bardroy Barretto) and this time around I got a special invite from one of my favourite Konkani film actors, namely Prashanti Tallpankar (vivicious teacher, writer, translator, playwright and niz Goankar, also a very easy and comfortable person to talk to) to go and see "Aiz Maka Falea Tuka."(Translated means Today Me Tomorrow You)
The Cine Club was premiering it and Prashanti plays a key role in the film which made its debut screening at the ESG's Maquinez Palace auditorium on January 27, 2023. The film explores the dark side of how as a people we are so naturally exploitative…also there is a touch of the grim supernatural invocation in this film, which makes one think again of the common colloquial observation in Goa of "aiz maka, falea tuka" (today me, tomorrow you) – one hears it constantly from the elders so that we stay in line! Is it for real and how much should one be prudent enough to respect the saying in the film which defines as an eerie, spooky whodunit.
The film directed by Sreejith Karnaver has for cast Ravio Rafus Fernandes, Prashanti Talpankar, Milind Nabar, Selwyn d'Silva. It's about a young bakery boy who lives a grim and hard life in the village of Carona, he is taken for granted as he bicycles up hill and down dale, far and near, delivering the morning's local bakery bread…he roams the countryside where hidden eyes watch his comings and goings and perceptive perhaps of a boy's dilemmas of a hidebound livelihood and existence.
"Aiz Maka, Falea Tuka" evokes village community notes from inside out when an archaeologist unearths a medieval idol in an abandoned village (and too many mysterious deaths take place), perhaps a curse or malevolent spell is playing out. Perhaps Prashanti Talpankar, who plays the role of weirdo jungle cave dwelling prophetess, has magical insight to intervene and bring about a justice of sorts!
Anyway, our bakery boy survives and one breathes a sigh of enormous relief with the confirmation that if it is me today, it could be you tomorrow…depending on the kind of karma we bring to our life. It's a slow, gloomy film which demands one watch it with patience, the photography is haunting as well as the Prashanti Talpankar's "witch face" and softly muttered words to follow her, follow her into an impossibly dark cavernous labyrinth which comes alive with teeming ghostly life! The entire cast puts in a superbly natural presence to make this film a masterpiece in Konkani superstitious lore. Make time for it!
ON that note it's avjo, selamat datang, poiteverem, au revoir, arrivedecci, hasta la vista and vachun yeta here for now! Incidentally, the top 20 films of Film Bazaar (India's premier film market) listed for this year are "Aiz Maka Falea Tuka" (Today Me Tomorrow You, Konkani); "Angarh" (Another World, English, Gondi, Japanese); "Awakash" (Marathi), "Ek Tha Gaon" (Once Upon A Village, Hindi); "Fairy Folk" (Hindi, English); "Fatima" (Hindi); "Ghaath" (Ambush, Marathi); "Highways of Life" (Manipuri); "Maila (Excreta, Hindi); "Manikbabur Megh" (The Cloud & the Man, Bengali); "Nine Hills One Valley (Manipuri); "PAKA – The River of Blood" (Malayalam); "Powai" (Hindi); "Sikaisal" (Tiwa); "Teen Paayancha Ghoda" (Three Legged Horse, Marathi); "Thalakkuri" (Horoscope, Malayalam); "The Great Indian Kitchen" (Malayalam); "The Road to Kuthriyar" (English) and "Zende" (Marathi, English, Hindi).
—Mme Butterfly