SEEKING MAHASHIVRATRI BLESSINGS IN GOA! Yog guru Swami Ramdev offering abhishek puja before a sand sculpture of Lord Shiva at Miramar beach, before conducting a 3-day yog shibir attended by about 1,000 to 2,000 resident followers as well the entourage accompanying him on the trip from Haridwar in Uttarakhand. He was accompanied by Chief Minister Pramod Sawant, Sadhguru Brahmeshanand, Acharya Bal Krishna, Union Minister Shripad Naik and other dignitaries on the first morning of the yog shibir on Feb18, 2023. Baba Ramdev is hoping to start the largest Ayurveda and yoga wellness center in south India in Goa providing he finds the land!
By Tara Narayan
IT was Shivratri morning but this year I couldn't make it to any temple for my peace of mind! I thought Baba Ramdev was in town and I at least go to nearby Miramar beach where some sand artiste had made a mesmerising sand sculpture of Lord Shiva and this is where one of my favourite god man Baba Ramdev with his Haridwar and Goa entourage with Chief Minister Dr Pramod Sawant, offered floral shraddanjali for the good lord's blessings, but even this I had to skip. Really, my life is becoming impossibly boring!
But I did make it for the morning yog shibir or shivir on put on the sands of Miramar beach just to listen in and watch the gathering hanging on or nodding away to whatever Baba Ramdev was saying alongside his partner Acharya Balakrishnan and others on the high stage – both are a study in brawn and brain, I thought fleetingly. I find Baba Ramdev one of our most interesting god man, undoubtedly a rags to riches story of our times (but most of our god men stories are similar with small differences here and there).
First of all I do believe and have seen with my own eyes the difference the practice of an hour's yoga and meditation can make for peace of mind and body, heart and soul and with all that there's none more qualified that Baba Ramdev who recounts good anecdotes, has a sense of humor and has infinite patience coaxing his reluctant seekers to do this easy asana or that difficult asana…it's not easy to lead a yogic or Ayurveda life for sure but once one is convinced with a little, one is perennially hooked like I am. Although these days I can neither do the lotus pose or the crocodile pose or the camel's pose.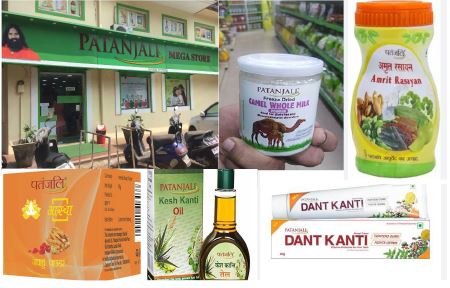 Camel! Baba Ramdev has no plugging his Patanjali range of consumer products sold at its franchise stores in Goa or the country over…in every yoga shivir he is sure praise the Patanjali Kesh Kanti Tel or Patanjali Chywanprash or Rasayana or toothpaste or something else. Listening to all the goodness of his products and Ayurveda medicines I called on his Patanjali Mega Store at St Inez circle – it's amazing what an interesting lot of products Patanjali retails and I had to click a picture of Camel's Milk Powder which was priced at Rs400 something but I wasn't going to buy it okay.
Some of the pulses and oils are very good and I do pick up some things regularly, it's one of the few stores one may get Malka Masur Dal (that is the whole unpolished masur dal, makes for thicker dal, Rs70 per 500 g pack). I find the Rasayana better than the Chyawanprash and this time around I simply fell in love with the Patanjali Aastha Javadhu powder – a pinch of it mixed with a little water and rubbed onto the skin is a heavenly feeling…sorry, I love this better than any perfume or attar! I've taken to using it as an underarm natural "deodorant!" The copy on the Rs175 15g orange box but plastic container reads, "Patanjali Aastha Yogic Javadhu is made of 98% herbal ingredients & will give enchanting aroma to your body." Well, at least for the moment I am enchanted with this javadhu powder and I am trying to use it very frugally!
A lot of Patanjali fans do big-time home delivery and although some of the goods are good, my only problem is our Baba Ramdev talks these days endless of "wellness" and doing yogasana and shopping for Patanjali's "shudh" goodies…and living life sustainably, but why can't his franchisee producers pack their products in eco-friendly packaging? The plastics put me off every time for plastics are a big-time curse on human civilisation and it is plastics and micro plastics which are choking the earth of Mother Earth to death amongst other things. At least our godmen can do their bit to bring in a consciousness of shunning anything and everything in plastics, especially consumer products? What's the point of preaching sustainability if all his thousands of devotees are plastic lovers and think nothing of patronizing it in all the ways they can?
I was quite amused, at the press conference all media people were rewarded with a cotton cloth bag of some of the Patanjali goodies! Everything was in plastic packaging. Such hypocrisy we practice as a society hell bent on achieving health and wealth…but we don't make the connections for a larger cause and prefer to pretend we don't care and don't know. The god men of this country can swing in a terrific eco-friendly and sustainable lifestyle for they have so many devotees and fans – so why don't they do by setting an example with their own lifestyles. As far as I know all of Patanjali's groceries and consumer products and Ayurveda medicines come in plastics…a real shame.
WELL, that said, I am not going to say I don't like some of the Patanjali products, I do. I do believe that his business partner and CEO Acharya Balkrishnan who was feted in Goa should acquire some conscience on the eco-friendly packaging front – after all Patanjali is roaring great business and the goose laying the golden eggs courtesy any number of companies! Plus, I believe the government of Prime Minister Narendra Modi has given Baba Ramdev a tax holiday for five years.
One of these days I would like to visit Baba Ramdev's Patanjali Yogpeeth ashram and Aurveda facilities in Haridwar and go to Rishkesh for a dip in the cold waters of the river Ganga. I'm sure it'll cure me of all my degenerative arteries and dying nervous system! Also, it would be great to visit the herbal garden he is growing in Haridwar. The Patanjali folk had put out a table at Miramar beach retailing a few puja paraphernalia, they were also registering names and numbers of those interested in joining the Patanjali movement which is gathering momentum in more than just Ayurveda healthcare. Education is on the cards and I hope this will see Indian children not just being introduced to yoga but also to healthier ways of eating to be fit and fine and happy!
Interestingly, although Baba Ramdev talks of cows being sacred in sanatan dharam and in the same breath how all Indians have the same roots in Hindu sanskar coming down the ages….perhaps he is not aware that all the pious cow going around from the top down is spawning lunatic and fanatic cow vigilante groups in the country – who target anyone selectively to lynch and kill them. Is this sanatan dharam? If this is sanatan dharam give me my old-fashioned Hinduism any day which has evolved over time to be one of the most democratic and secular ways of living life fruitfully. The path to hell is often paved with good intentions!
ENOUGH Baba Ramdev promotion here. But out of curiosity I read up about camel's milk to educate myself a little. We know camel's milk is there in most pastoral communities and reportedly a saltier milk which suits people who are allergic to lactose of bovine milk. It's reportedly a milk rich in vitamin C and thiamine and other good things, definitely ten times more calcium than found in cow's milk…hence the common perception is that it's the "tall milk" – drink it if you want to be as tall as a camel! Jokes aside camel's milk is drunk in India's desert country like Rajasthan and elsewhere. Very costly, Rs600 per liter fresh camel's milk. You won't fresh camel's milk in Goa but check out the Patanjali Mega Store's powder camel's milk! Which reminds me goat's milk is said to be more nutritious than cow's milk and a Gandhiji had a goat travelling with him everywhere he went…I should think the milk which suits us the most would be coconut milk in Goa, naalchyo ros, rich in lauric acid and closest match to mother's milk. Shun dairy milk and products, you and me don't need it! Adds to respiratory problems.