MILLETS ALL THE WAY…guess who inaugurated the latest multimedia exhibition focussing on International Year of Millets, to educate visitors about the goodness of eating millets, at the KTC Bus-Stand on March 1? None other than IPS officer Nidhin Valsan (who recently shared his story of survival as a blood cancer fighter) next to him is ICAR Director Dr Praveen Kumar and two other ICAR officers . Nidhin now says he eats jowar and ragi for breakfast and dinner, both popular millets in Goa…jowari roti is much loved by the Kanaddiga Goans and ragi by niz Goans!
By Tara Narayan
EAT healthy, eat millets! Say goodbye to refined rice and wheat if you know what's good for you! These days I'm being driven by the millets craze which is a recent craze although I haven't cooked a single millet bhakri or kichadi at home yet….er…the hubby says, "No! My mother fed me ragi all the time when I was a kid and I hate it! You eat it yourself!" Well, forget that for the time being. I'm still crazy about millets and especially my favourite greyish green bajra or pearl millet, what a lovely sound that has…
Ever since Prime Minister Narendra Modi lit the fire at an international forum (United Nations) and got 2023 declared as International Year of Millets our agricultural government departments have been on an overdrive the country over organizing millets this and millets that – seminars, workshops, exhibitions, festivals, our politicians are feasting on millet dishes in Parliament canteen!
Cut to Goa as recently as February 28, 2023 we had North Goa SP Nidhin Valsan inaugurating a Central Bureau of Communication's Multimedia Exhibition on International Year of Millets at the Panaji Bus Stand. While our favourite cop shared that after his bout with blood cancer he was advised to eat selected red meat for protein, he opted to eat millets, "I eat millet for breakfast and the evening too I eat millet!" To a query about what millet he was eating, he smiled, "Oh, that I must ask my wife, she cooks for me…I think it is jowar upma for breakfast and may be ragi porridge in the evening. I like it, it has made me feel much stronger!" Looks like he has become the face and spokesperson for the goodness of millets in Goa.
The KTC Panaji bus-stand is an interesting venue and undoubtedly many will see the multimedia exhibition (one is on in Mapusa too) and in turn get inspired to cooking jowar and nachne bhakri at home to enjoy better health. Alas, the exhibition was opened only for three days though (February 28 to till March 3) and of course there're no sale of the millet samples put out by the ICAR-Central Coastal Agricultural Research Institute (CCARI) which has set up the millets exhibition with Director Praveen Kumar waxing lyrical about the joys of eating millets to bring down his diabetes blood sugar levels up to 70% ("but don't eat ragi for this, eat the other more low glycemic index millets!"). He also confided eating millet has done much for him in the weight loss department and he feels very fit nowadays.
The person to talk to is of course the very friendly "millets bai" Sunetra Talaulikar of SMS (Home Science) of the ICAR-Krishi Vigyan Kendra, North Goa. She is the moving spirit and inspiration of the millets revolution at ground level – holding how to cook millets workshops at various venues. The exhibition had put out the various millets to see closed up (albeit in see-through plastic packs) and there were posters up detailing the history, facts and figures of the family of millets at home and abroad. India is of course a very serious hub of millets agriculture and now stands to benefit if production soars anew and fly away in export revenue!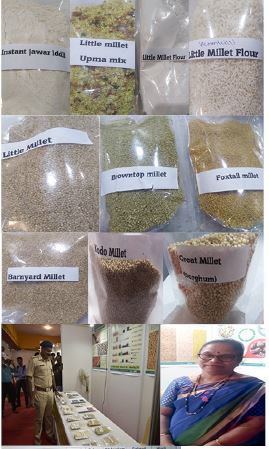 I took a closer look at the millets on display…we in Goa, neighbouring Maharashtra and Karnataka are familiar with major millets of sorghum (jowar), pearl millet (bajra)…finger millet (ragi/nachne, the maroonish little millet which goes into making bhakri, ladoo, ambil, tizan porridge and much else, Goan country homes still do them). The minor millets are foxtail millet (kakum), kodo millet (kodon), barnyard millet (sanwa) and just little millet (kutki/shavan). It takes a little while to familiarize oneself with the looks and larger and smaller size of the various millets and confusion may rule for a while during the familiarisation phase!
There's also proso millet and a millet I have not seen before "browntop millet," which I asked Sunetra bai about but she confessed it was one of the unusual new millet samples they'd got and not seen often. She is working on a book on millets so I may keep in touch with her to find out when it is finally printed! Along with the millets at the exhibition were the respective millet flours as also some interesting granular textured versions. Also take-off packets of mixed millet like a "ragi pudding mix" and "little millet upma mix" and other samples of what one could do with millets and their flours. The general perception is that one should mix millets to consume them, I don't know why! Must find out.
THE posters up briefed one quickly about the story of millets: Millets are amongst the first plants to be domesticated have been cultivated as staple crops for millions of farmers in sub-Saharan Africa and Asia…there is evidence of the cultivation of millet in the Korean Peninsula dating to the Middle Jeulmun Pottery Period (that is around 3,500-2,000 BC). Millets are considered as very hardy and therefore important staple food for the many who suffered droughts and famines. All this before the arrival of irrigation. Since the world is facing another global climate change era better hang on to the cultivation of millets for they can feed a starving world if it comes to that. Something like that. India of course wants to feed a starving world with Indian millets!
Most of us urbanites I find have been so recently introduced to the charms of eating the half-a-dozen millets we've been exposed too and now easily available even in the upmarket stores in town…but many of us have lost touch with the millets of our grandparents times and don't know quite know how to cook them. At least I'm in the dark about how to go about cooking the various millets little and not so little, the little ones are reportedly more digestible. In my collection of cookery books I can't find a single book dedicated to the charms of cooking the millets of life…oh well, just a few local recipes (see elsewhere here for recipes).
The point is if millets are prescribed as healthier food than polished and refined rice and wheat (which we have been eating to death morning, noon and night, till most of are sick of eating them, I certainly am) then millets too do get polished and refined. Apparently not all of them, some millets just get their husky coverings removed and are more or less intact to qualify as more alkaline, calcium and iron-rich, fibre-rich, definitely better food to eat to say goodbye to diabetes and heart disease and the rest of the sickness rigmarole of today's life and lifestyles.
THE eat more millets revolution is giving rise to more snacks of ragi but if all the ragi ladoo are done in hydrogenated vegetarian ghee called dalda or vanaspati and sugar – I'm sorry, this is not healthy at all, okay. Nor are fried ragi chips or wafers! If you're cooking millet porridges, soups, kichadi, upma, etcetera you want to be conscous of not cooking them up with atrocious amounts of bad ghee or oils, excessive salt, sugar, spices. All this will defeat the purpose of eating more millets if you're desperately seeking better health to be happy!
ALL I am saying is be conscious of this if the millets craze has bitten you as it has bitten me currently, except that I'm looking at more desirable recipes; definitely yes to the traditional ambil, tizan, idli, upma and some homes think of the little millets as "rice" – I had an aunt who cooked little pale creamy yellow millet "vari" in buttermilk and it was to live for fare…garnished with a mix of green spring garlic and green coriander, of course, a dollop of desi ghee atop the "vari kichadi" was irresistible! But remember in the old days women worked hard in their kitchens and very often the cooking was done sitting at ground level…so one had to get up and sit down several times for this, that or the other.
Housework kept the women fit once upon a time, not today though where a lot of it is pretty much a mod con affair. Not that I am not grateful for the mod con aides of mixies, blenders, juicers, chutney makers! Taste may not be the same as in the old ways though. A chutney ground on a traditional stone sil-batta will always taste of more intense flavour, substance and style!!
Make your choices, my dears, but this is to say anew go discover the millets of India first (which reminds me the ancient grain of quinoa is a millet too and it comes all the way from Mexico)!
THE WONDERLAND OF MILLETS
(A selection of the most scrumptious recipes, healthy too!)
Ragi recipes selected from a Krishi Vigyan Kendra leaflet…
RAGI IDLI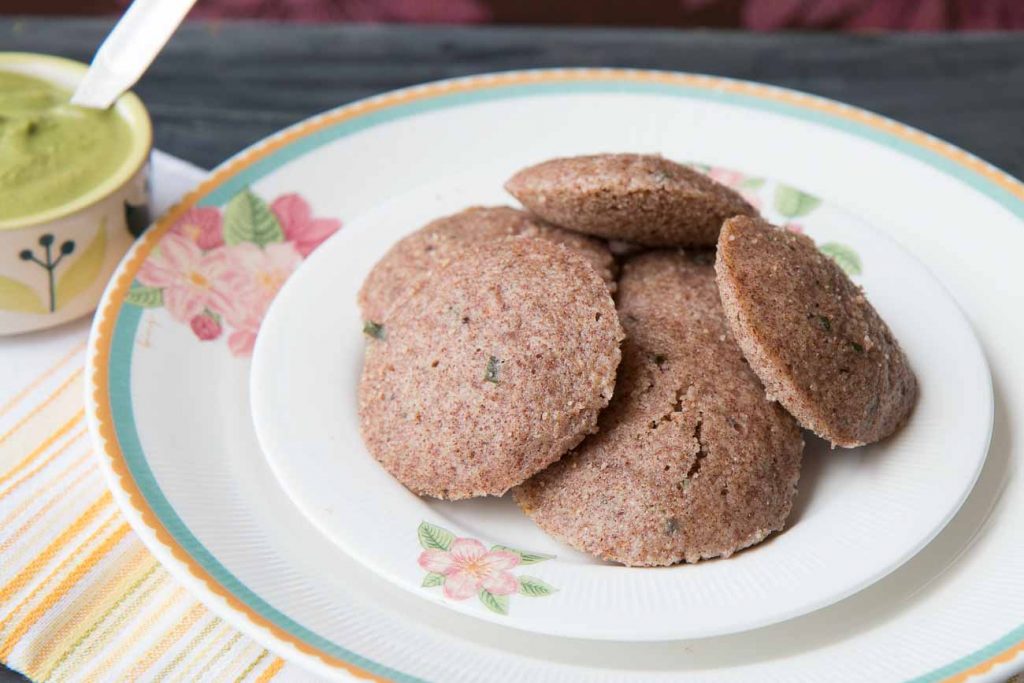 Ingredients:
Urad dal –100 g; parboiled rice – 100 g; rice flakes (minimum); ragi – 100 g-20 g; salt to taste.
Method:
Soak ragi, rice and urad dal for six hours and then drain water, grind into fine paste. While grinding add soaked rice flakes. Ferment overnight. Add salt to taste and mix thoroughly. Lightly oil idli pan and pour in batter, steam cook.
RAGI PANCAKE
Ingredients:
Half bunch green coriander leaves; Bengal gram flour or besan, 50g; ragi flour, 100 g; onion, 50 g; tomato, 50g; salt to taste; green chilli, as per wish; tender drumstick leaves, 25g.
Method:
Chop vegetables, add salt as per wish, add chopped green chilli. Mix in ragi flour and besan flours. Heat tava, apply oil and spread the batter and fry into pancakes.
RAGI SALAD
Ingredients:
Germinated green gram, 5g; germinated ragi, 50g; cucumber, 50g; tomato, 50g; onion, 50 g; sweet corn, 25 g; green chilli, as per wish; lemon, 1; coriander leaves for garnishing.
Method
Soak ragi and green gram for 8 hours and keep for germination. Second day after germination boil ragi, green gram and sweet corn for five minutes. Grate cucumber, chop onion, tomato, green chilli. Mix everything, add salt, lemon juice and garnish with coriander leaves. Serve.
RAGI DHOKLA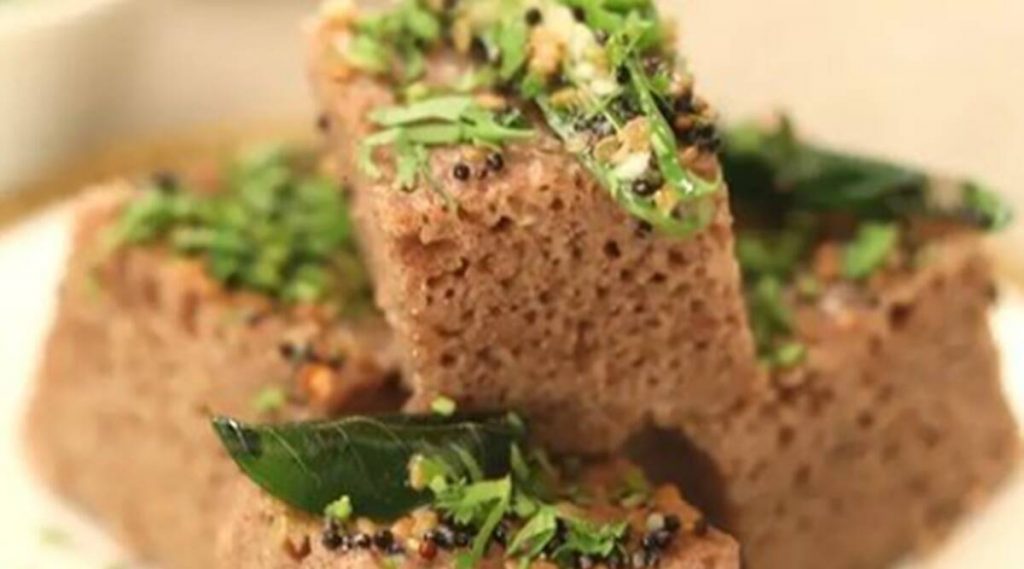 Ingredients:
Chana dal, 50g; ragi flour,50g; asafoetida/hing, pinch; curry leaves, 5g; oil, 20 ml; coriander leaves, 5 g; ginger-garlic paste, 5g; sour thick curd, 50g; cumin seeds, half tsp; mustard seeds, half tsp; red chilli powder, one-fourth tsp, optional; lemon juice, 1 tsp; soda bicarbonate, 1 tsp.
Method:
Soak dal for two-and-half hours, grind to thick paste. Mix ragi flour, salt, curd, ginger-garlic paste and turmeric powder. Add lemon juice, soda bicarbonate, and make thick batter. Pour batter into lightly oiled thali and steam cook. Garnish with coriander leaves, curry leaves, grated coconut. Serve with green chutney.
RAGI PIZZA
Ingredients:
Ragi, 10g; rice,50g; oil, 25ml; urad dal, 50g; cabbage, 50g; capsicum, 5g; onion, 50g; sweet corn, 50g; tomato ketch-up, 2 tbs; cheese cube, 1.
Ingredients:
Soak ragi, rice and urad dal for 8 hours and grind, keep overnight. Add salt to the batter. In a kadai heat oil, add chopped onion, cabbage, capsicum and sweet corn. Cook for 2 minutes and then add tomato ketch-up. Heat tava, oil lightly and make thick dosa like pizza base, fry both sides, top with cooked veggies and grated cheese of choice. Cut and serve.
AMBIL
(Traditional Goan and Maharashtrian secret of health and fitness! Ambil is usually made of finger millet and is delicious and wholesome to drink thin or thick before meals. It is gluten free, an excellent source of iron, best non-dairy source of calcium, helps control diabetes, has dietary fibre which curb hunger pangs, is usually much loved as a natural relaxant.)
Ingredients:
Quarter cup, plus 2 tbsp finger millet flour (ragi/nachni flour); 3 cups water; quarter tsp garlic paste; quarter tsp ginger paste; quarter tsp green chilli paste; salt as per taste; one and half tsp dry date powder/kharik powder; three-quarter tsp cumin powder; quarter cup yogurt; one-quarter cup water for buttermilk.
Method: In a pan pour water and heat it. While water is heating add finger miller flour, salt, cumin powder, date powder, green chilli paste and ginger-garlic paste. Beat-mix all ingredients. Remove lumps if any. Cook till you get a thick soup like consistence. Turn off heat and keep aside. In a bowl make buttermilk by whisking yogurt and one quarter cup water. Serve ambil warm drizzed with buttermilk.
(Note This is a Maharashtrian style ambil.)
RAGI DOSA
(Healthy, tasty, simple!)
Ingredients:
1 cup ragi flour; quarter cup rice flour; half cup rava (sooji); pinch salt; water to prepare batter; oil/butter as required to make dosa.
Method:
Add rice flour, ragi flour, semolina and salt to a bowl, mix well. Add little water and prepare a batter (a little thick at first) and let it sit for 10-15 minutes. After this add more water to prepare a smooth flowing dosa batter. Heat pan, lightly oil and pour on batter to make dosa, dribbling little oil or butter as required, till dosa is done and crispy. Serve hot with mint or ginger chutney.
BHAGAR UPMA
Ingredients:
Bhagar/Vari, 1 cup; crushed peanut powder, 1 tsp; cumin seeds, quarter tsp; mustard seeds, quarter tsp; curry leaves, 4 to 5 leaves; chopped onion, 1; ghee, 4 to 5 tsp; grated coconut; 1 tsp; lime juice, 1 tsp; salt to taste.
Method:
Heat 4 tsp of ghee in kadai, add mustard and cumin seeds, curry leaves, chopped onion and sauté. Add four cups of water and bring to boil. Add in 1 cup of bhagar/vari (better to lightly roast it before). Cook for five to 10 minutes till cooked. Remove from fire and add in fresh grated coconut, one teaspoon salt and lime juice. Serve with onion, tomato, cucumber raita.