DON'T MISS `MENORAH' while going out to see the birds at Carambolim lake near Karmali Railway…This is Suzie Vaz' café-cum-restaurant nearby offering some piece de resistance refreshments.
IT WAS one of those afternoons when I just wanted to get out of Panaji. My dear friend Suzie Vaz invited me to come visit her where she was parked outside her café-cum-restaurant called Menorah It and she would me treat to one of her speciality, the quintessential Goan working person's quick snack of ros omlet! Going to eat Suzie Vaz's ros omlet meant quitting Panaji to take the Ribandar causeway, and on to Old Goa and its antiquated churches and further up to Corlim where the Corlim Panchayat Multipurpose community house stands. Menorah is just opposite that where there's a triangular children's playground and most lovely lush mango tree nearby which I hear "has neither flowered or fruited this year, don't know why!" Trees may also go on strike if they're angry about something.
I negotiated my two-wheeler into ups and downs and easily found Menorah – right there on the road, a neat and cosy inviting place at located at a crossroads of between north and south Goa routes. Suzie started Menorah two years ago because during the Covid-19 lockdowns folk around about here found it difficult to access the usual supermarket groceries. Suzie and me go a long way in Goa, from the time she was taking care of the Kala Academy canteen and after that she just grew from strength to strength and says to this day her old cooks and chefs will turn up for her if she has to do a huge amount of catering!
Catering is her mainstay and she is a famous single woman army caterer. Now mercifully she has the help of her family made up of her eldest son Josiah, daughter-in-law Vanessa and daughter Ruth. Between them they run Menorah and the super mart attached on oiled wheels and the spot where they are located has become a popular halting place off the Corlim highway…tempting one and all to take a break. Say hello to lucky dog Shelby here who may usher you to your seat with a wagging tail, Suzie had rescued the stray many years ago and adopted it. Her children are all crazy about dogs, she says, and Shelby is like a fatherly watchdog for the area and everyone feeds her!
Suzie says Menorah is located very close to the birds sanctuary of Carambolim lake and so tourists who come looking for the feathered birds and seeking refreshments turn up at her place for a break where one may get breakfast, lunch, fast food, fish curry-rice, Goan snacks, burgers and sandwiches, coffee and tea, cappuccino and latte, kingfish rava fry, prawn rava fry and the rest of the usual repertoire people usually like…people like their burgers and molten chocolate cookie. Wash down with long glasses of mint crush.
It is also from here where she has a mod con kitchen that she does her takeaway orders of traditional Goan food, as well as Chinese, African and just about whatever anyone wants – including salads. These days she is thinking healthy and so is her daughter-in-law Vanessa in the hope of making people lose weight for better health parameters. Goans don't worry about their weight.
Suzie has seen long innings as one of Goa's most well liked and trusted caterers for Goan food. She has come a long, long way from her Kala Academy canteen years of course. I saw ros omlet up outside on a board and exclaimed, "You know Suzie, I have lived in Goa for 23 years now but I still haven't tasted a ros omlet! What is it?" The name of the dish has stayed registered big time in my mind for I know the late chief minister of Goa, Manohar Parrikar, was fond of eating puri-baaji at Café Bhonsle down town Panaji or ros omlet late nights at the vendors food corner outside Alankar Cinema at Mapusa (I got into a lot of trouble when I wrote about "Is this where the chief minister of Goa dines?" in the OHeraldo long ago).
I RECOUNTED the rather traumatic incident to Suzie and she smiled, okay, she is going to serve me a ros omlet to find out for myself what it is! Just an omlet single or double egg with aromatic chicken xacuti gravy poured over it and an onion relish at the side, one eats ros omlet with one of the Goan repertoire of local breads of course be it poie or undo or soft pao. Alas, I forget to tell her the efficient Vanessa here that I don't eat chicken and so I will not eat chicken ros omlet no matter how inviting it looked! Goa is mostly non-vegetarian, she exclaimed, she can make a vegetgarian ros omlet too but by now I sheepishly said don't do it, maybe I'm not sure I want to eat a ros omlet.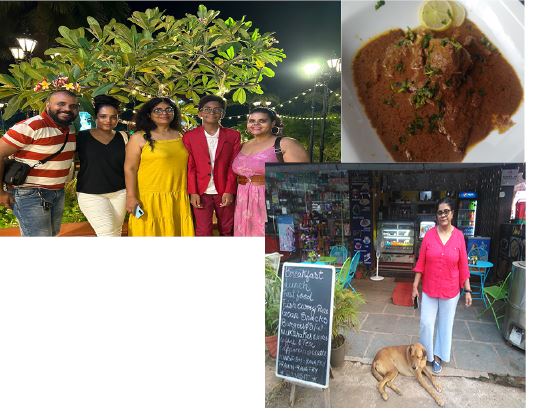 The aloo tikki burger looked good and I'll an aloo tikki burger fan, at least the aloo tikki part of it. Indeed, the breaded aloo tikki patties sizzling hot in the bread bun made for some delightful junk food which otherwise I would say a no no too…but that evening I found the aloo tikki irresistible, because it was not messed up too much with spiciness but nicely shallow fry toasted and served up with onion relish on the side, I can forget the bread bun but I ate it all up, and it was quite a chatpatti filler lined with lettuce. I had two more of just the aloo tikki!
Aloo tikki can be very healthily done too and once upon a time I used to make them at home and stuff them with lots of fragrant parsley. Anyway I was soon stuffed with Menorah's aloo tikki and after chatting with Suzie some more about tough life and times – she has seen two marriages which has left her alone to cope with bringing up her children. Along the way she had to wise up a lot but then she says, she has some wonderful sisters and they're all going off for a holiday break to the North-Eastern states…her children, all grown up now, can well take care of Menorah!
YES, there is only one person I would trust if I wanted to do Goan food, be it a xacuti or cafreal or ambotik or recheado or any one of the famous Goan masala combos. Just yesterday, Suzie exclaimed, she had got an order to do five kg of chicked xacuti for a marriage, "I don't use any of the readymade masala but make them all myself, cleaning the spices, roasting and grinding myself…wet or dry masala, to be used whenever required. Every week I make fresh wet masala." But now her attention she says is turning increasingly to doing recipes the health-conscious way with low inputs of oil, spices, salt, sugar, etcetera…although Vanessa listening in quipped, "Most people don't like to eat healthy though!" But she loves to do an array of salads to accompany a course meal…using peas, seeds, salad veggies and greens. Come try her salads the next time.
I will I told Suzie and her family and returned to Panaji with a box full of aloo tikki, aloo tikki can be so useful to prepare a simple meal. Just stuff between two sourdough bread slices and toast and enjoy! I discovered some decent sourdough bread in friendlier sliced loaf form from the Taj Vivanta Panaji's "QMin" lounge which is retails freshly baked breads worth taking an interest in. Anyway, instead of the fabct sourdough bread on exhibit, I asked if I could get a more normal loaf sourdough bread, sliced, so that I may toast it properly — and Chef Gopa understood and was happy to make a sliced sourdough loaf of bread for me! Sourdough bread stored in the freezer or even fridge can turn hard to slice if you don't have a real sharp bread knife, can slice your finger along with it if you're not careful or strong. Good sourdough bread is hard or find in Panaji, most are horror affairs even if they come from high up places.
Mercifully my new find sourdough loaf will last me for a fortnight in the fridge although…er…don't laugh, I'm perennially in the process of quitting bread! Or better still all forms of wheat, be it wheat flour refined or not (there's just too much politics around wheat), also rice (refined or not), refined oil (refined or not), also saying no to salt or just pinch of sea salt or Himalayan rock salt. All that. No to butter naturally, hard to do; of course sugar is out, out, evil stuff!
(Sigh) I still can't quit 100% although I know the moment I do all my growing old and older health problems will be marginalized and may be my heart will decide it wants to live some more. Hearts are a very complex organ issue, you understand. But all this is to say if you're looking for a refreshing drive out to some rural countryside…try going beyond Old Goa to Corlim, where Suzie Vaz' Menorah beckons! Stop for a bite. She tells me she named her café "Menorah" because in Jewish Hebrew it means "lamp" or "light" both literally and metaphorically.
I may note here that the original menorah lamp has seven branches, one for each day of the creations week story. Jewish history says an ancient menorah burned in a temple in ancient Judea…until Egyptian and Greek-Assyrian history happened. Read it up, to understand the present we must be educated about history, real history, not fake history written by conquerors no matter how interesting. Real conquerors are always interesting compared to our modern day social media conquerors!