KONKAN FRUIT FEST AT Francisco Luis Gomes garden ( Campal Garden) on April 21, 22 and 23…always a welcome and happy affair for pre-monsoon shopping of fruit, all kinds of masala and plants for the garden. We don't like spiky design of the garden compound wall which discourages anyone from sitting there. It is so hostile and un-inviting! And the garden stone benches are soooooooo low, once you sit down it's difficult to get up for senior citizens!
By Tara Narayan
MY life has one long round of this, that or other festival. Life in modern India has become a grim sage of more and more religious festivals and the older I get the more I realize that religion is really the opium of the masses (the classes are just cheerleaders). Of course I much prefer the far more honest life and living festivals dedicated the fruit of the cashew, mango, jackfruit/etc trees…and the latest festival, the 17th Botanical Society of Goa's Konkan Fruit Festival is an all-time favourite.
This year in the fitness of things it took place at the Francisco Luis Gomes garden in the heritage enclave of old world homes off the Campal promenade on April 20, 21 & 23, 2023. The Botanical Society of Goa has been organizing it in collaboration with various associations and the Corporation of the City of Panaji over the years. The is the festival I wait for to do my mango buying of the mango season! Also fresh kokum, cashews, local red rice and red rice flour, maybe some plants of tulsi, curry leaf and ajwain patti and whatever else catches my fancy.
The first thing I do is buy the fresh fruit of the kokum to turn into kokum water to quench thirst on steaming hot days…it's so simple. Just rinse off and cross slice a couple of the rich luscious maroon red fruit of the kokum (Garcinia indica) and drop it into a pretty clear clean jar of drinking water – be seduced by the crystal colour of the water turning to pink, deeper pink…stir or don't stir, pour out and sit somewhere peaceful and sip at leisure. This is natural rosy kokum water, a thirst-quencher like no other.
Of course as the day proceeds the kokum water in the jar will turn redder and acquire stronger kokum sour flavours, dilute with more water if you wish and drink on the rocks if you wish. Notice how the next day your body odour will change to something nice depending on how much kokum and mangoes you have been eating! You want to drink some more of fresh fruit kokum water but don't go crazy, okay. Keep it light and easy and you'll be a true kokum water connoisseur for life like me!.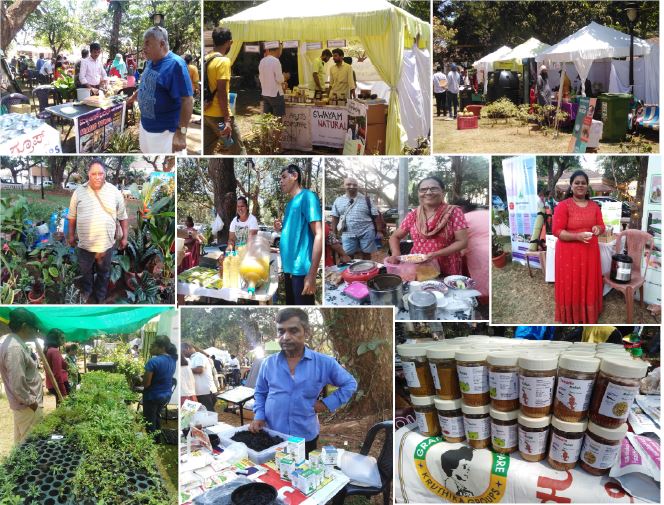 ANYWAY, this is to say on the pavement market of Panaji one may buy the fresh fruit of the Konkan coast's fresh summertime kokum fruit at the merciless price of may be…er…a dozen to 15 for Rs50! But at the most recent Konkan Fruit Festival there was the most visible Nestor Rangel's Farm de Goa produce of mangoes and kokum and a host of fingerling herbs for sale at very tempting Rs10-20-30…also mussarad mangoes (Rs600 dozen) and Israeli Maya mangoes (Rs400 dozen), lots of fresh kokum selling at Rs300 and later at Rs200 kg. I was buying in small quantities on both days to renew my friendship with fresh cool kokum water or sherbet. Nestor is one of our most activist farmers and offers pretty much everything in the agricultural area, he is also kind-hearted but not his staff!
Goans of course have kokum recipes from tival to sol koddi in many flavors, as also kokum sweet sherbet and salty kokum concentrate called "agal" which cheerfully tarts up drinks, curries and veggie recipes. Kokum tival and sherbet you will find in every Goan home, even mine although I do not consider myself Goan even after living in Goa for 23 years, don't ask me why!
My love affair with the Konkan kokum is as old as my love for the mangosteen of Malaysia (mangoesteen is a spitting larger image of kokum but offers up dainty white sections of fruit within to savour, botanical relative I guess). At the Konkan Fruit Festival I always remember with nostalgia a few old-timers like Shrihari Subrai Naik Kurade Kurade from way down south Goa kokum plantations, he used to participate in the festival for some years down the Campal promenade, literally give away bunches of fresh kokum fruit along with bottled concentrate sweet or salty at very reasonable prices, also kokum butter spindles and much else. Miss him every Konkan festival, I hope you are keeping well my friend?
And I remember Fr Inacio Almeido whose contribution to agriculture is enormous, as also Dr Ajit Shirodkar whose farm fresh hapus and pairi mangoes I used to buy, but alas, he was not there this time.In any case Nestor tells me the mankurad mango season has gone bust this year because of the early steaming climate, forget eating mankurad – only a few small-time lucky farmers managed to harvest their precious Goan mankurad (selling at Rs1,000 dozen and more). In any case I don't like the cloyingly sweet mankurad or malcorado Portuguese-style…in the Panaji market I happily bought early stocks of kesar at Rs150 kg and will buy more kesar. No expensive overrated aristocratic mangoes for me, thank-you!
THIS year's Konkan Frut Festival was presented by as my friend Miguel Braganza never tires of pointing out, by the BSG's brilliant young Gen Next farmers, many of whom are scientifically educated farmers who know much more about science if perhaps not the art and craft of things agricultural and horticultural…there was the usual but much smaller competition section of premium award-winning fruit on exhibition – the usual coconuts, jumbo jackfruit, jamun small and big, everything from red coffee beans, sour sops, chikoo, guava, pineapple, wax apples in pretty ivory and red colouring…Goan wild berries "kanna, kanta and chuna." Mangoes were too few and selling off privately to wealthy buyers with prices between Rs400 to Rs1,000 per dozen.


For once I didn't buy any mangoes ripe this year and that's a first for me for I wait for this festival to buy my mangoes to make mango ras-rotli, mango ice-cream, mango other things if energy permits, just for a week or a fortnight's treat of mangoes…then mango season is over as far as I am concerned, although nowadays one may always invest in quality "mango leather" and mango jello slabs to liven up a curry. Lots of mango stuff enshrined in sugar preservative.
There were lots of other things to buy at this year's Konkan Fruit Festival – Goan cashews to red rice and alsana kidney beans, packets of moist semi-dry kokum peel of the season (make kokum chutney), tamarind balls (eat more tamarind, good for the liver), fresh veggies like ladies finger, tendli (wax gourd curcubits), cucumber, bitter gourd, and other local farm to table produce as they call it nowadays! I bought a packet of bay leaves.
The girls and boys of the Agricultural College of Goa were selling home farmed straw mushrooms, fresher than fresh ladies finger and tendli and I bought a large packet of ladies finger for a mere Rs30 – thank you, my dears! These days I've gotten into making garlic and ginger spiked Guju bhindi curry to go with my Guju kichadi and lots of sliced onion kachumbar (relish)…but little by little I'm losing my will to cook in the autumn of my life! Which reminds me straw mushrooms make for great scrambled eggs but the straw mushroom packets sold out quickly.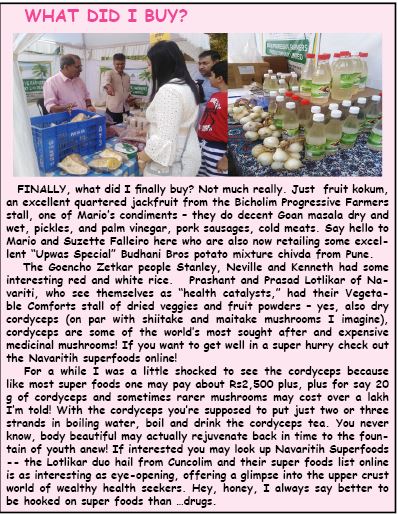 WE know Prime Minister Narendra stays immortal eating mushrooms, but then mushrooms do have magical health qualities you need to brush up on. The Chinese revere and respect some wild mushrooms and treat them as immortal medicine food. You may learn to grow your own batches of mushrooms in paddy straw bundles…go attend the classes at the government's Agricultural College or ICAR classes at Ponda conducted by may be the gracious madam Sunita Talaulikar and others farming stalwarts.
Of course a lot of VIPs visit the Konkan Fruit Festival because many of the competition entries are submitted by government organisations into farming in a major way. Everybody high up on the ladder of the good life is chasing veggie farms and fruit orchards — witness the Cashew Festival which took place recently courtesy the enthusiasm of Deviya and Vishwajeet Rane, both terribly ambitious politicians of Goa.
The million dollar question making the rounds currently on the Goan grapevine is who were the 100 people Deviya and Vishwajeet Rane hosted for Diviya Rane's birthday bash in Istanbul in Turkey for a week! If I knew I would entertain readers here with details, somehow Goan media doesn't have good gossip content matter, the kind which need not be in bad taste really. People have a right to know how our male and female political oligarchs live it up although I imagine we already have some idea of it!
I can never get over this story of a terribly wealthy man hosting a diamonds jewellery fashion show at one of the seaside five-star lawns …in which his models were dressed in nothing but floral attire and his jewellery showcased intermittently on naked body beautiful! (He now lives it up abroad after being caught in a bank scam. Only Lord Ram can help this country now! The real Lord Ram, not our nakli Lord Ram.)
AND finally, the star treat of the 17th Konkan Fruit Festival were the bael and jackfruit ice-creams introduced for the first time at the Swayam Natural Ice-Creams stall – Rs60 per scoop but absolutely piece de resistance. I must thank my friend Kenneth and Cecilia for treating me to the ice-creams, the bael ice-cream is to live for several times over! Mildly sweet and piquantly redolent of the fruits of jackfruit and ripe bael sometimes called "stone fruit" ("kaunta" in Guju, the tree from which the three-fold bilva leaves precious to Lord Shiva come).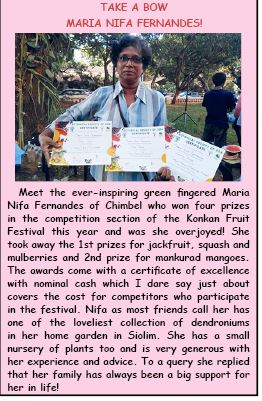 THIS is to say I wish such veggie, fruit and sundries markets would take place every weekend in the gardens of Panaji! I have seen the changing faces of the Botanical Society of Goa's annual Konkan fruit festivals …the faces are getting younger and unfamiliar, I no longer recognize most of them. Which just means I am getting older and older of course! But never mind all that.