Rich ripe maroon kokum, Garcinia indica…a plant of the mangosteen family Clusiaceae, kokum sherbet is served as a welcome drink in Goan homes and in restaurants which believe in being Goan first! The fresh fruit of the kokum is packed with such vitamin values as A, B3, C and other good things for body beautiful. Make it bottoms-up for kokum soda! (Inset) 'Falruchy' kokum concentrate is quite good, all the way from Maharashtra if you please.
By Tara Narayan
ON a steamy hot summer's day give me a "nimbu soda" or better still a "kokum soda" to quench my thirst and cool down in life which may be heaven in hell or hell in heaven currently…currently, it is hell in heaven! And I've been looking for my newly discovered refresher "kokum soda" high and low, can't find, can't find. "Nimbu soda" is an easy find everywhere but not "kokum soda." But finally I found it.
What? A perfectly chilled kokum soda at the Fortune Miramar! Can't understand it! The rich maroon fruit of the kokum or Garcinia indica (of the mangosteen family of South East Asia) comes in plenty during the summer season in Goa and it is very perishable fruit. Yet I could only get a dozen or so for Rs20 at the Panaji pavement market and sometimes ever fewer fruit with my favourite vendor laughing at me if I asked for 50 of the little large berry-styled fruit for Rs50! Have you seen a kokum tree, it is one of our most bountiful trees. The good mother earth gives abundantly but we human of the species promptly commercialize everything to death or something like that.
I imagine most of the fruit goes into the making of kokum concentrates — salty and sweet. And the salty dry peels of "kokum sola" which are considered the soul of Goan cuisine. But I'm focussing on kokum juice concentrates her – the salty, thinner "kokum agal" goes into fixing curries of fish or whatever else and also the much loved post-digestive drink of "sol kodi" — in combination with freshly squeezed coconut milk. Sol kodi comes in varied flavouring and I love the ajwain/thymol seeds flavouring most, as also the crushed garlic flavouring. Sol kodi is a perfect way to wind up a Konkan fish curry-rice meal and invokes a couple of hours of sleepy afternoon siesta.
Like I said most of the kokum fruit goes into the making of dried salted peels (sola) for various culinary preparations. Then we have the sweet kokum syrup or concentrate with a hint of cumin seeds ("jeera") or cardamom ("elaichi") enshrined in it. Call it kokum sarbat or sherbet and this is ideal for turning into a mild kokum water-based "tival" or my favourite summer thirst quencher now – kokum soda!" it is made exactly the way lemon soda is made and you can have your variations if you are imaginative. Add in a lemon juice, add in ginger juice, a bunch of fresh mint leaves…shake, shake, shake it up and serve on the icy rocks.
Kokum syrup is found in most homes to quickly do up a sherbet to serve. Most Konkan homes do offer sweetish "kokum tival." Kokum syrup is thicker…pour out a tablespoon, pour in soda water, serve as you wish. I have found lemon juice and a bunch of mint leaves make kokum soda superlatively agreeable. Served cold enough it has a tendency to warm up the cockles of the heart, it's one of the contradictions of our drinking and eating habits. Cold makes for hot and hot for cold; anyway for me it's always bottoms up and cheers to making it count, pure heaven…when it comes kokum soda!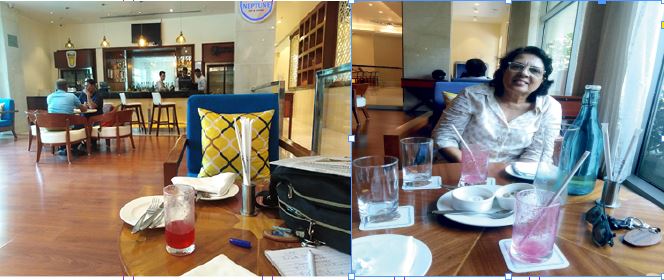 DON'T ask me why but for some reason this summer I've taken such a shine to kokum soda after I had it once and was looking for it high and low, street-side stalls and at my usual eateries, not even the Goan eateries offer kokum soda on their refreshments menu! Funny or not funny, there's any amount of "limbo" or "nimboo"
soda going…but no kokum soda for love or for money. I mean the humble kokum is the fruit of the Konkan Coast and Goa surely! At a Goan home one may find it but not in our eateries upper crust or lower crust, what's wrong with our ways of thinking?
Then over the weekend a friend turned up from Mumbai-that-was-Bombay and we went to the Fortune Miramar for some food. What do you know! In from the steamy heat after roaming around the Latin Quarters of the Fontainhas everyone asked for a lemon soda please, and hopefully I asked, do you have kokum soda? Robert here smiled, Yes, if you wish! I wish so we have it and it was sooooo good. Tall glasses of kokum soda is so drinkable, fizzing gently because of the soda and perfectly thirst-quenching. But never over-do on the kokum concentrate…too much spoils the drink and makes it dreadfully cloying. Also it must be topped with soda only, no water, please.
A second round was called for and I said please, will you squeeze in the juice of a lemon in it too in my kokum soda…and that was even more agreeable! I started thinking about it and wondered if anyone would serve kokum soda to me separately – as in kokum concentrate, soda bottle, lemon juice, in separate services? So I may do my own mixing? Next time I shall ask. Robert tells me they also do kokum soda all shook up with roasted jeera masala, must be very good. Next time around at the Fortune Miramar I'll ask for that. What's their kokum concentrate" I asked and he showed me the plastic pack – "Falruchy Kokum Syrup" made by Berry's, Maharashtra. Of course, southern Maharashtra is also home to kokum trees. Damn it, why is everything going into plastic packs, we are really a plastic civilisation without any feeling for Mother Earth, even our democracy is hypocrisy mostly and we shall pay the price for it sooner or later.
To go on I think most of us (my friends) who love lemon soda would love kokum soda more! It quenches thirst better than any of the other terribly well promoted branded sweet aerated drinks…the quota of sugar in it makes one feel just so much more thirsty, thirst unquenched! Have you noticed this? Sugar loaded drinks just aggravate thirst instead of quench it?
So this is to say these days I'm quenching my thirst and summer blues with kokum soda. Check it out. Kokum soda is quite, quite delicious and rewarding and definitely health-wise too for the kokum fruit is popularly perceived in tradition as the fat-buster of the Konkan coast. Kokum something or another makes for the perfect aperitif pre-meals or digestive post-meals in Goan homes to this day despite the competition from marketplace junk drinks!
Actually, many luxury and not so luxurious resorts welcome their guests with chilled kokum sherbet, but it could oversweetened. At the Fidalgo hotel enclave of restaurants they serve you chilled kokum sherbet gratis when you arrive, I dare say one may do one-by-two glasses if desired! Kokum soda is of course much, much better, it's all in a manner of how you fix and serve it. Their "Southern Basil" bar can easily do a kokum soda for you if you ask.
Sometimes I go out there to pick up some of their marvellous "paniyaran" which comes with superlative fresh creamy coconut chutney and "molhapodi" or gunpowder if you ask for it…this chutney powder is served with warm liquid desi ghee for you to stir it up, to go with idli, appam or dosa. The Fidalgo enclave of restaurants offer larger portions because their prices are higher (at Legacy of Bombay it's say Rs170 for a plate of four meduwada with accompanying chutneys and sambar).
ALL of this reminds me that at Navtara these days they're doing an unusual "Podi Idli" – a pair of idli dressed up liberally with molhapodi chutney powder and warm ghee, peanut powder added in. Very tasty on a good day and if the chutney powder is not too spiced up. Check it out. Needless to say many eateries in capital city Panaji are doing mango temptations these days but none serve just plain cut mango laced with fresh cream, the classic combination of old.
This is to say I've now bought my own kokum syrup now and fix myself a kokum soda at home! Look for kokum syrup in Goan shops, kokum syrup is the only syrup worth buying to take home wherever you come from! This is also to say I finally got my first mankurad mangoes of the season, prices have come down to earth and Panaji mango vendors are quoting Rs400 to Rs500 per dozen mangoes.
There're so many more mangoes to taste in Goa nowadays for everyone is mango-crazy (only I am kokum-crazy!) – Ponjekars I know are smitten by the Israeli Maya mangoes and festakar Marius Fernandes says you have to try the rare "Nicolay Afonso" mango…I still have to taste the "Maldesh." My preferred choice in mangoes is very definitely kesar and Devgad afonso, pairi for making pureed "ras." I do ripe mango rice sometimes by just tempering the mango puree in bit ghee, bay leaf, cumin seeds, pinch hing…and stirring in the cooked rice. Very agreeable with potato or banana wafers on the side!