Last Supper by Mhadhavi Parekh
There's a treasure trove of traditional and not-so-traditional items to buy at the ongoing Lokotsav at Darya Sangam grounds at Kala Academy
Text and pics by Tara Narayan
THE country is full of beautiful things to buy! But in a post-demonetised, cashless society it is quite possible that even urban residents have limited funds to buy to their heart's content. The ongoing Lokotsav at the Darya Sangam grounds of the Kala Academy gets larger and larger by the year and practically takes over the complex. It is once again that time of the year when old and young crafts folk from the country set up shop here and something or another is bound to beguile the soul.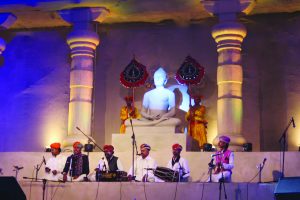 There are  fashion attire and handloom saris in cotton, silk cotton and silk. Many things are absolutely gorgeous! Stop to look at the Chanderi and Maheshwari saris or the Kashmiri silks or the colourful phulkari-worked dupatta pieces from Punjab; there is the khadi board shop from Kerala with its range of pleasing essential oil soaps and incense sticks. Manju Kaur Rajouri is marketing top quality digestives including anar, kachchi aam, hing goli, not to mention a  wholesome range of Punjabi papad (value for money even at `200 per packet, without sodium bicarbonate).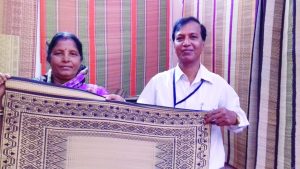 There are Kolhapuri, Patiala, Lahori, Jaipuri/Jodhpur leather footwear, traditional and ornamental; and lots of ceramic ware from Rajasthan to cheer up bathroom or living room. Stop at the Rajasthani minakari jewellery to buy some jumkha earrings and necklaces which Madhubala Soni (stall No 445) quotes at prices from `50 to `300 onwards. She says, "Minakari jewellery is copper-based brass polished jewellery and we've been doing this for the last 20 years,. It's a khaandani craftwork. Minakari jewellery doesn't turn black. Some people buy our jewellery, turn it into a one-gram gold jewellery to re-sell at higher prices!" The lightweight minakari bangles are also worth buying.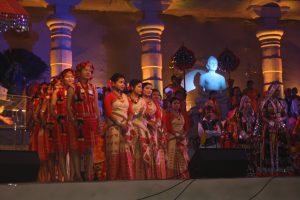 Take a look at the next door puja craft her husband does in colourful minakari. There's minakari elsewhere too at the Lokotsav and some very lovely elaborate large 'golden' jumkha with another traditional jeweller, A Rahman (at stall No 260). One feels like buying all of them to distribute to friends! Then there are magic lamps of terracotta and planters, bowls, foot scrubbers, decorative hangers – but it's the little ceramic whistling birds which hold one in a moment of enchantment – these birds must be dipped in water to make them sing.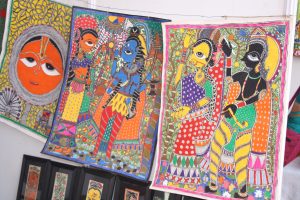 The chattai or woven mats are pieces of artistic endeavor and prices go from `2,000 to `55,000. These traditional grass mats from West Bengal are warm and lovely and one can relax on them too if one likes sleeping on the floor. Naturally warm chattai may be found in most Indian homes although they've been giving way to ghastly plastic mats which seek to copy the original. Give me a natural grass-woven chattai any day!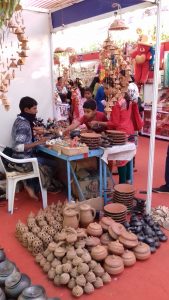 There are some north-eastern crafts, and Shilpi at stall No387 was showing off a fabulous `1,800 cotton sari with a rich animal motifs. "It's a Kaziranga-inspired sari, this one." Cotton handlooms from Assam make for very tempting purchases. Nearby were muga silk saris (`15,000). There's lots of fabrics made in India to leave one impressed, including in linen. Check out stall No367 for khadi cotton kurtas for men. Elsewhere, look for chaddar from Meerat. For art lovers there's nothing better than Madhubani painting from Mithila, Bihar, said a hard-at-work Buchidevi, "You know Mithila is Sita-mai's birthplace, don't you?" She grumbled that people now are insensitive to traditional art.
There are the usual familiar exquisite cane-worked fans which open up all around. Mini-fans this year are selling at `50 and still worth buying to give away as freebies in summer to friends, or use as interior décor. Cane is very different from bamboo, so don't confuse the two. The asli mingles with the nakli or "bullshit" as one shopper put it! Lots of copper, brass and antiquated panch dhatu curiosities and objets d'art of the old world. Ganesh statues, oil lamps and bells tempt one to go on a collection spree.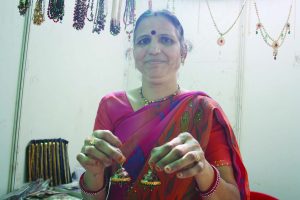 Buy a Kashmiri carpet if you like or one of the light-as-air rainbow-coloured bandini dupattas/saris, or how about a bow and arrow to teach yourself the ancient art of archery?
After the shopping is over, check out the usual foodie lanes with Rajasthani-styled moong and pyaz kachori (laced with sour and sweet chutney), aloo patties, jumbo jalebi, dahi vada appealing to many, although the turbaned guy here insists you eat the entire dahi vada pudi for `70 – "no half please!" One is not sure where all of this is cooked though from the velvety hot moong dal halva to icy Jodhpur-ki-kulfi.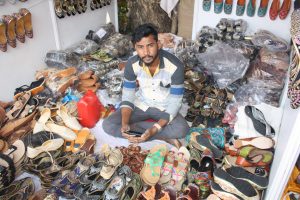 The Goan repertoire of snacks are also well represented with varieties of ladoo, savories, pickles, fresh masala mixes (goda masala anyone), papad. Vishwata Vernekar of Merces at stall No 315 brings in a whole lot of delectable idlis (`10 per idli with green chutney) but retails them in impractical plastic packs. It's a pity nobody educates these women at the Lokotsav how to be eco-friendly! The idli is so good though it sells real quick.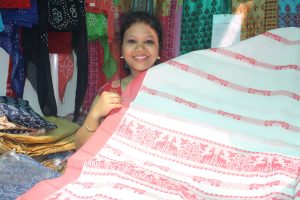 Take your time, drop in every day like some folk enamored by the Lokotsav do. It's on till  January 15. There's more, this mega folk festival comes alive more so in the evening after 6pm with staged folk dances and theatre. If you want to be an Indian dance connoisseur find out the difference between singi chham, thangta, pung dhol cholam, cherrow, gotipua sambaluri, panthi, laani, bharya, purulia chhau, ghoomar and the Goan dances.