DELECTABLE SPREAD: Take a bow Sri Lankan cuisine and Chef Publis Silva of Mount Lavinia Resort! Glimpses of the feast include vegetarian and non-vegetarian kottuparatha, jackfruit and pumpkin sabzi, tempered masoor dal, and more with steaming hot iddiappam.
Caption 2 …… COMING OF AGE: It was the Vratabandh moment for Nabhay Bandekar, nine, in Vasco. The illustration is from the invite to a garden luncheon that followed the ceremony
Eating is Fun / Eating is Yuck! – A variety food column
By Tara Narayan
THESE days I feel like it is the best and worst of times just before the results of the Goa Assembly election results come through. It feels like something is going to take a turn for the better or worse one of these days –better I hope, hope being the thing with feathers and all that, seeing as it's the season of love which brings to mind flashes of poetry read long ago.
Perhaps also because the sudden bursts of unseasonal heat has ignited the copper pods in town into glorious profuse bloom, the crinkly yellow blossoms sweeping down to form great big halos and the wind brings them fluttering down the Campal promenade (my favourite) in Panjim! Not that Panjim has any other promenade unless the Dona Paula-Miramar road is going to offer it continuity. It's taking its own sweet time coming up.
I take pains to tell visiting friends afraid of doing Panjim on their own that it is still a gracious four or five-street town even it if it pretends to be a city in the making, with one grand Campal promenade which is its backbone. Take all your cues from here while wandering into the inner areas of the town.
They ask, "Don't you have a public-friendly transportation system? We caught an auto-rickshaw and the driver wanted `300 from Hotel Mandovi to Panjim Residency at the other end of the road!" Ring up the local councilors and politicians and ask them, I advised, and left mobile phone numbers with friends from Canada, Australia and New Zealand who were anxious to discover Goa on a budget. They don't want to go home broke.
IT'S been quite an entertaining week what with one more shaadi at the Goa Marriott Resort & Spa in Panjim and another different kind of luncheon in Vasco da Gama over the weekend. We go when the hubby is okay with his health, and he makes an effort when friends – like members of the Salgaocar family – mean something to him. This time it was to celebrate Ranjana and Shivanand Salgaocar's son Vivek's wedding to Vidhi Shangvi at the grand ballroom on the Mandovi riverside lawns. The hubby's excuse for going this time was, "I've known  Shivanand from the time he was a 16 or 18-year-old boy studying in Mumbai. He's football crazy. He fell in love with Ranjana when they were studying at Sydnham's College. She's a Marathi mulgi who's seen life at ground level, had some rough times and a personal tragedy…"
He left it at that and I didn't pursue it. He knows Goa and Goans more than I do and I must confess the hubby's stories are endlessly fascinating. Some of them are my favourite stories to tell or keep quiet about!
The reception was a cool, smooth, quiet affair, shorter queue to say hello and wish the couple. Vidhi's father Dilip Shanghvi is the second richest man in India, but from the sound of it, he's a most modest pharmaceutical tycoon. Nobody introduced us to the bride's parents at the reception. Perhaps I should have asked for an introduction seeing that they're my fellow Gujaratis. This is a Goan Saraswat Brahmin and Mumbaikar Gujarati marriage.
The heady scent of rajnigandha (tuberoses) followed us around at the grand ballroom and the theme was definitely pristine white with white roses everywhere, a canopy of white lanterns down at the lawns, white backdrops with splashes of gold light interwoven. Very lovely.
Only at wedding feasts does one see a host of traditional dishes and Ranjana Salgaocar must have taken pains to present South Indian cuisines from Andhra Pradesh, Karnataka, Kerala with a special focus on Sri Lankan cuisine. Fragrant meaty Hyderabadi biryani aromas wafted in the air, but I decided to settle for a mix of Sri Lankan-Keralite fare. Here was steaming idiappam to go with spicy tamarind and ginger redolent chutneys. Have you ever heard of a Sri Lankan dish called kottuparatha?
It must be Sri Lanka's most popular dish and is actually a veggie-paratha dish. The paratha bit explains its curious chewy texture and genial Chef Publis Silva here assured me, "It's fried paratha, amma!" His eyes lit up when the hubby spoke in Tamil with him and called him a "culinary tiger"!
Maestro Chef Publis is Sri Lanka's most famous chef and he has some amazing cookbooks to his credit. He and his team had prepared the Sri Lankan items and I think I will eat pumpkin after all, Sri Lankan-style. There was also a polos pahade curry of grated jackfruit, a most delectable cashew nut curry and a tempered masoor dal.
I pretty much filled myself up on kottuparatha curry and iddiappam while the meat lovers feasted on devilled calamari, chicken mulligatawny with rice dumplings, Ceylon duck and the rest of it. Wish I'd spoken more to maestro Chef Publis Silva, but he was in charge and distracted by various queries from guests seeking enlightenment on some dish or another. Station décor here included bunches of curry leaf, jackfruit, giant tapioca and long-stemmed bunches of golden green bananas.
The various menus were listed and that's quite thoughtful, so that one could read them before deciding what to eat. Putting up menus is very useful, I assure you. Otherwise at such grand wedding receptions, one may end up feasting on one find and then later regretting it upon discovering another dish closer to heart's desire or palate or state of mind (in my case).
Well, February 11 was a memorable Saturday, and I wish Vivek and Vidhi all the best, more fun, more adventure. May you grow old in happily-ever-after togetherness.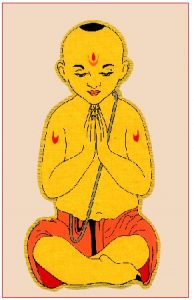 I MUST confess Nana Bandekar or Nana bab as everyone calls him is one of my favourite people in Goa. He's always like a godfather and in truth he is for a whole lot of Vasca da Gama residents. He is also a doting grandfather and decided to celebrate grandson Nabhay's "vratabandh" or thread ceremony which in Hindu tradition marks the coming of age of a young boy in the hope that he may get serious about life! Anyway, it was an occasion and Nana bab threw open his house – popularly called Nana Bandekar's 'White House' in Vasco da Gama – at noon on February 12.
His whole family was in attendance and the lunch was laid down in an oasis of a garden – where I'm sure Manda tai's spirit continues to live. I couldn't take my eyes off a cascading harshingar (or parijat), almost a tree by which one could sit down for a moment of peace. There are lots of zaiyo bushes, a Singapore cherry tree, coconut trees and huge ornamental leafy palms flank the house. After looking at the trees, the lunch spread invited me. I could have had half-a-dozen lunches here one after another for the rest of the afternoon if you understand what I mean!
I feasted with my eyes first for it was so lovingly laid out – salads of carrot-pomegranate, sprouted moong, diced cucumber kachumbar, a large bowl of home-made curd, various pickles, then dahi vada (with a hint of shrikand), pudina pulao, masale bhaat, plain baath, dangichi bharith, val batatachi bhaji, alsande kaju tonak, karkari bhindi (a delicately perfect way to do ladies finger crunchies), torachi uddamethi, kotambir wadi, to go with phulka, puri, thalipeeth, two containers offering a choice of buttermilk/solkoddi; and finally, decadent sweets of melting boondi ladoo, barfi, vermicelli payesh, jalebi or sweet paan if you wished.
For such meals, I sit down to eat quietly without chatter pouring in my ears! I dislike it when folk pile their plate and are hardly aware of what they're eating. They're so busy talking politics or gossiping and at the same time shoving food into their mouth, and they're done in a minute!
I love to linger over my food and refuse to let anyone engage me in talk or hurry me along during an engaging meal. It's rude not to be conscious of the food one is eating and especially so when it's a prasadam meal someone has prepared with painstaking care and affection. This one must have been prepared by Chef Raj and his team at the HQ, Nana bab's hotel in Vasco da Gama.
The HQ has been promoting south Indian cuisines with a rare zeal in recent weeks with festival after festival showcasing Andhraite, Kannadiga, Malayali, and Tamilian cuisines. One evening I dropped by and was mesmerised by the range of fare from south India. I think I can live on south Indian food forever in my next life now, perhaps with the exception of Andhra cuisine which is very spicy most times with the exception of its biryani.
This country has so much to offer by way of food for mind and body, heart and soul. I don't know why we need food from outside! We are indeed a blessed nation. If only we realised it.