NAUTICAL TOURISM: Goa has a formidable marine history, so why is nautical tourism lagging behind? (L to R) Charmaine Pereira, Savio Menezes, Bosco George, Admiral Monty Khanna, Nikhil Dessai, Aashim Mongia, Milind Prabhu, and Ashwin Tombat
GOA should have become a nautical tourism state a long time ago, given the right kind of governance and another chief minister Bhausaheb Bandodkar. Nautical, my dears, just means all things to do with the coastline –sea, ocean, marine lifestyles including old-fashioned fishing. The Confederation of Indian Industry (CII) Goa Second Nautical Conference on March 18, 2017, in Panjim was an interesting one, with various folk recommending that Goa, with its 105 km coastline and 255 km of navigable waterways, is a great state for promoting nautical adventure tourism which includes sea-faring sports of all kinds; the regular kind of water sports along the beaches, as well as cruising the coastal waters in boats and yachts of all kind. Why isn't this kind of nautical tourism happening more passionately in Goa and beyond the usual small-time sailing in small dinghies at Dona Paula?
Various CII-Goa folk say it is still not too late to develop Goa as a nautical tourism-friendly state vis-a-vis wooing the world-wide sailing fraternity, apart from the passenger cruise liners which make up some very high-end tourism. As a matter of fact, Goa is becoming a hotspot for cruise ships and last year hosted some 30 of these leisure or pleasure seafaring vessels.  
But there is a growing community of people who like to sail the seas in vessels of their own, many dependent exclusively on the wind for energy to move. They move from destination to destination, enjoying the world at their own pace, in one port overnight or for a few days, in another port for a bit longer. I know folk who live more at sea than on land and their boats double as their home almost all year around, even though these homes may not necessarily be expensive state-of-the-art yachts, the kind royalty and the super wealthy own so that they can travel with family and friends in private seclusion.
Alternative Lifestyle
A LOVE for living more on water than on land is a kind of lifestyle and world over there are sheltered harbours which make space for this category of adventuring tourists who sail the seas for love of the great outdoors of sun, sea and wind and seeing the world differently.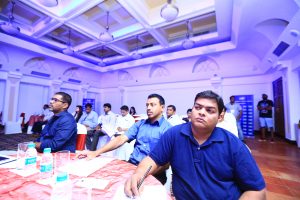 At the CII conference, various speakers from Ratnakar S Dandekar (managing director at Aquarius Shipyards) to Hemant Arondekar (managing director at Pinakin Construction) and visiting speakers like Michael Derett (of Mike Derrett Marine Ltd, UK) and others made a case for the primary need to build an infrastructure catering to nautical tourism.
The building of leisure sea craft itself is such a fascinating one with lighter and lighter models coming into the market. Then there are the marinas which need not be heavy duty affairs, but for a start could be lightweight pontoons – somewhere the sailing fraternity may drop anchor to come on land to shop, go sightseeing, fine dining and so on, including repairing or fixing up their yacht for its next voyage.
Out in Europe this segment of travellers/tourists is huge, but it has been growing even in South East Asia, as Mr Dandekar pointed out, "Look at Thailand, it has around 15 to 20 marinas and many travellers take their boats or yachts there for a vacation. This is the leisure fitness segment of tourists, it's a healthy activity." South Korea too now boasts of 20-odd marinas attracting 5,000 to 20,000 voyagers. Goa can easily emulate these examples to boost nautical tourism but a proper approach is necessary with all facts put together after a survey.
From the sound of it, Goa has only one dismal cruise terminal at Vasco da Gama's Mormugao harbour, and even this is badly managed with several larger cruise ships that stop here putting in complaints! From the sound of it there are still no fine-tuned classifications regarding pleasure crafts and regulations to be adhered to. Most sailing enthusiasts may cruise 24 meters out in coastal waters providing their vessels are safety certified.
Someone said Goa has six rivers with all kinds of possibilities vis-à-vis inland waterways tourism. If folk on a holiday know that they can travel by water, they would avoid the traffic jams of roads altogether! Travelling by sea vessels (there's quite a classification) is akin to a vacation very often, endorsed Hemant Arondekar and quite addictive at that. For him, the passion began during a weekend sailing expedition in Europe.
In Goa there are all kinds of possibilities and remember India has 7,500 km of coastline waiting for a younger generation to discover it by engaging in nautical tourism! Quite simply, he said, humans have homes, horses have stables, cars their garages, planes their hangers. Why can't boats and yachts be allowed to have marinas? A marina is only a parking station for travelling boats of various vintage.
FUTURE HOPES
WELL, my dears, I'm sure Goa's new tourism minister Babu Azgaonkar can be persuaded to look into this matter of turning Goa into the country's premier nautical destination. A very forthcoming Nikhil Dessai (managing director of Goa Tourism Development Corporation) was present at the conference. He said we need to educate people opposing the growth of the marina industry in Goa. Goans have taken to opposing everything on principle, but perhaps this is because the government doesn't inspire trust.
On the matter of nautical tourism, I'd say let it begin in Goa which already has an experienced and ardent fraternity of adventurers at sea. To name a few, there is Ashwin Tombat of Adventure Breaks, Charmaine Pereira of Sahasea who conducts kayaking trips, Col Milind Prabhu of the Goa Yachting Association, Sashim Mongia of West Coast Marine, and I was happy to say hello to sailing enthusiasts Augustine and Corrina Fernandes and someone who's done much sailing and is equally eloquent on the subject, Capt Nitin Dhond. This kind of development and progress, my dears, I approve of, as long as we don't colonise our seas with the kind of arrogant attitude with which we colonise our land!
I'M REMINDED to add here that the new chairman of the CII Goa Council is Atreya Sawant of Atreya Engineering Works. Has he inherited a strong adventurous streak from mother Nirmala Sawant, former Goa power minister and the best of them all, or his father who's a more sober businessman, one of the pioneers of river and seafaring vessels in Goa? Some of Portugal's colonial navigational history must have rubbed off on Goa. See how any number of Goans seek employment at sea!
On that note it's avjo, poite verem, selamat datang, au revoir, arrivederci and vachun yeta here for now.
– Mme Butterfly