REVENGE: The raid on NDTV by CBI happened within days of Nidhi Razdan asking the BJP spokesperson Sambit Patra to leave the show for making nasty comments on NDTV
ICICI has been accused of entering into a onetime settlement with NDTV on its loan of `350 crore, forgoing interest of `50 crore
By GO Staff
CRIMINAL conspiracy, cheating and criminal misconduct", reads the first line of the Central Bureau of Investigation's FIR against NDTV, Prannoy and Radhika Roy, their holding company RRPR Holding Pvt Ltd and unknown officials of ICICI Bank.
On Monday morning, the CBI carried out raids and searches at four different places in Delhi and Dehradun, including the personal home of the Roys, in a move that the broadcasting company said "blatantly undermined democracy and free speech in India".
The FIR alleges a number of violations: the Roys allegedly engaged in a number of financial market violations and caused "a loss of  `48 crore to ICICI Bank" by entering into a sketchy loan repayment arrangement.
While much media attention on Monday was devoted to NDTV, the FIR also slams ICICI Bank and the role it allegedly played in "covering up" the transfer of effective ownership of NDTV to a Reliance-linked paper company from 2009 to at least 2012.
At the moment, it appears that the CBI has (somewhat unusually) acted primarily on the complaint of a private individual, although most of the basic facts of the case have been public for at least four years.
The Complainant
THE person behind the FIR is one Sanjay Dutt, whom the CBI identifies as director of Quantum Services Private Limited. Dutt is no stranger to NDTV. He has had a long relationship with the company – over the years, he has been a consultant to the TV channel, a minority stakeholder (at one point owning 1 per cent in the broadcast company) as well as a stockbroker.
Three years after the Sunday Guardian first broke the story of the Indiabulls and ICICI loans, Dutt started pursuing the allegations made against NDTV. In April 2013, he wrote a letter to the RBI about the conditions under which the ICICI loan had been given and later settled. In June 2013, after Moneylife published a report on the same issue, NDTV sent a legal notice to both Quantum Securities and Dutt, accusing the latter of making "defamatory statements".
In the same year, Dutt filed complaints with the enforcement directorate (ED) and the directorate general of income tax investigation – agencies that are responsible for investigating and prosecuting crimes related to foreign funds and money laundering; as well as for any violations of tax laws. Two years later, in 2015, Dutt also filed a writ petition in the Delhi High Court against the ED and the DGIT – this time alleging that both agencies had failed to act on his 2013 complaints. Despite Dutt's actions from 2013-15, he has yet to get a favourable court order.
Coming back to 2017, the CBI's FIR and raids appear to be prompted solely by a complaint made by Dutt (on April 28, 2017) in which he reiterates his long-standing allegations against the broadcasting company.
The FIR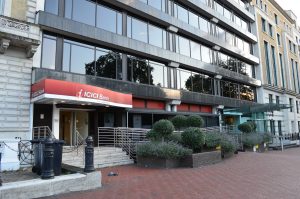 The FIR – over 80 pages long – largely consists of Dutt's complaint. There is no indication, at the time of publishing this article, whether the CBI and the allegations made in the FIR also rely on an independent investigation undertaken by itself, or evidence from the income tax department, the ED or the directorate general of income tax investigation.
Multiple legal experts told The Wire that the CBI can indeed act on personal complaints – the investigation agency has only done so a handful of times in the past – although the burden of proof should ideally be higher.
It is a fact, however, that the income tax department and the ED have launched separate investigations against NDTV over tax liabilities (in the range of `450-500 crore; NDTV has contested this demand in the courts) and whether the broadcasting company set up joint ventures to raise capital abroad (one ED affidavit claims that between 2006 and 2011, it received `648.1 crore in foreign funds).
The FIR's allegations, however, appear to be only loosely connected to NDTV's tax troubles and the allegation of potential FEMA violations arising from its foreign funding. In an analysis in the New Indian Express on Tuesday, S. Gurumurthy, co-convenor of the Swadeshi Jagran Manch, examines the broadcasting company's foreign fundraising and the potential tax evasion issues that arise from this. He has raised these issues in the past too, though. NDTV's response has been that the lack of interest of the authorities – running over successive governments – in Gurumurthy's arguments is itself a  sign that there has been no wrongdoing.
In a statement released on Tuesday, the CBI has defended itself, saying that it had registered a case only after conducing "due diligence" and that the results of its investigation would be filed before a competent court of law. It further justified its jurisdiction in this particular case by pointing out that certain provisions of the Prevention of Corruption Act also applied to officials of private banks.
ONE SOURCE
ONE problem in reading the allegations contained in the FIR is that it almost completely stems from the (admittedly exhaustive) complaint filed by Dutt.
The FIR charges the Roys, their company (RRPR Holding Pvt Ltd), NDTV and "unknown officials of ICICI Bank under section 120 B of the Indian Penal Code and section 13 (2) of the Prevention of Corruption Act (1988) for "criminal conspiracy, cheating and criminal conduct".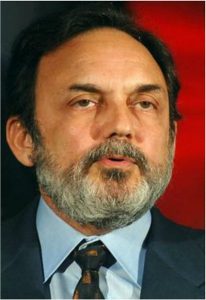 However, over 90 per cent of the FIR is dedicated to Dutt's complaint and allegations against NDTV. At the end of the complaint, the FIR ends simply with one paragraph signed by CBI's Kiran S.
The paragraph states: "The aforementioned facts and circumstances disclose commission of offence on the part of M/S RRPR Holding, Dr Prannoy Roy, Ms Radhika Roy, Unknown officials of ICICI Bank, M/s NDTV…The investigation of the case is entrusted to Sh Lalit Phular, DSP, CBI, New Delhi"
Does this mean the CBI agrees with Dutt's allegations? Or that Dutt's allegations, which were sent to the agency a month ago, merely demand further investigation?
Nevertheless, the charges against NDTV, the Roys and ICICI Bank are two-fold. First, the manner in which a loan was taken by NDTV's promoters from ICICI Bank in 2008 and repaid in 2009 allegedly gave rise to a number of potential legal and financial market violations.
Second, Dutt's complaint accuses ICICI of being a willing participant in the change of ownership/control of NDTV to an entity called Visvapradhan Commercial Private Limited – a paper company, as Caravan has pointed out, which received money from Mukesh Ambani's Reliance Industries.
"… The bank was involved in a conspiracy with promoters to conceal the true acquirer of NDTV, the real source of funds and of course indulging in hawala/PMLA violation," the FIR says.
THE ALLEGATIONS
THE primary allegation is that the Roys caused "pecuniary loss of over `48 crores" to ICICI Bank by entering into a settlement agreement with the bank. This "loss" of `48 crore came from not repaying the full loan amount (`350 crore as against the `375 crore) and from ICICI Bank waiving interest income even though the NDTV promoters allegedly had sufficient income and resources to pay for both.
Legal experts, however, pointed out that the practice of discounting loans or entering into less-than-favourable settlement agreements isn't evidence of criminal fraud or violative of the Prevention of Corruption Act.
"Discounting loans is a normal fact of business in the banking industry. It is between two private parties and by itself, there is nothing fraudulent about it. There is nothing criminal about it. This is a normal practice when the bank does what it can to get back as much money as it can. When it comes to issues of waiving interest income or setting lower interest rates, a private bank has the right to do what it determines is best for loan recovery," Ramesh Vaidynathan, partner of Advaya Legal, a Mumbai-based corporate law services firm, told The Wire.
Indeed, almost all the evidence shows that NDTV hasn't defrauded ICICI. The broadcasting company's updated statement yesterday point to a crucial bit of evidence – an August 2009 letter from ICICI Bank that confirms that the 2008 loan has been "repaid in full". The FIR curiously makes reference to the same letter and suggests that ICICI's decision to discount the loan is a "blatant cover-up of sorts" because ICICI overlooked the payments made later by VCPL.
Secondary allegations around the ICICI loan stem from alleged procedural violations that have been public for the last few years: the collateral offered for the `375 crore loan was the Roys' entire shareholding in NDTV, which was not disclosed to the stock exchanges and may indeed be violative of a number of RBI and banking industry regulations. Capital market regulator SEBI in 2016 took action against NDTV for a number of similar disclosure lapses.
What about the role of ICICI in the transfer of ownership of NDTV?
This is where things are not particularly clear. Dutt's complaint alleges that the complex web of transactions that link the Roys and RRPR Holdings to VCPL and Reliance, and resulted in a de facto transfer of ownership from 2009 to at least 2012, was "allegedly prepared in concert with ICICI Bank".
This results in two more allegations against ICICI. The first is that it helped engage in a conspiracy that was designed to help "conceal the true acquirer of NDTV". And the second is that if ICICI Bank did indeed know of the Reliance transaction (a total loan of `403 crore, which would have paid for the full 2008 loan along with interest income), it executed a "sham settlement agreement" in 2008.
Dutt further accuses Prannoy Roy of siphoning out `53.85 crore in March 2010 (Reliance's loan was split into two parts: `350 crore + 50 crore). It is this money that ICICI Bank allegedly knew of, but refused to recover.
Courtesy: The Wire
NIDHI RAZDAN THROWS OUT PATRA !
INDIAN news channels, you know the ones we're referring to, offer quite the entertainment. We all love to 'hate-watch' news anchors — especially when the rhetoric (sorry) is serving a larger good. Arnab Goswami's take-down of Abhijeet Mukherjee for calling anti-rape protesters as 'dented-painted' women inspired many mash-ups. Then there was the time when Meenakshi Lekhi accused Goswami of having ulterior motives and the then anchor of Times Now had lost his mind.
In a similar but far more professional vein, Nidhi Razdan showed that a panel could be run without irritating the viewers — but we're hoping this inspires some mash-ups, because who doesn't love those?
On Thursday, Nidhi Razdan — the primary anchor of NDTV 24×7's show 'Left Right and Centre', a live broadcast show which covers current debates — was discussing the new rules on cattle slaughter and the recent incident where Kerala Congress members had protested the 'ban' by allegedly slaughtering a male calf in public. Thursday's panel on the show included Congress' Sharmistha Mukherjee (daughter of Pranab Mukherjee), Dravida Munnetra Kazhagam (DMK) spokesperson Saravanan, and Director of the Commonwealth Human Rights Initiative (CHRI) Sanjoy Hazarika among others.
The row in the panel broke out when Sambit Patra, BJP spokesperson, interrupted Sanjoy Hazarika and said, "Nidhi allow everyone to speak…" to which Hazarika, visibly piqued, said, "Why do you always interrupt?"
Patra's allegations against Razdan and the network having an 'agenda' did not sit well with the anchor. She politely asked him to apologise for his allegedly defamatory statements against NDTV. "Either you apologise for that or please leave the programme," she said.
"I am not going to accept the accusation of having an agenda. Just because you are asked questions, does not mean that there is an agenda," she said sternly.
Patra kept talking over her and said that he is just being candid and later said that he won't leave because he wants to put BJP's points across.
"No no no…I will not leave. How dare you say leave? (sic)" he said.
"Of course I can ask you to leave, it's my programme. How dare you say that we have an agenda?" she said.
"It is your programme? It is your programme? It is your programme? What do you mean it is your programme" bellowed Patra looking shocked (probably because he does not know how channel programming works, we don't know).
This talk went back and forth, but Razdan didn't scream or yell or shout like you know who, she was stern and sounded vexed, but she upheld the qualities of professionalism.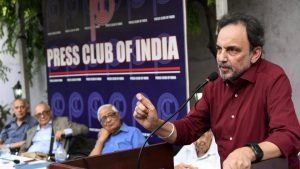 Patra kept trying to talk over her and insisted that he would "expose the show throughout."
The ordeal lasted more than three-minutes and then Razdan moved on to Sarvanan and continued her panel discussion.
Some people extended their support, solidarity and praise to Razdan on Twitter:
Sambit Patra just damaged the BJP on NDTV more than any enemy of the party could have. Nidhi Razdan showed remarkable restraint.
— Tavleen Singh (@tavleen_singh) June 1, 2017
.@RazdanNidhi is a really fine anchor-asks toughest questions in an understated, non-confrontational way; has created a civil space for debate — Prashant Jha (@prashantktm) June 1, 2017
This is what media needs to do in testing times. Sambit patra threatens to boycott ndtv and @RazdanNidhi asks to apologise or leave. BRAVE
— Rana Ayyub (@RanaAyyub) June 1, 2017
Bereft of answers Sambit becomes a troll & starts hurling ad-hominem. @RazdanNidhi = dignity & grace personified https://t.co/T19yTS5nDO — Dushyant (@atti_cus) June 1, 2017
Courtesy: Firstpost
PRESSTITUTE CHRONICLES
By Pratap Bhanu Mehta
THE CBI raids on NDTV owner Prannoy Roy are designed for multiple objectives. At a surface level, they are meant to intimidate the press. But, at a deeper level, they also seek to heighten the social and ideological momentum on which much of this government hopes to thrive.
Most ordinary citizens and commentators are at an asymmetrical disadvantage when dealing with law enforcement agencies. Most of us, rightly, find it difficult to comment on specific cases because none of us have seen the relevant documentary evidence. And even if you have, it takes extraordinary sophistication to separate truth from innuendo. We are sometimes astonished at the confidence with which people pronounce presumptive guilt or innocence in individual cases, brandish selective pieces of evidence, and come to all kinds of conclusions. This is why a society needs strong adjudicators of the truth: Credible independent investigations, courts, etc. This is why trials cannot be media trials, without careful and rigorous protocols of fact-finding, legal issues, etc., in place.
But what do you do in a society where "truth adjudicating" institutions have less and less credibility? How much do we trust the CBI? The answer depends on what our prior experiences are in particular cases. One response to this frustration with the lack of credibility of state institutions was the frenzied media trial; the public was willing to do what it thought institutions could not. This had the inevitable consequence — innuendo became proof of guilt, evidence was parcelled on partisan lines, cases became about destroying reputations, not establishing the truth.
We cheered this so long as "civil society" was doing it. The net result was two-fold — on the one hand, we did not gain better institutions; nor did our power to discover the truth increase. But what this did achieve was clearing a ground where the politics of innuendo would win hands down over everyone else. All we have to do is to cast doubt on someone's credibility, and they are on the defensive.
This backdrop is necessary to understanding what seems to be going on in the performance of the NDTV case, if not the actual case itself. Sections of the media were often incompetent, sycophantic, partisan and compromised in many ways. The media's alliance of convenience with ruling establishments has a long history. But what happened to the media in recent years was an almost wholescale de-legitimisation.
Some of it was deserved. But a large chunk of it was the state and the political class taking its full and artful revenge on civil society. It performed an ideological function more than a descriptive one. Once the press called all politicians cheats, the political class simply turned the tables on them by calling them all "presstitutes". Remember, as civil society did, all the state had to do was sow the seeds of doubt. The result was an almost wholescale de-legitimisation of the media.
What we had perhaps not realised is the dangerous degree to which we had internalised this narrative. This has put people defending press freedom on the back foot. Defending the freedom of the press is now associated with defending corruption and compromise. The most amazing alchemy that we have achieved is a confusion of the two — defending freedom of the press has become defending "presstitutes".
One does not have to second-guess the CBI's motives. But the function of the raids is to keep this confusion alive. It is to keep feeding the story that the defenders of press freedom are in truth nothing but those who sold themselves. More than the specific act of intimidation, it is this ideological construct that serves the powers that be most effectively.
NDTV has today become, for the right wing, the totem in this ideological construction of the media: The corrupt in the guise of the free, the anti-national in the guise of the cosmopolitan, the closet weapon of the old Congress establishment masquerading under the guise of independence. But the rest of the media will be foolish to suppose that this is just about NDTV; NDTV will become the stand-in for media that deviates from the party line. The government will constantly need to feed this idea, constantly finding new targets. It is the politics, of casting doubt on the media, that shores up its power.
The worrying thing is not just that the government has decided to go for a show of intimidation — it is that the entire media is so much on the defensive. It so much operates within the ideological horizon that has declared it a "presstitute" that it is scared of defending itself. It has so internalised a self-image created for ideological purposes that it constantly needs to wrap itself up in a flag of nationalist virtue, to shore up its credibility.
None of us who have not seen the documents can have a view on whether there is a credible case against NDTV; nor is this a place to debate NDTV's virtues and vices as a news channel. But the manner, circumstances and justification for the CBI raid does beg more questions than it answers. Given the facts out there, it seems a case of selective targeting for demonstration effect. And the lack of media worry about this should be worrying.
There could be an understandable reticence on the part of the media in not wanting to pre-empt an investigation, or prejudging guilt or innocence in a particular case. If the CBI feels a raid is necessary, who are we to second guess that decision? But this is clearly not a case of the media suddenly finding institutional restraint to be a virtue. Whatever the truth of the case (and you hope some institution can credibly adjudicate it), the sequence of events leading up to it should worry the media.
This is not a case where the "law seems to be taking its own course". If it is indeed professional law enforcement doing its job, then professional law enforcement should give professional explanations of what is going on — what you get instead is a party spokesman pre-emptively threatening a channel on live air, on the grounds that they have an "agenda", and then, the raids follow. Perhaps just a remarkable coincidence?
Recovering the media's credibility will be hard; its internal problems run deep. But if the media does not see that the fundamental ideological justification of the state will require constant targeting and de-legitimising of the media, it is missing the story. The CBI raids on NDTV are not about fixing NDTV: They are about casting doubt on the very possibility of media.
Courtesy: The Indian Express