Food entrepreneur Megha Damani (left) and assistant Carisa Esteves of `Appetite' at Patto: Has the best of ragi idli, meal deal thali and a useful snacks menu which is value for money all around. (inset) A plate of ragi idli, another word for ragi/nachni or red amaranth.The idli have a wonderful flavor and come with agreeable green coconut chutney and flavorful sambar.
BY TARA NARAYAN
OVER and over again in my sanest or insane moments it keeps coming home to me that most of us (including me) neither know how to eat nor live! We think eating and living is a game fit for yes or fit for no! Let me put it this way. In theory I know a lot but in practice can't swing it as often as I'd like in my own best interests. It's not easy for a woman to place a meal before the family let alone for herself exclusively if she's your average housewife unsupported by a happily ever after family or extended family.
In our times of diabetes, heart disease, hypertension, cancer and the rest of it which contributes towards poor health parameters, a question keeps reoccurring. How much of a role does organic nutrition play in creating vital fighting fit health? Mainstream doctors don't study nutrition! Every now again I tell myself this is not what and how I want to eat…it all depends on work schedules and whether I want to eat out or in. It's a modern dilemma getting worse and worse!
Generally speaking I do a combo of both in perennial search of how I like it. The truth is one is always compromising at home or in small-time/big-time eateries which offer less and less value for money, or if it is rubbish food more to impress the senses of those who don't know any better. If we don't know any better we become victims of own immediate hungers which can't wait for something better to come along. Nothing comes along, you have to look for it high and low.
NEVER mind that there's no dearth of small time foodie entrepreneurs today who think the best business on earth is to cater to the stomach of aam aadmi or khaas aadmi. And they all want to attach words like "green" or "healthy" or "eco-friendly" to their promotional sales copy in attractive ways even if they haven't the slightest idea of how the words define themselves in the detailing. So my eating out keeps changing as I give up old for new or return to old sometimes!
These days if nobody is paying attention to my whereabouts I ride out to Geoffrey Fernandes' Fruitilicious — all the way from Tonca in Panaji to Kamat Towers at Patto. I discovered Fruitilicious long, long ago at Verna where my friend Jerome and Anastasia's Leonora stands, half-way down the highway to Margao. Geoffey shut shop at Verna and moved to Patto where I was thrilled to catch up with him. He is doing brisker business here with his fascinating menu of cut fruit, fruit juices, sugar cane juice…he's the only one I know who offers on the spot cut fruit. I generally ask for papaya or pineapple followed by may be a carrot or carrot-beetroot or pomegranate juice The combos of fruit and veggie juices are infinite. Here is truly a fruitilicious menu!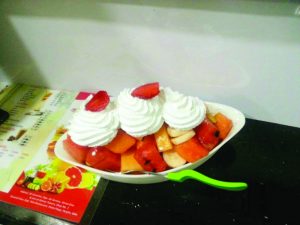 There's no cheating here although water is used judiciously to say dilute a dense vegetable juice like that of beetroot. There are combo veggie juices like cucumber with mint or beetroot cucumber, beetroot carrot…fruit juice combos may be carrot orange or carrot sweet lime or apple beetroot carrot or grapes beetroot, etc, etc. There are the fizzy drinks…of elder flower! Lassi plain or exotic, milk shakes and smoothies. You get the idea. Truly razzmatazz menu.
Sometimes I order a mixed sprouts salad. Sprout salads can be filling, a meal on their own, but do check sprouts for freshness…you must know sprouts are a wonder world of goodness… sprouts of moong, soybeen, fenugreek, alfalfa, etc. I do believe that folk who enjoy fresh sprout salads are less vulnerable to our modern day diseases. Recently, I learned anew that the most powerful antioxidant vitamin C plays a huge role in keeping our cardio-vascular system supple and in keeping cataracts from crusting up the lens of our eyes. Be sure to include vitamin C in your daily eating, my friends. Squeeze lemon juice into everything!
There's plenty of natural vitamin C in sprouts, fresh lemonade, green/red/yellow capsicum, etc, do some homework. But to stay with Fruitilicious here the menu also lists buttermilk, and bitter gourd or karela juice (detoxes skin amongst other things). What else? Geoffrey tells me that folk also come asking for such things as cold or hot coffee or chocolate, so they also do that. How about an Irish Chocolate…I haven't tried that yet. Ice-cream and sundaes here too but I skip all that.
Since these days I begin and end my days with gratitude I would like to thank Geoffrey Fernandes anew for Fruitilicious…may his business grow from strength to strength!
THEN last week in Patto yielded another find. Just around the corner of Fruitilicious at Kamat Towers (both are at ground floor level here) I discovered Megha Damani and her come lately small cosy eatery called Appetite. Here one morning I found the best ragi idli in town and quickly treated myself to them. The Rs40 treat comes with honest green coconut chutney and sambar. Megha has the usual white idli too but it's the rosy-pink ragi idli which has become my latest love! I consider a plate of three ragi idli as a fulfilling breakfast these days, that is when I can make it out to Patto.
Of course Appetite also has upma, sheera, sabudana vada, bhaji pav, samosa and snacks Goan, Maharashtrian and Gujarati – all qualitatively better snacks. Evening snacks include my favorite scrumptious maddur vada (I recommend, `30), there's vada pav, mirchi bhajji, onion bhajji, grilled sandwiches and so on too. She grills pav bhaji, butter pav bhaji and cheese pav bhaji whatever that means.
Megha Damani of Appetite urges me to give up my ragi idli in favor of her lunch thali meal deal one of these days, "My thali meal offers appetizer, chapatti or poori (most honest poori I've come across to date but drain the oil well please), three sabzi, jal, kadhi, rice, papad, butter milk, pickle, salad, curd and sweet…" (`120). The day I had first called here some folk at the next table were praising the paneer biryani, pulav, curd rice. Goan-styled is usually too spiced up for me.
But this is to say, newcomers in the food business are welcome as long as they don't let their success go to their heads too quickly or for that matter ever…before the fall! Megha confides that hubby Ketanbhai is the business boss, he advises her on what is selling and what is not selling…like ragi idli, knock it off the menu. My heart tripped at that as I told her don't do that…I come for her ragi idli don't I?! As far as I am concerned I will always go looking for ragi idli first at this likeable place on my current list of favorite places to drop by whenever I can!
Why don't you serve a Gujarati thali meal since you're a Guju? I asked Megha. No demand for it in Goa, she said, "But the next time our Chef Pritesh or I make khaman dhokla or khandvi I'll give you ring!" I'll be waiting. In the meantime if you're a wandering foodie like me you may check out this small, cosy, no pretensions, quality-conscious eatery called Appetite.
But you see how I try to juggle life perennially in search of touches of honesty and value for money when it comes to foodie matters…not without reason! What we put in our mouth matters if we don't want to end up in hospitals five-star (Manipal Hospital) or the GMC where aam aadmi deserves much, much better vis-a-vis healthcare in Goa and India. Learn more and more about how food is our real medicine, my dears. Not joking.