(L-R) Mr Rahul Mehta, president, CMAI (Clothing Manufacturers Association of India), ex-president IAF (International Apparel Federation) & chairman, Advisory Board, SOFT, Promoad Gorhe, chief guest Goa Tourism Minister Manohar Ajgaonkar, and vice chairperson, secretary GFI, Dr M Hundekar
Pics and Text by Bindiya Vaval Naik
The sixth edition of the Green Fashion India (GFF) by MKSS' School of Fashion Technology, Pune, brought to Goa a valuable green connect for designing for a social cause and engineering. This welcome two-day conference-cum-fashion show concluded by offering several solutions to clean up our act of polluting the green earth which sustains us all. The MKSSS's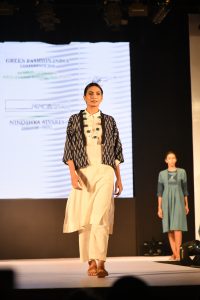 School Of Fashion Technology based in Pune is a premier institute imparting fashion education since 1998….
PERHAPS it is not widely known that the textiles industry is the second most polluting industry in the world, says one of the key partners, namely the German Benjamin Itter, behind the collaborative effort to organize the The Green Fashion Forum (GFF) which is an ecological and sustainable initiative of MKSS' School of Fashion Technology. It starts with Dystar India and is supported by leading industries, experts in sustainable fashion and educational institutes honouring the concept of sustainability through fashion education across the world. This forum promotes the concepts of sustainability along with "fair fashion" and "responsible fashion" that aims to reach the grassroots level to strengthen society and to ultimately lead to healthy fashion. It's an idea being explored by many thinkers and the time is now. Since 2011 GFF has brought forward the concept of sustainability through its activities such as workshops, seminars, conferences and competitions and has honoured the industrial and craft initiatives contributing towards a more enduring sustainability. These activities have churned thousands of young minds that aspire to get connected with industry having a responsible and sustainable approach.
The chief guest was Jeet Arolkar who is a board director of Goa Tourism Development Corporation and was felicitated by Green Fashion India (GFI) president and architect Mohana Kadam. In turn Mr Arolkar extended his warm welcome to the international and national dignitaries and designers who had come for the two-day green show which took place at the Kala Academy complex in Panaji over Oct 5 & 6, 2018. He thanked the GFI committee for choosing Goa as their venue and applauded the institute for taking the initiative to promote and introduce sustainable and green fashion concepts to a younger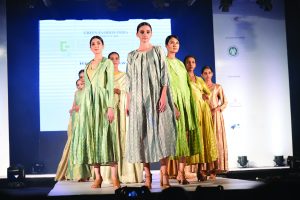 generation of fashion designers.
On the 6th the designers were introduced by Hugo and Meher Castelino. The first designer to showcase her work was from Goa, Ninoshka Alvares, with her label Ninoshka. She is in the process of developing her own line of fashion-wear in organic cottons. Noted fashion journalist Meher Castelino from Mumbai, asked about whether sustainable fashion has a future in India to which Ninoshka's reply was "It would require a lot of natural sourcing, and traditionally we have all sustainable fashion, like handloom, the use of natural dyes like indigo which comes from India… as a culture we Indians believe in sustainability. Even the garments which have reached the end of their life cycle can be used as kitchen rags!" There were collections in the green fashion show which presented reversible jackets and other reversible outfits – these outfits are very convenient for people who travel and who don't want to stack up clothes in their suitcases.
Then there was Sujata Tokey, founder of Sujata's Design Studio. She uses a resist dyeing technique as these dyes are processed through natural technologies using such resource materials as vegetables, leaves, flowers, the bark of trees and so on, to promote green fashionwear. The highlight of her work was "pipili" work from Orissa which is was very inspirational for designers present at the conference-cum-fashion show. Pipili is basically applique work done by putting two layers of fabric together and shapes cut in the upper layer. Leftover fabric can be used for embellishment purposes for other outfits.
Uma Prajapati was next to showcase her fashion. She said that she began working with farmers in 2007 as she was devastated after hearing about farmers committing suicide and her heart went out to these farmers and their families. That is when she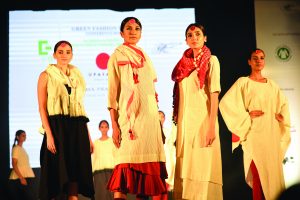 went organic, not just for the market but because she wanted to help the farmers in some way. At that time she didn't even knew she would have potential buyers!
Sustainability, says Uma, is what gets added later, but going organic did a lot to make her feel better, confidant, happier. She disarmingly confided that she went almost bankrupt in 2010. Today she has eight collections to her name and she is the creative director of Upasana, apart from other things she is also her own "tambi" or helper. She has many collections, one of which is her indigo collection — natural indigo colour being an old traditional favourite; her kora cotton collection for the day was not khadi and organic, but it was three percent not-genetically-modified cotton — "Indigenous Desi Cotton."
Then there was Hemang Agrawal who steers his four decades old textile business with an acute understanding of design and trade. His influence within the textile world indicates his extensive insight; they include designer Rajesh Pratap Singh, textile historian Rahul Jain and, essentially, the city of Benares. Known as Unrevive, his collection presented gold and silver zari checks and uneven stripes in cotton fabric.
Others who displayed their work were International designers Swati Argade with her brand 'Bhoomki' from New York, Philippe Werhahn from Berlin and Karishma Sahani Khan.
Rajesh Pratap Singh showcased his collection at the Grand Finale fashion show. Mr Singh is an associate Design member of Fashion Design Council of India (FDCI) and worked with the Italian menswear label, Marzotto for two years. Singh started his own line of men's and women's clothing in 1997. The designer is known for his minimalism and understated design aesthetics with a sharp eye for detailing. The key to his work lies in simplicity, clean cuts and his flawless detailing. The designer's belief in silence is reflected in the name of his pret line RIP (Rest in Peace). Pratap has showcased collections in Paris and Milan as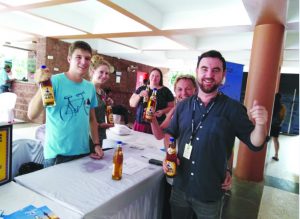 well, apart from India.
It was truly an eye-opening fashion show, accompanied by some traditional offerings by invitees outside in the foyer of the Kala Academy — here one got an opportunity to buy some of the country's most desirable sarees of silk and cotton. There was Rizwan A Qureshi with his Bashiz Silk Factory Paithani sarees and even more exquisite Himroo sarees, also bed covers. The Orissa ikat sarees brought by Jaikrishna Singh selling in `700 to `7,000 were also a steal! Ethnic handmade white metal oxidized jewellery was also a big hit with young buyers at the venue of the green fashion show.
Inviting much interest was a stall retailing the German "natural, refreshing, stimulant" drink called Club-Mate. Said promoter Benjamin Itter of Lebenskleidung, "This is how Germans are staying awake!" It's a brew made from yerba meta, a plant in South America, which goes into the making of traditional beverages which stimulate without intoxicating with their low grade caffeine.
The beverage is being made in Bavaria in Germany since 1924 and the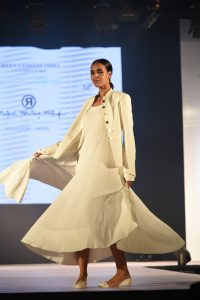 entrepreneurial Benjamin Itter and his partner Milan Pal are hopeful that Goans and Indians will wake up to Club-Mate one of these days! There was free tasting going on all around with many exclaiming that it was like a kind of lemonade beer.