UTT GOENKAR!
THUMBS UP FOR Rajan Ghate, all set for more Gandhigiri: There are those who care for aam aadmi suffering. RTI veteran Rajan Ghate announced yet another fast unto death on November 15 — telling media people that this time too he hopes CM Manohar Parrikar will turn up to rescue him! He begins his indefinite fast for the cause of Goem, Goenkar and Goenkarponn at Azad Maidan at 11 am on November16. Ghate says all Parrikar's decisions have been anti-Goan! Pic shows the comrades in fasting (l to r) Jessica Menezes, Leocardio Monteiro, Kenneth Silveira, Diya Shetkar, Rajan Ghate and Muktamala Fondekar
TOURISM MASTER PLAN
A major fall-out of the present Goa tourism is drug consumption by locals. This has now proliferated to the very interiors of Goa and drugs are freely available near schools. The major beneficiaries and 'stakeholders' in this are the politicians and the police.
Before any new Master Plan, people must demand the total eradication of drugs from entire Goa. No moving forward with any such plan till this has been achieved. This should be the one major issue for Goans. Police are claiming success with their Traffic Sentinels: why do they not start a 'Drugs Sentinels' scheme?
In the present fish imbroglio, we can see how the Ministers' are favouring certain businessmen/Ministers caring two hoots for the citizens and their lives. This is the same attitude they have with drugs availability near schools and colleges: it is not that it cannot be eradicated.
First, fish 'import' was to be banned for six months. Now, the ban is only for those who do not have the required trade licences. One Independent MLA defies the ban on exports! Goans are side-lined and can easily se how the elected are working to see their 'haftas' income is not reduced.
Getting down to brass tacks: locally sourced fish + 'imported' fish = local demand + export demand. If the MLA wants his export business to thrive, then let the Police seal fish vehicles at the border, and un-seal the same at the export units. Let local fish be used for local demand
— R Fernandes, Margao
smart city, SMART PLUNDER
The Imagine Panaji Smart City Development Limited (IPSCDL) is yet another vehicle for the BJP to loot and plunder under the guise of making Panaji a Smart City. All their shabby works done so far are on public display.
Not a single Goan architect or planner has been taken on board. The only Goan on that eight member sham Board of Directors is Sidharth Kuncalienker the side-kick of Manohar Parrikar for whom this is yet another opportunity to further line up his already overflowing pockets. On what criteria was he appointed as Director despite he having no knowledge whatsoever of architecture or city planning?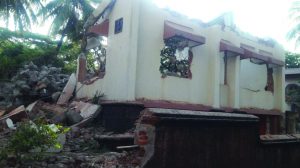 Although Panaji and Goa at large having such brilliant expertise in the field, this government which claims to be for Goem, Goenkar and Goenkarponn has also appointed Swayan Choudhuri as the Managing Director so that all their evil plans can be swiftly executed. Time to wind up this very devious Imagine Panaji Smart City Development Limited and stop this massive criminal waste of public funds.
— Aires Rodrigues, Ribandar
Graphene: Strongest miracle material
Isolated in 2004 by two researchers at the University of Manchester, Prof Andre Geim and Prof Kostya Novoselov, both Nobel prize winners in physics for their path-breaking discovery and pioneering work, graphene is a form of carbon as graphite consisting of planar sheets which are one atom thick with atoms arranged in a honey-combed shape, hexagonal lattice which has potentially wide usage across various fields. Graphene is a semi-metal which has only two dimensions making it the thinnest but strongest material ever created, about 100 times stronger than steel. It can be used in tissue engineering, drug delivery, biomicrobiotics, transistors, organic electronics, water filtration, lubricant, waterproof coating, aviation, as a catalyst, in photo-voltaic cells and can be used widely in medicine. If the usage of graphene is made widespread, revolutionary technologies will come into existence which will make its use very popular.
Graphene will also find wide use in military fields like in armoured vehicles and nuclear shelters. Despite being very strong it is also a good conductor of electricity and could be used in power distribution and for electrical cables.
— Elvidio Miranda, Goa