Lifetime Achievement Award conferred upon veteran Israeli filmmaker  Dan Wolman
Pics by Bindiya Vaval
By Our Special Correspondent
India is a land of storytellers and the stories continue! This year's 49th International Film Festival of India was a low key affair. There was not much of a buzz and the shine not so blinding, but in the true spirit of the show must go on (despite an indisposed Chief Minister Manohar Parrikar) everyone played their role at the opening ceremony of IFFI at the Shyama Mukherjee Stadium on November 20, 2018.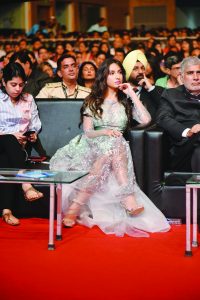 The traditional lamp was lit by a galaxy of dignitaries led by Union Minister of State for Information & Broadcasting Col Rajyavardhan Singh Rathore and Governor of Goa Mridula Sinha along with I & B secretary Amit Khare, IFFI festival director Chaitanya Prasad, jury chairperson Robert Glinski, PWD Minister of Transport & River Navigation Ramakrishna Dhavalikar, chief secretary Goa, Dharmendra Sharma, ESG chairperson Rajendra Talak and others.
Rathore reminded the audience that India is the land of storytellers where every person has a story to tell and these stories inspire and entertain us. IFFI, he endorsed, is platform for the young generation to showcase their talent. It was also a platform for filmmakers from the world over to explore India. He praised the I&B team and Goa's Entertainment Society for executing such a grand undertaking as IFFI and hoped the entertainment industry is putting it online so that it reaches everyone. Cinema focuses on the past, present and future visa-vis the presentation of IFFI annually in Goa, a venue which cinema lovers from home and abroad have fallen in love with.
PWD Minister Sudin Dhavalikar in his turn said, "Goa is a state of colours and is effervescent culture and its welcoming nature makes it a perfect destination to host IFFI." He credited Chief Minister Manohar Parrikar who gifted IFFI with a permanent home in Goa, "He didn't leave anything unturned for its preparation since the first time it was hosted at Goa 15 years ago."
Film actor Akshay Kumar said there are many things happening in India in the entertainment industry and our Minister Rajyavardhan Singh Rathore is doing an incredible job of combining entertainment and education, "It is very important to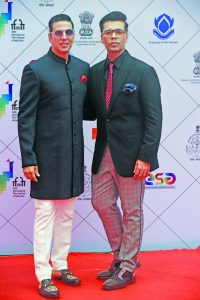 have films which have substance and meaning and I am thankful to the government that because of such films and initiatives there are lakhs of villages who get information free of cost and rigger massive positive changes."
Then there was entertainment, entertainment and more entertainment with mesmerizing audio-visual performances and songs from Indian cinema, with singer Shilpa Rao treating everyone to songs from various Indian languages and a timeless rendition, "Aaj jaane ki zidd na karo…" Actor Sonu Sood set the stage on fire with his dancing and an additional highlight was a chat between Col Rajyavardhan Singh Rathore, Akshay Kumar and filmmaker Karan Johan on sports and cinema running a parallel journey to excellence and international recognition in India.
A film facilitation office web portal was launched and Israeli master filmmaker Dan Wolman felicitated with a Lifetime Achievement Award. Names to be seen walking the red carpet were Prasoon Joshi, Ramesh Sippy, Kiran Juneja, Subhash Ghai, Arijit Singh, Chin Han, Julian Landais, Barbara Meier, Nicholas Hau, Lois Robbins, Madhur Bhandarkar, Siddharth Roy Kapoor, Rakesh Omprakash Mehra, Major Ravi (jury member), Rahul Rawail, Robert Glinski, Tom Fitzpatrick, Hrishitaa Bhatt, Randhir Kapoor, Poonam Dhillon and many more from the world of cinema which continuously educates, entertains and inspires us.
This year's IFFI is showcasing a diverse range of films, 212 films from over 68 countries with two world premieres, 16 academy award nominated films and six films from India classified as rare language films. The International Competitions section sees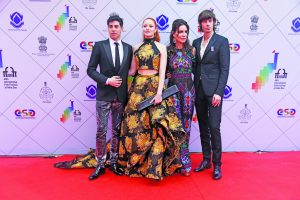 15 films with three Indian films competing for the prize golden and silver peacock awards. The country of focus is Israel while the Indian state being highlighted is Jharkhand (a Jharkhand package at the festival includes MS Dhoni, The Untold Story; Death in the Gunj, Ranchi Diary, Begum Jaan and other films).
The curtains come down on the 49th IFFI on Wednesday, November 28, 2018.