GALF READING: (l to r) Patricia Sethi, Geetha Gopalakrishnan, Wendell Rodricks
BY TARA NARAYAN
— Dr Geetha Gopalakrishnan at 9th Goa Literature & Arts Festival
UNARGUABLY she was one of the most interesting delegates at this year's 9th Goa Literature & Arts Festival (GALF) which took place at the International Centre Goa from December 7 to 8, 2018. For one thing Dr Geetha Gopalakrishnan is a high-profiled fund-raiser for the cause of cancer. As far as she is concerned, she said, her debut book released at GALF titled `My grandmother's tweets' is secondary, she was inspired to put it together for augmenting funds for children suffering from cancer and children who are mentally handicapped.
Fundraising is her first passion.Yes, she admitted she is a Tamil Brahmin with a difference perhaps simple because she did grow up in Tamilnadu but was born and bred in Hyderabad where "My family of lawyers were attached to the Nizam of Hyderabad and we in the family were an argumentative lot!"
Geetha Gopalakrishnan comes across a woman of many parts and someone who's seen good and bad times come and go. She has certainly mixed and mingled with the bold and beautiful across the world, hence her networking opens up doors.
From the sound of it she is also a linguist speaking fluently in several languages including Parsi-styled Gujarati. Upon learning that I was a Gujarati she happily switched over to speaking to me in Gujarati! Says she had a dear Parsi friend, Avi Writer, and while they lived at Kemp's Corner in Mumbai, she was hugely influenced by her. Why is her book titled `My grandmother's tweets'? Actually, she hadn't thought of it but she was first her grandparents' granddaughter, especially her maternal grandmother who was forever grand-mothering her with the 109 sayings from the Tamil poetry of Avvaiyar, "So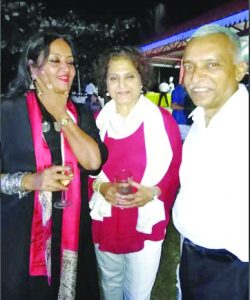 much so I don't mind being a grandmother myself now!"
That's how her book freshly released book `My grandmother's tweets' came about although they are not exactly tweets but an upgraded version of ancient inspirational wisdom from the original Tamil, perhaps she thought it would appeal to the younger generation and they would imbibe some of what is offered in her book.
To a query by former Times Magazine Bureau Chief Patricia Sethi who was moderating the conversation with her at the GALF book release, she said all sales proceeds earned through her book would be for cancer patients. For the last eight years she has been given the honorary task of being the director-donor relationships at the Tata Medical Center in Kolkata. How much money has she raised so far? She promptly replies, "I have raised `350 crore!"
Undoubtedly, her background in advertising (20 years with Trikaya Grey as creative director) has helped her be a superlatively appealing fundraiser and over the years she has coaxed celebrities from both the film and business world to contribute for cancer treatment for the underprivileged cancer patients being treated at TLC, "You may say right from the time I was 17 years old, I was influenced by my maternal grandmother who would ask me to watch out for an uncle of mine who was suffering from Hodgkin's cancer and I remember going with him for treatment to the Tata Cancer Hospital in Mumbai where Dr Earnest Borges was like god for my family! My grandmother would also get me to play the clown for a young cousin who was afflicted by Down's syndrome…"
In this sense Geetha Gopalakrishnan has seen the suffering of cancer patients close up and affected by it decided to make raising funds her mission in life to help underprivileged cancer patients young or old. And she could raise funds easily (don't ask her though, at the GALF she thinks many Indians suffer from a mindset "which doesn't think twice before buying a `20,000 outfit but if asked to contribute `100 towards her fundraising, they would think it over!").
While at the Sadhana School for Special Children in Mumbai a Sister Gaitonde played a special role in her life and appealed to her to always keep her antenna tuned to whatever god she prayed to, be it Jesus, Ram, Allah… and in the course of time it became like a mantra for her. It fitted in with all her grandmother's sayings borrowed from Avvaiyar which she remembers used to be hurled at her constantly "like bullets!"
And then while chatting with Dr Geetha Gopalakrishnan at the GALF inaugural party at the ICG lawns she restlessly asked if there was a place where we could go and find "thayir sadam" or good vegetarian Gujarati thali food, absolutely Jain, no garlic, onion? There was too much non-vegetarian at the GALF buffet, she said, not for her. And that's how we (including her secretary Valerie and Valerie's young nephew) found ourselves at the Hotel Fidalgo's Bhojan just while it was on the verge of closing at 11 pm!
While drinking in the hot fluffy sweet savoury Gujarati buttermilk kadi by the bowlful, she offered more insight into her personality, "I've met Manohar Parrikar when he was Defense Minister and he gave me `50 lakhs for my cancer fund!"
In one amusing anecdote, she confessed, she also asked for an appointment and went and met Prime Minister Narendra Modi, to recite to him a poem she had written about the river Ganga and all the "itihas" the river has witnessed, "My poem was in Hindi and I read it out to him…"The prime minister was charmed but Geetha Gopalakrishnan doesn't say more by way of whether it helped in her augmenting her cancer fundraising!
This is one high-powered lady who's lives an adventurous life, but then I imagine it helps to be the wife of R Gopalakrishnan, who has seen life and times with Tata Sons and is on the board of many companies (he was also chairman of GIMS in Goa), although he may be living in fruitful retirement presently.
Geeta Gopalakrishnan is a treat to discover and she very definitely made me think of my own two grandmothers (and other grandmothers)…
Her book 'My grandmother's tweets, stories inspired by Avvaiyar's ancient wisdom' (published by HarperCollins Publishers, hardcover, `499) is very definitely in my opinion the book of GALF this year.
You need to get a copy of it for your bedside for all kinds of good reasons. The book's foreword is by Zakir Hussain and he quotes US Justice Oliver Wendell Holmes, "who said he would `give his life' for `the simplicity on the other side of complexity.'"
Who is Avvaiyar?
In the 10th century, Avvaiyar was revered and followed by many villagers drawing wisdom from her 109 one-liners.
Some folklore has it that there was one woman by the name of Avvaiyar, but the other versions suggest that it was a generic title given to three or four women poets over several centuries. Whichever may be true, she is counted among the most famous poets in the Tamil canon, and she is a torchbearer for female poets.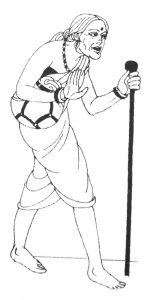 Avvaiyar literally means `respectable woman.' She is often depicted as an old and intelligent lady. There is a statue of Avvaiyar in village Muppandai in the Kanyakumari district of modern-day Tamil Nadu. Legend has it that she left the earth from that place. An Avvaiyar festival is organized every year in Nagapattinam district to commemorate her literary contributions. Folklore has it that at the festival venue, a conversation took place between Avvaiyar and Lord Muruga, the guardian deity of Tamilians, when Avvaiyar contemplated retiring from her Tamil literary pursuits, believing that she had accomplished whatever there was to be accomplished. At that point, Lord Muruga appeared before her and jousted with her on an intellectual level.
Later, he revealed his true identity, and encouraged her to continue her teachings, which she did. Her one-liners are still taught in Tamil schools but alas, not necessarily taught well, and certainly not targeted at a wider audience.
(Excerpted from Geeta Gopalakrishnan's 'My grandmother's tweets.')
Excerpted from Geeta Gopalakrishnan's 'My grandmother's tweets'…
Munnurai (Preface)
Both my grandmothers got married when they were just ten years old. They barely had any formal education. Yet, their wisdom was as profound as that of philosophers and poets.
My paternal grandmother, Ranganayaki, was the only woman of her times who participated in a conference of Sanskrit scholars, hitherto a male bastion, and was given the title `Shri Dharma Ghoodamani Ranganayaki Amal', meaning, a jewel among those who are generous and righteous.
My maternal grandmother, Kamalammal, under whose wise eye I grew up in Hyderabad, could arguably match a philosopher with her fine homilies.
Both my grandmothers' source of knowledge came from a most unlikely source – Avvaiyar's one-liners. Avvaiyar was a simple, illiterate woman in the 10th century during the Chola Dynasty who over the years came to be venerated as a saint. She gave the world 109 one-liners that contained the wisdom of her times.
As Avvaiyar travelled barefoot from village to village, she saw human nature and made the most profound observations, each summed up in a short line. In Tamil Nadu, these have been passed down orally through the centuries – from grandmothers to daughters and granddaughters.
Perhaps sons and grandsons were not widely included in this because were seen to be the carriers of values and tradition.
My grandmothers would rattle them off at appropriate moments, as their grandmothers had before them. They would choose the situation, the right moment, to dramatically drop an Avvaiyar saying so that it would get firmly embedded in the brain.
These sayings became the foundation stone for the right reflexes, part of the wisdom-building block for me.
There were no Twitter in my growing-up years but I would receive these daily `tweets' from my grandmothers.
Whenever I hesitated about shring something I had learned, they would`tweet': `Kai vinai karavel' (Don't hide your skills)!'
In today's time and age, it is reassuring to know that Avvaiyar's advice on humanity will reach many more, regardless of gender and race.
As I pen these words, I can almost hear: `Aram seyya virumbu (Desire to do good)!'