SHOCKED: Most of the popular shacks in South Goa have no business due to the sharp drop in tourism traffic
BY RAJAN NARAYAN
The peak of peak tourist season has turned out to be the lowest slump of Goa tourism. Charters have virtually stopped coming, and even domestic tourists prefer cheaper, cleaner, greener destinations in Southeast Asia
In the normal course, the Christmas-New Year period stretching from December 20 to January 2 is considered the peak of peak tourism season in Goa. It is also the peak for charters from Russia and the UK. Domestic tourists also come to Goa in huge numbers not just by flights but by every means of transport — from motor cycles to rickshaws, Boleros, Innovas and other SUVs.
Hotels traditionally hike their prices steeply this time of year, particularly on Christmas and New Year. There is a rather unfortunate tradition in Goa that if you stay in a hotel on Christmas eve or on Christmas day you have to compulsorily have their Christmas special lunch or dinner costing anything between `4,000 and `8,000. When it comes to New Year, it becomes even more expensive, with the rates shooting up to `10,000 plus just for the New Year bash.
Irrespective of whether you spend the New Year eve or Christmas lunch in the hotel you are booked in, you have to pay for the same. This is resented by tourists who want to go to the discos like Titos and even older tourists prefer a shack on the beach to paying `10,000 for a crowed Christmas extravaganza in the hotel in which they are staying.
The situation is compounded by the steep increase in domestic air fare ahead of a holiday weekend in Goa. Ever since the airlines introduced flexible fares which depend on demand and supply, the prices zoom whenever there is a long weekend, in the case of Goa at least. A leading hotel executive spent `18,000 as the fare from Bengaluru to Goa on Christmas eve. If travelling to Goa on Christmas eve or on New Year is expensive, getting out of Goa and back home is even more expensive. On January second when most holiday makers decide to return to work, the fare from Goa to any destination in India is four times the normal fare. For instance the fare from Goa to Mumbai goes up from an average of `3,000 to `12,000.
Most of the star hotels and particularly the shacks on the beach have historically depended on chartered tourists. Tourists from the UK, Russia and other very cold countries prefer to spend their winter holidays in warm Goa. These countries experienced temperature of minus 10 during the winter months of November and December.
I can understand and appreciate the desire of residents of the UK to come to sunny Goa. On my two visits of over a month each to the UK, I seldom saw the sun. Moreover the temperature changes virtually every hour. I recall that once when we started out to explore London it was bright and shiny and I left my jacket and coat behind. Within two hours the temperature had come down to the extent that it was freezing cold. While the majority of Indians, both men and women, want to be fair or lovely or fair and handsome, those from cold countries are desperate to turn brown. Their main holiday activity revolves around lying down on beach beds in the sun despite being pestered by Lamanis and ogled by domestic tourists.
Most charter tourists are from the middle class and the lower middle class. Even waitresses and bartenders are able to afford holidays because the charter rates are very cheap and given the exchange rate of `90 plus to a pound, Goa seems very affordable. But unlike the Russians the British count their pennies. The charter rules require that they should spend three weeks in a three star hotel with breakfast. What charter tourists do is to spend the entire day and perhaps the entire night in shacks and night clubs which are much cheaper than the hotels where they are booked in.
SHARP DROP
But for the charter tourists the shacks would be as empty as they have been in the run up to Christmas. This is because of the sharp drop in charters. As against a peak of 218 charters which arrived from the UK in 2017-18, the number of charters that have arrived in 2018-19 between March and December are only 15.
In 2014-15 a bumper harvest of 1,696 Russian charters came to Goa. This season they have declined to 50. The other popular origin of charters was Ukraine, formerly part of the Russian republic. Because of the trouble in the Ukraine with Russia wanting to assert itself the number of charters have come down from a peak of 168 in 2017 to just 33 this year.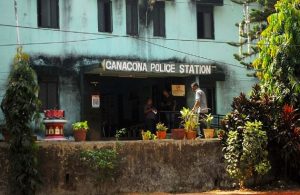 The worst affected this tourism season is south Goa. Due to over-crowding in the Baga, Calangute, Anjuna regions, charter tourists had started shifting to south Goa more than five years ago. A favourite destination of charter tourists has always the Palolem and Patnem beaches in Canacona. The recent rape of a young Irish tourist which was widely reported in the British press has further affected arrivals of British tourists and particularly their preference for south Goa.
Shack owners along the southern beach belt have admitted that while even last year they used to be full and guests had to wait for tables, this year during peak Christmas season restaurants were only at half capacity.
Not only shacks but water sport operators are affected. Many of them blame their falling numbers on GST and new conditions imposed by the Tourism Department for granting a license this time. There is also, of course, the on-going issue of whether fish is safe to eat following the formalin controversy.
TRAFFIC HELL
The normal pattern has been for tourists to shift to south Goa after a few days in north Goa and vice versa. This has become almost impossible because of traffic jams. Getting from the airport to any of the hotels in north Goa has become a nightmare. The tourist has to cross two obstacles — the Agassaim Verna stretch on the proposed road to Zuari bridge and the status of the road between Panjim and Porvorim due to the construction of the third Mandovi bridge.
On Friday, due to the breakdown of a Kadamba bus and a couple of minor accidents, commuters were stranded for three to four hours on the Panjim-Margao-Cortalim route. Many flights were delayed and many missed their flights due to the traffic jams.
Travel agents and tour operators are in an even greater panic over the demand of the builder who is constructing the new Zuari Bridge. The builder and the National Authority Committee have asked for the stoppage of all traffic from Agassaim to Verna for a month or more to complete work on the Zuari Bridge. This will mean diversion of 20 km as those who want to travel from Panjim to Margao or South Goa or vice versa will have to go via Ponda. Given the prices of petrol and the rates charged by the taxi mafia the cost of transport will be more expensive than either accommodation or food.
GST PAINS
The tourism industry is also blaming GST for the decline in tourism due to the increase in cost. GST on hotel rooms is the highest bracket at 28%. In addition there is a 22% GST on soft drinks and liquor. Water sport operators also have to pay GST. From personal experience I can vouch for the fact that all this causes an increase of 30 to 40% in the food bill.
President of TTAG, Savio Messias, has stressed the need for Goa to change its strategy. Goa has been dependent on just two countries for charter tourists — Russia and the UK. The net has to be spread wider. Though the tourism minister and officials have gone around the world, even China and Nepal, to attract tourists, there has been no impact. The primary problem is caused by the fact that people in Europe and France have destinations which are much closer and cheaper. People in the UK preferred to go to Egypt and Southeast Asia which includes Thailand, Malaysia and Indonesia. The cost of a five star hotel stay in Malaysia is half that of India.
Even domestic tourists who used to come to Goa in very large numbers are now opting for Thailand, Singapore and Malaysia. It is cheaper for them to go to these countries rather than come to Goa or Kashmir. Unregulated air fare of domestic airlines is a big problem.
A CHANGED GOA
The perception of India is also changing from that of a liberal democracy to a Hindutva kingdom. The ban on beef, spate of lynchings and molestation and rape of vulnerable women in recent years, have affected the image of India. In the case of Goa and other parts of country people are also concerned about the law and order situation. India and Goa are just not considered safe as they were even five years ago.
What the tourism industry and the government refuses to admit is that Goa has changed. It is no longer the lush agricultural green Goa that tourists admired. It is no longer the clean Goa that tourist admired. Massive building activity has converted Goa into a concrete jungle. Lack of a waste management system has converted Goa and Goan beaches into large garbage dumps.
At least in the past when there was a crisis there was a government willing to solve the problem. With Parrikar out of action for almost a year there is nobody taking quick decisions. Home Minister Parrikar is not around to control the police who are going wild. As was dramatized when the Mahila Congress chief Pratima Coutinho, was savagely beaten up by BJP workers led by the new BJP General Secretary Satish Dhond who has a reputation for goondagiri.
Similarly, there have been cases of police assaulting citizens in various parts of Goa.
Goa seems to have become like the old Thailand where people went only for women, drugs and sex massages. Unless we clean up Goa and re-define construction activity and get rid of the casinos, there is no future for Goa as a wholesome and safe tourism destination. Otherwise it means the death knell of Goa with the collapse of the only surviving industry since mining collapsed.