For aam aadmi… Only look from far, don't come near! RIP Manohar bab
Text & Pics By Tara Narayan
March 18, 2019. It was time to say goodbye to Manu (as a Konkani election scolding ditty goes in mock affection) or four-time chief minister of Goa, Manohar Parrikar! But it was sheer madness to get trapped in a queue which by noon had wound its way all the way down the Campal promenade to the ESG complex and beyond …standing in a queue which started as one queue but soon became four and five queues and nobody could tell which was the original queue which started forming at 8 am! As the day turned hotter it was no fun playing a game of patience in a queue which was stationary for a long time awaiting the arrival of the Manohar Parrikar's mortal remains for viewing at the Kala Academy.
His mortal remains were supposed to arrive from the BJP headquarters at 10.30 am but the flower-bedecked truck arrived a little after noon and by then a mega crush had built up at the Kala Academy's second gate of, since the main gate was lined with more policemen with sticks in hand to form a barricade none could dare to cross. The main gate was only for VVIPs and VIPS but nobody there at the gate could recognise them and many were refused and turned away and told to go and join the one queue for aam aadmi.
The aam aadmi queue at the second gate had started off early morning and soon turned into a hydra-headed monster queue…men, women and seniors from all walks of life, anxious to pay their last respects to arguably Goa's most charismatic chief minister. Bouquets and wreaths of flowers in hand started to wilt in the growing heat. Let me say it was better organised inside but not outside on the pavement where one ailing woman cried out, "Why can't these people at least have a separate queue for women and senior citizens?" Other appeals were heard but it was nothing doing.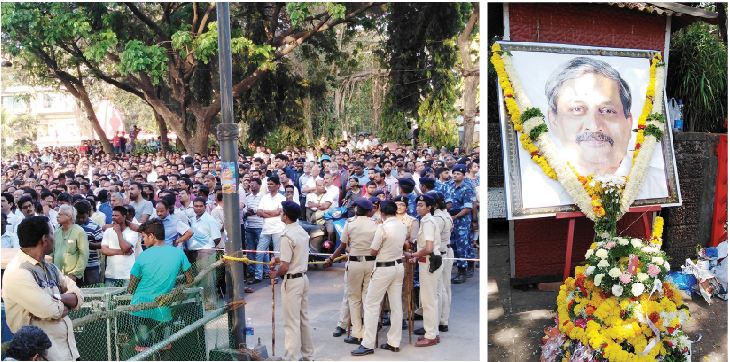 I don't think Manu bab would have liked it at all! But if numbers could say it all then he would have smiled from wherever he is. It sure looked like all Panaji if not all Goa had turned up at the gates of Kala Academy for one last glimpse of Manohar Parrikar. However, once past the gate one could bow one's head at a huge framed photograph of a smiling Manohar Parrikar and leave one's floral tributes there; and if so desired quit the queue and leave.
Most preferred to continue in the queue where to one's disappointment the courtyard where Manohar bab body lay in state in a glass casket looking remote, more or less ensured that all darshan would be done quickly and firmly from a distance. Bhai Manu was more or less protected from any close-up dekho of his mortal remains by aam aadmi…one moved on to the constant hiss of "move on, move on" and barely able to mumble a sane prayer before some uniformed-in-charge hurried one along out of sight. Even before I could realize it I was on my way out and I complained silently to the mortal remains of Manu bhai that I was not allowed to even say a dignified goodbye to him, there was too much dadagiri around!
THOSE who stayed at home to catch all the action on the idiot box did the right thing. Many not in the queue loitered on outside the Kala Academy thinking something would happen and they would strike it lucky, someone would magically lead them in secretly…for some it happened, for the many it did not and some of them one recognized as senior VIPS and Manohar Parrikar friends of long standing — they could have been guided in without too much fuss.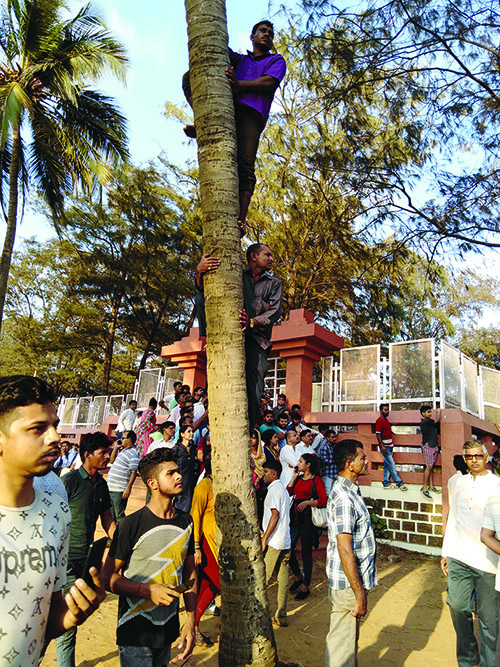 A whole bunch of women hung around thinking they would slip in somehow. For a while a picnic atmosphere ruled. Prime Minister Narendra Modi was expected after lunch and later on in the evening for the procession down to Miramar beach and the cremation next to the existing prison-like mausoleum of the first chief minister of Goa Babasaheb Bandodkar, but before that the security had to be further tightened and the pressure was on for the restless and tired queue outside to move faster, in and out quickly. No loitering allowed.
I asked a guy standing behind me, Rajesh Manguker, "What do you like so much about Manohar bhai that you're here in the queue for hours?" He replied, "can't tell you! I don't know! I have always liked the sound of this chief minister, he has been my hero!" Has he ever met Manohar Parrikar? No.
A fair-looking woman I noticed was ardently raising salutes when the flower-bedecked truck carrying the body arrived. This was Yasmin Singh who to a query said, "I'm not a foreigner, don't be fooled! I love Manohar Parrikar, he helped us when we wanted to start a goshala out at Quepem where the Dhyan Foundation has 500 cows in two sheds…he had also promised us some land but that didn't happen." Still, she had come with her two friends, the Russian Galina and Nandini, for love of Manohar Parrikar, "We've come all the way from Arpora because Galina offered to drive us to Panaji!" They didn't feel like going to back of the queue and said they would hang around and maybe later make it into the Kala Academy. They would take that chance and it was okay if it didn't happen, they would return to Arpora.
Yasmin tells another interesting story, "Some 20 odd years ago we were teenagers forever in partying mood out at Anjuna. The authorities stepped all partying in the area and we had a Hardcore Henry who went and explained and appealed to Parrikar, you know he gave us a proper letter on his official letterhead permitting us to party whenever we wanted at Anjuna!"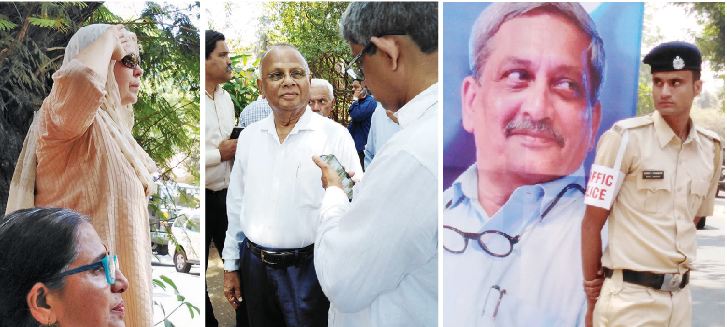 Former Panaji mayor Vedehi Naik was there with friends and to a query, she snapped, "Look, everyone is here voluntarily because they want to be here, because of love and affection for Manohar Parrikar. There is no force! And you better be careful what you say because there are guys around here who may hear you…" All I'd said is that everybody likes a holiday and perhaps that's partly why so many folk were jostling around to say their goodbyes to Chief Minister Manohar Parrikar. Mama mia, after that I kept my mouth shut, Manu bhai. Wish you were still around to appeal to!
CLEARLY life will never be the same again without Goa's most enduring chief minister, Manohar Parrikar, who dominated the political stage of Goa for about two decades. Say all of us have a Dr Jykll and Dr Hyde side to us and while most of us got wooed into his Dr Jykll persona, some of us got treated to his Dr Hyde persona and paid the price for it too! The story one reads over and over again is that while Manohar Parrikar oozed a cosmopolitan personality, being a hardcore RSS man at heart, he just succeeded in dividing Goa all over again into Hindu Goa and Christian Goa. Never mind that Christian Goa (30% of Goa) was, is and will forever love him for a long, long time to come (with a few exceptions here and there). Call it the masked carnival of diabolical niz Goenkar politics if you like.
'He was a workaholic!
— Advocate General Atmaram Nadkarni and closest friend of Chief Minister Manohar Parrikar
The cremation rites were over and folk were leaving when one managed to get to speak to Advocate General Atmaram Nadkarni, one of the late Chief Minister Manohar Parrikar's close friends present at the Miramar beach cremation site. To a query, he exclaimed, "Manohar was such a workaholic, he was always with files… Sorry, we couldn't save him!"
Well, that is one more perspective of the life and times of Manohar Parrikar and perhaps a question mark about the twists of destiny no matter how much we want to live! Say he passed away prematurely at 63 years of age but then again didn't he live a highly charged life to be the brightest star in modern-day Goan politics? Questions upon questions arise for all of us to learn from if we wish to!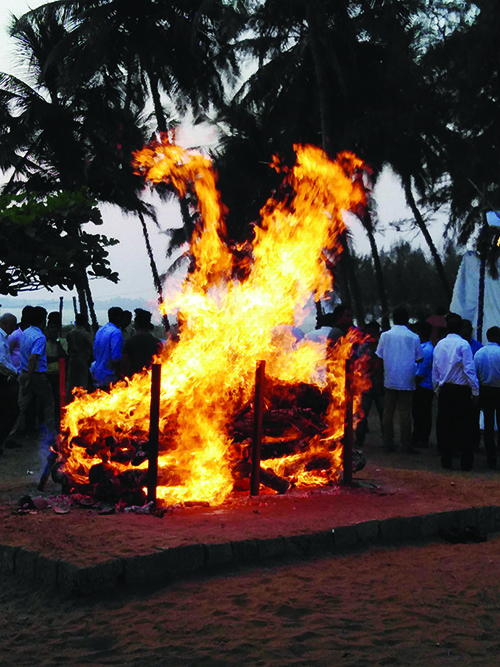 This is to say earlier on Manohar Parrikar's mortal remains were placed on the wood pyre with both his sons Utpal and Abhijat Parrikar setting it to fire solemnly with family members standing by in tears of sorrow. A lot of naval and political dignitaries were present along with aam aadmi in the near distance seeking a closer look of the proceedings.
With a gentle wind blowing soon a veritable fire blazed away into the late dusk, as crowds of Ponjekars and out of Panaji visitors stood glued before an LED screen rigged set up so that they could see what was happening in the secluded, cordoned off by police vicinity. It was to the singing of Sanskrit hymns, the Naval band playing 'The Last Post' and a 21-gun salute that the mortal remains of distinguished son of Mapusa, first IIT-ian chief minister of Goa and former defense minister of India — Manohar Gopalkrishna Prabhu Parrikar — blazed away to ash and cinders on Miramar beach in Panaji on the evening of March 18, 2019.