GROUNDED: Not for Girish the Mercedes van or posh SUV. Girish Chodankar is an aam aadmi who uses the aam aadmi's vahan — the humble cycle — to campaign!
BY RAJAN NARAYAN
Girish Chodankar, Congress candidate for the North Goa Lok Sabha seat, is the ideal representative. He has dedicatedly served Goa for more than 30 years without seeking monetary or other favours. The schoolteacher from Quepem, a close confidant of Rahul Gandhi, has never misused his position for personal benefit, working tirelessly for Goa. In contrast, Shripad Naik has done nothing for Goa or the country in the 20 years that he has been an MP with a ministry, not even promoting Ayurveda or Yoga, at ground level!
NORTH Goa Member of Parliament Shripad Naik has represented Goa in Parliament for the last two decades. Unlike other MPs from Goa, except for Eduardo Faleiro, none of the three MPs from Goa have been a minister in every Cabinet headed by the BJP. But Shripad Naik being an extremely incompetent administrator has always been appointed Minister of State, never full-fledged minister.
In the Delhi Cabinet system, the minister of state is not given any work by the Cabinet Minister under whom he is placed. Except when an MP is made 'Minister of State with Independent Charge'.
The only time Shripad was made Minister with Independent Charge was under Narendra Modi when the new AYUSH Ministry was created. We do not know whether Shripad Naik, the four-time MP from North Goa, made money for himself, but the figures of his assets show a sizable increase during his four decades in power. This certainly cannot be a result of the saw mill that the family owns and is being attributed to appreciation of the real estate he holds.
PARRIKAR'S hostility
Shripad Naik is considered a nice, straight forward person, not manipulative like Manohar Parrikar. Which is why he enjoys the greatest respect among BJP workers. It was because of Parrikar's fear that Shripad may be considered by the BJP high command for the chief minister's post that Parrikar sent him to Delhi. Shripad was given the North Goa Parliamentary seat to keep him out of Goa so that he would not come in the way of the ambitions of Manohar Parrikar.
Parrikar did not even let Shripad Naik contest the Assembly election in Goa. When the Porvorim constituency was created, Shripad was very interested in contesting the seat and returning to state politics. Parrikar vetoed the idea. When Parrikar was asked to take over the Defence Ministry, the first choice for CM was Shripad Naik. Parrikar said no.
When Parrikar died, Shripad Naik once again offered himself to head the BJP Parliamentary party. Knowing how inefficient he was, the BJP high command endorsed Parrikar's choice Pramod Sawant instead — a young man with no experience of governance but who would dance efficiently to the tunes of Amit Shah and Nitin Gadkari. Naach meri bulbul aur paisa milega. An expression which is being used by the BJP workers over Hema Malini who is contesting the Lok Sabha elections in a special luxury car.
Shripad has done nothing for Goa despite the various portfolios he has handled. The portfolios he had held include Minister for State for Tourism, Minister of State for Agriculture, Minister of State for Finance and even Minister for Civil Aviation. No special projects were created for Goa except for a farm production improvement program. Even as Ayush Minister, Shripad did nothing for Goa, except for holding a number of conferences. The Yoga university and research centre which he promised has yet to see the light of day.
Although Shripad may or may not have made money through his various portfolios, he has been taken for a ride by the officials of every Ministry that he handled. We have personal experience of how Shripad was ignored and bypassed by his officials and chamchas. We had proposed to him a planner for the AYUSH Ministry. He promptly approved the design we created and asked us to forward it to one of the departments of the Ayush Ministry. We met the concerned officials when they came to Goa. It was an order for ten lakh posters for schools across Goa. Shripad even told me that he liked it so much that he would publish ten million copies which he would supply for distribution in schools all over country. We reminded him many times. We asked Dr Suman Kurade who is the Head of the Goan Association in Delhi to intervene. Every time we met Shripad he would promise to follow up, but nothing happened.
The only time any of the Ministries he held at the Centre showed any dynamism was when Joy Bandekar became his OSD. Joy is a very competent professional who later went on to be Corporate President-New Initiatives for Ola. But he used to misuse his position and throw his weight around, even at the Goa airport. On receiving dozens of complaints, Shripad was forced to sack him.
The 2017 Lok Sabha election is like the story of the rabbit and the tortoise. In the traditional story the rabbit falls asleep and the slow running tortoise over takes the rabbit. In the case of Shripad-tortoise-Naik, the rabbit did not go to sleep. And the tortoise has not reached even Mapusa from Ribandar yet. He is not likely to make it to the Lok Sabha in this election also. Even the Bhandaris who used to consider him their leader are tired of him. Who wants an MP or a MLA who cannot do their work?
THE GOAN VOTER
In Goa, more than in other States, politics is a story of demand and supply. An MLA candidate gets elected only if he does the voters' work. The candidate has to promise to fulfil every demand, legal or illegal. The Goan voter has gotten totally spoiled. He is not willing to wait in a queue and does not believe in merit. Inevitably, if the candidate he elects wins, the voter will approach him demanding admission for his children in the first standard or engineering collage. The voter will ask the candidate to give his children a government job, even though the child may be a 40-year-old with no qualifications. The voter will ask the MP or MLA to ask the school for grace marks so his son clears his exams. He will ask the MLA to illegally convert his agricultural land to settlement or even commercial.
The Goan voter is not a fool. He knows that MLAs require money to get re-elected. The Goan voter is willing to pay for a government job — even as much as `25 lakhs for a police sub-inspector job.
Since Shripad Naik was not able to deliver on the promises he made to his voters nobody is interesting in having him back.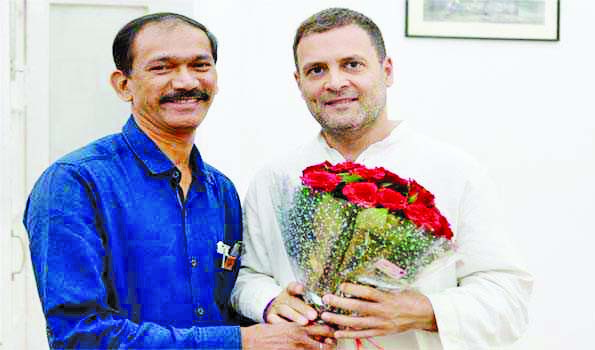 GIRISH THE RACE HORSE
The contrast between Shripad and Girish Chodankar is striking. Girish Chodankar is a race horse compared to the donkey that Shripad Naik is.
I have known Girish for more than 30 years as a dynamic political worker. When I first came to Goa in 1983, I heard about him riding up the steps of the Municipal office in Margao because they had not cleared the garbage. Thereafter Girish has committed Akshay Kumar-like acts repeatedly for the Congress party. Girish is always come up with fresh ideas to promote his party. He's a true man of action.
Unlike other politicians Girish comes from a very poor family; his mother used to do domestic work. Having come up the hard way, he knows what poverty means. And best of all, his integrity is unquestionable. Though crores of rupees must have passed through his hands while handling elections for the Congress party in several states, including Goa, he never touched a paisa!
Girish is the most trusted and honest Congress leader in Goa, and he enjoys the confidence of even Rahul Gandhi, working closely with him for almost five years to revive with Youth Organization of the Congress.
When I went to Bangalore for medical treatment, it being a Congress-ruled state, I asked Girish for some help. He introduced me to the president of the Youth Congress in Karnataka, who met me at the airport and was full of praise for Girish whom he considered his mentor.
Despite all the hard work Girish did for the Congress, his claim for an MLA seat was repeatedly rejected. Unfortunately for him, he comes from Fatorda, where there are a dozen senior Congress leaders waiting for a ticket.
Vijai Sardesai revolted because the ticket was not given to him but to 'Mama' Cardozo who lost. Despite that, Girish did not hold any grudges, and when the party wanted someone to challenge Manohar Parrikar in the 2017 election, it was Girish who took on the responsibility, putting up a very credible showing, despite not having much time to campaign.
Although Girish is from South Goa, he has once again accepted the responsibility thrust on him by the Congress high command to take on four- time MP Shripad Naik in North Goa.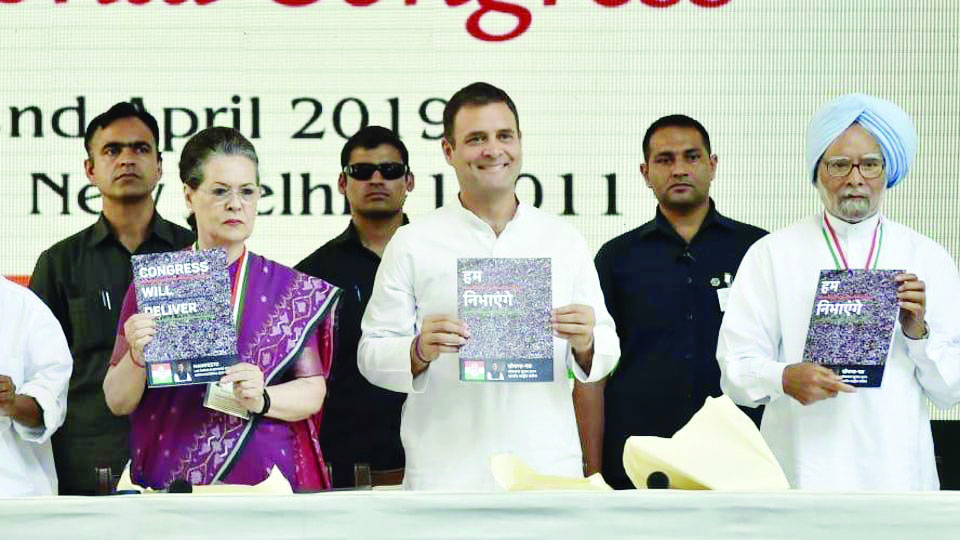 There can be no political leader of any party — whether BJP, Congress or AAP — who is more honest, sincere and helpful than Girish Chodankar. Girish only knows how to give and not to take. Considering his closeness to Rahul Gandhi, he is sure to become a minister if the UPA led by Rahul Gandhi wins the election. And unlike Shripad, Girish is a man who will act, not make ineffectual promises.
His first priority will be to ban the sale of land in Goa to outsiders. To prevent green Goa from being converted into a concrete jungle. This senior teacher at the Don Bosco higher secondary and college at Quepem is the right choice to represent North Goa and save Goa from the land sharks, gamblers and drug dealers who have been looting and destroying Goa.