Queuing up from early morning: Many were surprised to see Governor of Goa Mridula Sinha also coming in to cast her vote at about as early as 8:00 am!
BY TARA NARAYAN
By Our Special Correspondent
APRIL 23, Tuesday, Lok Sabha polling day arrived on a hot steaming day but it started off without any mishaps in Panaji at least. Most seniors like to do their voting earlier in the day while those attending to work despite the declared holiday keep their arrival at the voting booth in the afternoon or later in the evening just before closing time. Some places the queues were longest in the evening.
Out at the polling station of Government Primary & High School at Dona Paula, the respective queues for men and women voters were already growing when one reached there by 10 am and the atmosphere was quiet and disciplined. With one's Election Commission of India IC in hand those in charge here easily traced one's voting serial number and after that the voting was over in a matter of five minutes or so. Some voters who had come without any of the required identification had to return home to get either their Aadhaar card, passport or driving license — something to prove residence status in locality in Goa.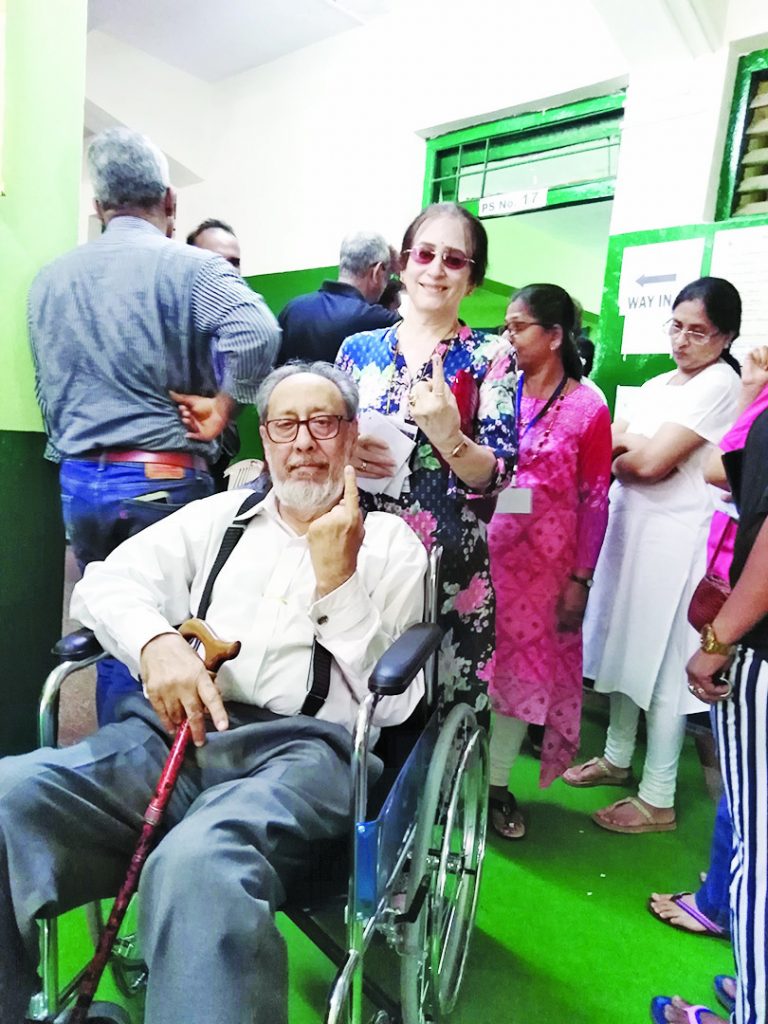 From all accounts this time around polling day was the best ever vis-à-vis organisation with a lot of facilities provided for voters as they turned up. One could not miss the brand new wheelchair at every polling venue which was put to use whenever some senior voter required it. A festive spirit ruled, with canopies for shade out on the streets, and at the polling venue itself benches and chairs for those who needed to sit while waiting their turn to vote.
One senior who preferred to walk it out slowly was Avertano D'Souza, 85, long-term resident of Dona Paula who to a query replied that he was a loyal voter and had been voting from the '60s onwards. He commented wryly, "What has changed? Today I see that politics is about individuals and not about democracy!" This is bad! In his view politics should be about governance and development for the good of the nation and not personalities.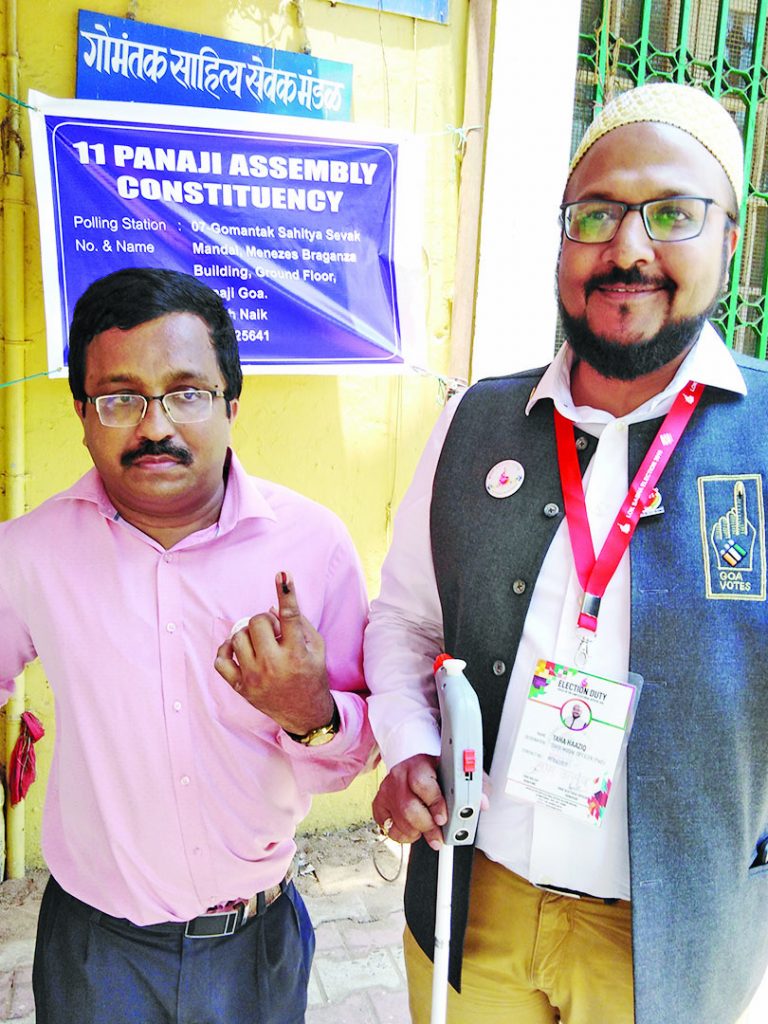 Usha and Prakash Hede were familiar faces and Prakash bab who decided to avail of the wheelchair facility when asked for quote said he was positive, "I think there is more vibrancy now because of delusions!" But he said yes, "acche din are here and the Narendra Modi government has done quite a few good things but there is some indecisiveness…perhaps if they come back to power they will complete other good things." Interestingly, Uma Hedi contributed, "We are pukka Goans born and bred in Goa, my grandfather was High Court judge Shivram Balwant Rao…our families have always been political conscious!"
To make elections accessible for persons with any physical disability there was a special polling booth at the Menezes Braganza Institute. According to nodal officer North Goa Narayan Gad the booth itself was managed by a team of nine persons who were in some way physically challenged. Ramps were in place here, as were wheelchairs, refreshment facilities, bars to hold on to in the toilet and so on. Disability Rights Association of Goa's Avelino de Sa who was here expressed his pleasure at the facilities for the disabled who came in to cast their vote here, as did State Nodal Officer (PwD) Taha Haaziq who said Goa has 7,474 physically challenged registered voters.
Since it was a public holiday many voters took their time to go and cast their vote, many waiting for the noon day heat to subside before venturing to their appointed voting booth. Afterwards making a picnic out of the day by partaking of refreshments at some of the small time eateries which had decided to stay open for business and therefore able to offer tender coconut water or bottled aerated drinks and ever popular chaat snacks. One eatery owner confessed he did not go and vote because he didn't know much about who were the candidates or about politics, "I like to stay away from politics!"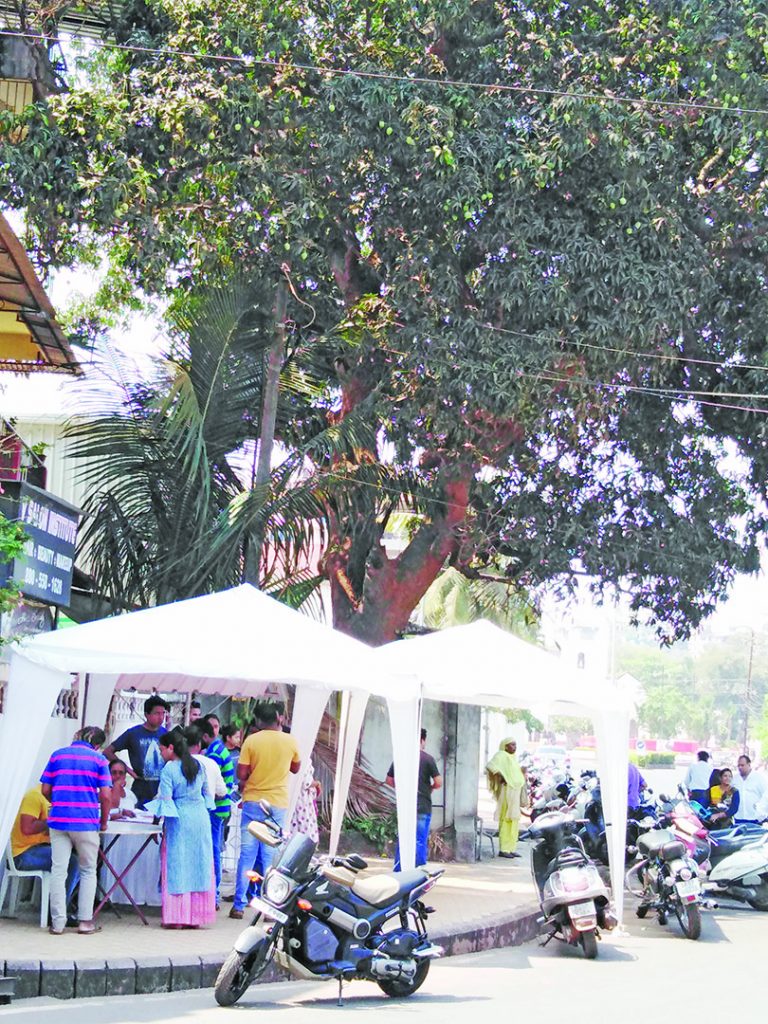 74.65% POLLING REGISTERED IN GOA
According to Chief Electoral Officer Kunal there was a total turnout in Goa of 74.65% for both the Lok Sabha constituencies and the by-polls for the three Assembly segments in Goa over on polling day April 23, 2019. The last general elections recorded 76.86% polling while this time there has been a 2.21% drop. North Goa parliamentary seat polling percentage registered 76.40% which is 2% less than the 78.64% voter turnout in the 2014 Lok Sabha elections. Regarding South Goa constituency 72.89% polling was recorded, 3% lower turnout against the 75.17% registered in 2014 elections.
There were many complaints of malfunctioning EVMs at polling booths across Goa. This is the first time so many complaints of malfunctioning voting machines have been noted. According to reports at least seven EVM and seven VVPT machines went for a toss in Salcete taluka during the morning hours of polling. This is the first time there have been so many complaints of voting machines failing in Goa. They conked out at Kirbhatt-Nuvem, Fatrade-Varca, at Zambaulim and Avedem areas of Quepem taluka, as also Siolim and in Cuncolim where AAP candidate for South Goa parliamentary seat, Elvis Gomes, lodged a complaint with the Election Commission and CEO-Goa.
Gomes was quoted saying, "Such malfunctioning of voting machines makes for a severe compromise and it is very shameful and dangerous." Needless to say complaints were rectified almost immediately with malfunctioning EVM and VVPAT machines being replaced at places of complaints — except where there apart from malfunctioning EVM machines there were power outages too and voters had to wait it out till power was restored and the machines rectified. Never have there been so many complaints of technical hitches and faulty voting machines or EVMs working at a slow pace for whatever reasons.
For many Goans it was an exercise in patience in the rural areas but they braved all the heat and hassles for the cause of being good citizens and for the cause of democracy! It's left to be seen what the fruit of their long-suffering patience is in a month's time when results will be announced. The various EVMs and VVPATs used for North Goa parliamentary constituency are now in the safe custody of a strong room at the Government Polytechnic College, Altinho, Panaji; the South Goa constituency strong room is at the Government Multipurpose College at Borda, Margao.