Shri Guru Singh Sabha Gurudwara at Betim, close to Panjim across the river Mandovi…. where the Sikh community congregates for special occasions like Baisaki.
Remaining pictures of glimpses of kar seva and kirtan in the main sabha hall on the third floor.
BY TARA NARAYAN
…and the langar menu was roti, Punjabi pakodi kadi, kalachana-paneer sabzi, jeera rice and kheer
By Tara Narayan
SUNDAY, April 14, say I was in a fretful mood at home and wanted to do a bit of happy adventuring for old times sake! It was the occasion of one of our springtime festivals and I decided to visit the Betim gurudwara. I have a soft corner for the gurudwara of the Sikh community of India. Funny, in fact I feel more peaceful when I step into a gurudwara than a temple.
It was springtime new year season or Baisakhi in most Punjabi homes and the Punjabis have settled most everywhere in India post-Partition when Punjab more or less was given over to Pakistan. The Sikh community of Punjab has a special history all their own, Sikhism being one of India's modern religions going back 500 years.
A news item had announced a special Baisakhi gathering at the Sri Guru Singh Sabha Gurudwara at Betim and I decided to go listen to some kirtan to chase the blues away…didn't realize how easy it is to make it to the Betim gurudwara from Panaji. After announcing I was going at home I rode out on my Blue Angel and parked at the ferry point complex…boarded the ferry and within ten minutes we were across the river Mandovi and at Betim ferry point opposite. A free ride! From there it was just another ten minute walk to the gurudwara.
Like most ornate buildings the Gurdwara Shri Guru Singh Sabha is also a pristine ornate building with the sabha hall on the topmost floor. A consecration stone tablet informs me that the gurudwara was inaugurated by H E Giani Zail Singh, President of India, in the distinguished presence of H E Dr Gopal Singh, Lt Governor of Goa, Daman & Diu on 18th day of December, 1986. It was almost 12.30 pm by the time I got there in the noonday heat but leaving my footwear at an entrance room against a token I waded through some cool water and climbed up the circular stairway found to the large sabha hall where kirtan was already under way. Interesting chandeliers shone above.
One first pays respect right up front where the Guru Sahib Granth or holy Sikh scripture book is placed beneath lustrous shimmering cloth under a canopy and then finds some space to sit on the white sheet-covered floor carpeting along with Sikh community folk, women and children one side, men the other side. The special gathering was also Khalsa Sajna Diwas and a "gurbani kirtan samagam" was organised featuring Bhai Sahib Onkar Singh Ji Unawale and Kavishari Jatha Bhai Saab Jaspal Singh Ji Mahnekher. Some of the final renderings of the Sikh gurbani are more or less comprehensible and one intuitively appreciated the lyrical rendering about the need to be dedicated to the truth (truth is God), equality of people (no caste observation), compassion, service of community, spiritual progress. Reading up Sikh history is fascinating beginning with founder of Sikhism Guru Nanak in the 1400s preaching the Sikh faith…concluding with the last and 10th Guru Gobind Singh.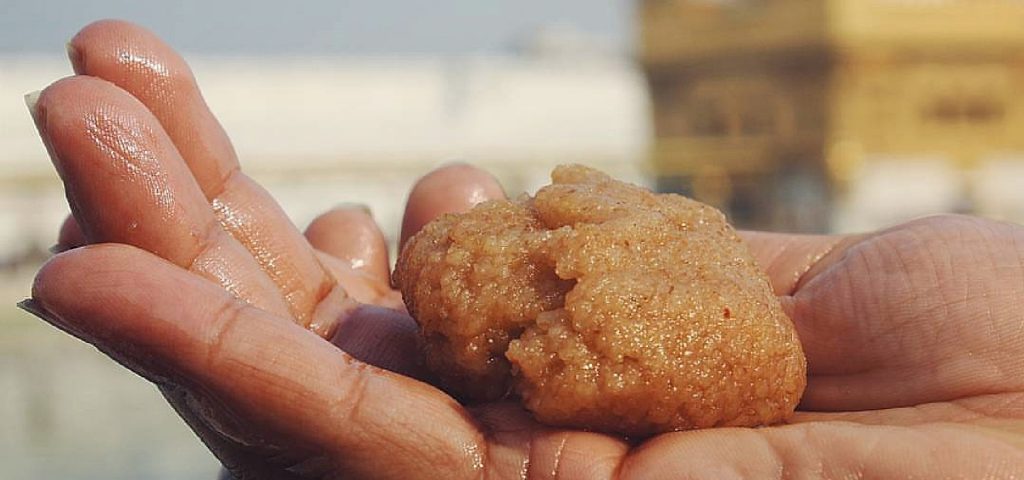 From what I've gathered the emphasis in Sikhism is on the oneness of God and Guru Granth Sahib is always to be found in a gurudwara. One of the Guru Granth Sahib teachings is "Be satisfied with what God gives you; tell your mind not to complain uselessly." There is much more of course and personally I like the kar seva bit a lot! That is, you may take a walk, go to the kitchen-langar (dining hall) area where you will find women and men doing voluntary work…sweeping, swabbing, washing, making roti dough, rolling out roti by the hundreds and so on. That's how hundreds and thousands eat at a gurudwara langar on Sundays or special days.
TO stay with my Betim gurudwara adventure I must say it was a most rewarding one. Upon arrival everyone is served a mysteriously flavoured sweetish-tart buttermilk to cool down, followed by leafy pockets of hot jalebi to snack on. Everyone engaged in kar seva (voluntary jobs around the gurudwara) is looked after kindly by volunteers doing the rounds, offering a glass of lassi or bits of coconut prasad…of course everyone takes turns to go up to the sabha room to imbibe the kirtan and recitals of the Sikh stories of valour. It all got over by 3 pm or so and it's an experience like no other to join everyone in collecting stainless steel thali, a glass, and sitting down at seating arrangements on the floor or at the few tables for seniors.
The service begins with "prasadi" roti which one accepts with both hands thankfully (the roti has a flavour like no other roti I've eaten, even if the odd one may be uncooked through or cooked to blackish edges), somebody else comes with the kala chana-paneer sabzi (flavourful and utterly delicious), the pakodi kadi has a most aromatic, thick gravy, to be scooped up with bits of roti and relished, there's also jeera rice. And sweet dish is usually a deliciously mildly sweet rice kheer with golden raisins to be savoured leisurely…lunch as leisurely as you wish. Someone pours water in your glass. You may say "Sat Sri Akal" in thanksgiving for the meal! Mostly folk eat in quiet mindfulness and there're some fun scenarios if some protesting kids refuse to be "pataoed" into eating roti-sabzi…and so it went.
You may volunteer to help serve or wash up if you wish but there's no dearth of volunteers. After the late lunch I hung around a bit chatting and then collected my footwear and walked to the Betim ferry point to catch the return ferry back to Panaji and home sweet home with my mind buzzing with thoughts about whether I am better off being a Hindu or a Sikh! Does Sikhism offer a far simpler lifestyle to imbibe and practice, offering so much more which is immaterial?
AS for the langar concept I'm all for community meals served freely (although they are never quite as freely as one may get the impression, most folk I know donate in cash or in kind and someone is always dispensing generosity to whatever extent they can or is required on a principle of no want, no waste). I have memories of my old hometown of Penang in Malaysia, where apart from Sikh gurudwara there are Buddhist monasteries with vegetarian canteens attached serving whoever who drops by with wholesome, nutritious meals and snacks — not for free but at absurdly nominal cost.
I'm convinced this is the way to go for all homes of any divine dispensation, they would do well and win a lot of goodwill if they hosted such free or nominally priced canteens for their own people as also outsiders in search of an honest meal in town or village! It's the best way to ameliorate the curse of hunger for food in any country — do good for the larger cause of moral and spiritual growth in the best sense of the word, no?
I also rather like the greeting of Sat Sri Akal, what does it mean? Well, in Gurumukhi it is a call of victory often used as a greeting by Sikhs and Punjabis…in the second half of the Sikh clarion call given by 10th guru, Guru Gobind Singh, "Bole So Nihal" and "Sat Sri Akal" were uttered by way of blessings by those seeking divine truth in God…ask a Sikh friend of yours or do some homework to understand Sikhism as a lifestyle to respect, cherish and imbibe.
For many reasons I find I have always got along with friends from the Sikh community! Maybe I will go along more often to the Betim gurudwara whenever I'm feeling out of sorts to listen to some more of the Guru Granth Sahib advisories on how to live my life without too much fussing…considering how quickly life is over!
Guru Granth Sahib Quotes…
"All beings and creatures, wealth and property belong to Him. O Nanak, it is so difficult to describe and contemplate Him."
"The counterfeit coins are not put into the Treasury; they do not obtain the Blessed Vision of the Lord-Guru."
"They all call themselves virtuous, but I have no virtue at all."
"The Master's Name is Priceless; no one knows its value."
"The jewel of spiritual wisdom was placed within the universe."
"He Himself created and adorned the Universe, and He Himself contemplates it. Some are counterfeit, and some are genuine. He Himself is the Appraiser."
"Those who have gathered Truth, speak Truth; they apply the Touch-stone of Truth."
"Like the mad dog running around in all directions, the greedy person, unaware, consumes everything, edible and non-edible alike. Engrossed in the intoxication of sexual desire and anger, people wander through reincarnation over and over again."
"From the True One alone comes Truth."
"I stand tall; You are my Strength. I know that You are mine. Inside of all, and outside of all, You are our Self-sufficient Father. O Father, I do not know – how can I know Your Way?"
"I am a sacrifice, a sacrifice to You. I meditate on You continually. The village was in ruins, but You have re-populated it. I am a sacrifice to You."
"I am devoted, dedicated, a sacrifice to Your Name."