Glimpses of Panaji By-polls at Tonca junction: Polling started off soon after 7am with fair queuing up at Dhempe college…CSIF police standing guard everywhere in the area; a bit of tete-e-tete going on outside polling booth; Kishori Ambe at 82 years is still conscious of her duty because she's from a freedom fighter's family; a tense situation arose at Dempobhat when a resident complained of being threatened if she stepped out of her home to cast her vote…soon Congress' Babu Kavlekar and Taleigao MLA Jennifer Monserrate were there to verify complaints, reassure voters, call the Election Flying Squad; later Dempobhat residents who suffer for want of piped water were to be seen cleaning up the lone well here to source water
BY TARA NARAYAN
E-DAY dawned finally on an unsavoury steaming summer day on May 19, 2019. Both Saturday and Sunday were declared public holidays when even the General Post Office remained closed for business. The only business of the day was elections for the Panaji constituency by-elections — who will step into the footwear or sandals of the late Manohar Parrikar? Four candidates were up for election and the hectic campaigning had been going on for a week — when Sunday came, it was all quiet out on the streets of Panaji with CISF police at every polling station to keep a watch, help or run interference if anything untoward happened.
Funny, Panaji has a resident population of over 114,759 but only 22,482 residents turned up to vote — 8,119 male voters and 8,799 voters! Say 75.25%. It adds up to a total of 16,918 votes. Not many folk care about democracy even in capital city Panaji, you will say, but where were the other voters? It was summer time and school holidays season, so quite a few of Panaji's wealthy residents were abroad holidaying. When I asked a friend of mine who was off to Bhutan, "As a Ponjekar aren't you staying to go and cast your vote first?" She replied, "Oh, all this politics business doesn't affect me one way or another so I am not bothered!" She ran off to Bhutan and left me thinking what a monetised world we live in increasingly!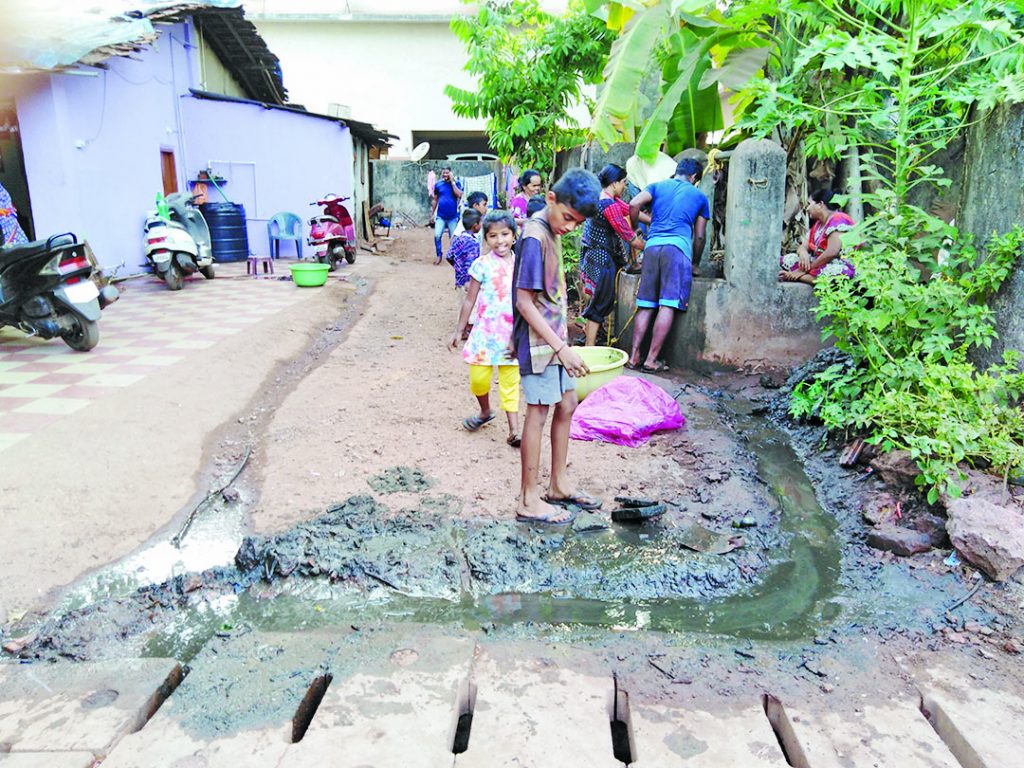 Even politics has become so monetised with our politicians in power making a fine art of blackmailing politicians out of power. All engaged in cutting deals at the cost of the public exchequer and misery of aam aadmi who struggle to eke out a day-to-day living with employers good, bad or ugly. The candidates up for election for the MLA Panaji by-elections were BJP's Sidharth Kuncalienker, Congress' Atanasio Monserrate (better known as Babush), Goa Suraksha Manch's Subhash Velingkar, Aam Aadmi's Valmiki Naik and two other contenders who few paid attention to.
The main four contenders had been campaigning hectically the week preceding E-day, visiting homes on foot or taking to four-wheeler cruising of the streets of Panaji with band-bhaja and Konkani sing-song to attract attention. On E-Day it was like all those seeking power were playing a game of chess by making up their own rules to win by hook or by crook. Not for nothing did the famous actor Amitabh Bachchan once describe the Indian political scenario as cesspool of intrigue and little ethics — a mirror image of the heavily encroached and full of kachrapati St Inez Creek in Panaji.
Most of the help desks near the polling centres were more or less all set by 7 am when polling commenced and to quote one representative, by 10 am about 18% of the voting was done with many seniors preferring to get it over with in the morning hours. At the polling centres of Krishni Bhavan and Dhempe College arrangements were impeccable but the queues not very long because those who lived in the vicinity didn't have any problems.
"More than 82 years old" Kishori Ambe after voting sat a while at the chairs placed outside Dhempe College polling centre station and confided she was sister of freedom fighter Shankar Bhandari, "because of my freedom fighting family I have been voting always and this time I'm voting for a change!" She was accompanied by relative Sadasiv Ambe.
Some Ponjekars had come to vote for old times sake for love of Panaji. Like Abdul Aziz Mulla who exclaimed to a query, "I live in Vasco da Gama now but I lived in Panaji for 27 years from 1990 to 2017… and I've come to get my family in Panaji to come out and vote!" Mainly his sister and her children, "No need to tell them anything, they're educated and know what's good and what's bad, but they need some coaxing and help to get to the polling station, I came from Vasco with my car to help take them to the polling centre…it's done now and we've finished voting safely at the Dhempe College."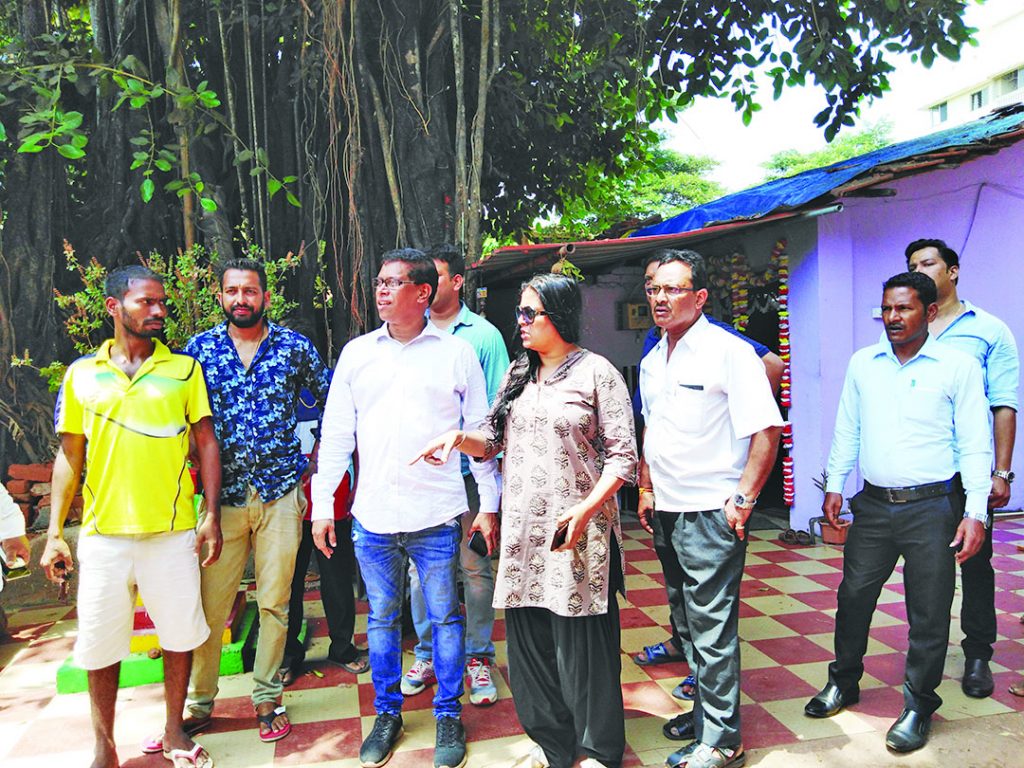 Not all voting experiences were as smooth. At the shanty slum colony of migrant residents at Dhempobhat, Tonca, there was a sudden explosive agitation with some voters (preferring to remain anonymous) complaining that "BJP chamcha" were threatening them to stay at home and not go and vote, saying "if you don't vote we will give `10,000 later!" Soon the word spread that the traditional Congress minority and migrant voters were being threatened and both Congress Taleigao MLA Jennifer Monserrate and Congress' Babu Kavlekar and others were at Dempobhat to find out why voters were not moving out of their homes. Was BJP president Dattaprasad Naik frightening voters? Complaints and accusations were hurled around with the Election Flying Squad coming over to take cognisance of the situation and stop if from further escalation.
It is no longer news that over the years various politicians have wooed the poorer class of voters with cash incentives and various other favours. Ask any of the minority residents in slum locations and many will even say that it is Babush Monserrate who has helped them all along by paying their childrens' school fees. Confided one young woman working in the area, "He paid for my school fees and that is why I am educated today!"
Over the years Manohar Parrikar's BJP has tried to make inroads into this captive slum-based vote banks by supplying water connections, digging drains for drainage of water time flood waters and supplying rations for children, perhaps building toilet blocks for slum dwellers, improving the condition of their shanty homes and so on. But perhaps no one has succeeded in winning as much goodwill as Babush Monseratte! This time around for BJP contender for the Panaji MLA ticket Sidharth Kuncalienker the going has been tough…clearly both parties now have youth or yuva wings engaged in bullying tactics to intimidate poor voters. Call it vote bank politics or carrot and stick politics, it is here to stay.
One Dempobhat woman of the house said, "Yeh politicians bar bar mere ghar mein aate haath jod ke…kyun ke hum dus family members hain. Mera ek beta BJP ko vote deta hai aur doosra beta Congress ko!" Making one wonder if this is a family divided by loyalties with different members voting for rival politicians come election time?
Most voters who had not voted in the morning hours ventured out only after lunch and siesta break to cast their votes. The streets were practically dead beat in the afternoon hours. And so another by-elections is over and now it is left to be seen who steps into Manohar Parrikar's shoes as MLA of Panaji with or without distinction.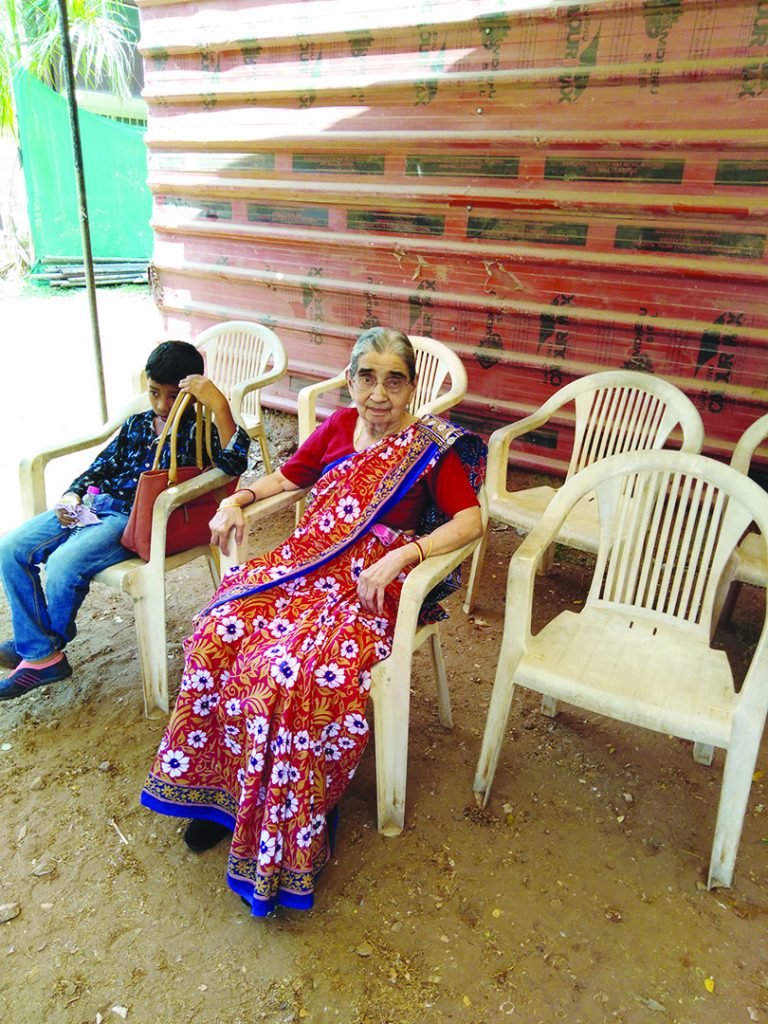 "Don't vote! Go back home and tell your family not to vote… I'll come and give every member of your family `10,000!"
—Shakeelabanoo staying at La Campala Colony
Shakeelabanoo, late 40's, was on her way with her daughter, to cast her vote at about 10 am on Sunday morning. Suddenly, she says, a car stopped in the middle of the road and Congressman Dattaprasad Naik was in it, "He asked me where I was going and I told him. He said don't vote, go and home and tell your family not to vote too and I will come and give each one `10,000!" A joke? Apparently not!
Frightened out of her wits Shakeelabanoo quickly turned back to return home but met someone on a bike she recognized as a Babush Monserrate worker and poured out her anguish. The worker who was a woman told her to sit on her two-wheeler and took her to the Dhempe College to cast her vote. With her testimony going all the way to Delhi, police came home later in the evening to take her report of intimidation and bribing in writing and a complaint has presumably been filed against the BJP president for obstructing a citizen from voting with malafide intentions.
IT'S CONGRESSMAN MONSERRATE FOR PANAJI!
By Our Special Correspondent
IT was what is called a bit of a wow moment! When everyone thought Babush' will win, when everyone thought how could he win! ButBabush' Atanasio Monseratte won on a Thursday, May 23, 2019, when it looked like every Ponjekar keen to know if Babush' had won the Panaji by-polls was out on the streets. By 11 am it was a clear confirmation that BJP candidate Sidharth Kuncalienker lost and Taleigao's strongmanBabush' Atanasio Monserrate won by a lead of 1775 votes. Anxious moments melted away to be replaced by scenes of rowdy jubilation and fireworks going off at various popular Babush haunts in the city.
The victory of one of Goa's most controversial and admired politicians from the minority community proves once again that in politics money and media power are intricately and headily woven together. Nobody was asking a jubilant Mr Monserrate how much this by-poll victory has cost him, at least not yet — even if he cared to answer that one.
Up at Altinho, outside Government Polytechnic College, where the counting for General Elections 2019 was going on, it looked like everyone who had gathered — men and women — were ardent Monseratte-fans awaiting only the Panaji by-election results. Was it going to be Babush or Sidharth, Subhash or Valmiki? It was Babush! Soon Babush Monserrate himself arrived with victory garlands of marigolds around his neck and he was given a glorious welcome outside the college where media people with cameras propped for photographs were ready with questions.
Babush Monserrate has a history of being his own man rather than a political party man and in the light of BJP's triumphant return at the Centre, the question discretely doing the rounds is how long before Babush joins the BJP to save his own skin (given some unsavoury cases filed against him)? Never mind that late BJP Chief Minister Manohar Parrikar had zero qualms offering relief to Congress history-sheeters hopping over to his side to give BJP the magic number required to keep a coalition government going full steam ahead. It is no secret that it was Manohar Parrikar who craftily pulled strings to suit BJP's needs.
Many Babush-fans do see this Panaji by-poll victory as divine justice for a man popularly recognized as "godfather" to the city's growing migrant poor slum-dwellers who make up his vote bank consistently. Is Babush, as friends say, a much changed man today and will do his best to turn a long-suffering neglected Panaji into a truly smart city for its residents? Will the casinos move out of Mandovi in 100 days? Will the St Inez Creek flow clean and fresh anew like it once did through Panaji? Will he provide a government job to every Ponjekar family? How many promises made in the 22-page Congress manifesto will he fulfil and live up to? Whoever said it is easy to be a politician in India!