Chef Edridge Vaz specializes in the Goan and Mediterranean cuisine of Adega Camoens but he is here seen in Taj Exotica's restaurant Sala da Pranzo with all the bakery breads and confections baked for the day in the backdrop. There's comfortable seating here and the solo dish presented is of masala kingfish, a signature dish prepared by Chef Edridge …too generous and after that I could eat little else!
BY TARA NARAYAN
IT'S been a week of eating and trying not to eat too much. This is to say the simmering summer-end heat was killing so I went away for a vacation at the Taj Exotica down south Goa and came away with lots of material and tidbits to share here. Mercifully, coastal south Goa has not changed as much as coastal north Goa has and there I was in front of a just cleaned up Benaulim beach (good work put in by the Taj Exotica staff) — a very rough threatening sea — so nothing to do but wander from restaurant to restaurant exchanging notes with various chefs! A most pleasant time pass while on holiday.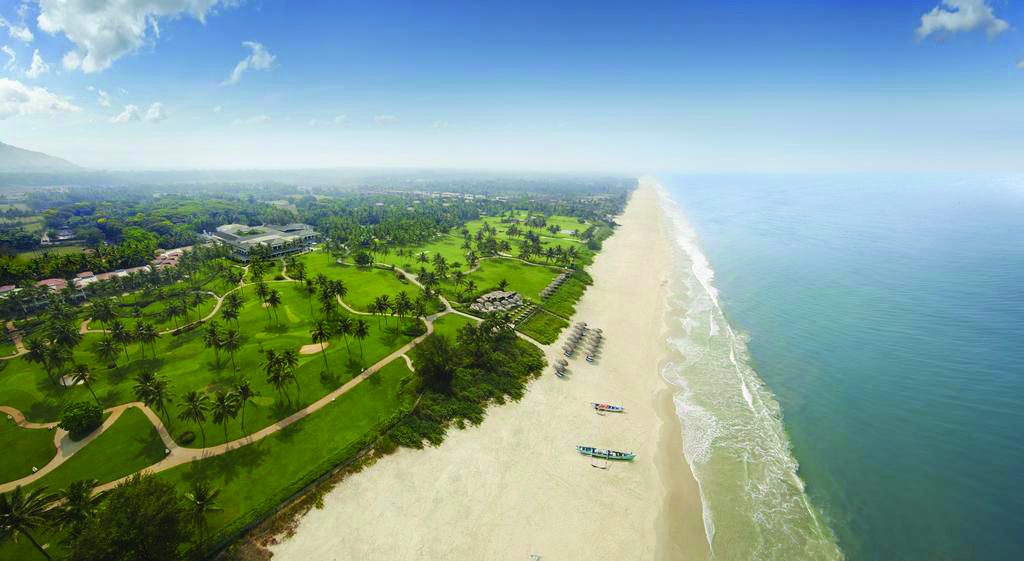 In case you don't know they have the most used dining and bar Sala da Pranzo (where all chefs meet), Goan cuisine restaurant Miguel Arcanjo (if you want your taste buds to pretend to be Goan while in Goa, all the feni cocktails are here and I enjoyed the Portuguese-styled soup caldo verde here one evening, they have these delicate mini red rice sannam too amongst other things to tempt the Goan palate), there's also lobby karaoke bar Adega Camoens), I'm only sorry they have neither an Ayurveda herbal garden nor an Ayurveda cuisine cafeteria attached to the spacious Jiva Ayurveda which is set against the backdrop of a rain forest!
Anyway, since I'm on a tight leash these days in life (in a manner of speaking), I cannot do better than share some interesting tidbits from the Taj Exotica khazana. (See page 14) These include some popular Goan cuisine recipes courtesy Chef Edridge Vaz and Goan feni cocktail recipes courtesy Chef Savio Fernandes, and there's more. They are selected judiciously (I hope) from the hotel's very neatly printed `Activities & Entertainment' leaflets…delivered to in-house guests daily. Enjoy.
Caldo Verdo
(Soup)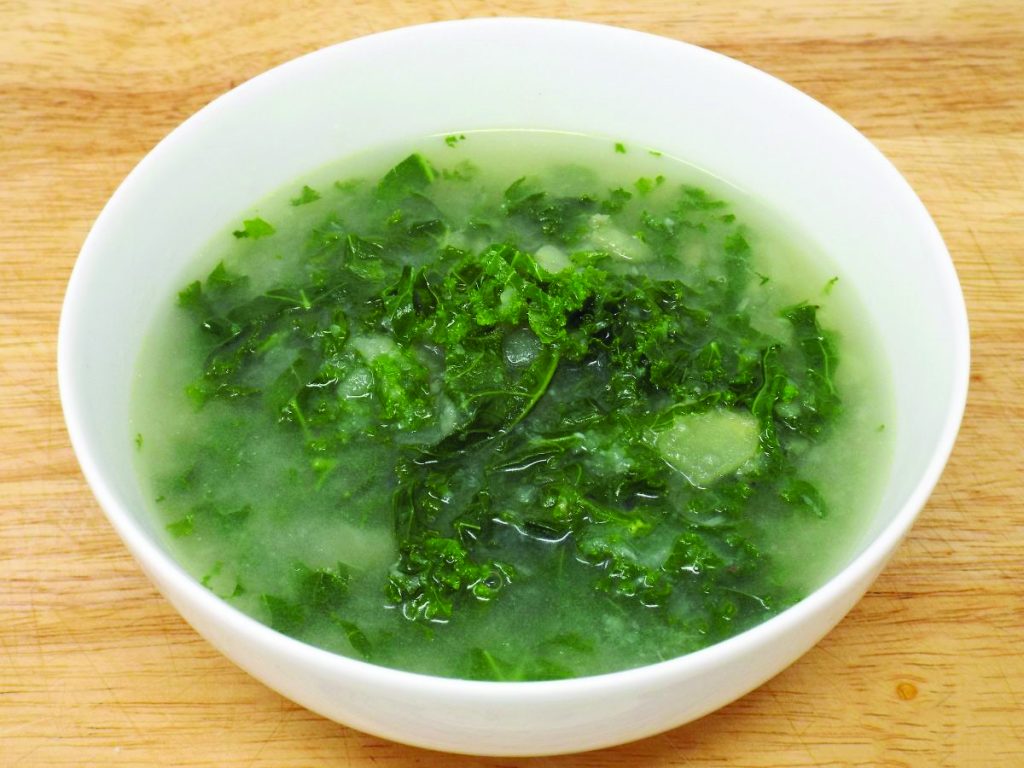 Ingredients: For the potato puree – potato (roughly sliced) – 400g; garlic (chopped) – 15g; onion (sliced) – 40g; salt – 15g; pepper powder – 3g; olive oil – 30ml; water – 800ml. For the garnish – shredded spinach – 40 g; sliced olives – 40g; chopped garlic – 5g; olive oil – 15ml.

Method: For the potato puree – heat oil in a pan and add garlic, onion, sauté, then add water and potato and boil till potato is soft, cool and puree in a blender (this puree is base for the soup).
For the soup – heat olive oil in a pan, add garlic, potato puree and bring to a boil. Put shredded spinach and sliced olives in a deep soup plate. Then take the hot soup and pour it over spinach in plate, drizzle olive oil over it, and serve soup at table.
(Note: Caldo Verdo is a much loved delicate soup of Portuguese vintage style but I like to experiment by using other greens instead of spinach, say radish, mustard or kale greens — but soup is meant to be mildly yet flavourfully delicious, this is its charm! The original Portuguese recipe usually has meaty chouriço.)
Bhindi Sol
(Main Course Recipe)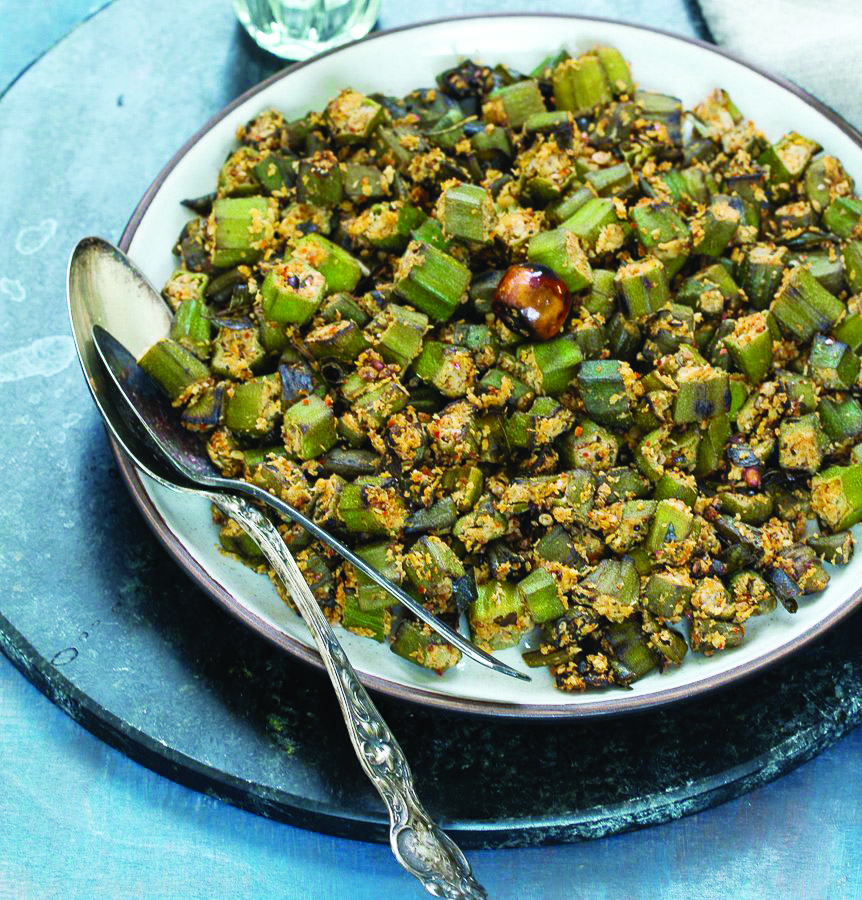 Ingredients: Ladyfingers (bhindi), washed, dried and cut into 1-inch pieces – 200 g; onion, sliced – 100 g; kokum – a few peels; chopped ginger – 1 tsp; mustard seeds – 1tsp; curry leaves – half tsp; green chilly slit – 2-3 nos; grated coconut – quarter cup; turmeric powder – half tsp; salt – to taste; sugar – to taste; oil – 10 ml.
Method: Heat oil in a thick bottom pan, add mustard seeds, once they start to splatter add curry leaves, onion, chilly, turmeric, chopped ginger and sauté for some time. Then add fried lady finger, kokum and sauté for some more time. Now add the grated coconut, salt and sugar to taste and mix thoroughly. Serve hot.
Goan Prawn Curry
(Main Course Recipe)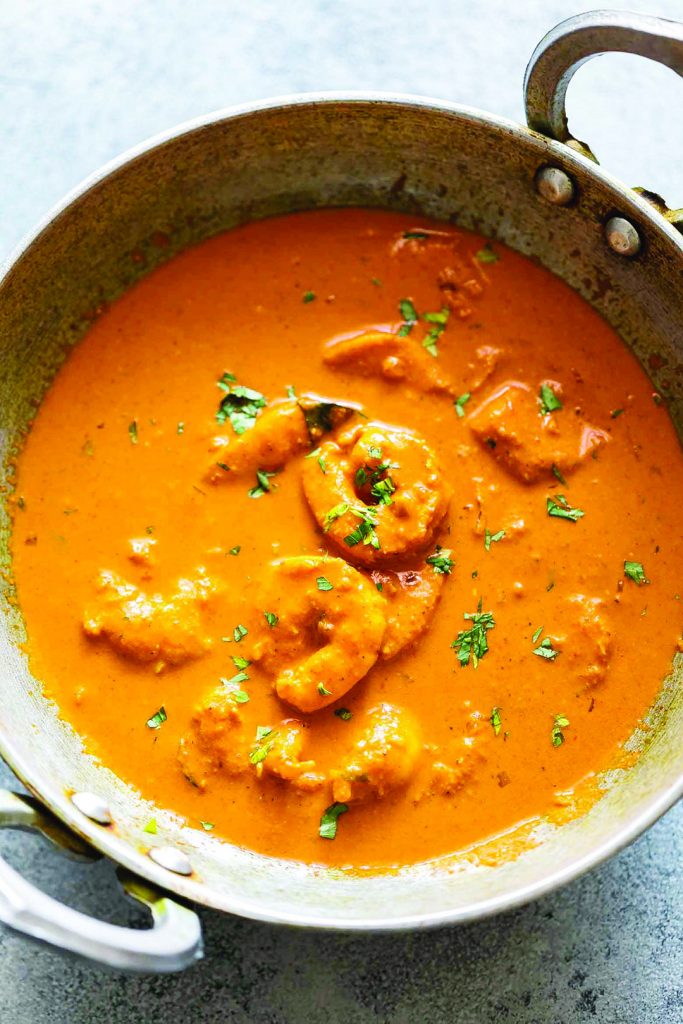 Ingredients: Coconut – 250g (one coconut); red chilly whole – 30g (9 to 12 nos); coriander seeds – 15g; turmeric powder – 2g. cumin seeds—2g; garlic – 15 g. tamarind pulp – 15g; water – 300ml; prawns cleaned – 250g; sliced onion – 20g; green slit chilly (optional) – 2 nos; kokum (optional) – 2g; salt – 5 g to taste; sugar – to taste.
Method: Grind all the ingredients together to a smooth paste using water (dry ingredients only). Transfer paste in a vessel. Add little more water (150 ml). Then add sliced onion and cook till the curry boils. Then add the prawns (marinated with salt), the slit chilly, kokum, and simmer till prawns are cooked. Check for seasoning and serve hot with rice (Goa red boiled rice is an acquired taste, basmati is fine).
Cocktail of the Day at Adega Camoens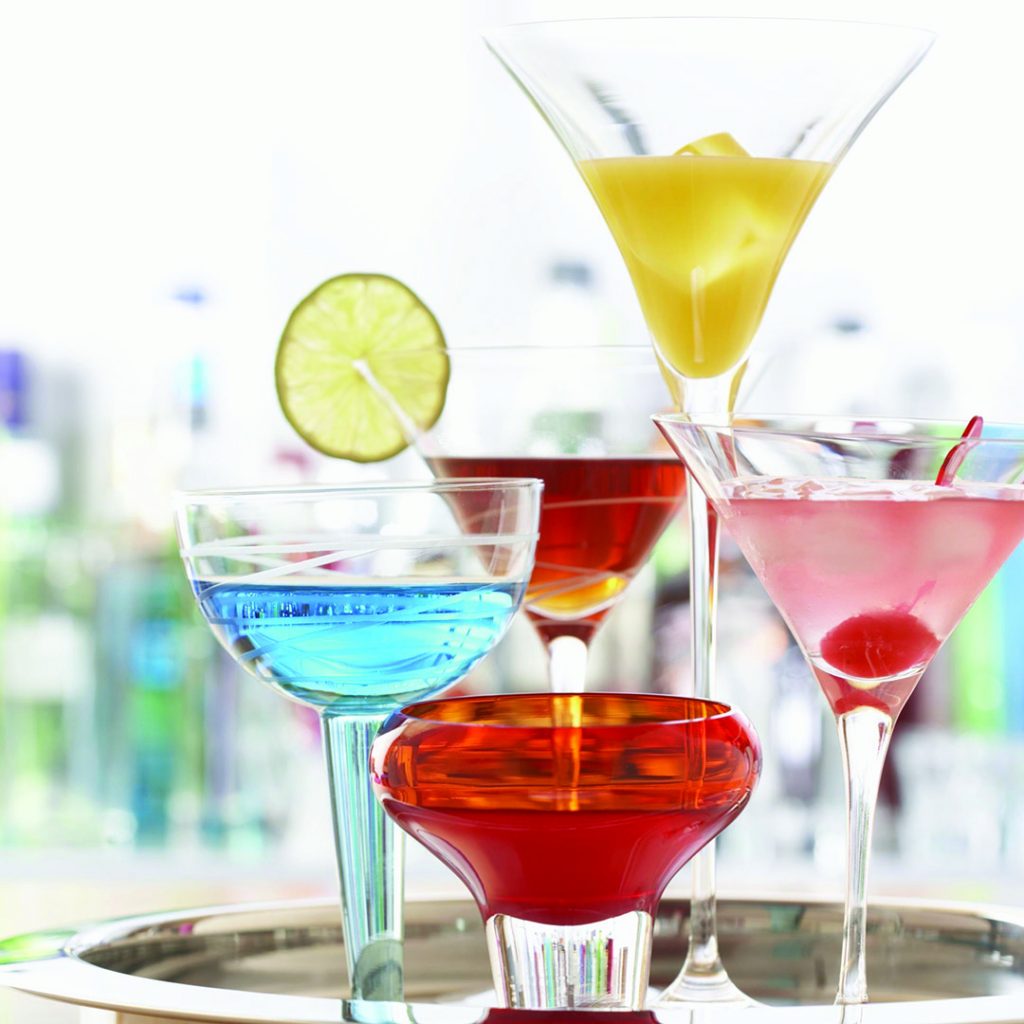 Dekhni
Ingredients: Palm feni – 45ml; ginger ale – to top up; lime juice – 5ml; raspberry syrup – a dash.
Method: Pour all ingredients in a glass with ice and top it up with ginger ale.
Zuari Flow
Ingredients: Cashew feni – 15ml; brandy – 15ml; coffee ice-cream – 1 scoop. Coke – to top up.
Method: Shake the above ingredients with ice and top with chilled coke and ice-cream. Serve in a tall glass.
Cashew Tranquil
Ingredients: Cashew feni – 90ml; cloves – 3 nos; cinnamon – one-inch stick; sugar – 2 tsp.
Method: Mix all the ingredients and let the sugar dissolve. Ignite the mixture and let it burn for some time. Then strain and have it neat.
Cabo da Rama
Ingredients: Coconut feni – 30ml; gin – 15ml; lime cordial – 5ml; raspberry syrup – 5ml.
Method: Mix all the above ingredients in a cocktail shaker and pour in a cocktail glass. Garnish with an olive mounted on a cocktail stick along with a lime slice and serve.