GLIMPSES OF TAJ EXOTICA, BENAULIM: If you are searching for the garden of paradise, find it here! Rain forest, lawns, a collection of grand trees including 1,010 coconut trees! Walking trails for walking or bicycling or buggy rides…take a break by lily ponds, waterfalls, villas ensconced in garden settings with private plunge or infinity pools, don't miss the gorgeous pink frangipani gracing the swimming pool. Then there is the Benaulim beachfront where the red flag is up these days warning everyone not to fool around in the stormy monsoon waters of the Arabian sea!
BY TARA NARAYAN
Discovering a rainforest, the best of abhyanga and some of the finest south Indian food at a five-star resort down south Goa! The Taj Exotica at Benaulim beach, says TARA NARAYAN, has the best garden grounds of them all amongst Goa's five-star resorts, it's also the best serviced!
ACTUALLY, we never think of it but if one is seeking a brief holiday it helps to make it a mid-week affair. Even a two or three day break helps to restore balance of mind and body, heart and soul, in the stir-fry heat of summer time coming to an end and awaiting anxiously for the monsoon rain. At least that's my experience. Never mind that generally speaking I think that most five-star resorts are more or less like one another, offering the kind of luxuries, comforts and services we seek at home on a daily basis but don't measure up to heart's or mind's satisfaction.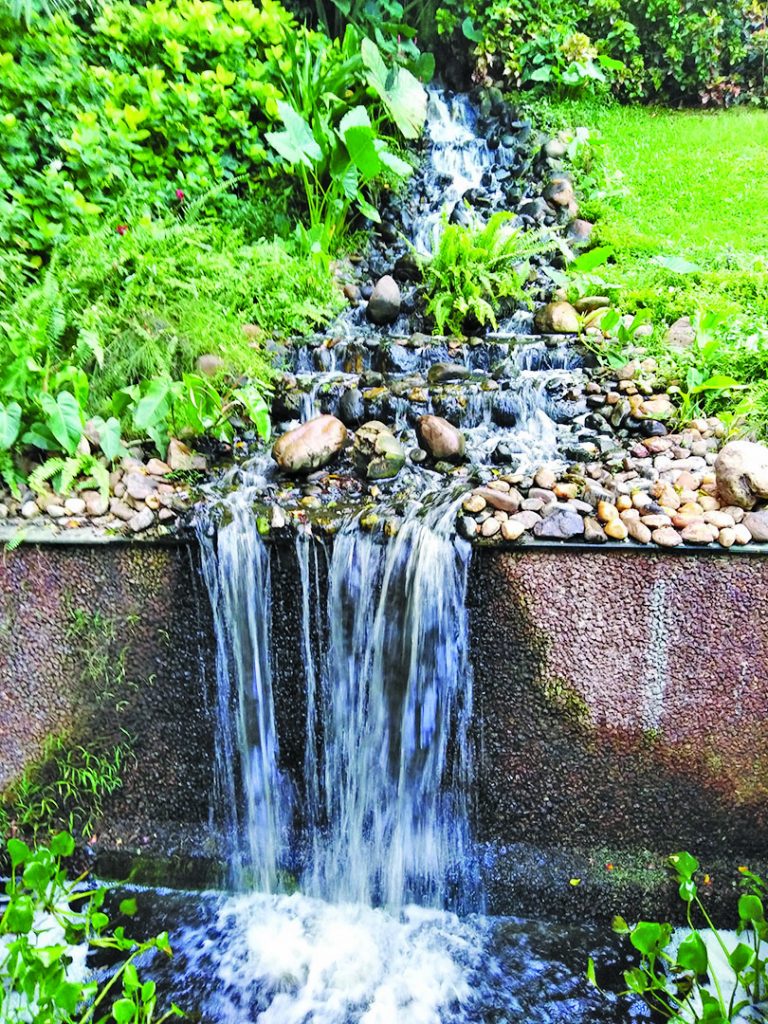 I mean suddenly in the middle of the week what was I doing in super deluxe Villa No 502 at the Taj Exotica at Benaulim beach? Say it was a snap holiday from life's mundane routine and I will say this — driving down south Goa at 10.30 am on a week day is a good decision to take when on the move. It was absolutely clear and smooth cruising all the way down Benaulim and the usual tourist welcome comprised of a most refreshing real limbupani with real limbu bits swirling in my glass…limbu being a good detox fruit my dears! I felt instantly refreshed and cheered up.
The Taj Exotica is quite something, I'd forgotten! I didn't ask but do they have 100 villas set amidst some of the most lush garden grounds I've seen amongst five-star resorts down south Goa and…(sigh)…I forgot to do some things like asking for a dekho of the Presidential Villa in which the late genuinely honourable prime minister of India Atal Bihari Vajpayee stayed while he was on a short visit to Goa. Next time, maybe. But this time around after a long, long time, I was happy to discover that anything Taj Hotels lives up to its reputation of offering some of the most agreeable enjoy in peace experiences.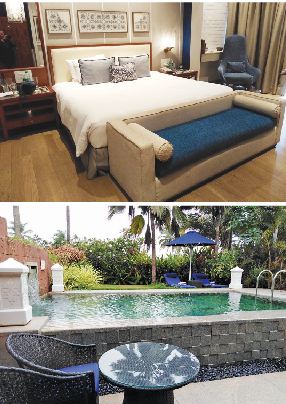 Not that life is not full of ironies anyway. Especially when it comes to khaas aadmi experiences versus aam aadmi experiences! Forgive me my thoughts, for example, I've never felt comfortable wallowing in soft, soft, pristine white cloudy pillows and bed linen some of my friends would cry happily over. Give me a Malabar chattai rolled out on some cool marble floor and I'm happiest at mother earth ground level! There is no understanding of taste of course, be it high-brow or low brow. Queen or king-size soft plush beds are always difficult for me to sleep on and in fact I don't even like beds. My last thought before falling asleep soundly is about couples…how some just grow old gracefully while many concentrate on growing old disgracefully!
But don't let me perturb you with my personal monologue which I am very good at. I must tell you I couldn't resist the exquisitely designed plunge pool awaiting my presence just a few steps outside the villa doors which opened to the Arabian seashore — these only four-feet private plunge pools offer a secluded oasis to time pass and make for a pretty picture.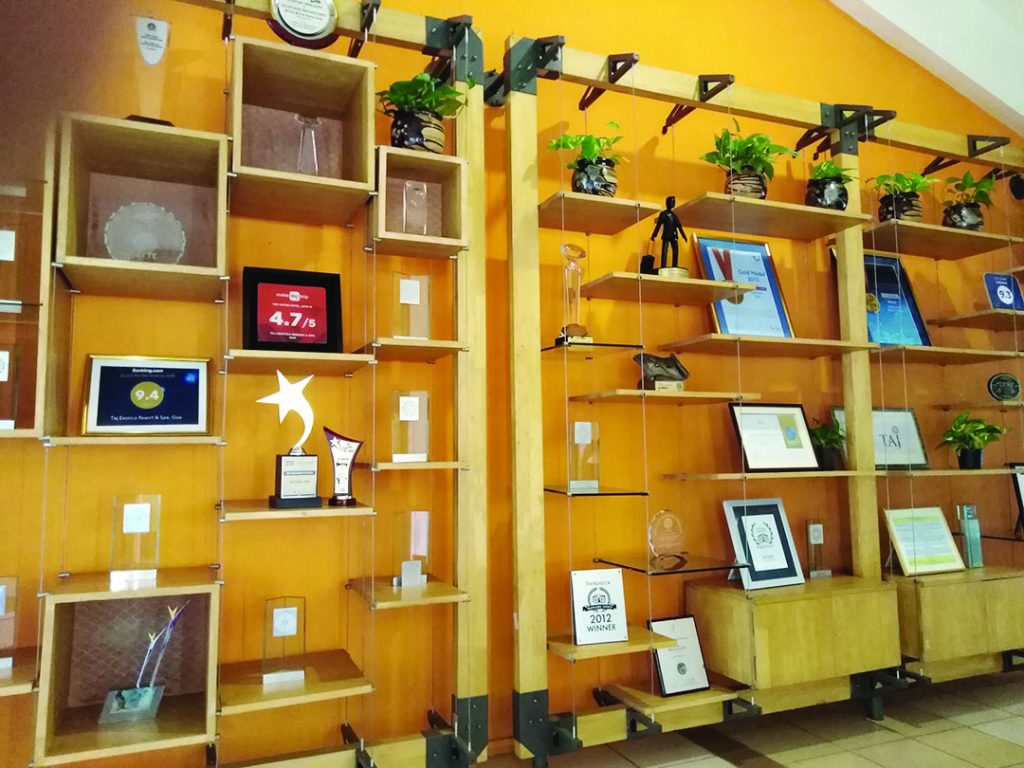 My usual dilemma at a five-star resort is whether to time pass in or out of luxury villa — funny, I always feel more at home outdoors. Think of it like this: here there was no spider, cockroach, glimpse of mouse in flight, lizard in corner eying me, not even an ant to be seen indoors…even after I'd brought an eco-friendly container of some freshly made "dalvada" back to the room and placed them in this gracious wooden cupboard where the hot kettle and mini-fridge for convenience is placed…hey, no little critters after the leftovers right until the next morning when it was time to leave. You will say it's the hallmark of some great housekeeping and so will I!
I'M always overjoyed when the hubby says, "Why don't you go for a walk and leave me in peace to read my book?" Outside there is a wonderland of trees to be enthralled by — they have lots of ornamental and some very desirable trees to look at and I calmed down with the general colourful flowering everywhere the eyes turned to see. Look at golden alamanda, Barbara Cartland pink ixora, original scarlet hibiscus nodding away abundantly, even harshingar and golden champa here and there, a bakul tree dropping its off-white starry flowers just outside the villa…and what do you know, down the spacious lawns leading to Jiva Ayurveda I found a real rudraksha tree, still a baby tree but someday soon it will bloom and offer up rudraksha mala beads I'm sure.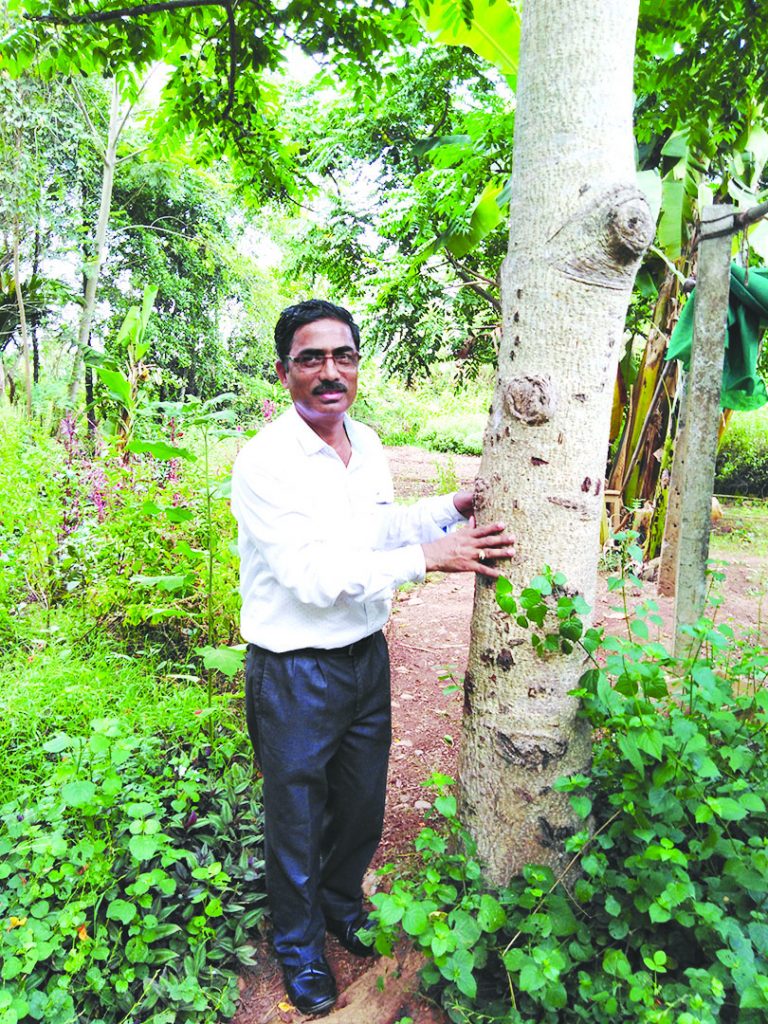 Hope I am around when that happens, I told Dr Girish Kumar from Trivandrum, who is in charge of the Haoma Ayurveda facility at the Taj Exotica here. Please give me a call when their rudraksha tree starts breaking into bloom, it would be some kind of joy to see my first rudraksha tree in bloom…
Dr Girish Kumar is a man of few words as he took stock of my mental and bodily equilibrium and said an Ayurveda massage would do me good. Naturally I agreed and handed over body beautiful to two massage therapists from Manipur, Chom Chom and Rina — after their synchronized general massage with real Ayurveda oils I felt like I'd descended like a goddess from mahadeo's garden of paradise! Seriously, this is a facility which is very well tutored and I was particularly charmed by the foot oil anointing and prayers routine to tranquillise me before the commencement of the 45-minute long massage. Dr Girish Kumar tells me they have been trained by their Ayurveda teacher Dr Shaji Kannoth of Haoma, he is the right person to go and talk to in Bengaluru…if I wanted to pursue any more treatments. Ayurveda has much to offer by way of treating deteriorating conditions of the eyes, but please do enquiries over e-mail first.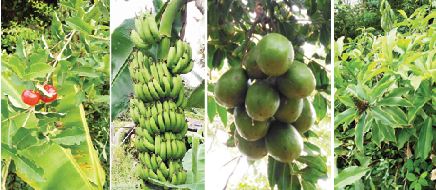 THERE is also a luxurious Jiva Spa facility close by and since I'm always a curiosity cat I drop by even if I'm pretending I'm not interested (don't ask me why, life is complicated). Anyway studying the Jiva Spa Services menu I was lost for a while musing about the signature experiences and a certain Narikela house favourite intrigued…what's that? It's a 45-minute massage therapy using a freshly grated coconut scrub I presumed, the pretty receptionist here gave me a few details. Sorry, by that time I'd decided I'd done enough to deserve a holiday in a five-star resort.
Walking around some more and wondering if those were really kanaka champa trees with their broad leafy foliage…I met the very unassuming, genial Ramchandra Patil, the man in charge of the garden grounds. He confirmed they were indeed kanaka champa trees and they have half-a-dozen of them, they will flower now during the monsoon time and soon fill the air with their scent.
They have some great trees around, I commented, and with a gratified smile he took me around to see his favourite trees (also some of my favourite trees) — they have an original Sita Ashoka tree (not to be confused with the popular tall mast trees of avenue fame), two sandalwood trees, pale creamy "suvarna" champa — and what do you know, an "autograph" tree (belonging to the genus clusia, a perennial evergreen)! Mr Patil plucks a thick green leaf and uses his ball pen to autograph the leaf for me, "the blue ink lettering will turn to white later on." Yes, it did.
Elsewhere the gulmohrs were blooming gloriously given an early morning cleansing pre-monsoon shower, lots of amaltas, queen's flower, various ficus trees, but I'm no expert. The many frangipani in original white and exotic deep red add to the colourful floral tapestry in which the Taj Exotica is set at a leisurely pace…what's there not to be happy about if you're nature's child?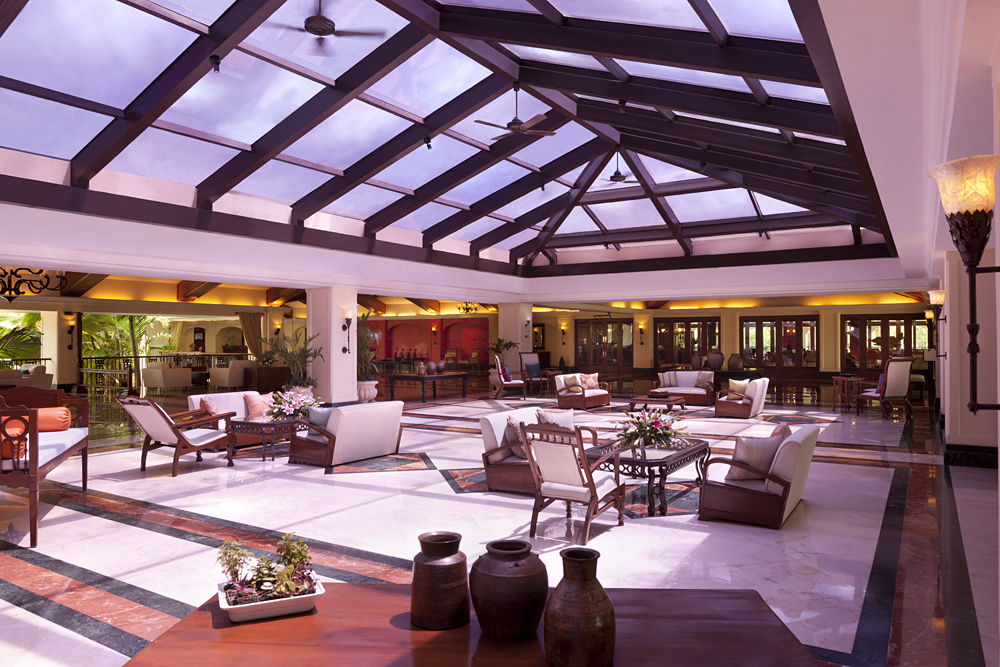 We pass lily ponds (sporting white, pink, red lilies) and when Mr Patil disclosed they do have an organic kitchen garden I expressed an interest in seeing it. We took a partially hidden narrow paved stony track which opened out to a large summer house and there before me were a bounty of fruit trees: kokum, ambade (Indian hog plum), papaya, banana, guava, Barbados cherry, mango, avocado, fig, a passion fruit vine…then the veggies of ladies finger, tomatoes, bitter gourd, lemon, lots of bushy curry leaf, and green Vishnu tulsi, sabja seed basil, Thai basil, Italian sweet basil, spearmint basil …how many kinds of basil are there? All presumably very sacred with precious herbal values I would say (go ask a herbalist).
Ramachandra Patil tells me he is an agriculturist from Kolhapur "although brought up in Goa." He studied agriculture at the Marathawada University and joined the Taj Exotica in 2010, since then he's been developing the garden grounds. He introduced me to young Simanchal Behera who does all the climbing of coconut trees, would I like to see a demonstration of his climbing skills. I hastily said I'll take his word for it, no demos for me please, and thanked Simanchal who'd taken the trouble to split open a tender coconut for me to quench my thirst.
Needless to say I hope one of these days the Taj Exotica's kitchen garden becomes the best showpiece down south Goa amongst the five-star resorts! What's there left to say about my mini holiday on cloud number seven or nine or whatever the number where one strikes it lucky?
They have a very well-equipped Business Centre lined with books to read and open 24 hours. Their offices do a daily Activities & Entertainment leaflet for guests which I'm very impressed by…amongst other interesting and not so interesting tidbits like date, day, weather forecast for beach outings, sunrise/sunset timings, etc, it guides in-house guests about activities lined up for the next 24 hours…restaurants, play areas, swimming pool, even Chef Edridge Vaz' Goan recipes are listed here.
There are state-of-the-art bicycles on hire and these are very popular with the children, there are golf-putting greens, games of all kind to play and films to see, there's a Taj kids centre…go coconut crazy and learn coconut waste arts if you wish! Which reminds me that General Manager Vincent Ramos in his welcome letter to guests notes that they have 1,010 coconut trees dotting their resort grounds.
Ramos, I think, has mastered the fine art of being kind-hearted and on the odd occasion while dining at Sala da Pranzo (breakfast/lunch/dinner buffets are here) he may turn up to tell a friend, "I am singing a song for you!" The otherwise painstaking Ramos (you can't find him easily otherwise) loves singing, so the night we were there he was singing Stevie Wonder's "I just called" and Boyzone's `Words'…somewhere along the way I realized how much his staff loves him.
HEY, one of these days take a break at the Taj Exotica down south and discover the nitty gritty of being happy and full of gratitude for whatever comes dropping down on your lap! I forgot to mention this earlier, but it's worth holidaying at the Taj Exotica just for their pièce de résistance cool rain forest (a whole acre of it attached to one of the lawns, out of a total of 56 acres, 48 acres is devoted to garden and parkland) — and some of the best south Indian food I'm come across in Goa.
My brief fling with mother earth was over too soon and back home I feel like I need another holiday to recover from the one I've just had! This time around I'm recommending mid-week holidays as a good idea for Goans seeking quick escapades of the very best kind down south Goa. You never know how much food for thought you can come back with… and that's what life is all about, isn't it?