Protest: Veteran theatre personality and social activist Girish Karnad attended the protest meeting organised after the assassination of Gauri Lankesh declaring that he was also an urban naxal
BY TARA NARAYAN
ALOT of people are remembering Girish Karnad who passed away recently and paying homage to his democratic and fearless spirit. This time it was Goa's novelist Damodar Mauzo (as president of Dakshinayan Abhiyan) who paid richly deserved tributes at a condolence meeting down south Goa, Margao. If Mauzo commented that the late Girish Karnad was a man of few words as far as resistance and dissent is concerned…an iconic writer who never minded sitting with protestors with a placard in his hand for a just cause; littérateur and businessman Datta Naik praised his literary contribution which has enriched Indian literature,"Karnad was a master playwright, his plays having been translated and staged in Konkani. He was proud of his mother tongue Konkani although he loved to write in Kannada, the language of his karmabhumi Karnataka."
Others who remembered Girish Karnad with warm words were writers, teachers and social activists who included advocate Cleofato Coutinho, Comprade Prasanna Utagi, Satyendra Sonar, Nityanand Naik and others. Dakshinayan Abhiyan decided to send a copy of the condolence resolution to the family of Girish Karnad, mainly his wife Saraswathy Ganapathy, daughter Shalmali Radha and son Raghu Amey who walks in his father's footsteps. The Margao-based organisation has also decided to hold a special seminar next month in July to better detail the creative genius and literary/dramatic contribution of Girish Karnad to India and the world so that he continues to be read and never forgotten in the mists of time!
A RE-INVENTED ICG
THE International Centre Goa or ICG is on the move, re-inventing itself anew! I've always been a fan of the ICG out under the rolling blue sky of the Bambolim plateau on the outskirts of Panaji at Dona Paula. It is one of my favourite places to time pass and feel at home. That is whenever I make time to go out for one of their many outreach programs ranging from public lectures, conferences, seminars and not least of all the musicals and iconic Goa Arts & Literature Festival which celebrates life at its best annually…they also have Difficult Dialogues (an annual conference) and several other similar engagements in collaborations with Goa University or other institutions at home or abroad. Ideas Unleashed is an essay competition for college students from across Goa and there is the ICG Annual Lectures, a book program called Kitaab, much more.
Folk may come and go but few think that this beautiful up hill and down dale complex offers some spacious rooms for a comfy overnight or several overnight stays! Perhaps that's why at a recent meet with hospitality representatives ICG's director, Dr Pushkar, took pains to spread the word that apart from being a cultural place the ICG has a hotel side to it too, so please take note of this and book your guests here. They've recently upgraded 22 of their 40 rooms and these rooms here are old-fashioned spacious affairs with sit-outs (compared to many hole-in-the-wall or dowdy hotels down town!). I think they compare with the best for discerning medium budget travellers (ICG room rates start at more or less `2,500 per night).
Anybody who loves the great outdoors will love hostelling or boarding at the ICG rooms! Even if you're a hot house flower but are looking for some peace and quiet I'd say you need to check out the upgraded facilities at the ICG one of these rainy weekends or weekdays. Perfect place to watch rain falling and singing along with it…the green expanses of garden grounds may be soaked wet but when the sun peeps out…ooooh! Go walking around solo or with family and friends.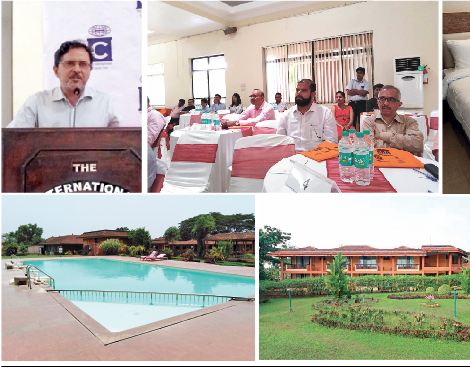 The ICG is just over 20 years and there're really two sides to it. First is its country and cultural image club and the second its accommodation. I remember when I became a member in the early 2000s I used to visit it quite often although in those early days there were shades of gloomy "bhoot bangla" air about it and silence can be quite deafening.
Not anymore though! Not since chairperson Samir Kakodkar took over and director Dr Pushkar arrived to infuse the present with life. It is the place to wrap around your heart during the rains…write a book, use their computer-equipped library, the swimming pool is ideal if you have a mind to learn swimming or just swim away a drizzly evening, plus there's a gymnasium to work out. There aren't too many walking trails but make your own trail to romance with monsoon flowering trees (the gulmohrs and laburnums have finished blooming brilliantly)…my favourite dwarf golden champa is here and a few more trees to look at to seek peace of mind! Trees can be very inspirational if you know what I mean and I'm always hung up on trees.
This is to say the ICG can do with a qualitatively better discovery and more usage — also income, to stay alive and kicking this monsoon! Succumb to the temptation if you want a holiday in town, here's your perfect place — far enough, yet close enough for whatever you have in mind.
On that note it's time to say avjo, poiteverem, selamat datang, au revoir, arrivedecci and vachun yetta here for now! Discover happiness this monsoon for as Sadhguru says happiness first begins from within you — nobody can make you happy if you can't! I like it.
— Mme Butterfly