June 21 is International Day of Yoga: (clockwise from top left) Schoolchildren outside Taleigao Community Hall post-yoga function, receptive to doing yoga, "It's cool to do yoga!"; colorful cotton mats used for doing yoga; Dr Mahesh Verlekar (left) with Dr Datta Bhat (deputy director-AYUSH) were in charge here; Disha School children want to do more yoga because it makes them feel better!
By Our Special Correspondent
IT was the 5th International Day of Yoga on June 21, 2019, and while Prime Minister Narendra Modi & Company were setting the paces stylishly in Ranchi in Jharkand, the rest of the country was engaged in various yogasana in their respective states the country over. And abroad — which included China, and photos of everyone happily chanting "Om!" in the US of A are making the rounds on social media, perhaps raising the question if Donald Trump and biwi-bache too have taken to yoga like ducks to water.
This is to say yoga has certainly caught fire like crazy in the last five years both in India, under the Government of India's official and financial patronage, and abroad. The monsoon has started in Goa but it played truant for a good cause as IDY dawned on a Friday with capital city Panaji on the go with schoolchildren, government department staff and members of the public anxious to get to their respective venues of choice to catch some yoga by the time the mouse clock hit 7 am or at least 8.10 am. Some sessions took off in the evening.
While the main State level yoga function took place at the Taleigao Community Hall attended by Health Minister Vishwajit Rane, there were similar taluka level functions organized across Goa with respective ministers and officials doing the honours of participation or waxing lyrical about why we should all adopt a yogic lifestyle to be healthier human beings.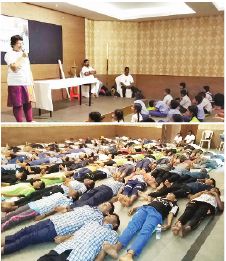 At the Taleigao Community Hall there must have been about 300 participants, most of them schoolchildren from local schools like St Michael's, Rosary and Disha School for special children. Cotton mats had been laid out for comfort in the air-conditioned hall and water bottles distributed. The yoga session cracked off at 7 am and got over by 9.30 am with breakfast snack boxes being distributed to all. While addressing the gathering Vishwajit Rane urged the children to practice yoga for a brighter future, adding, "Yog means union of our body and mind. It puts forth a holistic approach to life. It ensures our personal and social wellbeing. Hence, we must practice it regularly."
The directorate of Sports & Youth Affairs and Directorate of Education had organized this session and present were Secretary for Health J Ashok Kumar (IAS), Secretary for Sports & Youth Affairs Anjali Sehrawat (IAS), directors and senior officials of various departments. The children from six schools who participated in the yoga session were already familiar with the yogasana practice having been initiated into the practice by trained yoga teachers attached to the respective schools.
According to Dr Mahesh Verlekar, who's part of the organizing team, teachers have been handpicked from the various schools and trained, they in turn teach the children. The teaching of yoga is already under way successfully in many schools in Goa. In fact, things are beginning to look rosy finally with Ayush wellness centres coming up in Pernem, Quepem, Sanquelim, Bicholim, Valpoi. An Ayurveda doctor and yoga therapist will be available for consultation at many of these units attached to Primary Health Centres, "We also hope to introduce Panchakarma (detox therapies of Ayurveda) and other therapies later on…we are still in the budding stage!" he added.
Elsewhere at the Gaspar Dias Club at Miramar a lively session was also under way with schoolchildren from various schools including Anjuman, Progress, Bal Bhavan, Government High School, Don Bosco — obviously they were in a merry mood squashed up close to each other in the hall which was not large enough to contain all of them. They were being guided into various yoga postures by teacher Dr Meenal Joshi. Also present were Dr Rajendra Kanekar, Suraj Kanekar, Nita Kakodkar and others.
As a matter of record several students when asked if they were going to practice yoga regularly from now onwards, responded with a sheepish or excited, "Yes!" Nikita from St Michael's School in Taleigao offered, "I find after doing yoga I feel very fit and much refreshed."
Also interestingly, a teacher with Disha School for special children, Veena Shejwalkar, made a noteworthy comment, "At Disha we have 70 students who you can say are intellectually disabled…after we started yoga classes we find it is helping them with their motor co-ordination and other good things are happening. They are more intellectually abled, at least to the best of their ability!" So the bottom-line to yoga as a sound discipline — yielding results to be happy about — is in learning it right, then practicing it as part of one's daily routine…with mind and body, heart and soul engaged in it without distraction.