GANG WARS ARE BACK… a pic making the social media rounds of a chopped-off hand in the Nagali-Taleigao-Ribandar confrontation last week. Stark reality of life in urban Goa.
BY TARA NARAYAN
IF that's the real picture of the chopped off hand in a brutal gang war doing the social media rounds currently – I'm shocked, my dears! Are Taleigao enmities spreading to Santa Cruz, Ribandar, Panaji? Land grabs, booze, drugs, casinos, prostitution…and migrants coming into Goa increasingly thinking it to be the proverbial El Dorado for them to earn a good living on the fringe margins of peddling all the ingredients which go into the making of a time bomb?
Looking at the pic of the sad chopped off hand it hit me that Goa is already a suburb of big-time crime cities like Mumbai and Delhi. And I'm not sure if the government of Chief Minister Pramod Sawant is happy fiddling around with talk of statues, memorials, festivals, celebrations, more and more entertainment. Funny, how all that is so much easier to do than taking tough decisions to rein in goondagiri warfare over the spoils of our so-called progress and development in catering to all the ills of sleaze ball lifestyles. If I may say so!
Where and with whom did all this start and can anyone do anything about it? Nope, said a friend of mine, for that you need good media houses willing to splash the news of the gang wars on their front pages….with names, evidence, politicians, citizens involved in lighting the fires of what is lootmaar politics or at least that's what I call it. For that you need tough politicians who mean government business and not private profiteering business while the sun shines on them, on the side of a police force committed more to the welfare of aam aadmi and not khaas aadmi as it is today.
ARE we living in a Goa where we may no longer live without fear and favour? The Goa of old is gone but many niz Goenkars are waking up now from their Rip Van Winkle snoozing and asking questions! Funny, this week I was listening to former chief of the Rashtriya Seva Sangh (RSS) in Goa, now chief of Goa Suraksha Manch, Subhash Velingkar. At a press conference on Monday evening he detailed Goa's moral degeneration. The GSM, which is made of some stalwart niz Goenkars, old-timers and new-timers, is all set to take on Pramod Sawant's government on the subject of casinos being part of Goa's tourism business.
He wants to know since when did Goa Tourism boast about casinos being a part of the tourism industry in Goa? Onshore casinos may have come as part of hospitality industry during Congress years but off-shore casinos really came seeking safe river waters during Chief Minister Manohar Parrikar's years…booze, drugs, casinos-money laundering, prostitution…all go together to the detriment of a society's morals and happiness.
So many Goan families are suffering trapped in this kind of progress and development in Goa in the last 20 years. In a nutshell, Subhash Velingkar and Co want a White Paper on the removal of casinos from the river Mandovi.
In 2012, said Velingkar, Manohar Parrikar promised a Goa without casinos but after winning 21 seats in Assembly elections he went on to become master of U-turns; 2015 was also the same story of casinos to go but they stayed because too much money is at stake…(sigh)…I wish GSM's Subhashbab had won the last Panaji by-elections!
He comes across as someone from the original school of RSS and I remember him once recounting to me how when they were grooming Manohar Parrikar for his political career they had incurred an expenditure of only `26,000 at that time! "And I have the records to show this!" They thought he would stay strong and faithful to the RSS motto of not succumbing to temptations of the material kind in politics, but with their eventual falling out it was all a story of disillusionment. He betrayed RSS tenets and fell for the temptations of fame and fortune, even getting high command at Nagpur to his way of BJP-thinking to stay in power. Well, the less said the better now I guess. Come to think of it RSS and BJP are like two faces of the same coin — Dr Jekyll and Mr Hyde!
All the same I'm sure that the much touted BJP slogan of sabka saath, sabka vikas is not about promoting casino gambling/money laundering and entertainment culture of a dubious, ad hoc and questionable kind. In this respect if Chief Minister Pramod Sawant doesn't have a mind of his own he is definitely not a true blue RSS man! If he were he would have Goa's larger and long term interests at heart and either legalise casinos, frame rules to protect environment and Goan interests or give the casinos orders to quit the river Mandovi.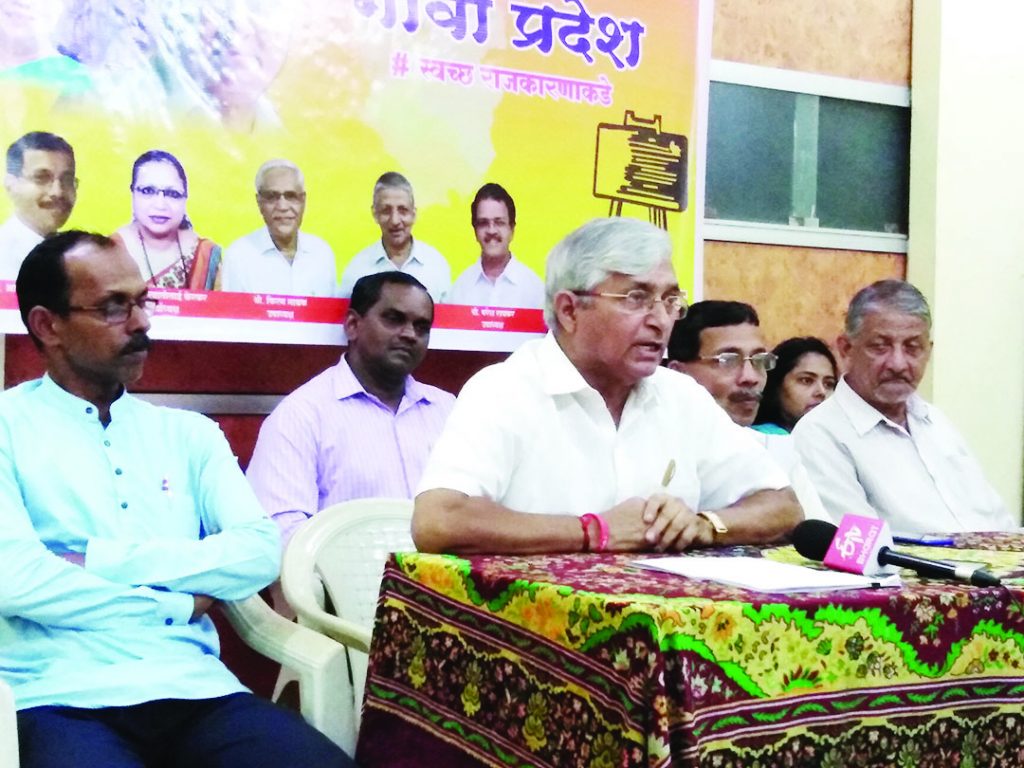 The GSM is all set to agitate against casinos contaminating the lifeline river of Goa, the Mandovi, and the people's moral values, with a morcha. They're demanding a White Paper, Gaming Commissioner, accountability of casino revenue…it should go into now perennially impoverished State coffers instead of the private pockets of political mercenaries. Wish them luck, my dears, and stay away from the political gang wars being fuelled in amchem bhangarachem Goem.
DISMAL MONSOON
IT'S proving to be a dismal monsoon season with hardly any rain to sing inspirational rainy day songs in! Or maybe I'm just suffering from my usual moody discontentment no matter how hard I try to be happy first thing in the morning when I try to rise and shine. Panaji continues to sport piles of garbage everywhere amidst its urban agricultural landscapes here and there and I truly don't understand why even green biodegradable garbage cannot be picked up happily by the CCP powers-that-be — I mean even if this is parked in one of the gardens it will on its own disintegrate into compost by the time monsoon months are over.
Instead there are these piles of disintegrating leafy fronds and other organic residual green garbage sliding down the Dempobhat lane where I try to live in peace, even if there are a few stones sitting on green garbage the garbage removers refuse to touch it! So it's the pools of water and dingy surrounding I'm afraid of, for they make for perfect breeding grounds for mosquito and other critters of the netherland…I fear another bout of malaria courtesy indifferent and lacking in common sense civic housekeeping in my corner of Panaji.
Well, it's no good news all around me, my dears, and I am seeking a ray of sunshine or a silver lining somewhere in the cloudy dhoop-chau sky of July. It's avjo, poitaverem, selamat datang, au revoir, arrivedecci and vachun yetta here for now.
— Mme Butterfly