LANDSLIDE: While expanding the national highway — though warned that cracks had developed in the pipes due to 10 day rains — no precautions were taken, leading to the break-down of pipes
BY RAJAN NARAYAN'
The neglect of the national highway contractor M Venkata Rao Infra Projects Pvt Ltd in shifting pipelines, even when asked to, led to extensive damage after a landslide which parched the throats of Tiswadi and Ponda for over a week!
EVEN in six decades of Liberation the government of Goa has not been able to create an effective leak-proof water supply infrastructure. The latest tragedy caused by the landslide which broke the two main lifelines of water supply to Tiswadi taluka and Ponda is only the latest in a series of disasters. It has now been revealed that the engineers of the Water Supplies Department were aware of cracks in the water pipelines and had plans to replace the old galvanized iron pipelines with steel pipelines. Galvanized pipelines tend to rust very fast and presumably these broke because of the torrential outpour of rain for ten days in Goa.
The sequence of events is that there was a landslide in the small hill at Curti-Kandepar, which came crashing down on the retaining wall of the pipelines which collapsed under the stress. This is the 15th breakdown in the Opa-Panjim pipeline since January this year. Fortunately, most of the other pipeline breaks have been relatively minor and could be repaired within 48 hours at most.
Amongst the most vulnerable points are Banastari, Corlim and Merces where the pipeline passes through remote areas over uneven surfaces. The fundamental fault is that pipelines have not been replaced for over two decades, and some places since Liberation. Whenever there is a breakdown some patchwork is done which holds till the next breakdown. Some years ago a new pipeline was laid from the Seraulim Waterworks to Madgaon after the ancient pipeline kept breaking down. The work was so shoddy that the entire pipeline had to be replaced.
Most of the money for laying more pipelines or even building more reservoirs goes into the pockets of PWD ministers and their cronies. It is hardly a coincidence that till recently the most corrupt of Goa's politicians, Sudin Dhavalikar and Churchill Alemao, held the PWD portfolio which is in charge of supplying drinking water to all parts of Goa. Churchill Alemao diverted much of the money to buying water tanks from Zarak Moulders to supply to voters just before he contested the Lok Sabha elections. Many of the water tanks are still rotting in the go-downs of the PWD department.
The late Chief Minister Manohar Parrikar used to keep promising that Goa will get 24 hours potable water a day by 2018. Unfortunately, we cannot challenge him because he has become dearly departed. Parrikar even claimed that Panjim city is getting eight hours of water a day, the hard ground reality is that Panjim has been getting barely two hours of water a day.
There are many factors responsible for the chronic shortage of water. As we pointed out earlier, the pipelines are so ancient that there are leakages all along the 40 kilometre stretch from Opa to Panjim. So much so by the time the water reaches Panjim, which is at the tail end, there is very little water left.
One would have thought that Sudin Dhavalikar would have been more concerned as the Opa pipeline caters to the whole of Ponda taluka which is his vote bank. But apparently greed overcomes any concern for the voters who have been returning him to power election after election.
The PWD has the biggest budget amongst government departments. Which is why whenever any government is formed it is the most coverted, next only to Town & Country Planning. The PWD is responsible not only for severe shortage of water but all the potholes. There are no roads in Goa anymore, there are only stretches of potholes interspersed by tiny pieces of so called roads. They are deliberately badly laid — partly because kickbacks as much as 20% to 30% have to be paid to the minister and partly because all the PWD engineers have paid huge bribes to get their jobs and they have to recover their investments.
Venkata RAO
The most notorious of the contractors is Venkata Rao who has settled in Goa in a plush bungalow in Dona Paula and gets every contract floated by the Goa State Infrastructure Corporation.
His signature tune is the Miramar-Dona Paula bypass road which broke up into potholes despite being a prestigious concrete job with an investment of Rs 120 crore. Every major government building handed over to the GSIDC — which in turn has contracted it to Venkata Rao — leaks or collapses. An example being the Goa Medical College building where roofs of lecture rooms and false ceilings in the wards have come crashing down.
Venkata Rao is also responsible for the "beastification" of IFFI which is carried out as a ritual every year at huge budgets. Fortunately, the Gujarat party which owns INOX built the multiplex and not Venkata Rao.
The contractors of course cannot be completely blamed as they not only have to give kickbacks but have not received their dues for completed works for more than a year. Which is why new government tenders for repairing roads or undertaking new constructions are not meeting with any response from local contractors.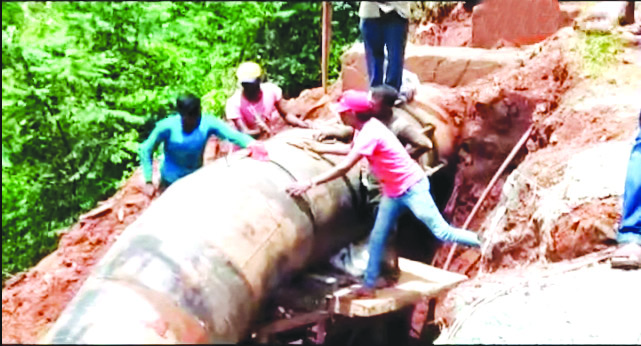 The government's excuse is that it has no money as mining has been suspended and tourism is on the decline. Nobody will answer the question of why the government wasted almost Rs 1,000 crore as doles for mining dependents who are the responsibility of the cash-rich mining industry. If the mining industry made illegal gains of over Rs 35,000 crore surely they can afford to pay truck drivers, mining machinery contractors and barge owners. Greedy mine owners, particularly the non-Goan London-based Vedanta owned by Mittal, who had the wedding of his daughter at Versailles Palace in Paris, and is now threatening to sack 8,000 permanent employees of Sesa Goa which was taken over by the Vedanta Group.
THERE is no crisis management plan or system in the State. When there were torrential rains for over 10 days there was no proper planning to rescue citizens from flooded villages and homes let alone urban areas. The Water Resources Department did not even caution the people of Sattari that Maharashtra was opening all the four gates of the overflowing Tillari dam and the people in Goa should relocate themselves. In the case of villages like Colvale which was flooded for a week there was no contingency plan to evacuate residents. Worse still, there was no protection for transformers and high tension wires.
As Wendell Rodricks complained loudly online, there was no power for 15 hours in Colvale. When he complained to Power Minister Nilesh Cabral the minister sent him a photograph of a drowned transformer, stressing that safety was more important than power and that the transformer could be repaired only after the water subsided — or ill-equipped linesmen would otherwise get electrocuted. In fact, a father-son duo, both electricians with the Electricity Department got electrocuted in Cuncolim.
There is a desperate shortage of linesmen and junior and assistant electrical engineers. Goa cannot find a Goan for the job of chief electrical engineer, so this is a job occupied by a Malayalam lady Ruth Matthew.
REPAIRS
It has been four days since there a landslide took place in Curdi and which destroyed the base on which the mega pipelines supplying water to Panjim and Ponda were severely damaged. The PWD has to reconstruct a concrete four-meter base on which the new steel iron pipelines will be placed instead of the old galvanized pipelines. To save time the 20-metre stretch of new pipeline is being bent in a T-shape to be welded to the existing pipeline, so that the gap is filled and water restored.
The Chief Minister was screaming from the rooftops that water supply would be restored by Monday. As of now there is no sign of the repairs being completed. Fortunately, the sun is shining so that the cement can set.
The Chief Minister has been promising PWD tanker water from the Porvorim reservoir which gets water from Assnora and is not affected by any breakdown. As against the 4,000 people registered with the PWD office at St Inez, less than 500 have received water. The problem is that many buildings do not have sumps into which the PWD can release water. The PWD does not have pumps unlike private water tanker or pipes to connect water tanker to water tanks at ground level. Moreover builders in their greed have not left enough space for the mega PWD water tanks to get to the sump. The parallel is that of builders who put up high-rise structures although the ladders of our fire brigade can go only up three-floors buildings.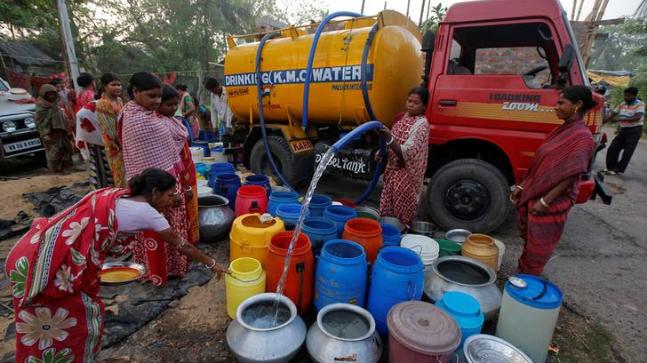 As far as private tankers are concerned they already have committed customers since most of the gated colonies built by land sharks get very little PWD water and are entirely dependent on private water tankers. Which is what allows the Naiks of the world who live in gated colonies to boast on Facebook that they have no problems as they are supplied water even normally by water tankers. Though huge mansions are coming up in the Kadamba Plateau there is no provision for supply of potable water by the PWD. They will probably steal water from the river Mandovi close by.
We used to buy private water tanker water whenever there was a disruption in PWD water supply from a water supplier based in Mala who has access to a tube well. On the first day of the crisis she supplied us with a tanker of water but subsequently we have not been able to contact her. When we established contact finally the next day she told us she was in a crisis herself and had no power to pump water from her tube well.
I asked a leading builder who has over 15,000 flats in Dona Paula. He promised to send me a tanker of water but claimed all private tanker water suppliers had put up their rates to extortionate levels. We have messaged Panjim MLA Babush Monserrate and met him personally. So far as of now there has been no sign of any water arriving. Presumably this is what the BJP means by good corruption free government. If my water is not restored by PWD or water tanker I am planning to move into the Chief Minister's residence or defecate outside if not permitted to use his bathrooms, or that of the Panjim MLA Babush Monserrate who considers himself superman.