POKER MAGIC ABOARD DELTIN CASINO ROYALE: At the press conference (l to r) Barney Trouble, Sinead McManus (PRO), Naveen Goyal (of Adda52), Cathy Zao of WPT and Business Head of Poker at Delta Corp Manish J Adnani clue media people about the third edition of World Poker Tournament 2019
By Tara Narayan
ORE food for thought this week. I decided nobody is too old to go to casinos once in a way so I went and spent an evening aboard Jaydev Modi's Casino Royale last week! I've got nothing against casinos because good, bad or ugly, the rest of the world has accepted them and good governments make rules which casinos have to observe and they better observe them or else. Unfortunately, in our perennially developing and progressing poor country laws and rules are broken constantly and therein lies the rub.
I dare say casinos exploit women but maybe one could also see it like this – they train young men and women (here they are mostly from the North Eastern states, mostly from Manipur I think), the women are more suited to be anchor hostesses at the various gaming tables, and presumably they earn good money as are also taken care of vis-à-vis accommodation and transportation. Otherwise why would these young women work voluntarily in casinos just to be ogled at by men (and women!) who are the main gamblers at the gaming tables? Young women are more decorative or easy on the eye (contradict me if you like) but perhaps because they come from places where they innately know how to keep cool and be patience – especially when male gamblers become tiresome vis-à-vis their wins or losses. It can't be an easy job that young women do in the gaming business.
 The casino business is turning into an industry and growing by 20% to 25% in India currently. Casino revenue has replaced mining revenue and a bankrupt government of Goa is not going to push around the casinos too much. This is to say I'm changing my view on casinos and not only because the food aboard casinos or at least aboard Jaydev Mody's grandmother of all casinos floating on the river Mandovi — Casino Royale — is superlatively good. I actually enjoyed my fresh lemon-spiked gin tonic and some of the snacks and for once the vegetable biryani was superlative (hard to find superb vegetarian biryani in town).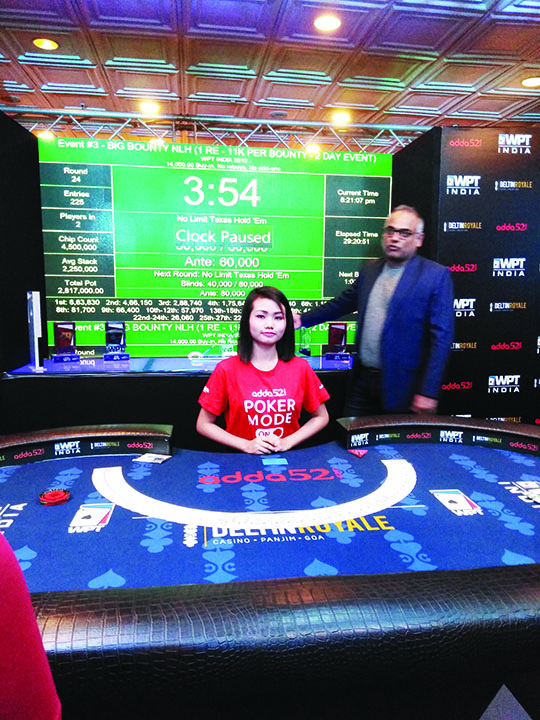 Let me begin at the beginning. The lovely Sinead McManus (Irish of course) had sent in an invite for media people to come and have a look at the third edition of the World Poker Tournament (WPT) which it was hosting Oct 15 to 21, 2919. The invite was idling on the computer with nobody in the office expressing a desire to go – so rather than let it go waste at the last minute I decided I wasn't too old to go find out what the game of poker was all about. Say I was curious. Say there's something about the word "poker" which appeals and presumably the lovely description of being "poker-faced" originates from it…poker-faced is one of my favorite phrases in the English language. From the sound and looks of it poker is a perfectly serious game of cards and what the Deltin Casino Royale was hosting is the biggest national live poker tournament in league with Adda52.com — the most successful online poker game in the country run by CEO Navin Goyal.
Gamers take their poker games seriously and the utterly non-flamboyant Navin Goyal, who was around, educated me a bit about poker. First of all it's a cards game but it is a mind game too, you need to know your cards as well as be able to think ahead strategically (poker is not like  roulette or slot machine which are purely luck games). I asked him a bit about himself and he said he is a Dehra Doon born and bred boy although based in Delhi, he has a passion for poker, "It's a form of excitement and lifestyle in which you can learn about life, the game teaches the contrast between stillness and stagnation. A kind of spirituality for me I guess! Playing poker over the years you learn to be calm, because so much money is at stake. I play for entertainment only now…" He is a maths and statistics student and is happily married, two children.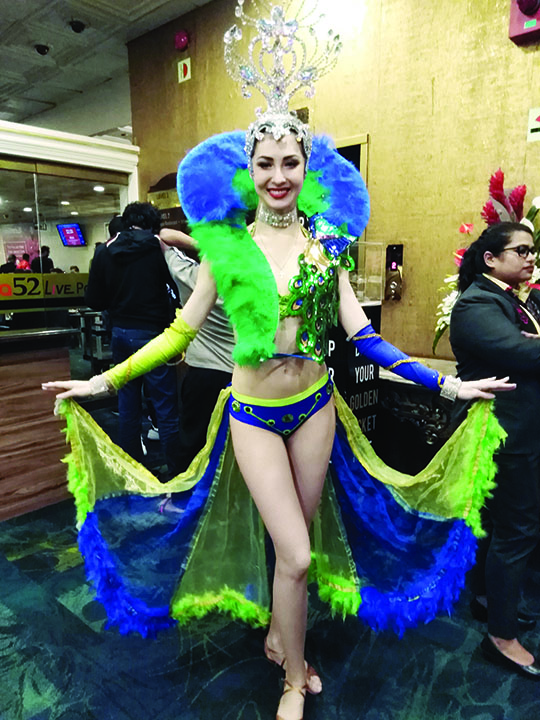 FROM the sound of it there's a paradigm shift going on in how today's gen next thinks. Possibly they don't fancy sitting in 9am to 5pm offices in mundane jobs for years on end to earn a slow grinding living! They've got good education and want to live more interesting lifestyles than their parents did…preferring to hone their skills playing say professional poker in poker tournaments baited with big prize money, it…er…if they win a jackpot it enables them to relax and enjoy life for extended periods doing whatever else they like.
The 3rd World Poker tournament aboard the Casino Royale was about winning from a prize pool of a whopping `3.25 crore for the main event, it's said to be the largest "guarantee for a single event in the country." Women poker players? There were a few stunning women poker players around and one of them, Minissha Lamba, is a noted Hindi films and small screen star, she's on her way to becoming quite a celebrity poker player and loves to come to Goa. I said hello to her and she's confided to begin one needs money to play poker, but yes, the cards game keeps her mind alive, "many women abroad play poker and one must grant it the respect given to bridge, don't women play bridge and have their all-women bridge parties in big cities?"
 I was introduced to Katrina Solomon  and asked her about her combo of lovely, dusky complexion and statuesque figure, and she smiled, "it's courtesy a Ukrainian father and Bangladesh mother!" She was busy with a casino shoot and for more information on the game of poker she directed me to Manish Adnani, (Business Head-Poker for Deltin Corp). After the poker tournament press conference was over Manish Adnani, a gregarious fellow, was happy to sit and chat a bit to guide some misguided media folk about poker and casinos in general!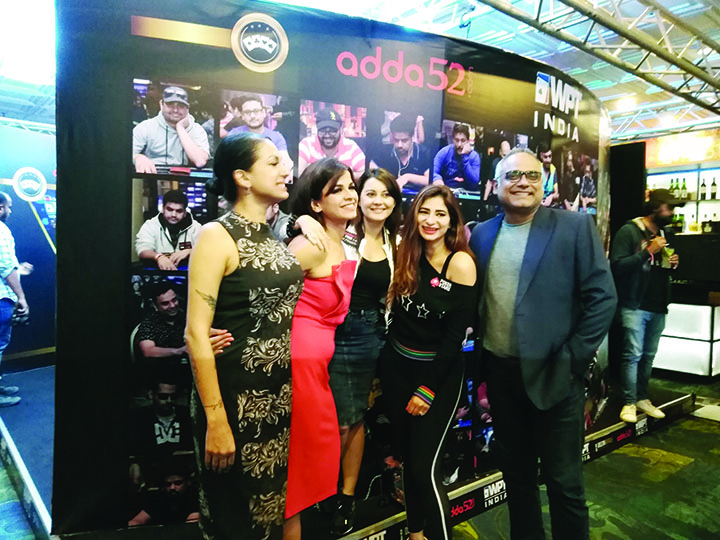 LAST year they got something like 697 entries for the WPT for corpus prize money of `3.8 crore, "a winner may get anything from `68 to `69 lakh win!" So the game of poker is attracting serious attention and India has some world poker champs like Nikunj Jhunjhunwala, go read him up. Seasoned and experienced poker player himself, Manish Adnani confirmed that 40% of poker players are under 30 years of age, "I was 31 when I started playing poker, I'm now 47 and have learned a lot about life…how to read people, when to stand down, poker is a game which can teach you the value of life!" Poker actually originated in France but it's the USA Texas version which is more internationally played.
He added, participants in the WPT pay a fee of `55,000 to participate and observe rules. They play from 3pm to 12.40 midnight and after that return to their hotels to rest and recreate, "Hey, I have a 22 years old son who is not interested in poker games but my 19 years old daughter is!" There is "a spoilt side of life" to all this but WPT ethics are strictly observed. It goes without saying that those who gamble must learn to get up and go when they win, "not carry on to lose it all! One must set one's limits, I always say set a limit to how much to lose…"
Casino Royale is perhaps the largest and best maintained casino on the river Mandovi. While wandering around the various gaming sections I noticed that those coming from south India gaming in the general section were crazy about a game called Andar Bahar, a dozen odd group of young men from Bengalaru were ordering free snacks and enjoying Andar Bahar. Manish explained, "game works on pure luck but it's a money spinner for us on the casino!" There's nothing to it but a line drawn between "inside and outside" and a neutral space, whoever gets the last queen or king andar or bahar wins or something like that…must play it the next time I visit Casino Royale.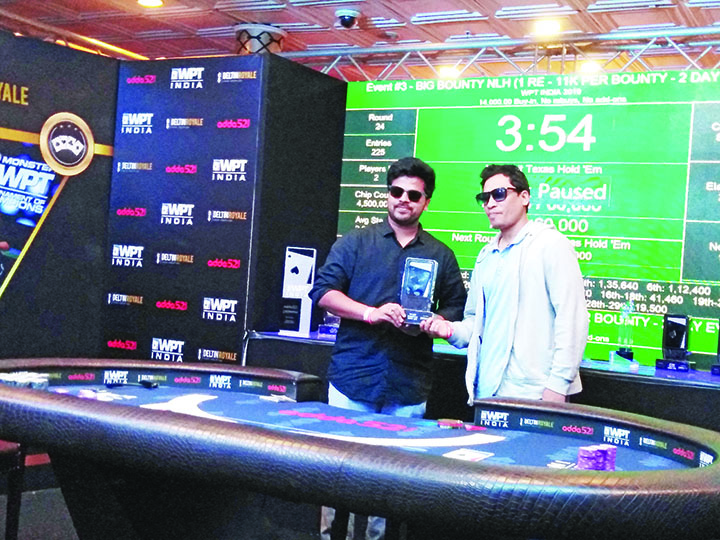 WHICH reminds me with some nostalgia that once upon a time when I got married late in life the hubby used to take me casino gambling on my birthday and I would sort of doll up and go spend `5,000 and lose `5,000… nowadays he doesn't take me anywhere. Those days when you got a win the slot machines used to go into a rushing tinkling sound and give one a high! Nowadays you have to insert hundred rupee notes into the slot machines and that's quite boring. Sinead McManus (Deltin Corp's PR consultant) tells me a woman may happily spend a night gaming at the casino with a mere `1,000, "Order some snacks, a drink, and sit at the slot machines hoping for a win. It was a great stress-buster for me at one time!"
I did ask Manish Adnani about the talk of moving the casinos out of river Mandovi and he said, it will take some time and unlikely to happen until the Mopa Airport comes up, "The Aguada bay area is not practical and in any case the Goa government will have to take a call on that, we hope for the best." Some media folk decided to hang around while I decided to take an early boat back to Panaji, an absolutely smooth ride despite the bad weather earlier that day. Looking into the dark swirling muscular waters of the river Mandovi waters at night can make one shiver a little!
Back at the Transport Desk outside I told the surly guy there that Natasha (Deltin PRO) had assured me a drop back home at Tonca…he tells me to go out and wait, but it didn't work out for even their cabbies on call want long drop fares! I hung around, waited in the drizzle of rain by the kerbside of the road, refusing to pay `2,000 to go home to Tonca… mercifully friends Rajesh and Rajeshree Ghadge recognized me and gave me a lift home in their car. A not-so-anxious husband said, "You should have taken me with you! Who told you to go off alone!"
I promised him the next time I'll take him with me! Good news or bad news: The casinos are here to stay in Goa and the river Mandovi for the time being. It is too much revenue for the government of Pramod Sawant to dismiss cursorily, his government is bankrupt even if it is not acting like it is bankrupt. Casino revenue — whatever it is — has replaced mining revenue. Work out the difference if you can. As for me I wish my parents had taught me to play poker while I was growing up! Is it too late to learn now?
Note: Media folk got a complimentary pink band (worth `8,000) but there are also other bands on sale starting at `2,500 with differing value for money, in the economical category the footfall is very high and a bitchy friend with me commented, "too much cattle class visiting the casinos these days! Indian tourists no longer want to go on Goan cruise ride boats, they're crazy about the casinos and love to pose with the three-quarter naked Ukrainian models doing the rounds on board the casino!"
So a question arises, how much is Goan tourism dependent on casino tourism nowadays? Funny, I had a Foster's plastic pet water bottle in hand when I left, having picked it up for I was so thirsty, and what do you know? The watchman at the casino entrance saw it in my hand and insisted on taking it away from me. I'll put it in my bag, I protested, but he said, no, no, give it to him. May be he thought I would throw the empty bottle into the river (presumably because that's what most Indian casino visitors do) and he has been trained into the virtues of being eco-friendly!