At the three-day Vibrant Goa business exposition Chief Minister Dr Pramod Sawant inaugurated the event, alongside Health Minister Vishwajeet Rane and IT Minister Jennifer Monserrate and other VIP visitors from abroad and India, at Dr Shyama Prasad Mukherjee Indoor Stadium on Oct 17, 2019
By Pankajbala R Patel
IT was real refreshing change! For the first time ever there were no pet plastic bottles of water to be seen anywhere at the Vibrant Goa Expo. Even delegates' registration cards came minus plastic covers! For a moment one savored the moment of delight for it means there's light at the end of the tunnel vis-à-vis the evil of single use plastics. Single use plastics are a mountainous menace but the little bit of news about Vibrant Goa more or less saying goodbye plastics is like a bit of fresh new Goa on the move in the right direction.
Of course there were these big Kingfisher pet plastic bottles propped up at water stations at the venue but alongside were very practical glass bottles for participants and visitors to fill with water to quench their thirst. Congratulations to whoever managed this bit of eco-friendliness! Vibrant Goa literature too came along in very nice cloth bags and all delegates and media people got one of them, and anybody else who asked for them.
In fact, there were quite a few "clean, green and safe planet" technologies on exhibit. For example, look up EPEE or environment protection through engineered products like fiber reinforced polymer doors, passive fire protection systems and bio-digester toilets from the EP Kamat Group. Susbio with its sewage, effluent, water, biogas and rain water harvesting systems was there as also YIMBY which apart from a host of eco-friendly cutlery (some of it edible!) now offer terracotta composting systems (can be simpler and more economically priced for domestic use though).
If you want to be eco-friendly (and who doesn't these days?) there're Mayuri and Mandar Bhate's Cotapia series of areca nut tableware – full, half, quarter, dessert plates, dip-curry bowls, spoons. Can serve hot or cold food in them, "splinter resistant, 0% chemical, 0% toxins and 0% bleach" goes the copy. Reportedly areca or betal nut sheaths are stiff and sturdy enough to craft into leak proof tableware for kitchen and dining use as also other practical purposes. Another material being used for eco-friendly tableware is sugar cane fiber, said to be very strong. There were paper, jute, canvas bags on exhibit in plenty, made by the Dabolim Mahila Paper Bag Masters group promoted by Goa MLA Mauvin Godinho (Minister of Transport, Panchayat, Housing, Protocol and Legislative Affairs).
Everyone wants a second home in Goa but one couldn't help the feeling that however well-organized and impressive Vibrant Goa Global Expo & Summit 2019 out at the Dr Shyama Prasad Mukherjee Indoor Stadium over Oct 17-18-20, 2019, was, it is hard to say if Goa will really become a vibrating business hub any day soon. It cannot be stressed anew that Goa has a long way to go before it can boast of a first-class primary infrastructure of reliable power, water, public road services, sewage pipelines, constructions offering solar, water harvesting and natural daylight inputs.

Even at the three-day expo in the midst of redefining Goan business the power lines went bust with some stormy weather outside and everyone from abroad had to sweat it out or leave. Given a primary infrastructure which sings would not require a government to roll out any red carpet to woo business, given private initiative business would vibrate automatically! Here it is like a lot of dressing up is required to woo hard-headed businessmen and women to set up shop in Goa with single-window clearances, but no guarantee of anything else by way of primary infrastructure in place.
Goa is an expensive place even if it enjoys the highest per capita income – most folk prefer to holiday, party, enjoy the beaches and hospitality luxuries, breathe in the air in Goa which is still unpolluted majorly as in the big cities. Goa continues to be an ajeeb place where the local natives don't want any big time polluting industrial development and progress as in expansion of coal transportation, a second airport at the cost of a plateau full of trees, fauna and flora, or for that matter one casino after another to chain block and choke the river waters of the Mandovi.
Other than this there was much to take an interest in at the Vibrant Goa expo. At the valedictory session on Oct 18 Union Minister for Commerce & Industry Piyush Goyal was very positive about making Goa the finest destination for it has the environment and infrastructure required for prosperity for the Goan and national economy. He appreciated the IT and Pharma sector in the state while Goa Chief Minister Dr Pramod Sawant announced that 17 MOUs were signed during the summit. Awards were given to various taluka, Bardez for being the best taluka, Bardez and Tiswadi shared best utilities award, Mormugao won for water and sanitation, Canacona for agricultural activities, and there were also awards for industrial growth (Salcete) and the industries department of north Goa and south Goa districts were awarded for remarkable infrastructure progress in health, education and communications sectors.
Doing the rounds of the exposition it was a pleasure to meet the legendary food scientist Dr Gopalan of the Defence Food Research Laboratory in Mysuru. He told me that in fact the famous MTR company took food processing technology from them and hence we have the world-renowned MTR foods. They also supply special category of foods for the defence forces. DFRL only makes the technology available but on show were some amazing items in ready to eat and ready to reconstitute foods – including Tamzin, a tamarind munch for sea sickness relief! It was on offer for tasting and won this correspondent's heart the most. The DFRL-technology produce is exhaustingly large…preserved and flavored chapaties, spiced potato paratha, green leafy vegetable chapaties/parathas, read to eat soy chunks, stabilized green chutney, soy shrikhand, chana nibbles, vacuum fried fruit and vegetable chips, osmosis dehydrated fruit of mango, orange, amla, etc and much, much more. How about ready to eat dry fruit bars and biscuits, ready to eat appetizers, munches and jam, instant food mixes, soups, beverages (aloe passion drink, brahmi drink, aloe vera juice) – an astounding range. On could do a book on the technological revolution launched by DFRL which the larger food industry should adopt to usher in a change for the better in the country's food industry and consumers' eating habits.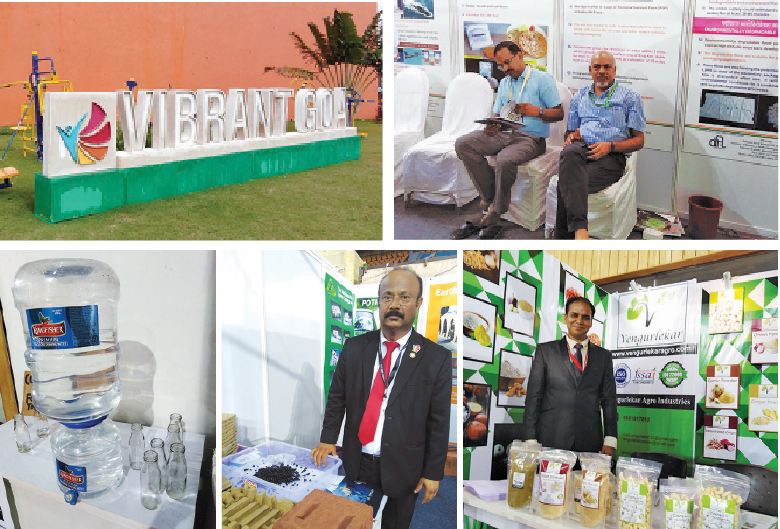 There was much to cheer about on the food and beverages front at the Vibrant Goa expo. Finally, Goa has come of age with the much in demand extra virgin coconut oil (check out Mogo which claims to have Asia's first pharma hygiene extra virgin coconut oil plant in Goa). Pure coconut oil extracted from fresh coconut kernel is a super food for cooking, to use as a cosmetic and massage oil, as also something called mouth pulling (which health fanatics engage in for dental health).
Balashree Foods is famous for their Blue Fort basmati rice in super XXL, regular, premium, rozana, mongra, dubar, tibar, sella and more. When it comes to rice it's best to stick to local and Indian rice! The company representative here was generously giving away samples of their basmati to visitors. Elsewhere one could see there's quite a bit of "ghar ke jaisi chai" ready-mixes (not really ghar ke jaisi chai if you asking me), but from the looks of it a lot of consumers are switching over to organic jaggery powder or cubes for the sweet something in their life.
Kolhapur-based Canestar has won awards and certificates testifying to the goodness of their organic jaggery. Jaggery is preferable to refined white sugar which is now shunned everywhere in the enlightened world. Jaggery offers a lot of health benefits but even your grandmother can tell you this. Tushar Kamat is the man behind Canestar jaggery produce which has been winning several merit awards.
Vengurlekar Agro Industries (Kolhapur based) is making a name for their various dehydrated vegetable and fruit powders – really top notch quality. Director Vivek Vengurlekar here was only too happy to let you taste their range of dehydrated produce ranging from onion powder to onion flakes, garlic powder, ginger powder, vegetables and fruits. Dehydrated veggies are very useful for quick use and cut down on time in the preparation of meals, there is less loss of nutritional values too.
The Namaste Chai folk are coming out with a new range of herbal teas — lavender and chamomile, kokum, hibiscus/rose petal/tulsi, ginger/tulsi/green tea and turmeric/ginger/cinnamon. The market is now flooding with health-conscious teas but as a leaflet here informs us the world's most consumed beverage is tea and nothing else, "An average Indian drinks two cups of tea every day." The Indian tea market is valued at $30 billion while the world tea market at $50 billion. Needless to add it was British time colonialism which got Indians addicted to the refreshing act of drinking tea. But now the character and personality of tea is stretching out into more desirable herbal teas for connoisseurs of tea! Drink them hot, cool or at room temperature for topping up on energy.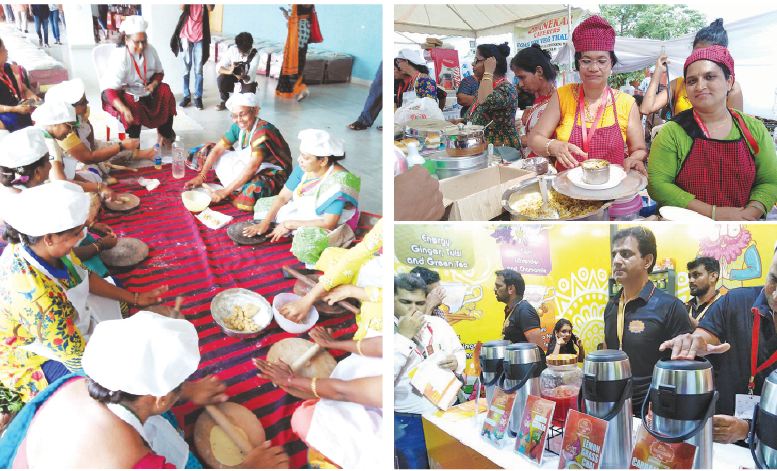 Veteran hospitality and party people Tito's have been around since 1971, playing a pioneering role in turning Goa into an entertainment place extraordinary with their night clubs, cafes, music, fashion and foodie events. Judging by their much appreciated quartet of stalls at the Vibrant Goa expo, they are now expanding into select foods – their new range of prettily packaged Tito's Goan cashews and spirits were on display, reportedly they're already out in the market.
Not just food ventures alone, virtually most Goa-based big business houses had taken space to showcase their company be it in shipping or construction, hospitality or hospitals branching out into Ayurveda and Naturopathy retreats…making the Goa Vibrant expo a comprehensive overview of business already doing well in Goa. There's room for more. One of the Goan speakers at the series of Knowledge Summit talks put it in a nutshell if only the government of Goa would listen to her!
Speaking at a session about how Goa can benefit being sandwiched between two big industrialized cities of Mumbai and Bengaleru, Radhika Naik, said whatever business or industry coming into Goa must fit into its green environment reputation — only eco-friendly business should be allowed to set up shop in the small state of Goa, this will add to the state's charm and not subtract from it.
In other words education, IT, fitness and medical services, organic agriculture and appropriate food processing is welcome. Goa is already a hospitality and holiday destination. Goa needs businesses which will not further damage the comparatively healthier environment of the state – and the reason why people think of holiday breaks here. This is something the government should keep in mind primarily while facilitating ease of operation or offering deals to businessmen or businesswomen seeking lucrative futures in Goa!