Union Minister of State for AYUSH inaugurating the 3-day Arogya Mela in Panaji… the mela offered consultations in Ayurveda, Homeopathy, Unani, Siddha healthcare and an overview of traditional medicines market.
By Tara Narayan
THERE was much to learn at the Arogya Fair at the Youth Hostel grounds at Miramar from November 30 to December 1, 2019. There is no doubt about the fact that Union Minister of State for AYUSH Shripad Naik has done his best to make up for the neglected traditional systems of medicine in this country and given a much-needed boost to Ayurveda, Homeopathy, Unani, Siddha and in recent additions Naturopathy and Sowa-Rigpa have also been added on. Most all healthcare systems have their own central councils now for research with one more for yoga and naturopathy. Only Sowa-Rigpa remains a mystery for some time, it's said to be of Tibetan origin.
Post-Prime Minister Narendra Modi's success in putting mega public yoga sessions in the limelight in and out of the country the Ministry of Ayurveda, Yoga & Naturopathy, Unani, Siddha and Homeopathy (AYUSH) in the country and abroad it has become routine now to have health fairs or arogya mela at various destinations around the country to educate lay people about the country's indigenous or native health systems which retreated into the background once mainstream modern Allopathy became popular with its growing infrastructure of doctors and hospitals public and private.
To promote the traditional medicine systems National AYUSH Mission cells have been formed to organize health fairs to remind people that there is something called preventive healthcare if you don't want to end up beneath a surgeon's knife or so speak. Most of the traditional, alternative, complementary systems have much to offer by way of preventive healthcare for chronic if not acute illnesses. The first health fair or mela was held in Delhi in 2001 and later several regional fairs came up.
The Arogya Mela in Panaji last week was organized with the support of the Directorate of Health Services and The Associated Chambers of Commerce & Industry of India (ASSOCHAM). About 30 stalls at the venue showcased a mind-boggling and eye-opening number of products in the alternate traditional medical pharmacopeia, lest we've forgotten! Here were syrups, powders, tablets, capsules, rejuvenating jams, all kinds of high-end beauty soaps, lotions, moisturizers, powders, also interesting equipment manufactured for facilitating treatment like this extremely comfy chair for the popular marmara chikitsa or finger press massage offered by Dr Renuka Yadav, all the way from her Anvi clinic in Morjim. She is an Ayurveda physician (BAMS-Bombay University) offering a gamut of Ayurveda therapies as also government certified Ayurveda courses.
Visitors were only too happy to queue up for apparently very relief giving treatment managed courtesy her two trained staff Vijay and Albert. The feisty Renuka whom I took a shine to is unhappy in the way Ayurveda is transforming into a commercial race or so to speak and quipped to a query, "Ayurveda is a science to be studied, not a product we're selling! We are selling Ayurveda soap and shampoo…and massage makes a joke of a valid science. Who doesn't know that tulsi-kali mirch (basil leaves-black pepper) soothes a bad throat! Ayurveda should be studied in schools so that we may practice it on our own in our homes…" Interesting perspective.
There were yoga classes morning and evening for anyone interested in participating and the most agreeable on the agenda were personal consultations available with Ayurveda, Unani, Siddha practitioners. Long lines of interested visitors (many Kannada speaking residents of Panaji) and school students were to be seen during the three days of the arogya mela. Many queued to discuss their various medical histories and health problems afflicting them at the various Ayurveda, Unani, Siddha sections set up for experts to conduct nadi pariksha (that is pulse study) and listen to the patients before prescribing something which would help them for migraine, joint pains, constant cold-cough, skin diseases – some medicines were given freely, while others could be purchased from one of the pharmaceutical stalls with their range of medicines.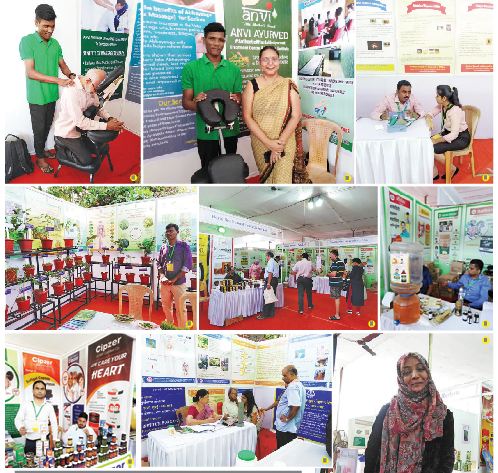 For building immunity there were any number of chywanprash, rejuvenating rasayan and tonics, including gulkhand (rose petal jam for cooling down and blood detox), lots of choices for wild honey (honey is expensive now at Rs400 plus, plus per half kg bottle), lots of cold-cough formulae, cold pressed oils, sherbet of rose, khus, aloe vera, etc. There were hair oils promising healthy, black, strong hair and skin oil capsules with much loved saffron or kesar in it for glowing complexion.
The Vedaan products of Cardiovita, Winsugar, Orthosmile, Speedy Slim, Pilomist Capsule, Panch Ras, Stone Saaf Ras, Brighto Skin and Blood Purifier Ras, Jamun Karela Ras, Honey and Shilajit drew attention because of the reputed names of Hakeem Khursheed Murad and son Dr Ameed Murad (who is also an Allopathy doctor) who received an AYUSH award.
The young Dr Ameed Murad from Bareilly was around and he is all for an integrated medical system where "all pathies are practiced under one roof." He is a mainstream Allopathy doctor but his father who is an Unani hakim is famous and also vice-president of CCRUM-AYUSH, Govt of India. In his experience traditional alternate medicines are oftentimes better for say GI tract problems, generally chronic ailments of the body which may be psychomatic sometimes, "but we don't have a role to play in acute conditions, obviously if surgery is required I would send a patient to a qualified surgeon!" Still, the alternate "pathies" as he calls them, have a valuable role to play in integrated medicine, the AYUSH ministry should look into providing a certified standardized formulae guide. Then perhaps we would not find so much bhopla (pumpkin) instead of amla in popular bestselling immunity tonic jam chywanprash! He also thinks the Indian Medical Council should not be so irrational and illogical on the subject of integrated medical healthcare.
Elsewhere Unani practitioner Dr Nikhat took time off to explain to me, "We don't call ourselves doctors in Unani medicine, but our hakim are no longer, grey bearded serious fellows! For your information Unani system of medicine has its origins in Greece with our studies fundamentally observing Hippocrates texts…it came to India with Moghul rulers. We diagnose an ailment on the basis of such blocks as fire, water, air, earth elements (no, not space as in Ayurveda) and safety of patients is paramount in our prescriptions…we have criteria like nabz and misaj (pulse check and temperament) and urine and stool examination. Misaj is based on four personality types, that is sanguine, biliary, phlegmatic and melancholy aspects…"
From the sound of it Unani is a combo of broad scientific studies as well as an element of philosophy. When I confessed to Dr Nikhat that I am a heart patient she advised me to check out Unani "khameera which is nano-technology based." Then drawing a lot of attention at the health mela was the Siddha free consultations where one learned that Siddha is traditionally exclusive to Tamil Nadu culture. Most of the traditional medical schools have much in common in that the cures are mostly rooted in plant or herbal ingredients. Ayurveda has a much broader canvas inviting a complex amount of learning and co-relating, rooted as it is in various text books of ancient times.
All in all the Arogya Fair or mela exposed visitors to another long lost or dying world of alternate healthcare which is being revived by the AYUSH Ministry. Although one couldn't help noticing that the medicines or products of traditional healthcare also come in bottles of plastic and other eco-unfriendly packaging – as if in imitation of modern medicine packaging! Still it is desirable that we look at our old traditional systems of healthcare with new eyes and without prejudice, giving them their due in preventive healthcare in our day-to-day lifestyles.