CHALO AZAD MAIDAN: Goan veteran fighters express their apprehensions about NRC and CAA taking Indian down to no grief
By Our Special Correspondent
THE anger was palpable. After a long time it was a scene to be seen and appreciated at the historical grounds of Panaji's Azad Maidan on the eve of Goa's Liberation Day on December 18, 2019. The grounds were packed with an estimated 1,000 over Goans from all walks of life to protest against the newly implemented Citizenship (Amendment) Act, 2010 (no longer a bill but an act now). Ever since news about detention camps coming up for citizens who don't qualify as citizens of India under the new CAA started spreading, not just students but people the country over have been in protest mode, a movement gathering momentum also in Goa.
It Goa it seemed as one of the speakers, the much loved and eloquent Dr Oscar Rebello, put it all in a nutshell when he stressed that in India we want a rainbow of colors and not the bloody color of red. Hinting on the fact that the ruling government BJP's favorite saffron color is "pure" but it has turned to "lal raang" to take the country back to Partition's unfinished business or so to speak after 72 years of independence. The good doctor urged the country to look and move forward with faith in the Constitution which is a "pavitra kitaab."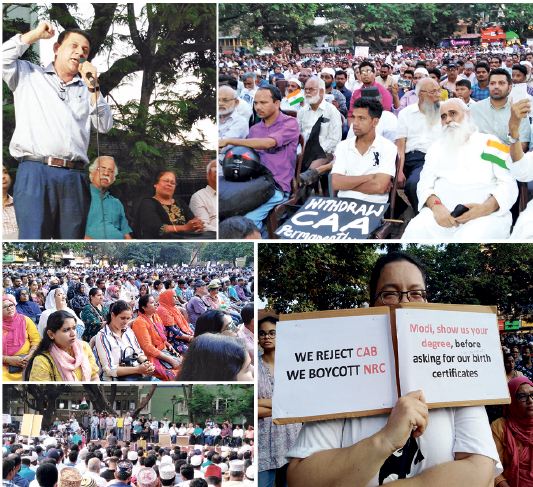 His analogy of a rainbow nation won a lot of applause from the audience as it came across as a very apt analogy, given the fact that the country is coming to a virtual standstill at another crossroads anew. After all, someone commented in a later observation, a rainbow is all about unity in diversity which is enshrined in the cardinal principles of the Indian Constitution written by the much respected Dr Babasaheb Ambedkar.
If the BJP's CAA seeks to disqualify citizens on the basis of religion it insults the country's Constitution which promises equality of citizenship to all Indians regardless of race, color, caste, creed, sex or religion. India swears by a secular Constitution although now in contradiction, the new act CAA diabolically seeks to take away the right of citizenship from minority communities on the basis of religion. The intention has become clear given what has been happening in the country ever since the BJP came to power in 2014.
At the Azad Maidan there was tight security with police force literally surrounding the protesters. Amongst the panel of speakers were eminent Goans including Aravind Bhatikar (retired IAS bureaucrat, credited for leading the protest against CAA in Goa) categorically accusing Prime Minister Narendra Modi and Home Minister Amit Shah as the main culprits behind the subversion of the Constitution. Amongst the vociferous cries filling the venue was one of "Ek do, ek do, Narendra Modi ko fek do!" Also, "Amka naka, amka naka CAA!" Other speakers comprising of Naguesh Karmali (freedom fighter), Claude Alvares, Asif Hussain, Pradeep Padgaonkar, MK Shaikh, Prakash Kamat, Rashida Muzarwar, Elvis Gomes, Rahul Mhambre, Shaikh Muzaffar, Amarnath Panjikar, variously described the Citizens (Amendment) Act and earlier National Register of Citizens, being implemented in Assam, as anti-Constitution, anti-people, anti-Muslim, anti-migrants, anti-tribals, and altogether selectively discriminatory.
One speaker said this country is not made up of fools to be fooled by the evil intentions of the BJP government in power presently. A law like CAA will not only be clearly divisive on communal lines but also bring in a lot of stress and ill-health for those forced to run from pillar to post to get documents to prove their right to citizenship in India (never mind that they were born here as were their parents and grandparents although they have no documents to prove anything). A pertinent question raised was how many more crore the government is going to be spend on chasing its people for proof of citizenship, as it is thousands of crore have been spent to date in a country where there is a dire need to redress far more important issues like a collapsing economy driving many to the fringes of escalating poverty and suicide.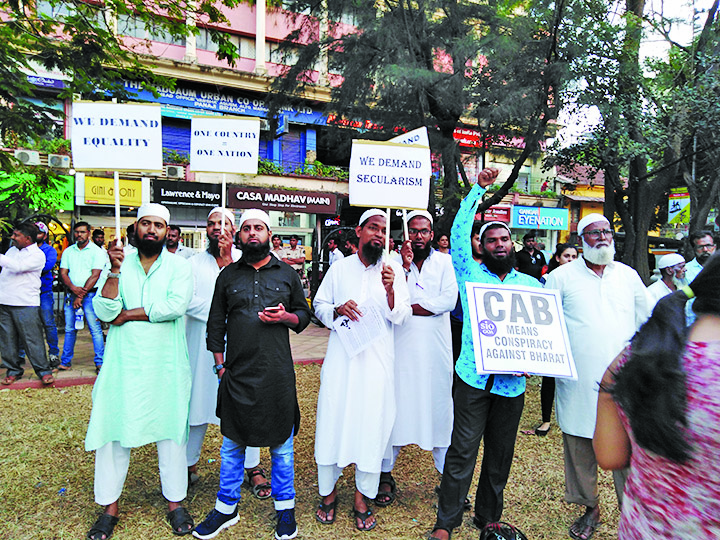 Seeing so many policemen at the venue one speaker appealed to them to be on the side of the people rather than a government not on the side of all its people regardless of which religion they practiced! Valmiki Naik of Aam Aadmi party observed he was a citizen of the country and believed in the Constitution of India, the new CAA is both "anti-Constitution and anti-national" and also according to him "anti-Hindu."
An emotional Walter Lobo quipped that the government took "Bhagwan ka raang to become shaitan!" (Pretending to be divine but now clearly demonic.) He would rather see real efforts being made to clean up temples and rivers instead of getting rid of Muslims, and who knows, Catholics next? The BJP should pay heed to one of Mahatma Gandhiji's favorite songs, "Ishwar allah tere naam, sab ko sanmati de bhagwaan…" He urged the BJP to go please find some "sanmati" and "Satyamev Jayate!" (Truth alone triumphs.)
In conclusion one may say it was a highly spirited meeting full of anguish and in no uncertain terms a declaration of war on a political dispensation hell bent on putting the clock back to undo the perceived wrongs of history, force a stale dream of an exclusive Hindu nation down the throats of citizens who are hapless, their hearts filled with fear and grief. It is anyone's guess at what cost an inclusive peace, prosperity, happiness…will return to the sub-continent again!