Single father Yousef Khan hugging his little dream come true, baby Kabir Khan. Says the Dubai-based music teacher, 'Now my son is my universe and I will be his universe!' He's proud to be a single father, no problem.
BY TARA NARAYAN
Meet Kabir Khan. Born on December 2, 2019, at Dr Kedar's Hospital & Infertility Clinic in Panaji. Not even a month old Kabir Khan is possibly Goa's first IVF surrogate baby, that is gestational surrogate baby… and his proud papa Yusuf Khan had no qualms introducing his newly-born surrogate son to media people at a press conference last week…
IT WAS like something cool. Meet 36-year-old Yousef Khan, the proud papa of gestational surrogate baby Kabir Khan, only 18 days old on the day of the press conference and there was not a yell out of him, as he stayed snuggled in his father's arms. Possibly trying to understand why everyone was fussing over him when he would rather drink his formulae milk from a pretty bottle and snooze in his comfy warm cradle! Reportedly, he is Goa's first naturally born gestational surrogate baby.
Of course questions rained down on beaming father Kabir Khan. I wondered if the proud father just wanted to stir up a hornet's nest of questions, a Pandora's box of questions about the status and conflicts of traditional or conservative parental love (as we have known it from the beginning of the human race) and what's wrong? Are we heading into a world — where we will see more and more single parents and more babies conceived like Kabir Khan or other associated in-vitro fertilization (IVF) methods?
It's worth listening and paying attention to Yousef Khan, in the prime of his life and most humbly and infectiously humble and grateful for whatever gods there be (including 'Santa Claus' Dr Kedar Phadte). For Khan it's a dream come true after 12 years of desperately seeking parenthood. Never mind that there's no mother. He cheerfully says he will be both father and mother to little Kabir and handle all his son's questions as he grows and reiterates over and over again, "I should have got him 12 years ago! I shall be both parents for him and he'll get the best of both worlds"
SINGLE PARENT
HIS take is that it's better to have a single parent who is always there than two parents who're absent, "Let me say my son is the center of my universe and I am the center of his universe for now…loads of love and science made this possible." He argues, "I genuinely love children. I have a lot of love to give, I have been a favorite uncle for my nieces and nephews…Kabir will have 18 cousins!" His Pune-based family is large, "We're a family of six children, all having three or four kids each, my brothers said why you want your own baby, take one of ours!"
But this extremely fighting fit Yousef Khan is his own man, a successful music teacher in Dubai, and in his opinion, "Single fathers are very few, may be six or seven, I want to be a trailblazer, why should marriage be a pre-requisite to be a father, why should anyone be forced to marry to reproduce?" Another disturbing statement (if you read it as disturbing) he says, "I don't have a gene for relationship, but I have a gene for being a parent!" (How is one supposed to read that, is there a relationship gene one wondered with some disquietude?)
But perhaps one must see beyond conventional, conservative parenthood, in a world where a lot is changing between the sexes as they live their independently chosen lifestyles with plenty to share be it emotionally or materially. We are no longer enslaved by the ideas of old like you must have sex, you must get married, you must have children! It is as if the world is changing in the blink of an eye or so to say, the fact is there are many more choices for a younger generation of adults seeking happiness in their life.
Look, Yousef points out reasonably, "I'm just a normal man who wants to be a parent…it's so easy for women! For me I waited anxiously for 12 years for Kabir for there were many failures along the way. And then someone directed me to Dr Kedar in Goa, and he worked this magic for me in the very first try itself!" The good Dr Kedar Padte who had come in late to the press conference, posed for pictures with the doting new father and 18-days old baby, and shared, "There is a 50% failure in IVF babies…"
JUST PERFECT
BUT this time everything just came together perfectly, the donated egg, the surrogate mother, and added Yusuf, "The genes are all mine, my baby is perfect for me!" The thrill of being a single parent brimmed over and was visible for all in the room to see, with some media people happily taking turns to rock baby Kabir in their arms a bit. An awesome moment really although too many questions still crowd the mind.
One cannot help but wonder how this little boy will grow up into an adult world – in which there will be many more surrogate babies like him along with normal babies with both biological parents as we still advocate in marital relationships! Are the IVF methods of conceiving children opening up a brave new world for single men, women, couples unable or not wanting to have biological children of their own? Many of Hindi cinema film stars have gone in for babies courtesy IVF (to name a few there is Karan Johar, Ekta Kapoor, Shah Rukh Khan, Tushar Kapoor, Sohail Khan, Aamir Khan, Sunny Leone, etc) and from the sound of it and not the sound of it alone there're going to be quite a few choices for parenthood in the near future which is already here. If you share a conversation with newly arrived father Yousef Khan, he is papa extraordinary and one feels like keeping track of him or rather his baby Kabir.
According to him single fathers like him are still rare and he would like to promote the idea of single parenthood amongst others, his friends, who're following him on Instagram where he has been posting all his adventures and misadventures in desperately fulfilling his desire to father a baby or child of his own, the response has been overwhelmingly gratifying.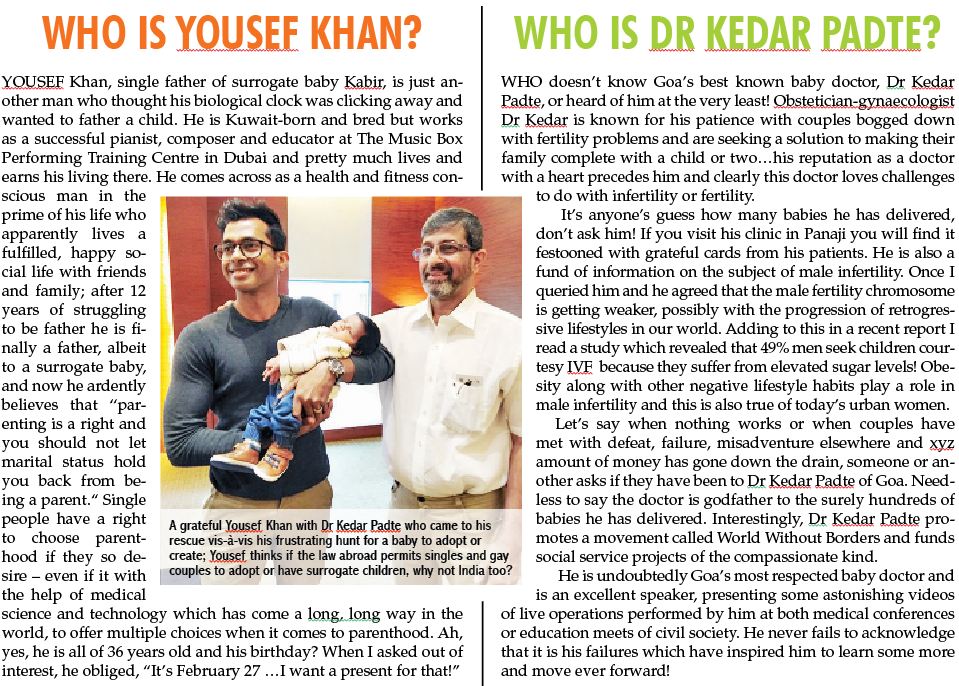 LEGAL TENDER
IS IT legal tender to have what is called a gestational surrogate baby (as opposed to traditional surrogate baby)? Yes, according to Dr Kedar Padte, they have meticulously followed ICMR rules although "we don't have a law, all our documentation is complete." There is nothing to fear. The idea of IVF or "test tube babies" has already been around for a decade and more now and has enabled so many couples to have children.
Now even single parenthood is here to stay, it's already an accepted idea abroad in the countries of the West and in India quite a few couples have gone in for traditional or gestational surrogate babies via options offered – a gestational pregnancy is when a woman's live ova or egg, donated by an agency in the business of preserving fertile female eggs, is brought together in a laboratory petri dish with live semen and if it "catches" an embryo grows which is later implanted in a willing surrogate mother's womb for nine months. Needless to say this is usually a commercial pregnancy and the woman only loans her womb on contractual basis for nine months and is rewarded for it… and what's more, in Kabir's case it was a natural delivery and not a caesarean.
Hey, preservation of female ova and male semen in appropriate cold storage equipment and surrogate wombs for rent are not news anymore, a lot of legal hoopla has been sorted out. So increasingly single men and women, gay or lesbian couples, are permitted to either adopt or have their own children through IVF methods and lead a happy family life with practically nil or inconsequential differences.
To witness one overjoyed single father – Yousef Khan – busy with the needs and demands of his Christmas gift of a child of his own is something special. One of the rude questions raining down on him was, how much did it cost him to create his son Kabir? He replied that Kabir doesn't have to worry, his papa is well able to provide for his creature comforts. Another question: What if something happens to you? He replied, "My brother will take care of Kabir if anything happens to me." But nothing is going to happen to him or his son except good things!
I couldn't resist asking this amazing man point blank, "Is this because you are gay?" He replied, No, he is not gay. This is quite simply because he just wants to shower love on a child of his own. Let's say he already has a cat called Wasabi, a dog called Tofu, and there's plenty of room in his life for a child too…it's not as crazy as it may sound to some. Of course he has been aware that there're a lot of orphan children begging to be adopted in orphanages, and that's what he tried to do to begin with – alas, the adoption agency (a tight network of government procedures now) refused to grant him a baby because he was a single man.
Adoption is only for couples as in married couples unable to conceive (or able to conceive but for whatever reason not willing to do it the natural way) but wanting to adopt a child male or female as per wish. Were Yusuf's parents happy about his surrogate baby Kabir? He smiled and explained, "My parents are very simple people. At first my parents, my mother especially couldn't understand and I had to draw diagrams to make her understand….how I was going to get my baby, what it would mean for me."
BIG FAMILY
AND yes, he has to stop his big family from taking over his or his little son's life! He has invited his family over to introduce Kabir and celebrate Christmas in Goa…but he is absolutely not going to let his family take control of his baby although they may try under the impression that he won't be able to cope! He can more than cope, he says firmly.
Someone teased and what if later on in life he falls in love with a woman and marries, has children the usual way! Yusuf quipped, he would cross all his bridges when he comes to them and in any case from now onwards, "It will be Kabir who will decide for me!" Look, he reiterated to indulgent media people, "I've been strolling Kabir (strapped to his macho chest in a baby chair or in his pram) several times up and down 18 June Road and all I meet accept me as the father, there is no mother!"
It's such irresistible contagious enthusiasm from a doting over-the-moon father that one cannot help smiling back warmly and agreeing with him that there's lots of room for more non-judgmental love in this world. Surrogate baby, anyone?
How transparent is the latest law on surrogacy in India?
The Surrogacy (Regulation) Bill, 2019 was introduced by the Minister of Health & Family Welfare, Dr Harsh Vardhan in Lok Sabha on July 15, 2019. As usual cases to do with surrogacy in IVF assisted pregnancies have been becoming more and more complex over time. In the USA they've been considerably tightened because the past three decades have seen thousands of babies being born courtesy surrogate mother or just surrogates (as women who offer or lease their womb for nine months to deliver implanted IVF babies for others on unpaid or paid basis).
So contentious has the surrogacy issue become that different states in the US have different laws permitting or banning surrogate pregnancies. In the US an agency called Growing Generations works only in surrogacy-friendly states. In India too none to comprehensive and some say a draconian law does not take into cognizance ground realities after so much water has run away under the bridge of time and changing scenarios over time or so to speak (since the first IVF baby became a reality).
The Assisted Reproductive Treatment Act 2008 upgraded to the Surrogacy (Regulation) Bill of 2016 and now the Surrogacy (Regulation) Bill 2019 awaited full legal status. The latest bill surprisingly or not surprisingly seeks to "allow ethical altruistic surrogacy to the intending infertile Indian married couple between the age of 23-50 years and 26-55 years for female and male, respectively."
Other highlights: A woman should be allowed to act as a surrogate mother only once and should be a close relative of the intending couple, she should be a married woman having a child of her own and between the age of 25-36 years. It is no news that India has emerged as a surrogacy hub for couples from different countries for the past few years and "due to lack of legislation to regulate surrogacy, the practice of surrogacy has been misused by surrogacy clinics, which leads to rampant commercial surrogacy and unethical practices.
Funnily enough the bill passed by Lok Sabha in December, 2018, lapsed as it did not get a nod from Parliament. Now the latest Surrogacy (Regulation) Bill 2019 prohibits commercial surrogacy but allows altruistic surrogacy. Altruistic surrogacy involving no monetary compensation to a surrogate mother (which of course is hard to believe).
The question arises: Does the new bill include or exclude single persons, divorcees, live-in couples, widows, widowers and gay couples from availing of surrogacy services? If not, why not? How should the new bill be interpreted? In the meantime it is anybody's guess how many surrogate babies are being born to single parents — like Yousef Khan (who may or not be an Indian citizen considering he lives in Dubai now).