Founder of Sunburn Shailendra Singh, who brought it to Goa in 2003 when Manohar Parrikar was chief minister and Vishwajeet Rane was chairman of GTDC
BY RAJAN NARAYAN
Percept is the biggest criminal and heads not an electronic music company but the drug mafia. The three who lost their life during this year's Sunburn Electric Dance Music (EDM) 2019 and Neha — who lost her life in the very first Sunburn – are only the beginning. The number of people who suffer from severe problems due to overdosing of drugs is not known. Similarly, such EDM parties as Sunburn also lead to hundreds of date rapes and we in Goa are familiar with them. Who is going to file criminal cases against Percept's Shailendra Singh and Goa's Tourism Minister Babu Azgoankar?
THE is about the death or murder of three young professionals from Maharashtra and Hyderabad. For Babu "Greedy" Azgaonkar it has always been "Sabse Bada Rupaya." The lives of three young men in the prime of their youth does not matter to Babu Azgaonkar. The accomplices of Babu were Siolim MLA Vinod Palekar and Sarpanch of Anjuna village under which Vagator comes. There are also hundreds if not thousands of others responsible including Inspector General of Police Jaspal Singh who like comedian Jaspal Singh Bhati thinks that drugs are just jokes. The other main culprits were the Police Inspector of Mapusa Tushar Lotlikar and the PI of Vagator Police Station Suraj Gawas.
KILLER SHAILENDRA
The main criminal or Qaidi No 1 is Shailendra Singh, the managing director of Sunburn. All of them should be hanged at the Fartoda Stadium for their criminal acts of omission and commission. The rules were that there would be no drugs at the venue. The reality was that according to eye-witnesses the entire vast venue was enshrouded not with clouds but with the smelly fumes of ganja or marijuana being smoked. The rule was no drugs would be permitted to be sold. The grim reality was that locals belonging to the Dayananad Mandrekar Gang and the police themselves were selling every kind of not so dangerous and very dangerous drugs. You name it and it was surreptitiously on sale including chemically manufactured drugs like Mandrax, manufactured in the country by Raj Kundra and Shilpa Shetty. There were also a cascading waterfall flow of ketamine which is an animal anesthetic.
No data has leaked on how many date rapes took place at Sunburn which attracted two lakh music lovers or tourists, out of which 80% were outsiders. Ketamine is available at every chemist shop in the tourism beach belt of North Goa. One drop of ketamine in your girlfriend's drink and she would get paralyzed enough for anyone to rape her multiple times. This is why when Goan girls go out to party places they always guard their drink. In an earlier EDM festival called Time Out no cigarettes were sold. This is because ganja or hashish or marijuana is very often rolled into a cigarettes and smoked. But at Sunburn everything was available from cigarettes to cigars and of course Goa's specialty daru by the barrelful.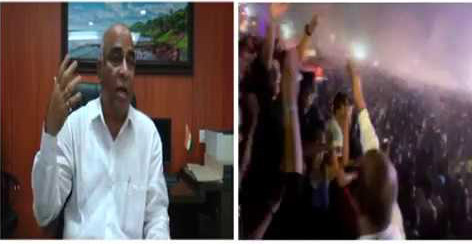 `300 CRORE TURNOVER
Our Tourism Minister boasts that Sunburn earned a revenue of 300 crore a day. Which means that over three days the turnover was over a thousand crore! The real figure is probably5,000 crore a month. Out of this a minimum of 100 crore must have been pocketed by Babu Azgaokar for which he was dancing with joy at Sunburn festival. Babu, always greedy for money, wants two Sunburn concerts so that he can earn more money. Since North Goa has a Sunburn why not South Goa too? Of the thousand crore that Babu claims was the turnover the hotels which hiked their prices must have made200 crores. Taxi drivers and the people who hire two- wheelers must have made at least `50 crore.
TAXIS HIRED BIKES
In addition those allowed to put up refreshment stalls and sold drugs within the venue must have made 500 crore. The other beneficiaries must have been all the policemen posted at the venue who played at being the three wise monkeys seeing no evil, hearing no evil, speaking no evil. Perhaps they were dancing with Babu Azgaokar. What will the government of Goa get out of this? According to figures cited in the court case filed by the Panchayat the earning for the government was 2.25 crore. This does not include arrears of over `100 crore. Sunburn was started by the chief executive of Percept Advertising Shailendra Singh during the tenure of Chief Minister Manohar Parrikar, Tourism Minister Dilip Parulekar and Vishwajeet Rane as GTDC chairperson. When the Parrikar government faced a crises and Mickey Pacheco became a Cabinet minister he also wanted to hold similar EDM music festivals. So under pressure from Mickey Pacheco, Agnelo Fernandes, former Congress MLA who owned land in Calangute where Sunburn was originally held, gave it to Mickey. Sunburn shifted to the new venue at Vagator. Than for a couple of years Sunburn was banned because they did not pay their dues for the infrastructure of security and waste management, the infrastructure was provided by the government of Goa.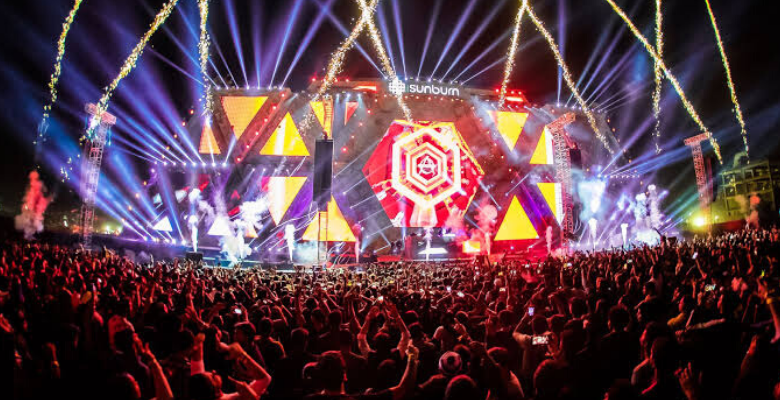 KIRAN KUMAR CEO
Sunburn shifted to other parts of Maharashtra. Sunbrn came back to Goa on the invitation of Babu Azgaokar, not because he is an EDM music fan but because he is greedy. The in-principle approval was given before Sunburn's new CEO Kiran Kumar applied for a NOC from the Panchayat. Sunburn has been selling tickets of 3,500 and5,500 per person per night for the last three months without any permission. They were so confident that they could bribe everybody and finally they would get the permission. Nobody was bothered about the deaths at Sunburn festivals. The first victim 23-year-old girl Neha Bahuguna worked at a hotel in Bangalore and she died outside the venue of Sunburn on the beach where drugs were freely available.
Every time Sunburn was accused for not paying the dues they changed their name to claim there were no dues. This year Sunburn was held as Sunburn Klassique and the whole conspiracy to bring it back to Goa was fronted by Kiran Kumar. Acting on behalf of Shailendra Singh who owes `100 crores to the government of Goa. Kiran Kumar's secretary even called me for publicity. I refused saying I don't deal with murderers. Because of the criticism in the local press nobody from the local media was allowed into the auditoria.
ONLY 20% LOCALS
The few locals who made up about 20% got in on complimentary passes issued by Babu Azgaokar and Vinod Paliencar. Unfortunately for Sunbun one of them was an employee of Goan goldsmiths who had an intern who got a ticket from a money lender to whom he owee money. We fully agree with Michael Lobo that a criminal case should be filed against Shailendra Singh and Babu Ajgaocar who are guilty of conspiracy to deliberate murder and damage to the health of young tourists snared by the idea of music festivals where they are introduced to drugs in a Goa which has steadily become a den for the vices to flourish in exchange for lining the pockets of politicians.
What is alarming is that a large number of Goans are also attending these expensive Sunburn parties. The charges are 3,500 and5,500 for VVIP. The tragedy is local boys who belong to the Dayand Mandrekar gang were allegedly actively selling drugs. It may be recalled that there was a fight between supporters of Dayanand Mandrekar and the Nigerians at Porvorim on sharing of the drug market.
WHO CARES ABOUT SUNBURN KLASSIQUE- LINKED DEATHS?
Dr Jawahar Henriques of the St Anthony Nursing Home attended to the third drug victim during the recent Sunburn event. According to the Dr Jawahar, all the three deaths are due to drug overdose. Talking of the 24-year-old Sandip Khotta, Dr Jawahar says he was brought in a terrible condition to his hospital….
WHO gives a damn about the three EDM Sunburn festival-linked deaths which took place out at Vagator Beach up north Goan beach belt on opening day Friday (Dec27, 2019) and closing day Saturday (Dec28, 2019)? Who were these young men mesmerized by the thought of a music concert and getting a high on some deadly drugs making the rounds in drugs heaven Goa?
Funny, everyone including organizers and police parrot each other in saying no drugs, no drugs anywhere at the venue but ask the few Goans who visited the much touted largest electronic concert in Asia — and they grin sheepishly, "we could smell the drugs in the air!" They were acquired outside or surreptitiously under painstaking cover at the venue with the police aware but pretending ignorance.
Who took some of the drugs irresponsibly and irrationally and who succumbed to death? This year three young men died. Two music enthusiasts from Andhra Pradesh, namely 32-years-old Sai Prasad (an IT engineer of Hyderabad) and 31-years-old Venkat (businessman from Visakhapatnam) who were standing in line in the afternoon at about 3pm or so outside the festival venue. They suddenly collapsed and at Mapusa's Azilo hospital were later declared stone cold dead. On Saturday came the death of 24-years old Phanideep (Sandip) Khotta (sales executive in Bengaluru) also outside the venue but later in the night at 9.30pm just before the concert was winding up at 10pm (official time). He was first taken to the first aid centre and thebn rushed to a local hospital St Anthony's Hospital where he was declared dead. Khota had arrived in Goa along with five other friends on Dec 28 to celebrate the New Year and was staying at Calangute.
All deaths linked with Sunburn died of cerebral and pulmonary edema, which amongst other things is connected with overdosing on drugs. You may not be a drug addict but if carried away by wild talk of what taking a slew of drugs can do for you and not guided into taking drugs – the price can be death, as presumably the three young men attending Sunburn found to their cost.
According to Dr Jawaharlal of Vagator St Anthony Hospital it is quite likely that the young men had somehow acquired some deadly MDMA (a synthetic drug also called Ecstasy or Molly by drug takers). When Sandip Khota first came to the hospital he checked him and noted he was running a high temperature of 107 degree, his oxygen level was down to 26 (normal oxygen level is 97 to 100) and he was sweating heavily, stammering in his speech. They were unable to save him for after 20 minutes he passed away, "we treated him but there is no antidote for MDMA if that is the drug he had taken." Khota died at about 11.30pm on Sunday night, December 29, 2019.
The doctor now in his 60s something confided to a Goan friend that in his working experience of 39 years he remembers vividly a case which came to the hospital about eight years ago, she was an American lady visiting Goa, she told him she never took drugs or alcohol, "but at a party she was forced to take MDMA …after which she was not aware of being raped at Vagator beach… it took me about four hours to make the woman coherent enough to speak about what happened." MDMA or Ecstacy is often known as the date-and-rape drug. The drug has been around in Goa for a long time.
Nobody is asking why a public beach like Vagator beach is permitted to be the venue of music concerts like Sunburn? It makes sense to think that everyone down the political-police conspiracy who enable Goa's most notorious and nailed music concert is happy because so much filthy money exchanges hands. So under the circumstance who cares about a few deaths now and again courtesy a well-entrenched flourishing drug trade scenario in Goa? It's like if we're all in together let's cover up the reasons why young men and women come to Goa to die. If tourists want to come to Goa to die, it's their problem, certainly not the problem of Chief Minister Pramod Sawant's government and its ministers or for that matter even the problem of the police force knowing everything but unable to do anything because their hands are tied! A killer attitude rules Goa today. It's good for business.