At the inauguration of the Bimal Roy Film Festival: Paying tributes on the occasion are (l to r) Amitava Moitra (GZA general secretary), chief guest Subhash Phal Desai (vice chairperson of ESG), guest of honor Smt (Dr) Rinki Roy Bhattacharya and Bimalendu Dey (president, GZA). The Ganga Zuari Academy is a non-profit cultural organization formed to encourage inclusive growth and integration through organizing such events as the Bimal Roy film festival in Goa.
By Tara Narayan
A filmmaker whose films are timeless in their message of social values, relationships between man and woman and the magic of their love stories!
THIS Valentine's Day on February 14 watch a Bimal Day film on the enduring nature of romantic love no matter how old it gets! Say a film like Sujata, or Yahudi, or even Parineeta and yes, almost all the celebrated Bengali filmmaker's films speak of how love waxes, wanes and endures. In many ways we need to get back to the films of Bimal Roy if only to refresh memory of the timeless messages they enshrine. He is the filmmaker who could make even the pious oonch-neech caste conscious grandmother (Lalita Pawar) in 1950's film Sujata (starring Nutan and Sunil Dutt) grudgingly acknowledge that the lowest of the low caste girl ("the beti jaise" Sujata, wondrous Nutan in real life) was good enough for her grandson to marry. India's age old caste system is not a prescription created by the gods and goddesses of Hinduism but a society steeped in the sins of superiority complex, consequent bias and prejudice.
But to begin at the beginning the Panaji-based Ganga Zuari Academy decided to have a Bimal Roy Film Festival in collaboration with the Entertainment Society of Goa and National Film Archives of India this year, that is over the weekend of February 8-9, 2020. The late filmmaker's Mumbai-based daughter Dr Rinki Roy Bhattacharya was chief guest of honor for the occasion. The International Film Festival of India did have a retrospective of Bimal Roy films some ten years ago but I wonder how many cinegoers in Goa discovered Bimal Roy and his films?
It's never too late to re-discover them for the evergreen values they convey with some of Hindi cinema's most fabulous yesteryear music, songs and memorable filming of the nitty gritty of human behavior. Some of the best filmmakers and Bimal Roy too was first a photographer, cinematographer, before he moved to making his own films under the banner of Bimal Roy Productions in the 1950s. He is one of the country's iconic filmmakers.
Films screened at the weekend retrospective were Parineeta, Yahudi, Sujata and Bandini — his last film before he passed away in Mumbai. Many are the stories of this legendary filmmaker and his keen portrayal of society's men and women in his films. He was not afraid to stand up to historical and social wrongs and highlight them in his films, how an unjust society discriminates, abuses and exploits its vulnerable classes. Film after film takes up cudgels on their behalf and the films of Bimal Roy films must have surely impacted many of the older generation for the better.
Speaking on the occasion his eldest daughter Rinki Bhattacharya (one of his four children, the others being Yashodhara Roy, Joy Shankar Roy and Aparajita Sinha) said, "My father's films always leave one with something to take home, his stressed wan on the human and hope…there is always hope." He films appeal as much to the mind as the senses even though in those still pioneering days of early cinema films were in black and white – you'll be surprised how much charm they pack. Yes, with all the fifty shades of grey the Bimal Roy films master to fine studies. Roy fans would not like his films to present in technicolor avatar and I'm one of them, for black and white speaks with exclusive finesse. Here are some of the few films which I could watch again and anew several times, feeling sublimely rewarded every time.


Sujata I was viewing for the fourth time yet it left me in tears anew like many in the audience who unabashedly wiped away their tears as the film rolled to closure on a happy note. Come to think of it although Indian film buffs revere the master filmmakers of West Bengal like Satyajit Ray, I would put Bimal Roy a cut above even Ray. Comparisons between masters may be odious and contentious but I can't help thinking that Ray films tend to gloss over or glorify impoverishment, while Roy believes in realism portrayal no matter how unpalatable.
I was viewing Yahudi for the first time and it came as a surprise film for me for its unique setting against the Roman Empire, where there was bitter conflict between the enslaved society of Jews and Roman royalty and upper crust society. The film is based on original Kashmiri play `Yahudi Ki Ladki' by Agha Hashar, a classic in Parsi-Urdu theatre. The Jews of Europe were persecuted and treated with as much cruelty and rudeness as the scheduled castes of India (Gandhiji's Harijan castes) and the film is a romantic thriller with a young Meena Kumari playing the role of Jewish daughter Hannah and Dilip Kumar as Prince Marcus. It's a seriously captivating love story: Exuding an injustice versus justice message much like the Anarkali story. Yahudi is a 1958 glorious drama with Shakespearean flourishes and evergreen songs, with yesteryear stalwarts of Hindi cinema putting in gripping performances (apart from Meena Kumari and Dilip Kumar there's Sohrab Modi, Nigar Sultana, Nazir Hussain, Minoo Mumtaz, Kumari Naaz, Helen and more). The Bimal Roy films have a cache of some of Hindi cinema's most loved songs, remember "Yeh mera diwanapan hai…", "Meri jaan, meri jaan…", "Yeh duniya yeh duniya.."?
Come to Parineeta which is searing in its detailing of grinding yet genteel impoverishment, here again oonch-neech caste paranoia drives the old folk into their own nemesis or so to speak. But in this case there's an example of some neech caste person striking it luck and acquiring wealth enough to flaunt…Parineeta is a most subtly layered film with Meena Kumari and Ashok Kumar playing the romantically star-struck childhood sweethearts of Lalita and Shekhar. Roy combines social comment with romance delicately and it can pack quite a punch to conscience if there's any around, appealing constantly to higher common denominators rather than lowest.
Finally, 1963 film Bandini, takes a toll of viewing three Roy films back to back! A little too convoluted and one may tire like I did of the constant tiresome demands made on women's patience in the old days — in what is yet again essentially inner detailing of patriarchal society at its most torturous, obsessed by defining, oppressing and manipulating women!
In Bandini we have prison inmate Kalyani (Nutan)—convicted for murder, whose good behavior in jail is exemplary, but she wants to stay in jail forever as a do-gooder volunteer! Prison doctor (young Dharmendra) falls for her but she shuns his advances and proposal. Until the head warden himself coaxes her to write her story and a hornet's nest of confessions pour out. It's a convoluted storyline but in essence tells us how a woman's love must triumph every time it is tested — by pitiful male betrayals.
Bimal Roy films can be as timeless as dated in this respect, but the immortal songs more than make up for anything else less agreeable. Honestly, I'd rather see a Bimal Roy black and white classic with its painful insight into society's traditional foibles and failings, than many of today's pretentious extravagances with their botched up morality tales in over-glorified technicolor!
I still have to catch up with other Roy films – his first film 'Adayer Pathe' (Bengali), 'Do Bigha Zamin' (Bimal Roy's most iconic film) , 'Biraj Bahu', 'Madhmati', 'Parakh'. Interestingly, the filmmaker hails from Suapar, Dhaka district of Eastern Bengal and Assam (today's Bangladesh). A tragic personal story is one of loss of his share of property when his father died and when a friend advised he migrate to Calcutta for greener pastures, he takes the advice and the rest is history. In Calcutta he married Manobina and brought his family up with as much exemplary fortitude as is depicted in his films. The Bimal Roy films have won several Filmfare awards and accolades at home and abroad at film festivals, he is undoubtedly one of India's iconic filmmakers.
Say it was too early to say goodbye to life when he was only 56 years old. Needless to say he was so respected a filmmaker that his pioneering films in the realism of black and white influenced an entire generation of younger filmmakers. The kind of sensitive imagination and commitment he brought to the making of cinema counts for something.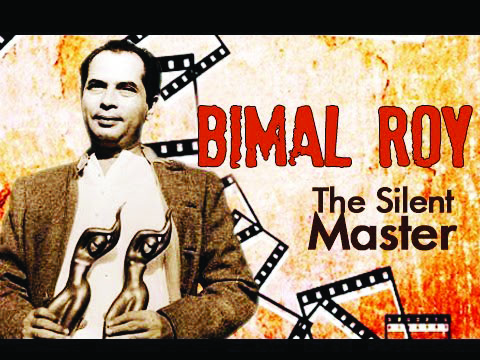 I asked Rinki Bhattacharya if she had a favorite film of her father's but she was at a loss for words, presumably all her father's films are favorites! She shared that his films are so relevant on the subject of universal human values that when his films screened in Italy, "there was audience identification and many were overwhelmed." Italians too have reason to empathize with the trauma of economic differences and injustices for these are everywhere no matter where one travels in this world. Surely the Bimal Roy legacy of films need to be seen by larger audiences old and new, and especially a younger generation growing up in educational institutions and discussing the Roy films promises worthwhile gains.
Something about Rinki Roy Bhattacharya…