Speakers for the 4th edition of TEDxPanaji…to be held on March 8, 2020, from 3pm to 8pm at the Kala Academy AC hall in Panaji…each speaker will be presenting their inspirational talk within 18 minutes! Promises to be packed with lots of take home messages on how to chase your very own rainbow of life….
POTPORI
THERE'RE any number of aspirational stories today and not all of them are rags to riches stories I've figured out my dears, some of them can be riches to rags stories too. There must be a lesson in all this somewhere. I've had my fill of conferences but the TEDxPanaji fourth edition has some exciting people lined up. By now you must know that there is the international parent TED event and then there're the baby franchise TED events around the world like TEDxPanaji. These are local efforts to fire up ideas to make the world a better place to live in.
So at this year's TEDxPanaji listen to Baadal Nanjundaswamy, Dr Rajah Vijay Kumar, Karishma Parker, Chandana Bala Kalyan, Wilma Rodrigues, Ruby Ahluwalia, Prathap NM, Saipranav Gandhi, DJ Ignatius Camilo, Varsha Upadhye & Students…there's more to this event to recharge your brains or so to speak. If you haven't heard of any of the names above, then you need to hear of them and may be learn a useful thing or two from their amazing success stories.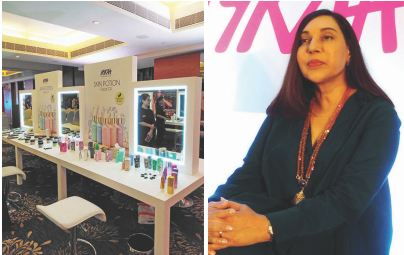 The youngest is a Saipranav Gandhi, ten years old child prodigy who's taken a shine to LEGO robotics, won multiple awards in robotics competitions and LEGO leagues at regional and national level. I said hello to this young genius and asked him to design a maid service robot to help me do boring chores at home like making tea, cooking and washing up. He actually took me seriously, hurrah.
Then you must meet Wilma Rodrigues who is former journalist turned "socialpreneur." She is the founder of Saahas Zero Waste, one of the top social enterprises today. Her goal is to get as many zero waste campuses as possible going. Also TEDxPanaji speaker coming up is Ruby Ahluwalia, founder of Sanjeevani, Life Beyond Cancer, an organization working in early prevention, early detection, counseling and rehabilitation of cancer patients and survivors; Prathap NM is the Drone Boy of India who rescues many an emergency situation with his drone probes. DJ Ignatius Camilo is a champion of sustainable living.
DG calls himself a self-taught hustler from Goa and has made music across the world – quite a famous fellow. Tell him your messed up story and he can sort it out for you, he says he sorted out his seriously sick mother…but I want to meet his mother now! DG has founded Cirrus, a community that combines the unlikely world of partying and sustainable living. If nobody else you must listen to this guy. He tells me human blood groups have evolved for the better or worse…and I must eat according to my blood group if I want to live to be a centenarian!
Well, TEDxPanaji is all set to come up on Sunday, March 8, 2020 from 3pm to 8pm at the Kala Academy AC hall in Panaji and yes, you must book tickets if you want to be part of this crème de la crème affair. Not to be missed of course. For more details you may contact co-organizer Dattaprasad Shetkar on tedxpanaji@gmail.com.
HEARD ABOUT THE SKIN SECRETS OF NYKAA?
SOMETIMES I like to have some fun writing about press conferences of the other kind whatever that means here. And suddenly I'm wondering how the sweet bird of youth has fled and if I should start chasing it anew now that the Nykaa range of beauty products have smitten me! Goa is getting its first Nykaa outlet and I understand that this is the largest portfolio of one-stop personalized brands across makeup, skincare, hair care, wellness, what have you for those who chase beauty with dedication in Goa.
The multi-brand beauty e-commerce platform Nykaa.com is already alive and active and you may shop online but at Nykaa – The One Stop Store for All Your Beauty Needs I imagine you get to test and find something which suits you first hand. At the PC there was the graceful chief officer-content Madhavi Irani present holding court with various media people and introducing them to the joys of being empowered by a slew of beauty-enhancing products.
Not least of all I noticed this "Tangle Teazer on-the-go hairbrush" to make hair smooth and shine away (priced at `1,400 something)…more later. The fact that Madhavi has been a veteran journalist of three decades and writing for The Telegraph, Times of India, The Independent, The Economic times and others places abroad, intrigued. At some point she decided to quit the media scene and with Falguni Nayar they decided to curate a range of products for every beauty solution…the foreign brands first, and then adding their very own Nykaa brands.
It's a success story of women like no other and the Nykaa products are sourced directly from authorized distributors to ensure 100% authenticity. Cutting edge artificial intelligence and machine learning tools allow Nykaa to create a personalized beauty regime for everyone type of human being and Madhavi says smoothly, "At Nykaa we believe every woman is beautiful and she should wake up to her own beauty to feel good about herself." On display was a range of beauty products ranging from nail polish to lipstick (sorry, Slay semi-matte lip cream in luscious colors) to skin oils to hand and nail crème…I came home with the gift of a Made in Korea Nykaa Skin Secrets Unmask Rice + Camelia for Nourished + Radiant Skin plastic pouch…a face pack I presume.
HEY, I'm so out of touch with beauty enhancing products in the market place! Having an overly sensitive skin I've over the years shunned cosmetics and stuck to a little calamine lotion and one of the Yardley fragrant talcs…that's it. Ever since cataract removal I've stopped using eyeliners and eye shadows which can be quite dazzling these days. Once upon a time in my salad days of the 70s and 80s in Mumbai that was Bombay I went through a phase when Mary Quant's Blue Blood haunted my lips but no more… those days have long since gone with the wind.
Nowadays I more or less think what the hell, why do I need so much gook getting into my skin? Nevertheless it was a pleasant surprise to have the Nykaa girls on duty at the press conference giving me a little makeover at the impromptu Nykaa Beauty Bar set up for the media people to have a dekho….a pretty young Ana fussed applying concealer, foundation, dusting powder on my face with various intriguing brushes — and before I knew it even I thought I was looking prettier than when I first came in!
In a brief conversation Madhavi Irani agrees that the problem with most Indian woman is that they bother about everybody else at home and look at themselves rarely in the mirror. She says, "At Nykaa we say celebrate yourself as a woman! Self-love is super important. Look good for yourself." Fleetingly I wondered if I colored myself up and went home would the hubby wonder who this painted stranger is and bang the door shut on me?
STILL, there's a point to what Madhavi is saying. Looking good is a lot of times also about feeling confident to face the world and say boo to it! Tell me a little about the Nykaa story, I asked, and she replied, "Oh some eight years ago it was a real small beginning with just three of us working out of Falguni's house, she's CEO…today we hire 1,500 employees across our 68 Nykaa outlets across the country. It's not just women wanting to look good, she says that increasingly men too can get excited about personal grooming, especially skincare, a year ago we launched 500 brands for men."
So beauty can be both from the inside out and outside in too and amongst the many brands I discovered they also have Wellness brands based on plant actives or proteins, "no parabens, sulphates…people are very conscious about beauty today. We have 1,500 brands and that's a wide range for everyone to find what suits them the best." This range includes supplements, vitamin C, coenzymes, apple cider, etc. If you're bored of calling at The Body Shop or Forrest Essentials check out Nykaa – The One Stop Store for All Your Beauty Needs one of these days. I will too, my dears, they have an anti-aging oil which I rather like! It's another matter of course that one may feel old from the inside out and not outside in.
On that heavy note it's avjo, selamat datang, poiteverem, au revoir, arrivedecci and vachun yetta here for now.
— Mme Butterfly