THE times, they are a-changing for the better. We wish and we hope! Most old-timers may remember Goa in the old days when it was primarily an agrarian or agricultural state and then came modern education and the quest for fortune and fame doing easier white-collar jobs sitting in air-conditioned offices and hospitality industry… and farming one's ancestral lands became a dirty word!
By Tara Narayan
We didn't see it coming. The novel coronavirus or Covid-19 have scared the living daylight out of us! Half a year later we're still scared and dare not scoff at wearing that slip of a mask while stepping out to deal with company. But for some time now and given the Covid-19 pandemic throwing up so many vital dilemmas of life and death and the need to breathe clean air, drink clean water, eat clean — the word clean doubling for wholesome or nutritious or happy – just about every other person one meets today is scrambling to become a part-time or full-time farmer. The farming bug has bitten Goans hard, native Goans young and old, as also recent settlers young and old from outside Goa!
There is bad news about any number of rotting rain-flooded and garbage-dumped fields all over Goa with owners hoping to make a killing selling of their land to real estate promoters. But the good news is also that farming is no longer a dirty word in Goa anymore and it is the squeaky clean thing to do nowadays to reap good health and farming camaraderie. More and more folk are jumping into farming or planning to do a bit of farming for reasons of health or for an income.
Ask any of the young farmers who're said goodbye to chasing life as engineers or doctors or even government time-pass employment and they will tell you, gardening, farming, agriculture is wonderfully therapeutic! And so it is. The monsoon is of course a great time to catch up with the songs of farming life here and there all over Goa. Those who have family fields are reviving their ancestral fields which may have turned into junkyards over the years; those who have no land are doing it in pots on balconies, terraces, every bit of space they can claim to be theirs.
Hardworking, young, articulate farmer Nestor Rangel confessed in a recent Facebook entry that he thinks the people of Goa have taken to farming because it is "corona ke side effects"! Apart from his own extensive farmlands electronics engineer Nestor (in his early 50s) helped initiate community farming on idle, rotting farmlands out in St Estevam to help some 500 families return to farming. One may say that increasingly Goans are making the connections between farming or letting their fields become horrible real estate properties so that Goa turns into a concrete jungle like it has happened elsewhere. They've seen how the boom in cheek by jowl urbanization is turning the once leisurely paced life in Goa into a frenetic nightmare.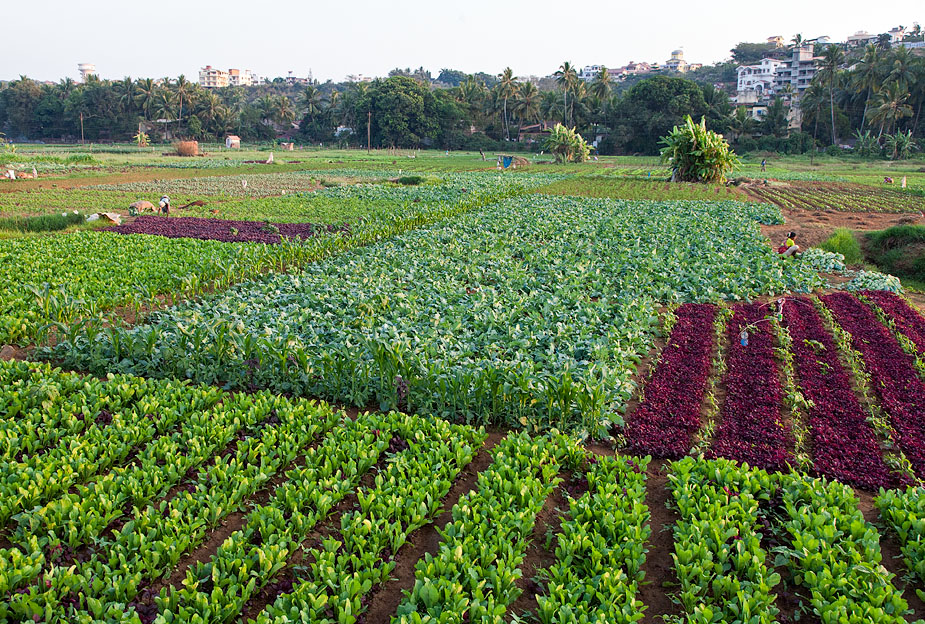 The St Estevam communidade or community farming revival is one of the largest success stories in Goa and Nestor is the president of the Ilha Verde Farmers' Club. Reportedly, they're reaping three varieties of paddy, namely Goa Dhan, RS-1 and Jyoti. Rice being the staple food of Goans and mercifully unlike in the case of wheat and soybeans the cereal has escaped GMO lobbies. Thanks to local farming efforts many of the native varieties of rice are returning to Goa both for food as also rice flour to turn into such daily delights as sannam, ambolim, bhakri, etc.
ONE also hears that the revival of community farming was given a fillip by Don Bosco's Fr George Quadros, the Salesian priest has played a key role in inspiring the back to farming movement in Goa from 2015 onwards. One hears that farming revivals are also afoot along similar lines in Verna, Guirim, Loutalim and elsewhere where communidade lands are being revived as community farming. Farmer Laban says, "God has given us very good climate for planting very nicely!" Check out Savio Dias and Swara Agro Farm and the success story of Antruj Mahal down south Canacona. There's also Shripad Sawant of Sattari…apart from fallow land of years being revived with the help of mechanized equipment we hear of record harvests of capsicums, lady fingers, chilies, ridge gourds, musk melons and more.
The old story is that the Tenancy Act of 1965 which gave tenants right over the land they tilled resulted in tenants doing outright sales for economic benefits; and under Section 36 of the Agricultural Land Tenancy Act the government is supposed to survey and take over management of fields if they are not cultivated for three years. Despite this upsurge in farming in Goa if one takes a walk or goes for a drive be it in urban Goa or semi-urban Goa one may see as many cultivated fields and perhaps many more fallow fields turning into garbage collection points.
Many Goans who want to sell off their fields resort to actively filling them up with construction rubble and generally let them become ugly rain water stagnating horrors for mosquitoes to breed (much to the curses of residents in the vicinity). So it is also true that farming is becoming an increasingly lost cause…any number of Goans be they bhatkar or munkar would be happy to sell their fields for handsome rewards to live happily ever after in a gated colony of condominiums! Unfortunately, many of them are caught up in litigation and counter-litigation in courts.
Especially in such rapidly urbanizing areas like Taleigao, next door to Panaji, where these days one may see the sad, sad sight of many fields drowning in a deluge with rain water having nowhere to go – all drainage exists have been blocked kachrapati or monster tarred roads. The locked up rotting fields in close proximity to capital city Panaji hold out the promise of raking in big money — never mind that being low-lying paddy fields they are really unfit for construction and result in flooding and dire vertical urban slum conditions urban development is planned on them. Especially if there's no planning for drainage, water, sewage, cooking pipeline, etc.
ALL this notwithstanding one likes to think that the tide is turning and more Goans are seeing the light and trying to reclaim their agricultural lands to return to farming for a livelihood or just for fun. It's the healthy thing to be it on a small scale or a large scale and what can be more important than health in our times, most of us are desperately seeking health but compromising with it at every turn!
Goa is toting up quite a growing list of farmers' roll call! One hears of Salecian priest Fr George Quadros promoting collective farming from 2015 onwards, a success story like no other. Also of retired corporate employee Andrew D'Souza who revived his family fields using mechanization to revive farming at Verna village. The challenge everywhere is to save age old communidade owned agricultural land from being sold off or going into the hands of builders. For those who want to get back to farming the Department of Agriculture has been of big help vis-à-vis all kinds of loan schemes for hiring of mechanical equipment, seeds purchases, sowing machinery, harvesting crops, offering ready markets for the crops and so on.
Tulio de Souza, president of Guirim Communidade has done a superlative job reviving farming and we hear production of rice is up in Goa now. Recently, we came across a Sandra Fernandes in Sancoale who has been putting up a fight to save her farmland. Such success stories are being recounted amongst a growing farming community and one may rejoice in them. All is not yet lost in bhangarache Goem!